Discover fairytale castles and historic vineyards as part of this spectacular Rhine River cruise fantasy. Start by exploring the canal-laden city of Amsterdam, with its neat rows of buildings and rich history. Then it's off to Germany, where you'll discover not only the grand city of Cologne but charming villages like the winemaking hamlet of Rudesheim and the university town of Heidelberg. Enjoy cruising through the UNESCO-designated Rhine Gorge, where 40 castles are strung like pearls along the river banks. Cross the border into France's Alsace region in enchanting Strasbourg and take in spectacular panoramas of the Swiss Alps. Encompassing the Netherlands, Germany, France and Switzerland, as well as iconic landmarks and majestic mountain landscapes, this distinctive itinerary is truly a dream come true.
Inclusions
7 nights luxury accommodation aboard AmaSerena
Computer for internet access
Entertainment-On-Demand in all staterooms featuring free high-speed internet access, movies, a music library and English language TV stations
Mini-fridge, desk and sitting area
Bottled water replenished daily
AN ARRAY OF AMENITIES
Wellness Activities with a dedicated Wellness Host leading various exercise classes as well as discussions on healthy eating and relaxation techniques, both on board and on shore.
Personalized service from a highly trained Cruise Manager during both cruise and land programs
Internet and Wi-Fi access
Sun deck pool with swim-up bar and walking track
Fitness room, massage services and hair salon
Main Lounge with panoramic views and bar
Daily entertainment including cultural performances
AWARD-WINNING DINING
All onboard dining in a variety of venues
Regionally inspired cuisine made with locally sourced ingredients
The Chef's Table specialty restaurant
Welcome Cocktail, Welcome Dinner, La Chaîne des Rôtisseurs Dinner, Captain's Cocktail and Gala Dinner
La Chaîne des Rôtisseurs exclusive dining experience
Unlimited fine wine, beer and soft drinks with lunch and dinner
Unlimited sparkling wine and fresh juice with breakfast
Sip & Sail Cocktail Hour with complimentary wine, beer, spirits and soft drinks
Tapas, sandwiches, snacks and refreshments served daily in the Main Lounge
A WORLD OF EXPLORATION
Immersive tours in every destination
Gentle, regular, active and late-riser tour options
Bike tours and hikes
Special Interest Tours
Knowledgeable guides
Personal headset for easy exploration
Airport transfers with purchase of air from AmaWaterways
Exclusive $300 USD per cabin on board credit and Gratuities!
November 13, 2021
Cruise Only
Window
$3323
French Balcony
$4602
Taxes & Fees
$281
Add Gratuities $184 CAD per person FREE
Add Air with Transfers from $1587 per person
(from Vancouver, Calgary, Edmonton, Ottawa, Toronto, Montreal, Halifax)
Add pre-cruise 3 nights Lake Como from $1920 per person
Add Travel Waiver Plus for $175 per person
(Cancel up to 24 hours prior and receive Future Cruise Credit)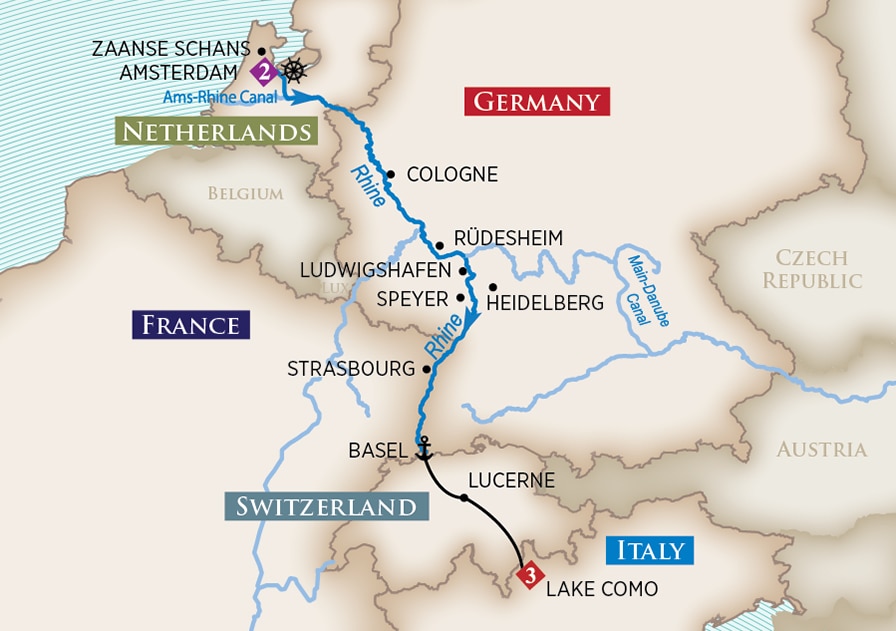 DAY 1 Basel EMBARKATION
Embark your ship in Basel for your Rhine Castles & Swiss Alps cruise.
DAY 2 Basel
"City of Art" tour OR Three countries bike tour OR Full-Day Lucerne Excursion
Enjoy getting to know Basel, Switzerland's third largest city. Long an important university, banking and trade center, Basel's glorious past is still evident in its medieval town hall, richly decorated market square and exquisite 18th-century patrician homes. Tour the city by foot or on a guided bike tour that takes you through three countries: Switzerland, France and Germany. Or, choose a full-day excursion in Lucerne, known for its Lion Monument – the figure of a dying lion carved into a hillside in memory of the Swiss Guards massacred during the French Revolution in 1792 – which Mark Twain described as "the most mournful and moving piece of stone in the world." You'll also see Lucerne's spectacular medieval walls and towers, dating back to the 13th century. (B,L,D)
DAY 3 Strasbourg
"The Gem of Alsace" tour OR Strasbourg bike tour
Strasbourg offers flavors of both France and Germany because of its borderline location. Enjoy a panoramic tour past the stunning Parc de l'Orangerie, the European Parliament and the Place de la République before walking through its iconic "La Petite France" district, lifted straight from the pages of a fairytale. Wander through charming streets past the Cathédrale de Nôtre Dame with its famous astronomical clock. Alternatively, take a guided bike ride through the city and Parc de l'Orangerie. (B,L,D)
DAY 4 Ludwigshafen
"Romantic Heidelberg" excursion OR "Secrets of Speyer" tour OR Heidelberg Philosopher's Path hike OR Ladenburg bike tour
Rüdesheim
Siegfried's Mechanical Music Museum OR Rüdesheimer Coffee
Ludwigshafen is your gateway to a choice of four excursions. Visit Heidelberg, the perfectly preserved medieval city nestled in the Neckar River Valley along Germany's Castle Road. Discover the iconic red sandstone Heidelberg Castle and Great Vat, an 18th-century, 49,000-gallon wine cask. For a more active adventure while in Heidelberg, join a guided hike up the Philosopher's Path, aptly named during the Romantic Period, and enjoy panoramic views of the city. Alternatively, you can visit one of Germany's oldest cities, Speyer, known for the largest Romanesque cathedral in Europe—a UNESCO World Heritage Site—and the medieval Old Gate, Altpörtel. Or pedal along the river Neckar to the picturesque medieval city center of Ladenburg and enjoy some free time to explore the shops. Later in the day, cruise to the charming village of Rüdesheim and let Siegfried's Mechanical Musical Instrument Museum charm you with its remarkable collection of self-playing musical instruments; or taste one of the town's special delights, Rüdesheimer coffee, ceremoniously made with brandy, coffee and whipped cream. (B,L,D)
DAY 5 Rüdesheim
Rüdesheim Gondola Ride and Wine Tasting OR Vineyard hike OR Guided bike tour of the Rheingau
Rhine Gorge
Castles along the Rhine scenic cruising
Lahnstein
Burg Lahneck tour
Join a wine tasting to discover the flavors of the town's iconic vineyards and drink up the stunning views by soaring high above the vineyards with a gondola ride to the Niederwalddenkmal. For a more active adventure, hike through the town's beautiful vineyards or join a guided bike tour along the scenic Rhine River. Later in the day, cruise through the captivating UNESCO-designated Rhine Gorge, the most stunningly beautiful stretch of the river before reaching Lahnstein, where you will enjoy a unique evening visit at Lahneck Castle. (B,L,D)
DAY 6 Cologne
"Holy City" walking tour and cathedral visit OR Kölsch beer and local specialties tasting OR Cologne bike tour
Enjoy cruising to Cologne. Join a guided tour through the Old Town and explore the UNESCO-designated Cologne Cathedral, one of Germany's most revered Gothic masterpieces. Continue to the Cologne Rathaus, Germany's oldest town hall, the Overstolzenhaus, and the Festival Hall. For a different view, visit a local tavern to taste its famous Kölsch beer, only made in Cologne, and reibekuchen mit apfelmus, potato pancakes typically served with applesauce. Active adventurists will want to join a guided bike ride along the Rhine and through the historic Stadtgarten. (B,L,D)
DAY 7 Amsterdam
Canal cruise tour A Taste of Amsterdam*
There are 165 canals in Amsterdam, and you'll get to enjoy some of them on your canal cruise. Alternatively, get a taste of local flavor, passing iconic canals, gabled houses, narrow bridges and house boats while tasting Dutch specialties at one of Amsterdam's grand cafes. Please note: tour depends upon docking location and may be replaced with Jordaan District Walking Tour. (B,L,D)
DAY 8 Amsterdam DISEMBARKATION
Bid Farewell to Amsterdam and prepare for your homeward flight. (B)
The world has changed; however, our commitment to the health and safety of our guests and crew remains of the utmost importance to us. We want to reassure you that we are working with global health authorities and local governments in the U.S. and around the world to follow all the most up-to-date health and safety protocols, some of which we have summarized for you below.Our experienced staff and crew have undergone special training and will be advised and guided by a Public Health Officer. As always, our crew will be on hand to take care of all the details so you can relax and enjoy your much-anticipated river cruise vacation.
Please note: As new information becomes available, the Health and Safety Protocols below will be updated. Further details will be provided in your Digital Travel Documents prior to departure.
In light of the recent global events and uncertainties around travel, we wish to offer our guests additional flexibility and peace of mind so they may continue to safeguard the wonderful plans they have made for their much-anticipated river cruise with AmaWaterways. As a result, we will offer for a limited time, special provisions which allow guests with new or existing reservations to purchase AmaWaterways Travel Waiver Plus*. AmaWaterways Travel Waiver Plus provides cancellation for any reason, up to 24 hours prior to the start of their AmaWaterways booked services (cruise, pre-cruise land extensions, air etc.)
Should guests decide to cancel their cruise for any reason, they will have the following options based on date of cancellation:
Cancellation received up to 7 days prior to start of AmaWaterways services:
Future Cruise Credit** covering cancellation penalties, and the balance will be refunded based on our standard cancellation policy for services purchased through AmaWaterways.
Cancellation received between 6 days to 24 hours prior to start of AmaWaterways services:
Future Cruise Credit** issued for 100% of AmaWaterways services to be used towards any sailings within 24 months of cancellation date
For all new or existing reservations for Europe, Asia and Egypt (deposited or paid in full), Travel Waiver Plus may be purchased up to 48 hours prior to the start of AmaWaterways purchased services. For Africa Safaris & Wildlife Cruises, Travel Waiver Plus must be purchased within 90 days prior to sailing and once full payment has been received.
Travel Waiver Plus price: