Contoured by vineyard-clad hills and castles from yesteryear, the legendary Rhine captivates. Experience the allure of France's Alsace region in its welcoming capital, Strasbourg, and its priceless gem, Riquewihr. Discover Breisach, rising above the vineyards of the Rhine, and Freiburg, one of Germany's sunniest cities and gateway to the Black Forest. Fabled towns lost in time present you with the chance to taste local flavors—Rüdesheimer coffee and legendary German beer—and to touch history up close with guided hikes and bike rides. From Amsterdam's colorful canals to the majestic Swiss Alps, journey into the heart of the destinations you visit.
Inclusions
7 nights deluxe river cruise aboard AmaSiena

CRUISE AMENITIES, DINING AND CUISINE

Bottled water replenished daily

Complimentary Wellness Program with a dedicated Wellness Host leading various exercise classes

Personalized service from a highly trained Cruise Manager during both cruise and land programs

All onboard dining in a variety of venue and regionally inspired cuisine made with locally sourced ingredients
Unlimited fine wine, beer and soft drinks with lunch and dinner
Sip & Sail cocktail hour with complimentary wine, beer, spirits and soft drinks
Internet & WIFI access
Immersive tours in every destination

Book by Dec 31: Reduced rates, plus receive FREE Gratuities and category upgrade* for Balcony & up!

(price reflects discount)
March 14, 2024
Cruise Only
Riverview
$3149
Balcony
$4779
Taxes & Fees
$315
2 Nights Amsterdam Pre-Cruise: add $953 per person
2 Nights Lucerne & 2 Nights Zurich Post-Cruise: add $2135 per person
Other dates are available – please contact our travel advisors for more details.
*Selected category only, promotion is subject to change without notice.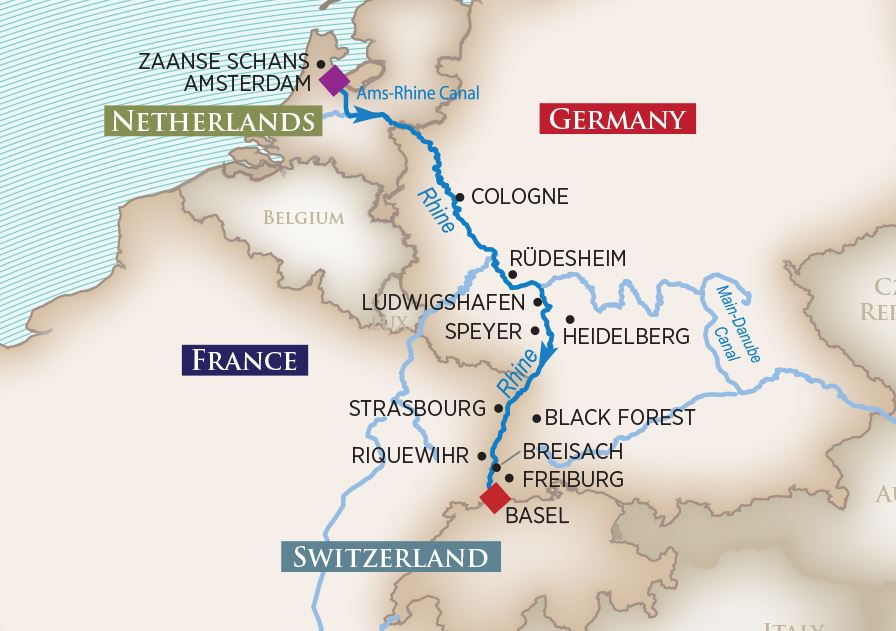 DAY 1
AMSTERDAM – EMBARKATION
Board the ship in Amsterdam for your Captivating Rhine cruise.
DAY 2
AMSTERDAM
There are 165 canals in Amsterdam, and you'll get enjoy some of them on your canal cruise. Later in the day, set sail out of Amsterdam. (B,L,D)
DAY 3
DÜSSELDORF
As a leading hub for German culture, commerce, and architecture, Düsseldorf is a must-visit city for any travelers on the Rhine. Here, you will have multiple options for the day's excursion. Explore historic Düsseldorf on foot with a knowledgeable local tour guide, or cover more ground with an active bike tour of the city. Alternatively, kick up your feet with a German beer tasting, sampling the best local brews Düsseldorf has to offer. If you're feeling adventurous, take a brief trip to the nearby city of Cologne. Home to one of Germany's most revered Gothic masterpieces, the Cologne Cathedral, this 2,000-year-old city is also a bustling cosmopolitan hotspot. Join a guided tour through the enchanting Old Town and explore the UNESCO-designated cathedral, where the remains of the fabled Three Kings—the Magi— are believed to rest. (B,L,D)
DAY 4
RHINE GORGE – RÜDESHEIM
Cruise through the captivating UNESCO-designated Rhine Gorge, the most stunningly beautiful stretch of the river before reaching the winemaking town of Rüdesheim. Join a wine tasting to discover the flavors of the town's iconic vineyards. Or drink up the stunning views by soaring high above the vineyards with a gondola ride to the Niederwalddenkmal. For a more active adventure, hike through the town's beautiful vineyards or join a guided bike tour along the scenic Rhine River. Later in the day, let Siegfried's Mechanical Instrument Cabinet charm you with its remarkable collection of self-playing musical instruments; or taste one of the town's special delights, Rüdesheimer coffee, ceremoniously made with brandy, coffee and whipped cream. (B,L,D)
DAY 5
LUDWIGSHAFEN
Ludwigshafen is your gateway to a choice of three excursions. Visit Heidelberg, the perfectly preserved medieval city nestled in the Neckar River Valley along Germany's Castle Road. Discover the iconic red sandstone Heidelberg Castle and Great Vat, an 18th-century, 49,000-gallon wine cask. For a more active adventure while in Heidelberg, join a guided hike up the Philosopher's Path, aptly named during the Romantic Period, and enjoy panoramic views of the city. Alternatively, you can visit one of Germany's oldest cities, Speyer, known for the largest Romanesque cathedral in Europe—a UNESCO World Heritage Site—and the medieval Old Gate, Altpörtel. Or join a guided bike tour along the shores of the river Neckar and enjoy a cycling break to explore the picturesque medieval town of Ladenburg. (B,L,D)
DAY 6
STRASBOURG, FRANCE
Strasbourg offers flavors of both France and Germany because of its borderline location. Enjoy a panoramic tour past the stunning Parc de l'Orangerie, the European Parliament and the Place de la République before walking through its iconic "La Petite France" district, lifted straight from the pages of a fairytale. Wander through charming streets past the Cathédrale de Nôtre Dame with its famous astronomical clock. Alternatively, take a guided bike ride through the city and Parc de l'Orangerie. (B,L,D)
DAY 7
BREISACH, GERMANY
Breisach is your gateway to several different excursions. Step back in time with a visit to the enchanting Alsatian town of Riquewihr, which looks almost the same as it did in the 16th century. On your walking tour, admire historic architecture and famous sights, such as the Dolder Gate. Alternatively, head to Freiburg, founded in 1120 and home to the Freiburg's Münster, a Gothic cathedral said to have "the most beautiful spire on earth." Those wishing a more active excursion can cycle through the countryside, or hike in the Black Forest, a magical land full of cultural traditions. (B,L,D)
*Please Note: Black Forest Hike is weather dependent and may only operate at certain times of year. Please refer to your final documents for details.
DAY 8
BASEL, SWITZERLAND – DISEMBARKATION
After breakfast, bid farewell to Switzerland and prepare for your return flight home. (B)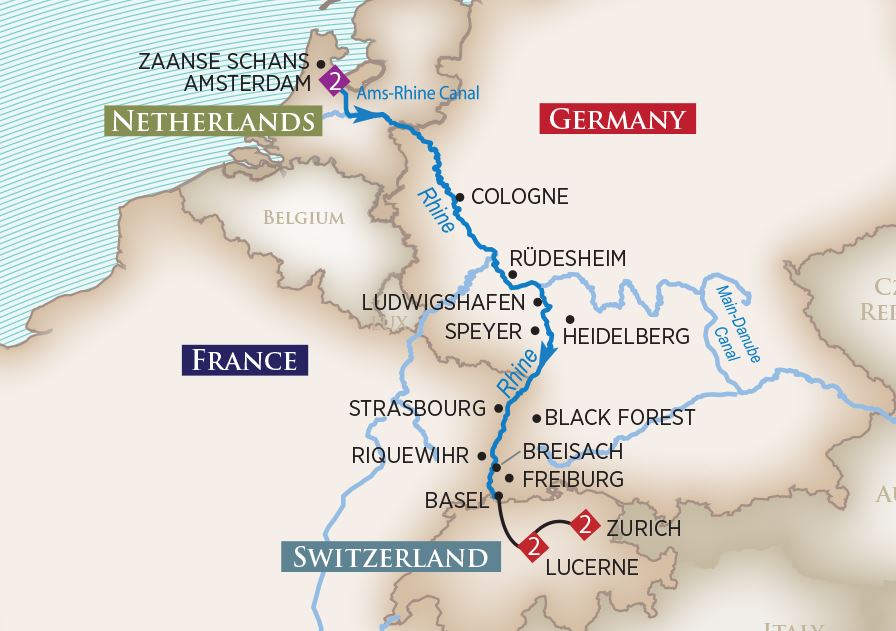 2 Nights Amsterdam Pre-Cruise: add $953 per person
DAY 1
ARRIVE IN AMSTERDAM, THE NETHERLANDS
Arrive in Amsterdam and check into your hotel.
DAY 2
AMSTERDAM
Follow your guide through the charming capital of the Netherlands, with its iconic meandering canals, bridges and distinctive architecture. (B)
DAY 3
AMSTERDAM – EMBARKATION
Check out of your hotel and, before transferring to your ship, visit Zaanse Schans, observing life as it used to be lived in the Netherlands. Authentic windmills, houses and shops were relocated to this picturesque area, creating a typical 17th- to 18th-century village. (B,D)
2 Nights Lucerne & 2 Nights Zurich Post-Cruise: add $2135 per person
DAY 10
BASEL, SWITZERLAND – DISEMBARKATION – LAKE LUCERNE
Disembark the ship and, before transferring to Lake Lucerne, go on a highlights tour of Basel. Once at Lake Lucerne, discover the unrivaled beauty and charm of this pristine city on a walking tour. Check into your hotel and enjoy a leisurely evening. (B)
DAY 11
LAKE LUCERNE
Today, stop at the iconic Lion Monument, sculpted in memory of the Swiss Guards massacred during the French Revolution. You'll also visit the spectacular medieval walls and towers, dating back to the 13th century. (B)
DAY 12
LAKE LUCERNE – ZURICH
Check out of your hotel and before your transfer via motorcoach to Zurich, enjoy a scenic lake cruise. Later, check into your Zurich hotel. (B)
DAY 13
ZURICH
Switzerland's largest city seamlessly blends its historic past with its progressive future—all of which will be on full display during your city tour. One of the top experiences in Zurich is a visit to Old Town where you will find yourself amongst medieval houses, churches and the modern Bahnhofstrasse. (B)
DAY 14
DEPART ZURICH
After breakfast, bid farewell to Switzerland and prepare for your return flight home. (B)