Paris always sizzles while Normandy beckons with its stunning coastline, incredible food and artistic beauty. Monet's Gardens and the charming harbor town of Honfleur, will inspire you the same way as they inspired the great Impressionists.
For inspiration of a different kind, travel the "Routes des Abbayes," visiting some of the most magnificent monasteries, and to the unforgettable beaches of Normandy where Allied forces landed during WWII's D-Day invasion. Relive the grandeur of royalty at Chateau de Bizy, once referred to as "the Versailles of Normandy." Blend a passion for the good life with culture, art, architecture and timeless landscapes, and you have Northern France.
Inclusions
7 night luxury river cruise aboard AmaLyra

CRUISE AMENITIES, DINING AND CUISINE

Bottled water replenished daily

Personalized service from a highly trained Cruise Manager during both cruise and land programs

All onboard dining in a variety of venues

Regionally inspired cuisine made with locally sourced ingredients

The Chef's Table specialty restaurant
Welcome Cocktail, Welcome Dinner, Captain's Cocktail and Gala Dinner
La Chaîne des Rôtisseurs exclusive dining experience
Unlimited fine wine, beer and soft drinks with lunch and dinner
Unlimited sparkling wine and fresh juice with breakfast
Sip & Sail Cocktail Hour with complimentary wine, beer, spirits and soft drinks
Internet & WIFI access
Immersive tours in every destination

Hosted by a winery's owner, vintner or certified sommelier

Premier vineyards and cellar tours, as well as daily food and wine pairing

Book by Dec 31: Reduced rates, plus receive FREE Gratuities and category upgrade for Balcony & up!

(price reflects discount)
March 14, 2024
Cruise Only
Riverview
$3969
French Balcony
$4979
Taxes and Fees
$315
2 night Pre-Cruise Paris: add $1144 per person
Other dates are available – please contact our travel advisors for more details.
Promotion is subject to change without notice.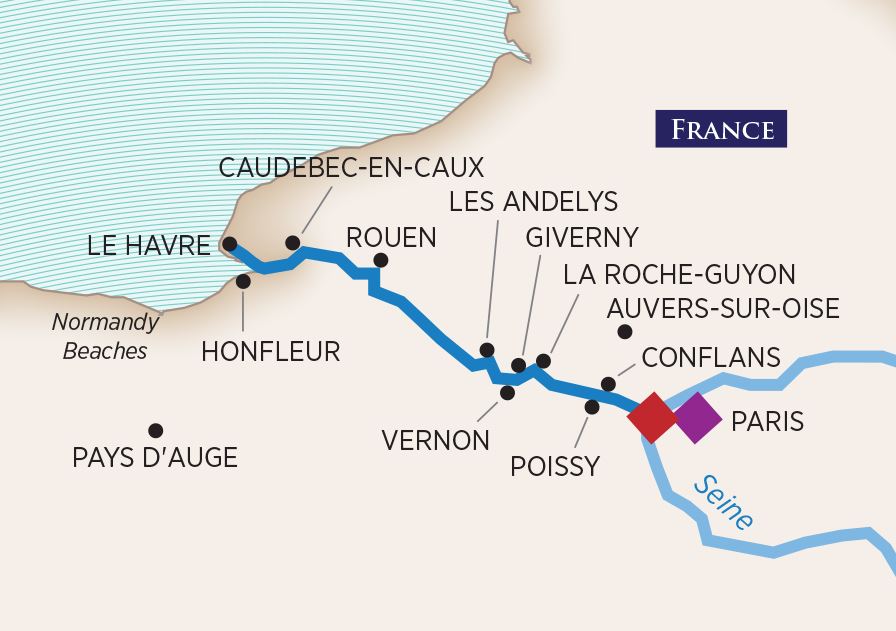 | | | | |
| --- | --- | --- | --- |
| Date | Ports | Arrive | Depart |
| 03/14/2024 | PARIS (Embarkation) | | 8:00 PM |
| 03/15/2024 | LES ANDELYS | 10:00 AM | 1:00 PM |
| | ROUEN | 7:00 PM | 10:00 PM |
| 03/16/2024 | LE HAVRE | 8:30 AM | |
| 03/17/2024 | LE HAVRE | | 9:00 AM |
| | CAUDEBEC-EN-CAUX | 3:30 PM | 11:59 PM |
| 03/18/2024 | ROUEN | 4:00 AM | |
| 03/19/2024 | ROUEN | | 5:30 AM |
| | VERNON | 1:30 PM | 6:00 PM |
| 03/20/2024 | PARIS | 9:00 AM | |
| 03/21/2024 | PARIS (Disembarkation) | | 9:00 AM |
Day 1: PARIS – EMBARKATION
Board the ship in Paris for your Paris & Normandy cruise. (D)
Day 2: LES ANDELYS
Uncover the history of Château Gaillard, the former stronghold of Richard the Lionheart, situated on the chalk cliffs high above the Seine, on a morning tour. Or, if you prefer a more active adventure, you can hike there from the banks of the Seine, admiring the scenic views along the way. For those who wish to explore the area on two wheels, join a guided bike tour through the charming town of Les Andelys. After your adventures, set sail along the meandering Seine for a scenic cruise. (B,L,D)
Day 3: LE HAVRE
During your time in Le Havre, set out on an excursion to the seaside town of Honfleur, renowned for its picturesque harbor, and for being an inspirational site for Impressionist painters. During the afternoon, you can join a city tour of the UNESCO-designated Le Havre. Alternatively, you have the choice of a bike tour through Le Havre. (B,L,D)
Day 4: LE HAVRE – NORMANDY BEACHES – CAUDEBEC EN CAUX
Experience the Normandy region with a variety of excursions. For those wishing to go to the American sector of the historic Normandy Beaches, you will visit the cemetery at Colleville-sur-Mer, Omaha Beach, the artillery battery at Longues-sur-Mer and the village of Arromanches, where the remains of the floating harbor used during the WWII landings can be seen. If you prefer, you can tour the Gold and Juno beaches in the British and Canadian sectors, where you will visit Ranville Cemetery, Pegasus Bridge, the Canadian cemetery at Beny-sur-Mer, the WWII museum in Courseulle and, finally, Arromanches. Alternatively, you can set out on a full day excursion to the delicious Pays d'Auge region of Normandy, where apple cider, Calvados and pommeau outrank French wine. If you wish to experience a different kind of inspiration in Caudebec-en-Caux, you can journey back in time with the interactive exhibits and vessels at the Seine Museum. (B,L,D)
Day 5: ROUEN
Spend the morning enjoying medieval Rouen with a choice of several excursions. Join a walking tour and see the square where Joan of Arc was martyred, as well as the Medieval Quarter and Great Clock. You also have the choice to go on the "Tastes of Normandy" tour, where you'll be treated to the delicious flavors of the region, including chocolate, Norman cheese and cider; or get active by going on a guided bike tour. Then visit Bonnemare Castle, a 16th-century architectural treasure lined with picturesque poplar trees. (B,L,D)
Day 6: VERNON
Enjoy scenic cruising around Vernon before disembarking the ship for your excursion. You will have a choice of three excursions, depending on your interests. Visit Claude Monet's home and gardens in Giverny. Art lovers will immediately recognize images immortalized in Monet's most beloved paintings—such as water lilies, Japanese bridges and graceful willow trees. Wander around his famous gardens and home where he lived for more than four decades. Or visit the regal 18th-century Château de Bizy, inspired by the opulence of Versailles. Enjoy an escorted tour of the palace and gardens. If you prefer a more active adventure, go on a guided bike tour, taking in the beautiful French countryside. (B,L,D)
*PLEASE NOTE: Monet's Gardens may be closed; therefore, an alternative tour will operate instead.
Day 7: PARIS
Travel to Auberge Ravoux in the heart of Auvers-sur-Oise, the last home of artist Vincent van Gogh. His spirit still lingers in his former attic rooms at the Ravoux Inn. The mere 70 days Van Gogh spent in Auvers-sur-Oise were astonishingly prolific as he painted more than 70 works here before his death. Or enjoy the exquisite architecture of the Château Saint-Germain-en-Laye along with its world-famous archaeology museum and beautifully manicured gardens. Alternatively, stay in Paris and explore the "City of Light" on a guided bike tour. Later, enjoy some of Paris' most famous sights during your panoramic tour. You will be guided through the charming Latin Quarter, home to the world-famous Sorbonne University, and through the stunning 400-year-old Luxembourg Gardens, created by King Henry IV's widow, Marie de' Medici. (B,L,D)
Day 8: PARIS – DISEMBARKATION
Bid farewell to Paris and prepare for your flight home. (B)
Pre-Cruise Land Tour: Paris
Add from $1144 per person
Day 1: PARIS, FRANCE
Check into your Paris hotel for the beginning of your Paris & Normandy land program.
Day 2: PARIS
Discover some of the lesser-known treasures of Paris on your guided tour. Setting the world stage for art, fashion, gastronomy, culture and much more, the "City of Light" has a story to tell at every corner. Afterwards, explore the Atelier-Lumières, Paris's "Workshop of Lights," a uniquely immersive digital art experience. You will be treated to an unforgettable colorful multimedia exhibition, utilizing 140 video projectors and a state-of-the-art sound system of famed artists' works. (B)
Day 3: PARIS – EMBARKATION
After checking out of your hotel, visit Montmartre, long known as the city's premier artist's enclave. During the mid to late 1800s, artists also began calling Montmartre home. Pissarro and Jongkind were two of the first to live there, followed by other notable artists. For easy access to Montmartre, hop aboard the funicular railroad that ascends the hill. Montmartre's most recognizable landmark is the Basilica du Sacré-Coeur, constructed from 1876 to 1912. The white dome of this Roman Catholic basilica sits at the highest point in the city. You'll then board the ship in Paris for your Paris & Normandy cruise. (B,D)
CELEBRATION OF WINE RIVER CRUISES
Whether you are a wine novice or a self-described oenophile with your own wine cellar, we invite you to indulge in one of our more than 60 exclusive "Celebration of Wine River Cruises" through Europe's most celebrated wine regions. These thrilling wine-themed European sailings provide a unique and delicious dimension to already enticing itineraries—with enhanced epicurean experiences included in the price of the cruise.
CHOOSE YOUR IDEAL WINE EXPERIENCE
Each of our Celebration of Wine River Cruises is hosted by an enthusiastic wine professional who leads you through tastings and interactive discussions, accompanies you on select shore excursions to vineyards and cellars, and helps curate a special food and wine pairing dinner on board. Guided by their passion and expertise, you'll delight in discovering one of the world's most perfect trifectas: travel, wine and elegant cuisine.
HOSTED WINE SAILINGS
Is there a winery whose bottles dominate your dinner parties? If so, you may be able to travel along with their wine club. Guided by the winery's owner, vintner or certified sommelier, you will enjoy the unique opportunity to compare and contrast a selection of wines prepared by your host while discovering the history and modern-day culture of the region. Review our extensive choice of Wine Cruises hosted by wine experts.
EPICURIAN EXPERIENCES
– Premier Vineyards and Cellar Tours
One of the most delightful aspects of our Wine Cruises is visiting Europe's unique vineyards and wineries. Whether you're strolling through France's 14th-century Château de Montaigne or visiting Austria's historic and majestic Burg Clam, you'll taste history every step of the way among storied vines.
– Authentic Encounters
Connect with artisans and vintners within the same fields in which their ancestors toiled. Learn how best to pair decadent chocolate with wine; discover how olives transform into the Mediterranean's prized nectar, olive oil; or be tempted by Austria's famed Wachau Valley apricots.
– Food and Wine Pairing – A Unique Art
Indulge in wine perfectly chosen to meld with the food on your plate and on your palate at an unforgettable dinner designed to heighten the relationship between the two. Rosemary-crusted lamb? A clear match for Châteauneuf-du-Pape. Oysters on the half shell? Try a Loire white.
Exclusive Wine Cruise
PARIS & NORMANDY (WINE CRUISE)
MAR 14 – 21, 2024
Hosted by Chik & Polly Brenneman, Winemakers, Baker Family Wines, West Sacramento, CA
Chik and Polly Brenneman are the winemakers and managing partners for Baker Family Wines in West Sacramento, California. Baker Family Wines gets its name from fellow owner and partner, Dusty Baker, who celebrates over 50 years in major league baseball as a player, coach, and manager. Baker Family Wines is a small urban based craft winery that produces about 1,200 cases per year. The winery produces small lot wines from varietals such as Sauvignon Blanc, Semillon, Pinot Noir, Cabernet Sauvignon, Zinfandel, Barbera, Sangiovese. Chik and Polly have been making wine together for over 25 years in both amateur and commercial settings. Polly is a retired Clinical Laboratory Scientist and Chik managed the Teaching and Research Winery at the world-renowned UC Davis School of Viticulture and Enology, where he taught winemaking courses there and also in France. He retired from UC Davis in 2019. In his 'spare' time, he has been a contributing columnist, for the last 15 years, for WineMaker's Magazine. The duo also lead the local chapter of the Brotherhood of the Knights of the Vine, an international wine brotherhood whose mission is to promote the wine industry and educate our members to the benefits and enjoyment of wine.
Learn more about you host, click here!