Hit the ground running – or rather driving. This circle trip thought our "backyard" has you explore some of the highlights our beautiful province British Columbia has to offer. Explore the diversity from the desert-like Okanagan Valley to the lush mountains and valleys of the Kootenay region to the magnificent peaks and stunning coastal views of the Coastal Mountain region. With some fun activities already included, you will be sure to have a great time.
Inclusions:
10-nights accommodation including
○ 2 nights in Osoyoos: Coast Osoyoos Beach Hotel incl. continental breakfast (Coast Room) or similar
○ 2 nights in Nelson: Prestige Lakeside Resort (Standard Room) or similar
○ 2 nights in Revelstoke: Sutton Place Hotel (Studio) or similar
○ 2 nights in Kelowna: Prestige Beach House Kelowna (Standard Room) or similar
○ 2 nights Whistler: Delta Hotels by Marriott Whistler Village Suites (Guest Room / One-Bedroom Suite for triple & Quad occupancy) or similar
Activities:
○ 1 Clue Solving Mystery Game in Nelson (Social distancing approved)
○ 4-hour self-guided Kettle Valley Railway Bike Tour (only available May 7 – Oct 11)
○ Admission to the Squamish Lil'Wat Cultural Centre in Whistler
Self-drive itinerary with all of the suggested things to see and do
Regional Travel Guide including highlights and facts about the areas

Book by Mar 31!
Double
Triple
Quad
Single
May 1 – Jun 2, 2021
$1169 + $74 tax
$949 + $63 tax
$799 + $55 tax
$2199 + $125 tax
Jun 3 – 10, 2021
$1229 + $77 tax
$979 + $64 tax
$819 + $56 tax
$2299 + $130 tax
Jun 11 – 23, 2021
$1249 + $78 tax
$999 + $65 tax
$839 + $57 tax
$2349 + $133 tax
Jun 24 – 29, 2021
$1299 + $80 tax
$1049 + $68 tax
$899 + $60 tax
$2499 + $140 tax
Jun 24 – 29, 2021
$1459 + $88 tax
$1149 + $73 tax
$949 + $63 tax
$2799 + $155 tax
Sep 5 – 30, 2021
$1299 + $80 tax
$1049 + $68 tax
$889 + $60 tax
$2449 + $138 tax
Oct 1 – 9, 2021
$1059 + $68 tax
$869 + $59 tax
$729 + $52 tax
$1939 + $112 tax
Rates are starting from and per person
Customize your package! Shorter or longer stays and upgraded rooms are available.
Important Notes:
· Cancel up to 8 days in advance: 100% refundable, less $130 per booking ($100 processing fee + $30 booking management fee). Cancel 7 days or less prior to departure are 100% non-refundable
· Daily departures possible
· On request and subject to availability
· Up to 4 people per room, based on sharing beds
· Stays in Whistler over select dates may differ in price: July 1 – 4, July 30 – Aug. 2, Aug. 6-7, Aug. 13-14
Price Excludes:
· Additional nights and room upgrades (please ask us for details)
· Personal expenses
· All other meals and attractions not indicated as being included in the package
· Parking fees
· National Park Pass
You May Also Like:
Wine Country Explorer (Osoyoos & Kelowna)
Hidden Gems of the West
Vancouver Island Explorer
Coastal Inside Passage & Northern BC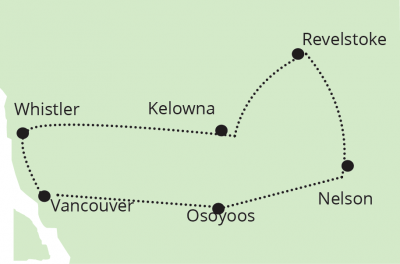 Day 1: Vancouver – Osoyoos
At your leisure, depart Vancouver in the morning and start the road less travelled. We suggest leaving town along Highway 7, leading you through small towns, villages and past farmland and beautiful landscapes. On your way to Osoyoos, stop at the Othello Tunnels near Hope, go for a quick hike in Manning Park or pick up some delicious fruit at a fruit stand in Keremeos.
Day 2: Okanagan Valley
Today is at your leisure. You can spend the day exploring some of the many wineries between Osoyoos and Kelowna, have a relaxing day by the beach, go for a bike tour (not included) or visit the Nk'Mip Desert & Heritage Centre in Osoyoos and learn more about the indigenous people that call these lands their home (admission not included).
Day 3: Osoyoos – Nelson
Leaving the desert land behind, your trip will see you travelling further east. Slowly but surely you will head into the Kootenays. The Town of Nelson is known for its stunning fall colours, an abundance of amazing restaurants and many quite little local stores.
Day 4: Nelson
Today is at your leisure in Nelson. We included a fun social distancing approved mystery clue solving game for you that will have you explore Nelson in a completely new way. Later, you might want to drive out to Ainsworth Hot Springs for a Soak (admission not included).
Day 5: Nelson – Revelstoke
Say farewell to Nelson and the Kootenays. You will be driving north today. Along the way board a ferry to cross Upper Arrow Lake before arriving in Revelstoke (ferry crossing is complementary and cannot be reserved. Crossing is on a first come first serve basis). Located just on the Edge of Glacier National Park of Canada, this little Mountain Town offers an abundance of hiking trails.
Day 6: Revelstoke
Today is at your leisure. Whether you enjoy the time at your lovely hotel, go for a hike in the National Park or a drive to Rogers Pass. Almost anything is possible today.
Day 7: Revelstoke – Kelowna
From the Mountains you will slowly make your way back West. But your holiday is far from over at this point. You will be driving back into the Okanagan Valley and can enjoy a 2 night stay in Kelowna. Either today or tomorrow you will enjoy a tasting of delicious local wines as part of your holiday.
Day 8: Kelowna
Today we arranged a 4 hour self-guided bike tour along the Kettle Valley Railway for you. This activity includes pick-up and drop off at your hotel in Kelowna. You will be cycling through tunnels and across stunning trestles while enjoying beautiful views over Kelowna and Lake Okanagan.
Day 9: Kelowna – Whistler
Today a beautiful drive awaits you. You will leave the Okanagan Valley behind and cross into the Coastal Mountain Region. The Stretch between Lilloeet and Pemberton – the Duffy Lake Road – has often been named as one of the prettiest drives in the area.
Day 10: Whistler
We have included some Highlights of the area for you today. Admission to the Squamish Lil'Wat Cultural Centre is included for you today. After learning more about the First Nations of the area you will be able to kick it up a notch and get the adrenaline flowing on a 2,5h Ziptrek Tour (Admission included).
Day 11: End of trip
All good things must come to an end. At your leisure, depart Whistler for your final drive home.
Iconic Canadian Scenery
Journey your way around the province of British Columbia taking in the coastal rainforests, Canada's only desert and the Selkirk Mountains.
Deluxe Accommodation
As part of this experience, you will get to stay in some beautiful hotels across Western Canada.
Flexible Travel Times
With this being a self drive tour, you will have the flexibility in terms of time. You can spend as long or as short at any given location and you can stop and take in sights that are not on our itinerary.
Optional Activities
In addition to the included activities, there are a number of optional activities as well in all our overnight stays. Make this journey an experience never to be forgotten.