Follow in the footsteps of mighty pharaohs and biblical prophets as you uncover this unique part of the world. Visit an ancient market in Cairo.
Package Includes
Airfare to Cairo
4 nights hotel in Cairo
Deluxe 4 night all-inclusive river cruise aboard MS Hamees
1 night hotel in Aswan
internal air flights Cairo to Luxor, Aswan to Cairo
19 meals – 9 breakfasts, 4 lunches, 6 dinners
Airport transfers to and from ship and hotels
Prepaid gratuities
It's Amazing What's also Included:
Boutique contemporary hotel feel, with spectacular on board pool and lounge
Cruise Director services throughout your cruise
On-board entertainment
Tea & coffee facilities in all cabins
Bottled water restocked daily in your cabin
Spacious, comfortable accommodations with oversized picture window in  staterooms
Gourmet all-included on board meals and highlight dinner events
2 drinks per guest with lunch and dinner on-board
Enjoy in depth cultural experiences with EmeraldPlus and EmeraldActive
13 included excursions with complimentary bottled water
3 EmeraldPLUS activities, including home-hosted dinners in both Cairo and Amman
Complimentary on board Wi-Fi
Please read the Documentation and Advisories to ensure this tour is right for you.
Book by December 31 and fly for $295
Vancouver, Victoria, Kelowna, Calgary, Edmonton, Toronto
Stateroom
Taxes and fees
February 6, 2020

$5699
$66
Optional Tour – Aswan:
Visit to Botanical Gardens $25
Optional Tour – Cairo:
Light and Sound Show at the Pyramids $75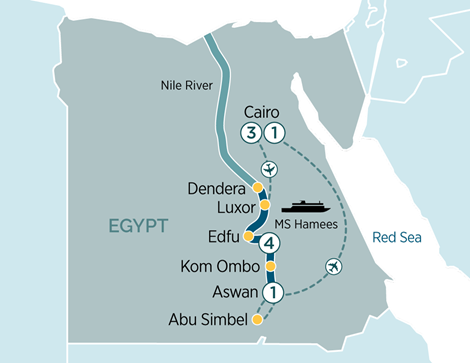 Cairo & Ancient Egypt River Cruise
Tour Name: Cairo & Ancient Egypt River Cruise
Day 1 Fri, 03 May Arrival Cairo
Welcome to the bustling city of Cairo. Your journey begins as you are met at the airport and transferred to your hotel. This evening, meet your Tour Director for a tour briefing. Included is a three-night stay in Cairo.
Day 2 Sat, 04 May Cairo (B,D)
Be awed by the sheer magnitude of the Pyramids before marvelling at the 20-metre limestone monolith of the Sphinx.
EmeraldPLUS: Home-hosted dinner with local family
Day 3 Sun, 05 May Cairo (B)
This morning you will discover the priceless antiquities in the Egyptian Museum including the artefacts recovered from Tutankhamun's tomb as part of your included tour. Continue to be amazed, as we take you to visit one of the most fascinating and ancient markets in Cairo, the Khan-El-Khalil market. This colourful market has stocks of everything from soap powder to semiprecious stones. In your free time, perhaps explore the Fortress of Babylon.
Day 4 Mon, 06 May Cairo – Luxor Embarkation (B,L,D)
Today, you will fly to Luxor where you will have a chance to visit the West Bank of the Nile and be astounded by the well-preserved, colourful hieroglyphics adorning the tombs in the Valley of the Kings. You will begin your journey in Luxor with a visit to the Monument of Queen Hatshepsut, and statues of the Colossi of Memnon. Then, embark on your cruise ship and settle into your cabin. Later, visit the vast open-air temple complex of Karnak and be awed by the enormity of the pillars as you walk through the impressive Hypostyle Hall.
Day 5 Tue, 07 May Nile Cruising (B,L,D)
Today travel to Dendera, where you will have a chance to marvel at the vibrant colours of the hieroglyphics adorning the roof of the Hathor's Temple during your included visit. Return to Luxor and tour the temple complex of Luxor straddling the banks of the Nile. This evening, on board entertainment will delight with the colours of the whirling dervishes and the mesmerizing moves of a belly dancer.
Day 6 Wed, 08 May Nile Cruising (B,L,D)
Follow the course of the ancient Pharaohs' processions along the Nile as you cruise south, where villages and majestic temples line the banks of the river against the backdrop of the desert. Discover the Temple of Horus at Edfu, the most completely preserved complex in Egypt. This afternoon, explore Kom Ombo temple, perched high on the east bank and dedicated to Sobek, the crocodile god. A fun night awaits on board with a lively Galabeyya party themed with Egyptian delicacies, music and dancing.
Day 7 Thu, 09 May Nile Cruising (B,L,D)
Cruise south to reach charming Aswan, the home of the Nubian people. Discover the Osiris temple complex of Philae, then visit the stone quarries to learn about ancient carving techniques and see the enormous unfinished obelisk. This afternoon, take a Felucca cruise on the Nile (weather dependent). Tonight, join the Captain and crew for a farewell Gala Dinner, followed by a Nubian show.
Day 8 Fri, 10 May Nile Cruise Disembarkation – Abu Simbel – Aswan (B)
This morning, bid farewell to your crew as you disembark your ship. You will fly to Abu Simbel and visit one of Egypt's most magnificent monuments. Marvel at the enormous World Heritage-listed temples of Ramses II and his wife Nefertari, rescued from the rising waters of the Aswan Dam. Return to Aswan where you will spend one-night.
Day 9 Sat, 11 May Aswan – Cairo (B,D)
Start your day with a visit to a traditional Nubian village. Meet the school children and learn about life on an island in the Nile. In the afternoon, you will fly to Cairo, then join your tour director for a farewell dinner. Included is a one-night stay in Cairo.
Day 10 Sun, 12 May Cairo – Farewell (B)
After breakfast, you will be transferred to Cairo International Airport for your onward or homebound flight.
SAFETY
Guests must make their own enquiries regarding safety and government warnings in relation to the destinations they are traveling to. Official warnings change quite regularly and can be found from the Government of Canada's official source: Travel Advice and Advisories – https://travel.gc.ca/travelling/advisories. (NOTE:  insurance restrictions apply due to government warning)
Weather and Climate Information
Temperatures in Egypt are generally high, particularly during the summer months from May to August. It is perfectly fine to visit Egypt at these times of year with the heat more dry than humid.
Nile Cruise
Bedding configuration on the MS Hamees Emerald Waterways will endeavour to accommodate our guest's preferences.
Cruise itineraries may be varied due to high or low water levels, flooding, lock closures, unscheduled vessel maintenance or for any other circumstances beyond our control.
TOUR PARTICIPATION
1.Health & Fitness: Emerald Waterways requires guests to have a good level of health and fitness. Tours/Journeys in Egypt and Jordan include walking on steps, uneven ground and surfaces whilst visiting monuments and antiquities for lengths of between 1-5kms and full mobility may be required. Please ensure you select a suitable holiday for your level of fitness as walking and getting on/off transport is required in many areas and good mobility is needed. Emerald Waterways strongly recommends a visit to your doctor and dentist before your trip. Destinations in these regions do not have facilities to accommodate wheelchairs or guests with limited mobility.
2.Pre-existing Medical Conditions: It is your responsibility to advise Emerald Waterways of any pre-existing medical conditions that might reasonably be expected to increase the risk of you requiring medical attention, or that might affect the normal conduct of a Tour/Journey and the enjoyment of other Tour/Journey members.
3. Nile Cruise – Nile ships do not have elevators and are not wheelchair accessible.
RAMADAN
A muslim religious period, falls between May and June 2019 and 2020 and is observed by all Muslim countries. Operational hours of shops, markets and some attractions are reduced during Ramadan.
Travelling in Ramadan is a culturally exciting time to share in some of the festivities that take place each day. At this time of year services will be slower, opening hours reduced and traffic chaotic but it is likely that you will witness and often experience the true hospitality, generosity and kindness that the holy month of Ramadan brings to the nation
INTERNAL FLIGHT INFORMATION
Flights are included within Egypt once the tour commences as specified in your itinerary. Please note flight schedules, prices and taxes are correct as of April 2018 and are SUBJECT TO CHANGE. Final price will be confirmed when full payment is due.
Flight schedules to and from Luxor, Aswan or Abu Simbel are either early morning or late afternoon. Please be prepared for an early start when flying to or from these destinations.
ROOM TYPES
Single Accommodation – Single rooms are designed for one bed and as such in some locations are smaller than twin rooms.
Double Rooms – We cannot guarantee that clients will receive a Double Bed at all properties due to limited availability with this configuration, and in some cases, our guests may be accommodated in twin bedded rooms.
Hotel Check-In
If your flight arrives before noon at the city where your tour starts, the hotel may not have your room available until mid-late afternoon (standard check-in time). If you would like to guarantee access to your room when you arrive, you will need to reserve a pre-tour night.
VISA INFORMATION
As Visa regulations are subject to change at short notice, Emerald Waterways recommends that you contact the relevant consulates for the latest information on visa and entry requirements.
For all other nationalities – please contact the relevant Consulates, or your travel agent, for the latest information on visa requirements and costs.
The following is correct at the time of printing:
Egypt
Canadians must be in possession of a visa to visit Egypt. You may purchase a tourist visa at the airport on arrival. However, you should obtain your visa from an Egyptian embassy or consulate before arrival to avoid lengthy delays or the possibility of being refused entry.
VISA CENTRAL
For your convenience Scenic recommends Visa Central at: http://scenic.visacentral.com to obtain your visa at the best negotiated rates. Please allow sufficient time for visa processing, and note if you leave and re-enter a country that requires a visa you may need to obtain a double entry for that country.