Featuring Dubrovnik, Dalmatian Coast, Istrian Peninsula and Lake Bled
A Wondrous European Escape
Medieval architecture, tranquil lakes, local villages and Croatian charm will delight you on this tour featuring Dubrovnik, Lake Bled, Ljubljana, and the pearls of the stunning Dalmatian coast. Begin your exploration with two nights in Opatija, the "Riviera of Croatia" and an Istrian gem. Explore Plitvice National Park by foot and by boat, a place where waterfalls cascade down sheer cliffs connecting 16 pristine lakes. Connect with the local people during a home-hosted dinner. Explore the white stone buildings, winding alleys, and massive city walls of the ancient harbour town, Dubrovnik. Step inside Diocletian's Palace and back into Roman times in Split's Old Town. Explore Ljubljana, Slovenia's quaint capital city, and float on a "pletna" boat on serene Lake Bled. Ride a funicular up to Ljubljana Castle where a delicious dinner awaits.
Travel Best Bets Package Includes:
Airfare from Vancouver to Dobrovnik and return from Zagrab
10 nights accommodation:

Dubrovnik – Valamar Lacroma Resort (3nts)
Split – Atrium Hotel
Plitvice Lakes – Jezero Hotel
Opatija – Hotel Bristol Opatija (2 nts)
Ljubljana – Hotel Lev (2 nts)
Zagreb – Sheraton Zagreb Hotel

Meals: 10 breakfasts, 6 dinners
Sightseeing as listed in itinerary
Airport transfers including door to door service
All baggage handling (1 bag per person)
Transportation via air-conditioned motorcoach or train.
Services of professional Tour Manager
CULTURAL EXPERIENCES – Visit Europe's oldest pharmacy at Dubrovnik's Franciscan Monastery.Stroll through Split and see the famous Diocletian's Palace. Experience old-world charm with a Pletna boat ride to the picturesque island in the centre of Lake Bled.
CULINARY INCLUSIONS : Visit a local family for dinner in the Konavle region outside Dubrovnik. Sample farm-to-table delicacies of the Istrian Peninsula during dinner at a local restaurant.
MUST-SEE INCLUSIONS: Spend three nights in Dubrovnik, the "Pearl of the Adriatic." Explore Opatija, "Croatia's Riviera," a retreat for Habsburg Monarchs. Experience the wonder of 16 cascading lakes at Croatia's Plitvice Lakes National Park.
IT'S YOUR CHOICE: Join a local expert in Dubrovnik's Old Town for a cruise followed by a visit to Lokrum Island -OR- explore the medieval walls that surround Dubrovnik's old city.
Book by September 30:  Save $250 per person (savings reflected in pricing)
June 20, 2019
Vancouver
$4699 + $685 tax
Single Supplement (on request)
 add $1100
Victoria, Kelowna from $400 more
This tour includes moderate physical activity. The itinerary blends some longer days with shorter days and more leisure time. Walking tours, as well as walking slightly longer distances, up stairs or on uneven walking surfaces should be expected.

With Collette, the World is Within Your Reach
True adventures go beyond incredible destinations or inclusive packages. Collette delivers a sense of possibility across all seven continents.
Since 1918, we have been sharing our love of travel. Today our worldwide travel collection features comprehensive land tours, river cruises, rail journeys, small group tours, family trips, garden holidays and more. With Collette, wake each morning on tour with a new experience in front of you, and when your head hits the pillow, you will know it has been an amazing day. Best of all – we seamlessly handle the details. All you have to do is enjoy the adventure.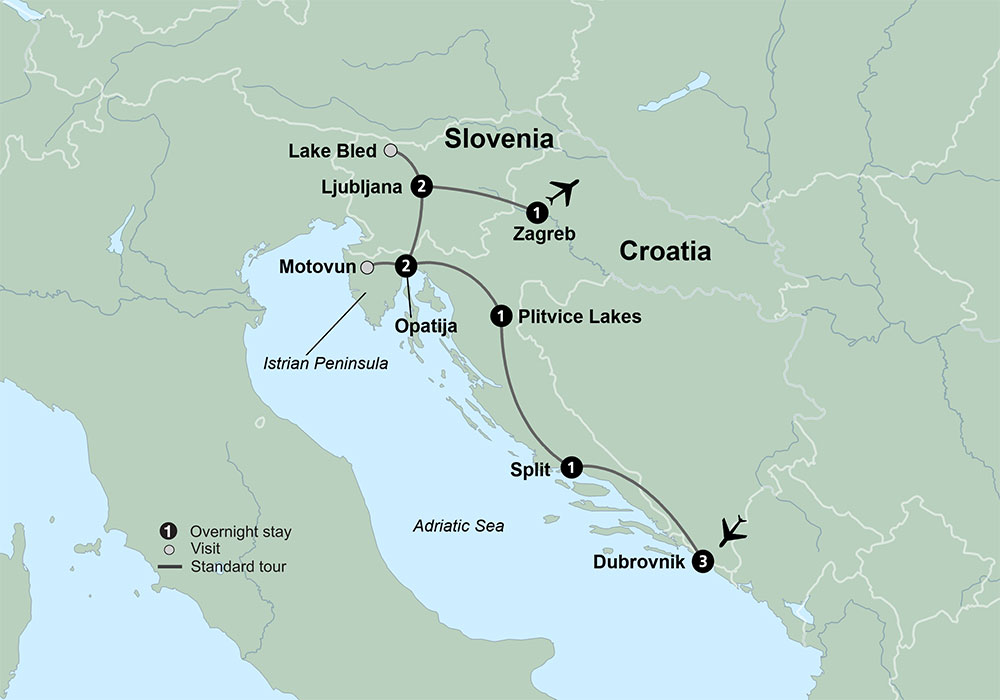 Day 1 – Overnight Flight
Join us and explore Croatia and the countries of the Adriatic. This is a "must see" region filled with ancient cities, medieval architecture, intriguing cultures, rolling hills and stunning coastal scenery.
Day 2 – Dubrovnik, Croatia – Tour Begins
Your tour begins in the medieval city of Dubrovnik. Get to know your fellow travellers during a welcome dinner this evening.
Meals: Dinner
Accommodation: Valamar Lacroma Resort
Day 3 – Dubrovnik
Join a local guide on a tour of "Old Dubrovnik," a UNESCO World Heritage site. Visit the Franciscan Monastery, where Europe's oldest pharmacy resides, and see Dubrovnik's many historical sites, from Rector's Palace to the City Walls. This afternoon, it's your choice! Join a local expert in Dubrovnik's Old Town harbour for a cruise* with magnificent views of the medieval city walls before visiting nearby Lokrum Island where you can swim, marvel at exotic plants or take a walk with peacocks -OR- receive a ticket to access the walls that contain the old city of Dubrovnik and gain a different perspective on this remarkable place (this choice gives you more leisure time to explore the city). This evening, travel to Cilipi in the culturally-rich Konavle region, where you'll be welcomed for dinner at a family-owned local restaurant. Visit with the family and learn about life in the Croatian heartland as you sample regional wines. At dinner, servers introduce you to a culinary feast, prepared in the way of their ancestors.
Meals:Breakfast & Dinner
Accommodation: Valamar Lacroma Resort
Day 4 – Dubrovnik
Spend today at leisure. Relax or independently explore the marble streets and beautiful baroque buildings of Dubrovnik's breathtaking Old Town. Or, you may choose to purchase our optional excursion to Montenegro; if so, leave in the morning to cross the border to Montenegro's Bay of Kotor, or "the Boka." Once known as Europe's southernmost fjord, it is actually a ria (a long, narrow inlet). Your guide will introduce you to the history of the region and share stories of the many cultures and empires that have left their mark here.
Meals:Breakfast
Accommodation: Valamar Lacroma Resort
Day 5 – Dubrovnik – Split
Savour stunning sea views as you travel up the winding coastal road, hugging the sheer cliffs that drop dramatically into the aquamarine of the Adriatic Sea. Enjoy a stop in a quaint village in the Croatian countryside, where you'll have time to taste some of the local specialties and perhaps take a walk through the village square. Upon arrival in Split, set out on a walking tour featuring the impressive Diocletian's Palace, one of the most significant late-Roman historical monuments and a UNESCO World Heritage site. Also, see the peristyle of the palace and the Temple of Jupiter.
Meals: Breakfast
Accommodation: Atrium Hotel
Day 6 – Split – Plitvice Lakes
Enjoy a morning at leisure in Split. This afternoon, travel to Plitvice Lakes, one of the oldest, largest, and most beautiful national parks in Croatia. Inspiring scenery is one of the wonders you'll experience at this designated UNESCO World Heritage site.
Meals: Breakfast & Dinner High 2}
Accommodation: Jezero Hotel
Day 7 Plitvice Lakes – Opatija
Travel among the park's dense forests and 16 terraced lakes, where waterfalls and free-flowing cascades connect one lake to the other. Enjoy a short cruise that takes you into the heart of this natural wonder that extends over 73,000 acres. From the forest landscapes of Plitvice Lakes, travel this afternoon to the seaside resort of Opatija, known as "Croatia's Riviera." This fashionable region was once the summer retreat for Roman Caesars and Habsburg Monarchs.
Meals: Breakfast
Accommodation: Hotel Bristol Opatija
Day 8 Opatija – Istrian Peninsula – Opatija
Known as "Croatia's Riviera," Opatija was once the summer retreat for Roman Caesars and Habsburg Monarchs. Discover the richness of the Istrian Peninsula with its Italian and Croatian influences. Pay a visit to a local distillery, where the owners use regional plants, fruits, and herbs to produce brandies, snacks and other treats. Discover a picture-perfect example of a rural Croatian town. In the late afternoon, a delightful farm-to-table dinner at a local restaurant lets you sample the regional wines and culinary delicacies of the Istrian Peninsula.
Meals: Breakfast & Dinner High
Accommodation: Hotel Bristol Opatija
Day 9 – Ljubljana, Slovenia
Travel into picturesque Slovenia, to Ljubljana, a capital city in the midst of a cultural renaissance. Take in the spectacular scenery on the drive, and upon your arrival, an afternoon at leisure lets you relax and explore the city.
Meals: Breakfast & Dinner
Accommodation: Hotel Lev
Day 10 – Ljubljana – Lake Bled – Ljubljana
This morning, meet a local expert who introduces you to this lovely town nestled along the banks of the river. Your tour includes the impressive City Hall and a visit to the magnificent Cathedral of St. Nicholas. After free time for lunch, drive a short distance to tranquil Lake Bled, and experience the old-world charm that comes with taking a Pletna boat to the picturesque island in the centre. Spend time exploring the 17th-century cathedral, St. Mary's Church, and the "wishing bell." Enjoy some time to stroll the quiet paths of this lakeside community at your own pace.
Meals: Breakfast High
Accommodation: Hotel Lev
Day 11 – Ljubljana – Zagreb, Croatia
Today we travel to Zagreb, the capital of Croatia. Embark on a tour of this fascinating city that has marked the intersection of Eastern and Central Europe for more than 1000 years. After free time this afternoon for independent exploration, celebrate the end of an unforgettable trip with dinner at a popular local restaurant.
Meals: Breakfast & Dinner
Accommodation: Sheraton Zagreb Hotel
Day 12 – Zagreb – Tour Ends
Your tour comes to a close this morning in Zagreb.
Meals: Breakfast
Terms & Conditions
All rates are per person, based on double occupancy in Canadian dollars (unless otherwise stated) New bookings only. Space and price may be limited and subject to availability at the time of booking.  Errors or omissions may occur on the above information with no guarantee of being honoured. Terms and conditions apply. Tax is not included in the above base fare. Above tax amount includes $30 per adult Booking Management Fee.  Not included in the above rates: Xpresspost fee, recommended medical, cancellation or baggage insurance. Child rate is applicable when travelling with 2 paying adults sharing 1 hotel room, using the existing bedding. Price Match Policy: Travel Best Bets makes every effort to remain competitive by offering our 'Match or Beat Any Price' offer however due to certain restrictions  there will be some product we cannot match or beat. Please note the star ratings found on www.travelbestbets.com are determined by Travel Best Bets based on a number of factors and may not match the star rating found in the Tour Operator's brochure. Please view our star ratings by clicking here. Due to an increasing volume of disputed bookings, we will only accept payment for air only travel to India, the Philippines and the continent of Africa through the following means: book and pay cash in person or by direct deposit into our business account – once the transaction is verified and a copy of the receipt emailed or faxed to our office, we will confirm the booking. Please contact us for details on how to book using this method.Please note there maybe a tax increase when FREE connectors are added with Air Canada Vacations. Please contact

[email protected]

for photo credit information. BPCPA #3287