Travel for 18-35 year olds
Some of the world's best beaches in some of the ultimate places to chill make this Thai Island Hopper trip a must. From busy Phuket, head to paradise on legendary Koh Phi Phi, before Krabi & its amazing scenery. Treat yourself to a relaxing Thai massage, visit 'The Beach' and soak up the sun from the white sandy shoreline or sea canoe in the beautiful clear waters. It's your choice to relax, indulge or party until the sun comes up…
Travel Best Bets Package Includes
8 nights accommodation: 5 nights 3-star hotels, 3 nights bungalows
10 meals: 8 breakfasts & 2 dinners
An experienced & professional Tour Manager
Sightseeing tours of all major cities plus orientation in all other destinations
local taxes, payments & service charges
Tipping for local staff included
3 local ferries
Transport & included sightseeing
August 3, 2019-March 28, 2020 from $1165
April-September West Itinerary (October-March below)

Day 1 – Arrive Phuket
Our tour begins on Phuket, Thailand's largest island. Check-in to your hotel & relax poolside or head to the beach.
Tonight, you'll meet with your Tour Manager & fellow travel buddies before heading out into the bright lights & buzzing atmosphere that this town is known for. Get into holiday mode as you discover Patong at night. Known for its great party vibes & many bars, clubs & discos, there's something for everyone. Maybe try Bangla Road & see why Thailand is famous for the phrase of 'mai pen rai, meaning 'don't worry, be happy'!
Day 2,3 – Phuket
After breakfast, head down to the beach & pick a spot on the sand that will be yours for the day! You could try out some of the water sports on offer here or swim in the beautiful clear waters.
If you're up for something different, you can check out the area at a different angle & explore the natural beauty of the coast in a sea canoe. A local guide will fill you in on the area as they take you through caves and along the dramatic coastlines. You could also take a trip to see an unusual limestone karst, Ko Tapu on Ao Phang Nga National Park, referred to as James Bond Island because it was made famous by a James Bond film.
There are loads of other activities & sights here, so there's something for everyone to enjoy. You could also see a different side of Phuket in Phuket Town; it's known for its architecture & Chinese influences. You could visit the Jui Tui Shrine & ask the shrine's oracle for advice. You can also get to the 45m (147ft) high Big Buddha that overlooks the island.
There's also your chance for something really different – a visit to the Gibbon Rehabilitation Project – an enterprise that is working to protect gibbons (small apes) & return them to the wild. The nearby Bangpae Waterfall is a great place to cool off in the afternoon as well.
When you're in Thailand, there's no better way to get amongst the local lifestyle than through the range of delicious food. From Pad Thai, to mouthwatering yellow, green & red curries, there's something to tempt your taste buds. So as the sun goes down, find a little local place & sit down with a beer & relax. You can take it up a notch later, there are loads of bars, shows & clubs to enjoy here, so ask your Tour Manager for some tips on where to head.
Day 4 – Phuket to Koh Phi Phi
This morning, maybe grab another delicious meal or fit in some last minute time in the sun before we depart on a ferry for one of Thailand's most famous islands, Koh Phi Phi.
On arrival, your Tour Manager will show you all the local sights, so you can get your bearings & get ready for some good times on the island. Made famous by the film 'The Beach' it's a picturesque place with loads to enjoy.
Chill out in the sun before a truly incredible experience – we'll head up to the highest viewpoint on the island for some amazing views where we'll watch a gorgeous sunset over the Andaman Sea. Later, you could enjoy a beer at a beachside bar or chill out with some locals & soak up the vibes.
Day 5,6 – Koh Phi Phi
With two free days, get into all that this fantastic place has to offer. From beaches to boats to food, it's all here & ready to be explored.
If relaxing on island time is what you're after, find a section of Phi Phi's beach, put down your towel & work on your tan. But there are loads of other things to see & do here. Maybe jump on a boat for a look at Maya Island before the tourists arrive.
Today, there's a cool optional activity for you to experience – a cruise around Phi Phi Island that takes in some of the island's hot spots. You'll cruise to Maya Bay, home to "The Beach", for a swim or a stroll on the sand at Monkey Beach, which is famed for its cute furry inhabitants & some snorkeling off Bamboo Islands reefs while looking for "Nemo".
If exploring the island's nightlife is what you're after, Phi Phi by night goes off! Try one of the beachside bars with fresh seafood, lie in a hammock & watch the amazing fire dancing right on the beach. Or, you could head to the local market to meet some locals & try some local specialties like Pad See Ew (long noodles fried in soy sauce with vegetables). And definitely get in some shopping for local souvenirs.
Day 7 – Koh Phi Phi to Krabi (Ao Nang)
Some free time in the morning before we farewell Koh Phi Phi. This afternoon it's a change of pace as we take an afternoon ferry to Krabi. Nestled amongst limestone karts, Krabi offers some amazing scenery, friendly locals & cute small town feel. With it's beautiful beaches & unspoiled islands, it's now one of the most famous tourist destinations in Thailand.
On arrival we'll head to the well known beach of Ao Nang, a small beach town. Maybe head to the beach for a massage or take a walk through the town for a look at the local life here.
Day 8 – Krabi
Wake up to a day of good times in Krabi & take advantage of the many things to see & do here. If you are feeling active, you may want to visit the Tiger Cave temple. Though the tigers have long since left, this Buddhist temple provides some great photo opportunities – especially from the viewpoint at the top of 1237 steps!
If it is a quiet beach that you are after, then jumping on a long-tail boat & making the journey to Rai Leh beach is where you want to go. Only accessible by boat, this small island, surrounded by dramatic rocky cliffs is the perfect place to relax. You could head to West Rai Lay Beach for a look at the town – take a walk along the short promenade lined with restaurants & shops & stop for a tasty lunch or a beer along the way.
You could also go explore some of Krabi's jungle at a different angle….on the back of an elephant at a nearby elephant camp.
Day 9 – Krabi to Phuket
Our journey returns us to Phuket where our Thai Islands tour ends. You can choose to take a free transfer to Phuket airport or the Sawaddi Patong Resort where our tour started.
October-March East Itinerary (April-September above)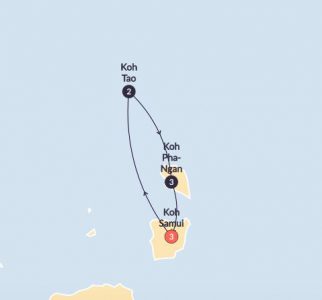 Day 1 – Koh Samui
If anything gets a pack of travellers feeling hyped it's the prospect of 9-days exploring the fabled Thai islands. If you can drag yourselves away from the luxe hotel we've all checked-in to, our first night in Koh Samui as a squad will see us taking in the buzzy nightlife of Chaweng Beach.
Stay: Floral Hotel Chaweng (or similar)
Day 2 – Koh Samui
Two days in Samui means plenty of time to get a taste of the place – and we don't just say that figuratively. Mangosteen & rambutan fresh off the tree, coconut & lime Panang curries & mango sticky rice are just some of the flavours on offer to pleasure your palate, in amongst ocean swims and island explorations of course.
Day 3 – Samui
Really, can snorkelling, swimming, soaking up the rays and sipping on fresh coconuts ever get boring? Hmm…no. But if you've got a taste for adventure, this glorious island offers plenty to keep hungry explorers enthralled. Visit the mighty Wat Phra Yai temple with its 15-metre golden Buddha statue, see the super on-trend mummified monk at Wat Khunaram, or marvel at the natural beauty of the Grandmother & Grandfather rocks on our highlights of Samui island trip.
Day 4- Koh Samui – Koh Tao
Today we swap one ocean paradise for another, departing Koh Samui and cruising the Gulf of Thailand to Koh Tao. Ah, life on the Kohs – that's Thai for islands, if you hadn't already noticed. Today we have an orientation walk and an all included beach-side dinner to settle us into the vibes of Tao, starting life on this island right.
Stay: Charm Churee Resort OR Bungalow Special Stay
Day 5 – Koh Tao
Getting under water should be high priority today. Abounding in coral beauty and (wait for it) sea turtles, Koh Tao's diving reputation is well documented. Grab a snorkel and ask your Trip Manager for the islands hidden spots – you may even be lucky enough to spot a majestic whale shark. Above land, the islands hilly landscapes offer many pretty hiking trails and bubbling waterfalls, depending on the season. Above or below water level, the island is yours & will fill you with happy feels.
Day 6 – Koh Tao – Koh Pha Ngan
This afternoon we make our way to Koh Pha Ngan. Koh Pha Ngan is fringed by flawless beaches that offer endless days of island enjoyment. Grab a snorkel and hit the seas for an island adventure, or head to Haad Yao, one of our absolute favourites, for some sea and sun.
Stay: Shiralea Resort OR Bungalow Special Stay
Day 7 –  Koh Pha Ngan
It's the second last day of our island adventure and 'mai pen rai – don't worry, be happy' is now the group mentality. Enjoy a lazy breakfast and dose up on Vitamin D whilst the day may bring. It's our last full one together, so make it count.
Day 8 – Koh Pha Ngan
Enjoying a traditional Thai massage whilst listening to the sound of the waves, the sea breeze tickling your body – now that should be up there as a top 10 life goal. Once ticked, more Koh Pha Ngan beach hangs and some time exploring the island, fresh coconut in hand, can complete your day. *Happy sigh*
Day 9 – Koh Pha Ngan – Koh Samui
Hit the seas for our ferry ride back to where it all began, Koh Samui. We'll arrive back in Samui armed with a totally zen outlook and a backpack full of incredible new memories. Say your teary goodbyes to your new wolf-pack, making plans for a reunion tour to ease the pain – not forgetting there are another collection of Thai islands just waiting to be explored.