Travel for 18-35 year olds
Some of the world's best beaches in some of the ultimate places to chill make this Thai Island Hopper trip a must. From busy Phuket, head to paradise on legendary Koh Phi Phi, before Krabi & its amazing scenery. Treat yourself to a relaxing Thai massage, visit 'The Beach' and soak up the sun from the white sandy shoreline or sea canoe in the beautiful clear waters. It's your choice to relax, indulge or party until the sun comes up…
Inclusions
1 night hotel pre-tour
7 nights accommodation: 5 nights 3-star hotels, 3 nights bungalows
9 meals: 7 breakfasts & 2 dinners
An experienced & professional Tour Manager
Sightseeing tours of all major cities plus orientation in all other destinations
local taxes, payments & service charges
Tipping for local staff included
3 local ferries
Transport & included sightseeing
Arrival transfer
September 3, 2022-April 15, 2023
from $1199
Per person based on twin share
Highlights:
Apr-Sep: Thailand, including Phuket, Koh Phi-Phi, Krabi
Oct-Mar: Koh Samui, KohTao, Koh Pha Ngan
April-September West Itinerary (October-March below)

You will arrive 1 day before the tour starts, and enjoy the city on your own.
Day 1 – Arrive Phuket – 8-days of exotic lands and those much hyped perfect Thai beaches sit ahead of us. The high-on-life vibes will be inevitable as we join forces in Phuket, start getting acquainted and allow ourselves to start slipping into island time. Hotel hangs and pool time will be high on the agenda.
Day 2 – Phuket – Well good morning explorers, it's your first full day so time to get movin' and shakin'. If you'd rather take to Phuket Town and admire the Chinese influenced local architecture. Swing high or lay low, the choice is entirely yours. The bright lights and wild antics of Bangla Road can take things up a notch this evening, even a famous cabaret show!
Day 3 – Phuket to Koh Phi Phi – It's day three and 'mai pen rai – don't worry, be happy' is now pretty much the group mentality. Enjoy a lazy breakfast and catch some rays before we hit the Andaman Sea in search of one very famous beach…Arriving in Koh Phi Phi will leave you in a daze of love and happiness. More scenic than your wildest dreams, this island is home for the next few days. Glorious long salty days, balmy nights and endless ocean explorations are calling. Dine on the herb-filled rice salad with grated coconut that is khao yam, watch the sunset from Koh Phi Phi's highest vantage point, or stroll postcard beaches alongside playful monkeys. Definitely an evening you won't be forgetting in a hurry.
Day 4 – Koh Phi Phi – The island is your playground and theday is yours to do whatever your heart desires. We're recommending our Day on the Bay Free Time Add-On – the perfect mix of island hopping, swimming and chillaxing.Afterwards, squeeze in one last beachside stroll with the flickering island lights as your backdrop, soaking up the island sounds and Pad Thai smells… this is what we call living.
Day 5 – Koh Phi Phi to Krabi – Although we're leaving Kho Phi Phi and heading to mainland Thailand today, our salty seadog spirit won't change a bit. The exotic paradise of Krabi is calling our names, and who are we to resist…This afternoon we'll soak in the small town feels of Ao Nang. Friendly locals, massage haunts, local markets and seaside cocktails can perfect your day like kaffir lime to a mojito.
Day 6 – Krabi – Back on the Thai mainland we'll take in the island vistas from the charming setting of Krabi. Maybe opt to do a half day rock climb or a speed boat cruise. Local markets, cheap massages & sunset cocktails can reward us from all these adventurous activities.
Day 7 – Krabi – Rise and shine, you have a full free day to make the most of everything Krabi has to offer! Maybe explore the giant rainforest-covered boulders of Phi Phi, chillax on Railay beach, or take advantage of the optional rock climbing activity. Tonight is our last night together as a Contiki collective; best organise a team dinner and have one last evening of mischief.
Day 8 – Krabi to Phuket – After one final morning in paradise it's back on the coach to Phuket where our paradise adventure comes to an end. Have one final love-in with your travel fam, then take our transfer either to the airport or back to our start hotel.
October-March East Itinerary (April-September above)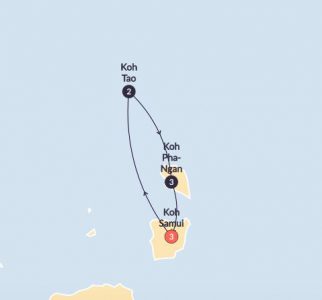 Day 1 – Koh Samui
If anything gets a pack of travellers feeling hyped it's the prospect of 9-days exploring the fabled Thai islands. If you can drag yourselves away from the luxe hotel we've all checked-in to, our first night in Koh Samui as a squad will see us taking in the buzzy nightlife of Chaweng Beach.
Stay: Floral Hotel Chaweng (or similar)
Day 2 – Koh Samui
Two days in Samui means plenty of time to get a taste of the place – and we don't just say that figuratively. Mangosteen & rambutan fresh off the tree, coconut & lime Panang curries & mango sticky rice are just some of the flavours on offer to pleasure your palate, in amongst ocean swims and island explorations of course.
Day 3 – Samui
Really, can snorkelling, swimming, soaking up the rays and sipping on fresh coconuts ever get boring? Hmm…no. But if you've got a taste for adventure, this glorious island offers plenty to keep hungry explorers enthralled. Visit the mighty Wat Phra Yai temple with its 15-metre golden Buddha statue, see the super on-trend mummified monk at Wat Khunaram, or marvel at the natural beauty of the Grandmother & Grandfather rocks on our highlights of Samui island trip.
Day 4- Koh Samui – Koh Tao
Today we swap one ocean paradise for another, departing Koh Samui and cruising the Gulf of Thailand to Koh Tao. Ah, life on the Kohs – that's Thai for islands, if you hadn't already noticed. Today we have an orientation walk and an all included beach-side dinner to settle us into the vibes of Tao, starting life on this island right.
Stay: Charm Churee Resort OR Bungalow Special Stay
Day 5 – Koh Tao
Getting under water should be high priority today. Abounding in coral beauty and (wait for it) sea turtles, Koh Tao's diving reputation is well documented. Grab a snorkel and ask your Trip Manager for the islands hidden spots – you may even be lucky enough to spot a majestic whale shark. Above land, the islands hilly landscapes offer many pretty hiking trails and bubbling waterfalls, depending on the season. Above or below water level, the island is yours & will fill you with happy feels.
Day 6 – Koh Tao – Koh Pha Ngan
This afternoon we make our way to Koh Pha Ngan. Koh Pha Ngan is fringed by flawless beaches that offer endless days of island enjoyment. Grab a snorkel and hit the seas for an island adventure, or head to Haad Yao, one of our absolute favourites, for some sea and sun.
Stay: Shiralea Resort OR Bungalow Special Stay
Day 7 –  Koh Pha Ngan
It's the second last day of our island adventure and 'mai pen rai – don't worry, be happy' is now the group mentality. Enjoy a lazy breakfast and dose up on Vitamin D whilst the day may bring. It's our last full one together, so make it count.
Day 8 – Koh Pha Ngan
Enjoying a traditional Thai massage whilst listening to the sound of the waves, the sea breeze tickling your body – now that should be up there as a top 10 life goal. Once ticked, more Koh Pha Ngan beach hangs and some time exploring the island, fresh coconut in hand, can complete your day. *Happy sigh*
Day 9 – Koh Pha Ngan – Koh Samui
Hit the seas for our ferry ride back to where it all began, Koh Samui. We'll arrive back in Samui armed with a totally zen outlook and a backpack full of incredible new memories. Say your teary goodbyes to your new wolf-pack, making plans for a reunion tour to ease the pain – not forgetting there are another collection of Thai islands just waiting to be explored.
* Comprehensive Travel Insurance is mandatory for all Contiki trips. Contiki has the right to refuse travellers without the required insurance coverage to join our trips. * Contiki requires guests full passport details at time of booking. A valid passport with at least six months validity after your return date is required to enter the country. * It is the passenger's responsibility to obtain all necessary visas. Please be aware that Contiki Holidays is unable to advise on the need to obtain visas as this information is regulated by individual governments and subject to change. * Please contact the consulate/embassy and family doctor for further details on medical vaccinations that may be required for specific countries.