Wine Lovers and Foodies Delight!
Few countries inspire travellers quite like France. It is a land of elegant culture and fine cuisine, set against a dramatic backdrop of rolling countryside, rustic villages and chic cities. It's no surprise that France has inspired some of Europe's most famous artists, sculptors, fashion designers and more.
A river cruise is the perfect way to explore the culture, history and beauty of this incredible part of the world, transporting you through the nation's unspoiled beauty spots and culture-rich cities. An Emerald Waterways river cruise will take you to the very heart of France, via the Rhône and Saône rivers.
Package Includes
Return airfare to  Lyon
7 night River Cruise aboard Emerald Liberte
Accommodation in Boutique hotel-style suites
All on-board meals and gourmet dining at Reflections restaurant
Unlimited beer, wine & soft drinks
Guided city tours and cultural excursions courtesy of our EmeraldPLUS program
Biking and hiking guided tours with EmeraldACTIVE
All airport transfers to and from your Star-Ship
Port charges and taxes include
All gratuities are included
Book by June 15 and SAVE $1000 per person (price reflects savings)

July 10, 2020
Outside
Balcony Suite
Taxes
Vancouver
$4799
$5799
$849
Kelowna,  Calgary,
Victoria, Edmonton
$5099
$6099
$849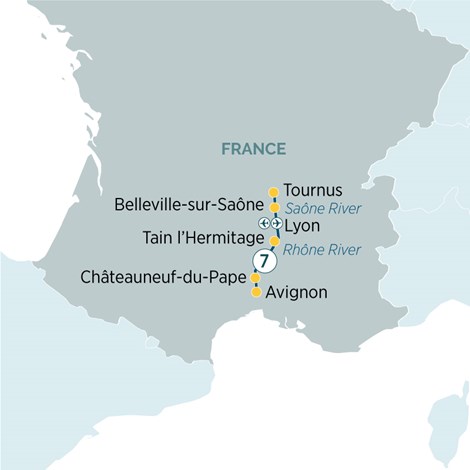 Cruise Itinerary
Day 1: Lyon (D)
Welcome to Lyon, an ancient city christened the "gastronomic capital of the world" by a number of famous food critics. You will be met at the airport and transferred to the lush surrounds of your Emerald Waterways Star-Ship. This evening, enjoy a welcome reception on board. Please book flights to arrive by 1500 into Lyon.
Day 2: Tournus (B,L,D)
Today, your exploration of France's culinary treasures will unveil a truly memorable product, truffles. You will have the opportunity to meet a local truffle farmer to see how these luxury ingredients are gathered from their secret locations in the forests of Europe. Burgundy truffles in particular are known for their hazelnut-like aroma and delicate flavour, both of which you will have the chance to experience during your included tasting.
Alternatively, enjoy a guided bike tour of the surrounding area, passing through several quintessentially French villages and learning about the gastronomy of the region. Later, a cheese tasting on board will introduce you to a number of local specialities.
EmeraldPLUS: A cheese tasting on board
EmeraldACTIVE: A guided bike tour around Tournus
EmeraldEXCURSION: A truffle discovery and tasting
DiscoverMORE: Snail Farm visit with tasting (extra expense)
Day 3: Belleville-sur-Saône (B,L,D)
Discover the world-renowned Beaujolais province today, an important wine-producing region in Burgundy that is known for the luscious and fruity characteristics of its produce. This region is just one of several in the world that focus on a specific variety of grapes, and its wine-producing history can be dated back to the 19th century.
You will have the opportunity to learn the secrets of what makes this ancient grape variety so special during an included visit to a wine estate, including a tasting of their produce.
EmeraldEXCURSION: A winery tour and tasting in Beaujolais
Day 4: Tain l'Hermitage (B,L,D)
Nestled on the banks of the Rhône, Tain l'Hermitage is surrounded by postcard-worthy fields of vines, a noteworthy feature of this wine-producing commune. A walking tour of the town will highlight its popularity amongst those who wish to explore France's culinary delights, as wine and gourmet chocolates are yours to find around every corner.
After your guided tour, you will have the opportunity to visit Valrhona Cité du Chocolat, home to chocolatiers who create some of the world's finest artisanal chocolates, with a range that covers a plethora of unique and recognisable aromatic profiles. Enjoy tasting delicious samples during your time here.
Alternatively, embark on a guided hike through some of the region's beloved vineyards.
EmeraldACTIVE: A guided hike through vineyards
EmeraldEXCURSION: A guided tour of Tain l'Hermitage with Valrhona Cité du Chocolat
Day 5: Avignon (B,L,D)
The UNESCO World Heritage-listed ancient centre of Avignon is yours to discover today during a guided tour, stopping along the way to learn about its storied past and delightful culinary traditions. Meet local artisans, taste regional produce and take your senses on an immersive journey as you peruse the stalls in a local food market.
Alternatively, embark on a guided active walk in Avignon, passing places that include Palais des Papes, a true medieval Gothic icon. Enjoy passing through squares adorned with lavish façades and open-air dining establishments before Jardin des Doms offers spectacular views of the surrounding countryside.
This evening, enjoy an authentic Provençal dinner on board, hosted by renowned Chef Fabien Morreale.
EmeraldPLUS: A Provençal dinner hosted by Chef Fabien Morreale
EmeraldACTIVE: An active walk through Avignon
EmeraldEXCURSION: A gourmet walking tour of Avignon
DiscoverMORE: A guided tour of Orange, including the Antique Theatre (extra expense)
Day 6: Châteauneuf-du-Pape (B,L,D)
A ruined medieval castle sits above the village of Châteauneuf-du-Pape, with a backdrop of vineyards and fields full of lush grapevines. The rich history of this region is yours to uncover today, as are famous red wines and their diverse array of styles.
Today, you will have the opportunity to learn about Châteauneuf-du-Pape wines and their cultivation during your time in the lavish cellars of a wine estate. Enjoy learning about traditional winemaking techniques before a tasting of the local produce.
EmeraldEXCURSION: A visit to a Châteauneuf-du-Pape wine estate with tasting
Day 7: Lyon (B,L,D)
Medieval and Renaissance architecture in Lyon will offer the perfect backdrop to your discovery of the flavours of Burgundy and Provence.
Enjoy a guided tour of Lyon's UNESCO World Heritage-listed historic centre this afternoon. Your local guide will take you through the heart of Les Halles de Lyon – Paul Bocuse, and discover more than sixty stalls of high-end regional products, including cheeses, cured meats, breads, gourmet chocolates and local specialties.
Alternatively, enjoy a guided bike tour through the heart of Lyon.
EmeraldACTIVE: A guided bike tour in Lyon
EmeraldEXCURSION: A gourmet tour of Lyon
DiscoverMORE: A visit to Pérouges (extra expense)
Day 8: Depart Lyon (B)
After breakfast, it's time to bid farewell to your fellow guests and transfer to the airport for your flight, taking memories that will delight your senses with you.