Luxury Yacht Cruising Experience
Reaching an impressive 110 metres in length, our spectacular luxury yachts will exceed your yacht cruising expectations. An abundance of space on board, combined with a maximum guest number of 100 and a crew of 72, allows us to provide an excellent level of personal service throughout your holiday. Discover a secluded spot to read a book, enjoy unimpeded views of the unspoiled landscapes, take a relaxing dip in the Aqua Pool, or arrange to meet new-found friends at one of our comfortable meeting spots.
Inclusions
Airfare to Bridgetown and return from Panama City
10 nights on board an Emerald Cruises luxury yacht
Airport transfers to and from the ship
Dining Highlights:

29 superb meals including 10 Breakfasts (B), 9 Lunches (L), 10 Dinners (D)
Including a Welcome and Farewell Reception & Dinner
Complimentary wine, beer and soft drinks with lunch and dinner on board

Complimentary water, restocked daily
Complimentary WIFI
The services of an Emerald Cruises Tour Manager
Knowledgeable local guides
Port taxes and charges
All tipping and gratuities

Book by Jun 30: FREE Airfare* & save $1400 per cabin!
January 6, 2024
Vancouver, Victoria, Calgary, Edmonton, Winnipeg, Saskatoon, Regina, Montreal, Ottawa, Toronto, Halifax
Oceanview Stateroom
$9025   $8325
Balcony Suite
$12325  $11625
Taxes & Fees Included
Based on Double Occupancy – Full Payment is required upon booking
Promotion is subject to change without notice
*Total ticket cost, including taxes, not to exceed $1,250 per person. Tax and ticket surcharges may apply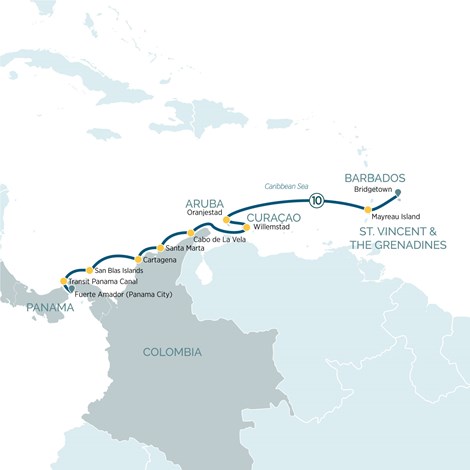 Day 1 Sat, 06 Jan Bridgetown, Barbados (D)
Your luxurious yacht cruise begins in Bridgetown, where you'll be transferred to your Emerald Cruises luxury yacht and embark on your discovery of the Southern Caribbean.
Day 2 Sun, 07 Jan Mayreau Island, Saint Vincent and the Grenadines (B,L,D)
Mayreau is the smallest of the Grenadines' uninhabited islands, with a surface area of only 4 square kilometres (1.5 square miles). The population of Mayreau is no more than 250 people who live in the village on the island's highest hill, Station Hill". The charming little church and community centre at the top of the hill provide spectacular views over the islands. On a clear day, one can see both Grenada and St. Vincent, as well as other nearby islands, showcasing the pretty colours of the reefs and waters around the Tobago Cays.
Day 3 Mon, 08 Jan At Sea (B,L,D)
Enjoy a day at sea, soaking the Caribbean sun while enjoying the stunning views from your luxury yacht and making the most of its various facilities.
Day 4 Tue, 09 Jan Oranjestad, Aruba (B,L,D)
The capital of Aruba, Oranjestad is a unique blend of old and modern, giving a special charm to the colourful city. It is a bustling harbour city whose streets are dotted with international luxury retailers and diverse boutiques, as well as dazzling residential buildings. Among the remarkable restored buildings is the green 'Stadhuis', which houses the City Hall. Another interesting sight is the Aloe Museum and Factory, which dates to 1890 and tells the fascinating story of aloe production, on which the economy was once dependent.
Day 5 Wed, 10 Jan Willemstad, Curacao (B,L,D)
The lively capital of Curacao Island is a welcoming and energizing travel destination, consisting of two neighborhoods on either side of the beautiful St. Anna Bay. The narrow, well-kept streets of Punda are full of stores and museums. Otrobanda, on the other side of the bay, is a residential area with winding streets, a real maze, contrasting with the right angles of the streets on the other side of the bay. Wilemstad's colorful colonial architecture has earned it a UNESCO World Heritage Site.
Day 6 Thu, 11 Jan Cabo de la Vela, Colombia (B,L,D)
In the very north of Colombia's La Guajira region lies the unmissable destination of Cabo de la Vela, considered to be one of the Colombia's best kept secrets. Here you will find one of the calmest and most paradisiacal beaches located in the widest desert area of Colombia. This privileged location just off the shores of the Caribbean offers some spectacular landscapes showcasing different ecosystems and provides the ideal conditions to enjoy unforgettable experiences.
Day 7 Fri, 12 Jan Santa Marta, Colombia (B,L,D)
The welcome sign of Santa Marta reads, "Here you can have it all" – and this is truly the case when it comes to the wide variety of activities available in Santa Marta. Alongside its beautiful beaches and vibrant city life, Santa Marta boasts a rich history and culture – it is the oldest remaining city in Colombia, dating back to 1525. Simon Bolivar, the South American liberator, took his dying breath in La Quinta de San Pedro Alejandrino, and until 1842, the Cathedral kept his remains. Today, La Quinta de San Pedro Alejandrino is open as a museum celebrating Bolivar's life and includes a visit to the astonishing nearby gardens which are home to many of Colombia's most beautiful tropical flora.
Day 8 Sat, 13 Jan Cartagena, Colombia (B,L,D)
Located on the coast of the Caribbean Sea, Cartagena de Indias uniquely combines the charm of colonial architecture and the excitement of vivid modern life. The city is well known for its fascinating cultural festivals, breathtaking landscapes and excellent cuisine. This fabulous city holds secrets of Latin American history within its Old Town walls city and narrow stone walkways. It is among the most well-preserved cities in the Americas and has inspired many artists throughout history, such as the author Gabriel García Márquez, who received the Nobel Prize in Literature in 1982.
Day 9 Sun, 14 Jan San Blas Islands – Lemon Cay, Panama (B,L,D)
The San Blas archipelago is a group of islands located just north-west of Panama in the Caribbean Sea. There are 378 islands within the archipelago spread around in an area of roughly 100 square miles. Most of the islands are uninhabited, but on a some of the larger ones, one can meet the native people known as the Kunas. Formally called Kuna Yala ('Land of the Kuna'), San Blas is an autonomous territory of Panama famous for its untouched nature and traditional culture.
Day 10 Mon, 15 Jan Transit Panama Canal, At Sea; Panama City (B,L,D)
Today, we are passing through the Panama Canal, the most famous attraction in Panama. Considered as one of the 'Seven Wonders of the Modern World', this canal was built to significantly decrease the travel time for ships between the Pacific Ocean and the Caribbean Sea. In its lifetime, the canal has seen over 900,000 vessels and counting, and is seen by many as an engineering miracle which was at first considered impossible to build at first Today, you'll experience this marvellous waterway for yourself.
Day 11 Tue, 16 Jan Panama City, Panama (B)
Your time aboard your Emerald Cruises luxury yacht comes to an end in Panama City. After bidding farewell to the crew and your fellow guests, you will be transferred to the airport for your return flight home.
Flexible Booking Plan
Our Flexible Booking Plan has been introduced for complete peace of mind. We understand you may need to adjust your plans, so we're offering the flexibility to change your travel arrangements or re-book for a more suitable time if needed.
Our Flexible Booking Plan allows you to defer your booking to an alternative date, or cancel your journey, up to 90 days prior to departure, less third-party fees. We will provide you with a Future Travel Credit to use on an alternate tour/cruise, which is valid for 24 months.
This plan is available to purchase for a wide range of destinations* for departures in 2022 and onwards.
*Excludes Russia, Galapagos & Amazon
| | |
| --- | --- |
| River Cruising | Yacht Cruising |
| $125 | $200 |
Terms and conditions:
Should you choose to defer or cancel your booking, the total monies paid to us (less third-party fees) will be applied as a Future Travel Credit which is valid for 24 months for you to use on an alternate tour/cruise.
If you do not re-book within 24 months, your FTC it will be forfeited.
Non-refundable. Non commissionable.
Excludes Russia cruising.
Not available to guests using COVID Future Travel Credits
Platinum Protection Plan
The Platinum Protection Plan ("PPP") is available for new river and ocean cruising bookings for travel after 1 January 2022 for Scenic and Emerald Cruises ("Eligible Booking"). By adding this plan, you are covered if you unable to travel due to health reasons, or your travel plans are impacted by COVID-19, up to 31 days prior to departure with a 100% refund (less airline cancellation fees and PPP cost), or a 70% refund between 15 and 30 days prior to departure (less PPP cost). The PPP must be purchased together with the Eligible Booking at time such booking is made and may not be added at a later date. The PPP is provided at a cost of $395 per person per river cruise, $495 per person per cruise on Emerald Cruises yacht cruising and $595 per person per cruise on Scenic Eclipse voyages ("PPP Fee").
The PPP is not available on Oberammergau, Amazon and Galapagos cruises or land tours and the PPP is also not available to new bookings using a Future Travel Credit.