The Rhine River is the gateway to Europe's most treasured destinations, granting access to spectacular cities and regions like Amsterdam, Cologne, Mannheim, the Rhine Gorge and the Black Forest in a single, unforgettable journey.
Travel Best Bets Package Includes
Airfare to  Amsterdam and return from Zurich (or reverse)
Deluxe 7 night all-inclusive river cruise aboard Emerald Sun
Airport transfers to and from the ship
Prepaid gratuities
It's Amazing What's also Included:
Boutique contemporary hotel feel, with spectacular on board heated pool, cinema, spa and lounge
Spacious, comfortable accommodations with panoramic suites and staterooms
Gourmet all-included on board meals and highlight dinner events, al-fresco on The Terrace or in the well-appointed Reflections Restaurant
Enjoy in depth cultural experiences with EmeraldPlus and EmeraldActive, like a guided hike through a  Black Forest village
Emerald's Concierge Service* – served right to your suite, enjoy continental breakfast, predinner canapés and after dinner treats
A refined selection of wine, beer and soft drinks to accompany lunch and dinner
Tea and coffee available at all times
Bottled water restocked daily in your cabin
Built-in adventure, with an included on shore excursion at every port
Visits to many UNESCO World Heritage Sites
Emerald Active guided biking and hiking tours
Excellent service from an English speaking crew
Knowledgeable, personable local destination guides
Complimentary bicycles on board
Complimentary on board Wi-Fi
 Book by March 31 – Save from $750 pp on select 2019 itineraries PLUS receive either a Premium Beverage Package or €200pp On Board Credit.
Vancouver, Toronto
Outside Stateroom
Balcony Suite
Taxes and fees
May 10, 2019
$4199
sold out
$798
Victoria, Kelowna, Calgary, Edmonton add $300 per person
Pre and post cruise hotel nights available to extend your stay – ask for pricing.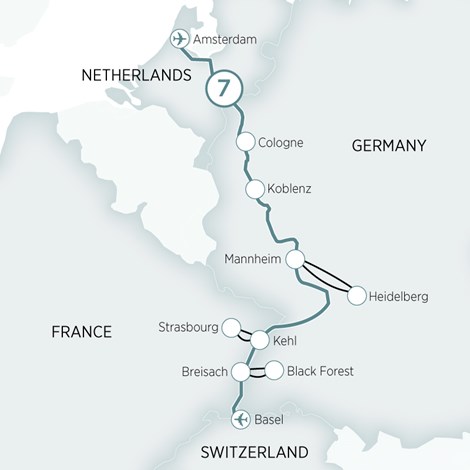 Southbound
Welcome to Amsterdam, a fascinating 700 year old city of picturesque canals, world class museums, theatres and cafés. You will be met and transferred from the airport to your Emerald Waterways luxury river cruise ship. This evening join your fellow travellers for dinner on board. Your Cruise Director will also conduct a port talk to review the activities and itinerary for the days ahead.
Meals included: Dinner
This morning you can decide to either enjoy a glass top canal boat tour through Amsterdam's canal or a guided bike tour. Return to the ship for your first day sailing through the Dutch countryside passing windmills and sailing through locks towards the Rhine River. Tonight the Captain will be delighted to host a gala dinner.
Emerald ACTIVE: Guided Bike Tour
Meals included: Breakfast, Lunch, Dinner
Cruise along the Rhine River to Cologne, founded by the Romans, the city is one of Germany's oldest and is famous for its magnificent World–Heritage listed Gothic Cathedral. After lunch on board, join your local guide for an included tour of the Old Town, with free time for exploring. Cologne is one of Germany's largest and most modern cities largely due to a rebuilding plan post WWII, and it has many different museums and galleries including a Roman artefact museum.
Meals included: Breakfast, Lunch, Dinner
Cruise to the 2000 year old town of Koblenz, which is situated at the confluence of the Rhine and Moselle rivers. Visit the Ehrenbreitstein Fortress on the opposite side of the river. This fortress was part of the Prussian defences against the French in the 19th century and later used as a headquarters for the American military during WWII. In the afternoon, sail through the spectacular Rhine Gorge, passing the infamous Lorelei statue and Pfalzgrafenstein Castle, which was built on an island in the middle of the river as a medieval toll station. Countless vineyards and medieval castles line the shores of this section of the river, with photo opportunities at every bend.
Discover More: Moselle & Cochem Visit (extra expense) passengers on this tour will not be able to visit the Ehrenbreitstein Fortress for both tours happen at the same time
Meals included: Breakfast, Lunch, Dinner
Day 5 – Mannheim – Heidelberg
Continue upstream to the town of Mannheim, located at the confluence of the Rhine and Neckar rivers. There you will visit the medieval town of Heidelberg including the impressive castle which overlooks the town. Enjoy free time there before returning to the ship for lunch and an afternoon sailing.
Meals included: Breakfast, Lunch, Dinner
Day 6 – Kehl – Strasbourg
Once docked in Kehl you will be transferred by coach across the river to Strasbourg, the capital city of the Alsace Region in France. Your guided walking tour will include the Grande Ile, the historical city centre and UNESCO World Heritage Site known for its medieval black and white timber framed buildings, old tanning houses, baroque sandstones buildings, canals and river locks. Your afternoon is free to continuing exploring Strasbourg.
EmeraldPLUS: Guided Tour of Strasbourg
Meals included: Breakfast, Lunch, Dinner
Today you have a choice to commence your magical morning with a visit to the Vogtsbauernhof Museum, an open air exhibition of sixteenth century life, featuring a number of reconstructed Black Forest farms. Alternatively, take part in the Emerald Active hike.
EmeraldACTIVE: Guided Hike Through a Typical Black Forest Village (active fitness level recommended)
EmeraldPLUS:  Black Forest Cake Assembling presentation and tasting
Meals included: Breakfast, Lunch, Dinner
Day 8 – Basel Disembarkation
Welcome to Switzerland and the Rhine–side town of Basel, the centre for Switzerland's pharmaceutical industry. After, your breakfast you will disembark your ship and transfer to the airport in Zurich for your homebound flight. Please schedule flights to depart after 11.30am in Zurich.
Meals included: Breakfast
Northbound
Day 1  Arrival Zurich – Basel Embarkation (D)
Welcome to Switzerland, today you will travel from Zurich airport to the Rhine–side town of Basel, the centre of the country's pharmaceutical industry. A warm welcome awaits you from your Captain and crew as you board your Emerald Waterways luxury river cruise ship. This evening, join your fellow travellers for dinner on board. Your Cruise Director will also conduct a port talk to review the activities and itinerary for the days ahead.
Meals included: Dinner
Day 2 Breisach 
Today you have a choice to visit a typical Black Forest Village, featuring many of the famous black forest items, like Cuckoo clocks, amongst other things. Alternatively, take part on a guided hike through some of the black forest trails.
EmeraldACTIVE: Guided hike through some of the Black Forest trails
EmeraldPLUS: Black Forest Cake Assembling presentation and tasting

Day 3 Kehl – Strasbourg
Once docked in Kehl, you will be transferred by coach across the river to Strasbourg, the capital city of the Alsace Region in France. Your guided walking tour will include the Grande Île, the historical city centre and UNESCO World Heritage Site known for its medieval black and white timber framed buildings, old tanning houses, baroque sandstones buildings, canals and river locks.
EmeraldPLUS: Guided Tour of Strasbourg
Meals included: Breakfast, Lunch, Dinner
Day 4  Mannheim – Heidelberg 
Continue downstream to the town of Mannheim, located at the confluence of the Rhine and Neckar rivers. There you will have a chance to either visit the medieval town of Heidelberg including the impressive castle which overlooks the town or take part on an active hike to Heidelberg Hill.
EmeraldACTIVE: Active Hike to Heidelberg Hill
EmeraldPLUS: Wine Tasting in Heidelberg
Meals included: Breakfast, Lunch, Dinner
Day 5 Koblenz 
Cruise to the 2000-year-old town of Koblenz, which is situated at the confluence of the Rhine and Moselle rivers. You will have a tour of Koblenz and a chance to visit the Ehrenbreitstein Fortress on the opposite side of the river. This fortress was part of the Prussian defences against the French in the 19th century and later used as a headquarters for the American military during WWII.
DiscoverMORE: Moselle & Cochem Castle Visit (extra expense)
Meals included: Breakfast, Lunch, Dinner
Day 6 Cologne 
Founded by the Romans, Cologne is one of Germany's oldest and is famous for its magnificent World–Heritage listed Gothic Cathedral. Join your local guide for an included tour of the Old Town, with free time for exploring. Cologne is one of Germany's largest and most modern cities largely due to a rebuilding plan post WWII, and it has many different museums and galleries. This evening, join your Captain for a farewell reception and dinner.
DiscoverMORE: Football Stadium Tour (extra expense)
Meals included: Breakfast, Lunch, Dinner
Day 7 Amsterdam 
This morning you can decide to either enjoy a glass top canal boat tour through Amsterdam's canal or a guided bike tour.
EmeraldACTIVE: Guided Bike Tour
Meals included: Breakfast, Lunch, Dinner
Day 8 May Amsterdam Disembarkation
After, your breakfast you will disembark your ship and transfer to airport for your homebound flight.
Meals included: Breakfast