Experience the ancient beauty of the region. Uncover historical tales during a visit to the Great Pyramids of Giza and a Felucca cruise on the Nile, bask among the golden beaches of Al Wajh in Saudi Arabia, and tour ancient Petra.
Emerald Cruises brings our award-winning reputation and service to the world's oceans and coastlines, as we introduce 5-Star Luxury yacht cruising on our brand new, innovative superyacht, Emerald Azzurra. Custom-designed to allow unique access to the fascinating ports and harbours only small yachts can reach.
Reaching an impressive 110 metres in length, our spectacular super yacht will exceed your ocean cruising expectations. And with an intimate 100 guests on board there's an abundance of space throughout all areas of your yacht.
Inclusions
9 nights yacht cruise aboard Emerald Azzurra
Airport transfers to and from the ship
Dining Highlights:
-26 superb meals including 9 Breakfasts (B), 8 Lunches (L), 9 Dinners (D)
-Including a Welcome and Farewell Reception & Dinner
-Complimentary wine, beer and soft drinks with lunch and dinner on board
Complimentary on-board wi-fi
The services of an Emerald Cruises Cruise Director
Port taxes and charges
All tipping and gratuities
Included Excursions:
-Naama Bay and glass bottom boat trip
-EmeraldPLUS The Great Pyramids of Giza and Felucca cruise on the Nile
-EmeraldPLUS Guided tour of Petra with lunch included

Pay in Full by Dec 15 and receive up to 25% off!

 (price reflects below)
February 14, 2022
Cruise Only
Oceanview
$5166
Balcony
$7302
Taxes & Fees Included
Book with Confidence: Change or cancel 60 days prior to travel. The value of the booking will be applied as a Future Travel Credit (FTC) which is valid for 24 months.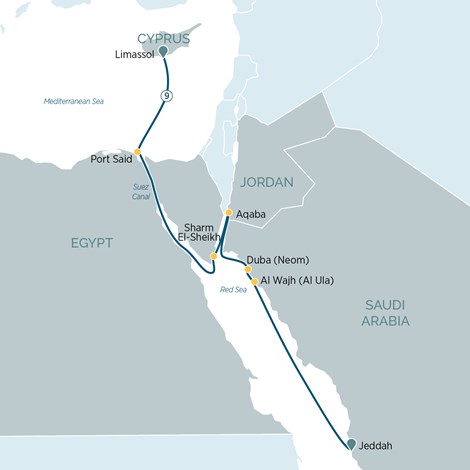 Day 1 Mon, 14 Feb Limassol, Cyprus (D)
Your luxury yacht cruise begins in the charming Cypriot city of Limassol, where you'll be transferred to your superyacht to embark on your journey through Saudi Arabia and the Red Sea.
Day 2 Tue, 15 Feb At Sea (B,L,D)
Today is yours to relax on board your luxury superyacht, taking advantage of the wealth of on board amenities.
Day 3 Wed, 16 Feb Port Said, Egypt- Transit Suez Canal (B,L,D)
History is etched into every aspect of Port Said. The city's lighthouse is its oldest building dating back to the city's creation, while the Coptic Orthodox Church features an icon of St Mary, which is believed to produce holy oil. During your included EmeraldPLUS excursion, travel back in time to ancient Egypt and witness the magnitude of the Great Pyramids of Giza, one of the seven Wonders of the Ancient World, guarded by the Great Sphinx, before embarking on a traditional Felucca cruise along the mighty Nile River.
EmeraldPLUS
The Great Pyramids of Giza and Felucca cruise on the Nile
Day 4 Thu, 17 Feb Transit Suez Canal (B,L,D)
Connecting the Mediterranean Sea and the Red Sea, the Suez Canal it is one of the world's most heavily used shipping lanes. Experience the spectacular magic of sailing through this 100-mile engineering genius that has permanently changed the face of maritime trade.
Day 5 Fri, 18 Feb Sharm El-Sheikh, Egypt (B,L,D)
Located on the southern tip of the Sinai Peninsula, Sharm-El-Sheikh is loved by many for its warm climate, white sandy beaches, and crystal-clear waters, making it the perfect spot for snorkelling and diving to discover the Red Sea's vibrant coral reefs and marine life. During your included excursion on the Egyptian Riviera, relax at a private beach and enjoy an unforgettable trip on a glass bottom boat, showcasing the unspoiled and pristine beauty of the Red Sea underwater world.
Included Excursion
Naama Bay visit and glass bottom boat trip
DiscoverMORE
Snorkelling at Ras Mohammad National Park (extra expense)
Day 6 Sat, 19 Feb Aqaba, Jordan (B,L,D)
As Jordan's only coastal port, the idyllic town of Aqaba has long been a greatly important part of Jordanian life. Rich in history and marine biodiversity, Aqaba is blessed with vibrant coral reefs and a fascinating array of sunken vessels making it one of the best diving spots in the Red Sea. Its Old Town is home to the 14th century Mamluk Fort, while Aqaba Archaeological Museum offers a captivating insight into the town's history. As part of an included EmeraldPLUS excursion, get ready to be inspired by the UNESCO World Heritage-listed site of Petra, an ancient rock-carved Nabatean city once lost for almost 1000 years to the Western world.
EmeraldPLUS
Guided tour of Petra with lunch included
Day 7 Sun, 20 Feb Duba (Neom), Saudi Arabia (B,L,D)
Lovingly known by locals as the 'Pearl of the Red Sea', Duba is a small port city in the Tabuk region and is the nearest Saudi Arabian port to the Suez Canal. This undiscovered treasure is bursting with history, fresh seafood restaurants overlooking the harbour, picturesque beaches, and the historic King Abdulaziz Fort.
Day 8 Mon, 21 Feb Al Wajh (AlUla), Saudi Arabia (B,L,D)
Located in the Tabuk Province in north-western Saudi Arabia, the coastal city of Al Wajh is known not only for its pristine white sandy beaches and its mostly abandoned old town – Al Balad, but for being the gateway to AlUla, Saudi Arabia's first UNESCO World Heritage-listed site, and home to the tombs of Hegra, and one of the oldest cities on the Arabian Peninsula.
DiscoverMORE
Discover AlUla (UNESCO Site) (extra expense)
Day 9 Tue, 22 Feb At Sea (B,L,D)
Enjoy a day sea on board your superyacht, perhaps choose to visit the on board spa, or spend the afternoon relaxing poolside.
Day 10 Wed, 23 Feb Jeddah, Saudi Arabia (B)
Your luxury yacht cruise ends in Jeddah, where you'll disembark your superyacht for your transfer to the airport.
The itinerary is a guide only and may be amended for operational reasons. As such Emerald Cruises cannot guarantee the cruise will operate unaltered from the itinerary stated above. Please refer to our terms and conditions for further information.
From the moment you book your holiday with Emerald Cruises, we want you to feel the benefit of our award-winning service and exceptional EmeraldVALUE. That's why we've created our Book with Confidence Assurance to give you complete peace of mind when booking your next getaway with us.
Terms and conditions: Flexible Booking Policy: To ensure guests can book with confidence, for all new 2022/2023 bookings Emerald Cruises is including a Flexible Booking Policy which allows guests to defer travel and transfer to an alternate departure or itinerary or cancel up to 60 days prior to travel, with no Emerald Cruises fees (3rd party fees may apply). For cancellations, the value of the booking will be applied as a Future Travel Credit (FTC) which is valid for 24 months. This flexible booking and cancellation policy excludes Russia. Please note, final payment due date will remain as per booking conditions; however, this flexible policy allows changes to be made up to 60 days prior to travel.
Visas
When travelling abroad, you need to hold a passport valid at least six months beyond the period of intended stay, with two blank pages. Government Policy and visa regulations are subject to change at short notice. Emerald Cruises recommends that you contact the relevant consulates for the latest information on specific visa requirements of the countries visited on your journey. Guests who do not have the correct visa or other documentation necessary to enter a country may be prevented from boarding.
Guests may require an ETIAS visa waiver from late 2022 when traveling to the E.U.
Jordan
Amman: If you arrive into Jordan via Queen Alia Airport Amman visas are issued on arrival at the immigration desks in the airport in Amman. There's no form filling involved. Payment must be made in Jordanian dinars (40 JOR). Money can be exchanged at the banks inside the airports.
Aqaba: If you arrive into Jordan via King Hussein Airport Aqaba or the Port of Aqaba, your visit will be free, thanks to the special economic zone designated for the Aqaba area (ASEZA).
Egypt
A free Quicktrip Visa Stamp will be issued on arrival when entering Egypt via sea and is renewed every 72 hours. When entering Egypt under the Quicktrip Visa Stamp program guests are required to carry their original stamped passport, not copies while ashore. Selected nationalities do not qualify and will require a pre-issued Visa prior to their journey.
Saudi Arabia
An eVisa is required to enter Saudi Arabia. You can apply at https://visa.visitsaudi.com