Savour the finest wines in Bernkastel amid the town's majestic scenery, before embarking on a guided tour of Trier, home to beautifully preserved Roman remains. In Cochem, explore the slopes of the Moselle Valley by bike, then witness the fairytale-like Marksburg Castle in Koblenz. Rüdesheim in the Rheingau region will enchant you with its medieval architecture and rolling vineyards, whilst the spa town of Wiesbaden offers a relaxing way to end your river cruise.
Inclusions
7 nights all-inclusive river cruise aboard Emerald Luna
20 superb meals including 7 Breakfasts (B), 6 Lunches (L), 7 Dinners (D)
Wine, beer and soft drinks with lunch and dinner
The services of an Emerald CruisesCruise Director
Excursions and guided tours
Complimentary Wi-Fi on board
Complimentary Bicycles on board (when available)
All tipping and gratuities
Airport transfers to and from the ship
Port taxes and charges

Book by Jun 30: Second Guest Sails FREE (pays taxes only)
August 21 or 28, 2023
Guest 1
Guest 2
(pay taxes only)
Riverview
$3649-$3959

FREE

Panorama Balcony Suite
$4639-$4999

FREE

Taxes & Fees
$380
$380
Solo Travelers – No Single Supplement Fee
Deposit required at time of booking; full payment is required within 7 days of booking.
New Bookings Only. Promotion is subject to change without notice.
Dining Highlights
20 superb meals including 7 Breakfasts (B), 6 Lunches (L), 7 Dinners (D)
Including a Welcome and Farewell Reception & Dinner
Complimentary wine, beer and soft drinks served with lunch and dinner on board
Included Excursions
Walking tour of Bernkastel
Guided tour of Trier
Guided tour of Cochem
Visit to Marksburg Castle
Visit to Eberbach Abbey
Walking tour of Wiesbaden
EmeraldPLUS: Cochem Castle visit with entertainment
EmeraldPLUS: Wine tasting in Bernkastel
EmeraldACTIVE: Guided bike tour near Bernkastel
EmeraldACTIVE: Guided bike tour in Cochem
EmeraldACTIVE: Guided Hike to Marksburg Castle
EmeraldACTIVE: Guided Hike in Koblenz
EmeraldACTIVE: Hike to Niederwalddenkmal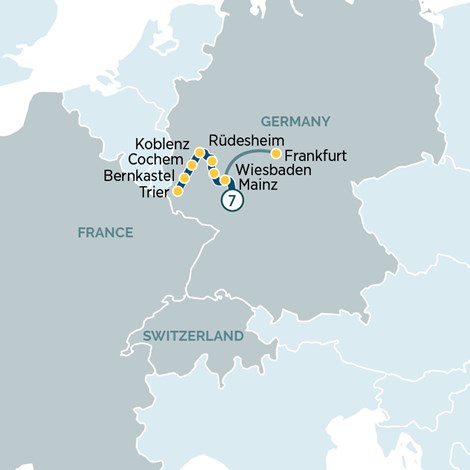 Day 1 Frankfurt Airport – Mainz (D)
Welcome to Frankfurt, where you will be met at the airport and transferred to your award-winning Emerald Cruises Star-Ship in Mainz. This evening, join your fellow guests for dinner on board.
Please book your flight to arrive into Frankfurt prior to 02:00 PM.
Day 2  Rüdesheim (B,L,D)
Start your day with a visit to Eberbach Abbey. You'll be amazed by the beauty of one of the best-preserved medieval monasteries in the Rheingau Region. Founded in 1136 by St. Bernard of Clairvaux (Burgundy), the monastery was one of the most active in Germany, and also boasted the largest vineyards in medieval Germany. Today, the abbey continues to make exquisite wines and offers guided tours, enabling everyone to enjoy its history and architectural splendour. It is even the setting for the season five trailer of the popular television series Game of Thrones.
Alternatively, enjoy an active hike to the Niederwalddenkmal, a monument located in the Niederwald, near Rüdesheim am Rhein in Hesse. It overlooks the Rhine Valley and was built in the late 1800s to commemorate the Unification of Germany.
Included Excursion
Visit to Eberbach Abbey
EmeraldACTIVE
Hike to Niederwalddenkmal
Day 3  Bernkastel (B,L,D)
Dating back to 3000 BC, Bernkastel is situated along the banks of the Moselle River and home to well-preserved buildings dating back to 1416. Enjoy a guided walking tour, where you will have the opportunity to stroll through the medieval marketplace with its gabled timber-framed houses, castle ruins and town gate. Or, take part on a active hike to the Landshut Castle Ruins.
EmeraldPLUS
Wine experience in Bernkastel
EmeraldACTIVE
Active hike to Landshut Castle Ruins
Included Excursion
Walking tour of Bernkastel
Day 4  Trier (B,L,D)
In southwest Germany, near the Luxemburg border, the city of Trier is a hidden treasure often called the 'Rome of the North'. During your guided tour, explore the ruins of the old city baths, a hive of activity during ancient times, and the Porta Nigra, the best-preserved Roman city gate north of the Alps.
Included Excursion
Guided tour of Trier
Day 5  Cochem (B,L,D)
Today, you will enjoy the enchanting town of Cochem during a guided tour of its well-preserved sites. You'll see the remains of the historic town wall with its old fortifications, as well as the town hall and its many other gems.
In the evening, enjoy a visit to the Imperial castle which stands majestically over the Moselle River valley. A wonderful invitation for every history and culture enthusiast to enjoy one of the highest hill castles on the Moselle River. Soaring over Cochem, this medieval castle was heavily damaged while in the possession of the electoral princes of Trier. However, it was restored in the neo-Gothic style associated with the German castle Romanticism of the 19th century.
EmeraldPLUS
Cochem Castle visit with entertainment
EmeraldACTIVE
Guided bike tour near Cochem
Included Excursion
Guided tour of Cochem
Day 6  Koblenz (B,L,D)
Wonderfully maintained inside and out, Marksburg Castle boasts a selection of typical interiors including the castle kitchen, the knight's hall, the armoury and an inviting wine cellar. The attractive light-stoned walls of the castle are protected by an outer fortress and, with a single tower peering over the turrets and castle walls, it looks not unlike something you would find in a Brothers Grimm tale.
EmeraldACTIVE
Guided hike to Marksburg Castle
Included Excursion
Visit to Marksburg castle
Day 7 Wiesbaden (B,L,D)
Famous for its mineral springs dating back to Roman times, your morning guided tour of Wiesbaden will pass by the Russian Chapel. Visit the old town, the castle and the Kurhaus, and enjoy the magnificent view over the city and the Rhine Valley. Witness some fine examples of UNESCO World Heritage-listed Wilhelmine architecture on the way to the Kochbrunnen hot spring, where you can take a sip of hot water.
Included Excursion
Walking tour of Wiesbaden
DiscoverMORE
Wine tasting at Schloss Johannisberg (extra expense)
Day 8  Mainz – Frankfurt Airport
After breakfast, it's time to say farewell to your fellow guests and disembark the ship for your transfer to the airport.
Please book your flight to depart out of Frankfurt after 12:00 PM.
This itinerary is a guide only and may be amended for operational reasons such as high and low water. As such, the cruise may operate altered from that stated above. Please refer to our terms and conditions for further information.
Flexible Booking Plan
Our Flexible Booking Plan has been introduced for complete peace of mind. We understand you may need to adjust your plans, so we're offering the flexibility to change your travel arrangements or re-book for a more suitable time if needed.
Our Flexible Booking Plan allows you to defer your booking to an alternative date, or cancel your journey, up to 90 days prior to departure, less third-party fees. We will provide you with a Future Travel Credit to use on an alternate tour/cruise, which is valid for 24 months.
This plan is available to purchase for a wide range of destinations* for departures in 2022 and onwards.
*Excludes Russia Cruises. 
| | |
| --- | --- |
| River Cruising | Yacht Cruising |
| $125 | $200 |
Terms and conditions:
Should you choose to defer or cancel your booking, the total monies paid to us (less third-party fees) will be applied as a Future Travel Credit which is valid for 24 months for you to use on an alternate tour/cruise.
If you do not re-book within 24 months, your FTC it will be forfeited.
Non-refundable. Non commissionable.
Excludes Russia cruising.
Not available to guests using COVID Future Travel Credits
Platinum Protection Plan
The Platinum Protection Plan ("PPP") is available for new river and ocean cruising bookings for travel after 1 January 2022 for Scenic and Emerald Cruises ("Eligible Booking"). By adding this plan, you are covered if you unable to travel due to health reasons, or your travel plans are impacted by COVID-19, up to 31 days prior to departure with a 100% refund (less airline cancellation fees and PPP cost), or a 70% refund between 15 and 30 days prior to departure (less PPP cost). The PPP must be purchased together with the Eligible Booking at time such booking is made and may not be added at a later date. The PPP is provided at a cost of $395 per person per river cruise, $495 per person per cruise on Emerald Cruises yacht cruising and $595 per person per cruise on Scenic Eclipse voyages ("PPP Fee").
The PPP is not available on Oberammergau, Amazon and Galapagos cruises or land tours and the PPP is also not available to new bookings using a Future Travel Credit.
Visa Requirements

Australian, New Zealand, Canadian and US passport holders may require an ETIAS visa waiver from late 2023 when traveling to the E.U.
United Kingdom passport holders do not require visas (excluding tours that feature Russia and Turkey, where guests are required to obtain a Visa).
Visa regulations are subject to change at short notice, Scenic recommends that you contact the relevant Consulates for the latest information regarding visa requirements.
Clients must make their own enquiries regarding safety warnings and government warnings in relation to the destinations they are travelling to. These change quite regularly and can be found through your local government travel advisory. Scenic can accept no responsibility for the actions of terrorism etc in certain locations. Please refer to our terms and conditions for further advice.