Savour the pastoral charm and history of Provence with an 8-day Rhône river cruise from Lyon to Arles. You'll cut a course through lavender fields and wineries, visiting captivating destinations such as Tournon, Avignon, and Chalon-Sur-Saône.
The culinary theme begins immediately in Lyon, an ancient city recognised as the world capital of gastronomy. Take a tour of the Basilique Notre Dame de Fourviere church, before visiting a local Bouchon Lyonnais to sample the best in decadent French fare.
Sample regional wines in Tournon or take an EmeraldACTIVE guided hike through the surrounding vineyards. The landscape is laden with produce, and you'll sample the finest offerings of wine, cheese, and olives as you journey steadily south.
In Avignon, marvel at the imposing walls of the illustrious Palais des Papes, which served as the seat for successive popes throughout the 13th century. The cobbled byways of this enchanting city are yours to discover this afternoon, while a sumptuous Provencal dinner awaits on-board courtesy of a local chef – one of the EmeraldPLUS highlights in southern France.
Once in Arles, enjoy a relaxing evening on-board the Emerald Liberté after your guided walking tour of the city's Romanesque architecture, including a visit to the preserved Roman Amphitheatre.
Package Includes
Airfare from Vancouver to Marseille and return from Lyon (or reverse)
Deluxe 7 night all-inclusive river cruise aboard Emerald Liberte
Airport transfers to and from the ship
Prepaid gratuities
It's Amazing What's also Included:
Boutique contemporary hotel feel, with spectacular on board heated pool, cinema, spa and lounge
Spacious, comfortable accommodations with panoramic suites and staterooms
Gourmet all-included on board meals and highlight dinner events, al-fresco on The Terrace or in the well-appointed Reflections Restaurant
Enjoy in depth cultural experiences with EmeraldPlus and EmeraldActive, like a guided hike through a  Black Forest village
A refined selection of wine, beer and soft drinks to accompany lunch and dinner
Tea and coffee available at all times
Bottled water restocked daily in your cabin
Built-in adventure, with an included on shore excursion at every port
Visits to many UNESCO World Heritage Sites
Emerald Active guided biking and hiking tours
Excellent service from an English speaking crew
Knowledgeable, personable local destination guides
Complimentary bicycles on board
Complimentary on board Wi-Fi
Book by March 31 Save $1000 and receive a free upgraded beverage package (price reflects savings)
Vancouver
Outside Stateroom
Balcony Suite
Taxes and fees
August 21, 2020
$4049
 $4899
$762
Kelowna, Calgary, Edmonton,Victoria  add $400
 Pre and post cruise hotel nights available to extend your stay – ask for pricing.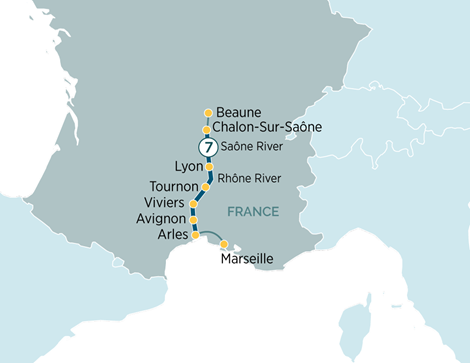 Day 1

Sat, 13 Jun

Marseille – Arles (D)

You will be met at the airport and transferred to Arles, where your friendly captain and crew will be waiting for you to board your luxurious Emerald Waterways Star-Ship. This evening, enjoy a welcome reception on board.
Day 2

Sun, 14 Jun

Arles (B,L,D)

Revel in the glory of the Roman Empire today during an insightful visit to Arles, including the UNESCO World Heritage-listed Roman and Romanesque monuments of Arles and Arles Amphitheatre, a 2,000-year-old structure where spectators would have once gathered by the masses to watch superb chariot races.
Enjoy learning about the time that Vincent van Gogh spent in the city, taking inspiration from his surroundings and using them to create many of his most iconic pieces of art, including the "Starry Night Over the Rhône", before exploring Arles at leisure.
EmeraldPLUS: A Provençal dinner hosted by Chef Fabien Morreale
EmeraldEXCURSION: A guided tour of Arles with arena visit
DiscoverMORE: Tour to Les Baux-de-Provence (extra expense)
Day 3

Mon, 15 Jun

Avignon (B,L,D)

Avignon has a long and storied history, as this fortified town was once the residence of Popes who fled from Rome, hoping to escape from the political pressures of the Roman Empire.
Embark on a guided walking tour of Avignon to witness its illustrious past, including the ornate Gothic exterior of the UNESCO World Heritage-listed Palais des Papes, built by the Popes over two decades. This afternoon is yours to explore at leisure, perhaps crossing the 12th-century Stone Bridge.
EmeraldACTIVE: A canoeing excursion in Avignon
EmeraldEXCURSION: A guided tour of Avignon
DiscoverMORE: A guided tour to Pont du Gard (extra expense)
DiscoverMORE: A classical concert in Avignon (extra expense)
Day 4

Tue, 16 Jun

Viviers (B,L,D)

A snapshot of quintessential France awaits your arrival in Viviers, a town that perfectly encapsulates the medieval days of the region. Pastel coloured buildings that have been gently faded by the sun line narrow cobblestone streets, and the heart of the old town is yours to explore today during a guided walking tour.
EmeraldEXCURSION: A guided tour of Viviers
DiscoverMORE: A guided tour of Grignan (extra expense)
Day 5

Wed, 17 Jun

Tournon (B,L,D)

As we sail down the gently twisting Rhône and into Tournon, a 16th-century castle sits overlooking the village and a pair of ancient watchtowers can be seen adorning the surrounding rural landscape.
Today, embark on a guided tour of Tournon to learn about its illustrious history and the culture of the people who call it home. If you would like to explore more of the region's natural beauty, then you may instead choose to embark on an EmeraldACTIVE hike through some of the local vineyards.
Later, a guided bike tour to Glun will touch on the French countryside and the lives of the people who live there.
EmeraldPLUS: A regional wine lecture on board
EmeraldACTIVE: A guided bike tour to Glun
EmeraldACTIVE: A guided hike through the vineyards
EmeraldEXCURSION: A guided tour of Tournon
Day 6

Thu, 18 Jun

Lyon (B,L,D)

As one of the largest cities in France and a former Roman capital, a lot of the most important moments in French history have taken place in Lyon. But, it's Lyonnaise cuisine that has really put this city on the map, delighting gastronomists from around the world.
Join your local guide for a walking tour of Lyon, including the UNESCO World Heritage-listed Basilica Notre-Dame de Fourvière. If you are feeling more active, then you may instead choose to embark on a guided bike tour around Lyon, touching on its most prominent architectural wonders and moments from history.
EmeraldACTIVE: A guided bike tour of Lyon
EmeraldEXCURSION: A guided tour of Lyon
DiscoverMORE: Visit to Pérouges (extra expense)
Day 7

Fri, 19 Jun

Chalon-sur-Saône – Beaune (B,L,D)

The birthplace of photography and the centre of Burgundy's wine region is yours to discover today as you travel by road to the quaint village of Beaune. Stop to visit the Hospices de Beaune, one of the best-preserved examples of 15th-century French architecture and home to one of the most popular wine auctions in the country.
EmeraldPLUS: A cheese and olive tasting on board
EmeraldEXCURSION: Visit the Hospices de Beaune
Day 8

Sat, 20 Jun

Lyon (B)

After breakfast, it's time to bid farewell to your fellow guests and disembark the Star-Ship for your transfer to the airport, taking memories of French architecture and sun-kissed surrounds with you.