Explore the Byzantian, Venetian and Turkish influences on display in the beautiful southern Italian town of Monopoli, wonderfully situated on the Adriatic Sea. In the country's Apulia region, enjoy gazing out at the Adriatic Sea from the picturesque town of Otranto, known as 'the Far East of Italy', and cruise onwards to Crotone and the Sicilian town of Giardini Naxos, where its horseshoe bay is lined with bars and restaurants. Navigate the Tyrrhenian Sea to Amalfi before enjoying a guided tour and gelato tasting in the stunning lemon-growing coastal town of Sorrento.
Emerald Cruises brings our award-winning reputation and service to the world's oceans and coastlines, as we introduce 5-Star Luxury yacht cruising on our brand new, innovative superyacht, Emerald Sakara. Custom-designed to allow unique access to the fascinating ports and harbors only small yachts can reach.
Reaching an impressive 110 meters in length, our spectacular super yacht will exceed your ocean cruising expectations. And with an intimate 100 guests on board there's an abundance of space throughout all areas of your yacht.
Inclusions
7 nights yacht cruise aboard Emerald Sakara
Airport transfers to and from the ship
Dining Highlights:
-20 superb meals including 7 Breakfasts (B), 6 Lunches (L), 7 Dinners (D)
-Including a Welcome and Farewell Reception & Dinner
-Complimentary wine, beer and soft drinks with lunch and dinner on board
The services of an Emerald Cruises Cruise Director
Complimentary WIFI
Port taxes and charges
All tipping and gratuities
Included Excursions:
-A walking tour of Taormina
-Tour of Monopoli
-EmeraldPLUS: Guided tour of Sorrento with gelato presentation and tasting
| | | |
| --- | --- | --- |
| September 2, 2023 | Cruise Only | Pay in Full: Save 10% off |
| Oceanview | $5645 | $5081 |
| Balcony | $7675 | $6908 |
| Taxes & Fees | $680 | $680 |
*Secure your 2023 or 2024 Luxury Yacht Cruise Today. Save up to 20% on any 2023 or 2024 luxury yacht cruise when paying in full 12 months prior to departure. Bookings made within 12 months of departure require full payment at the time of booking. Book early to secure your preferred cabin and take advantage of this offer – then get ready to sit back and relax on board your luxury yacht.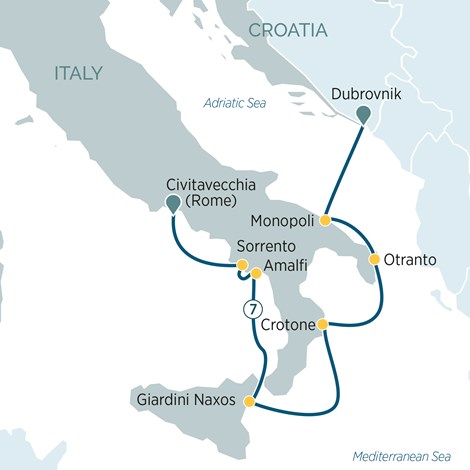 Day 1 Sat, 02 Sep Dubrovnik, Croatia (D)
Your luxurious cruise starts in the medieval city of Dubrovnik, where you'll embark your superyacht.
Please book your flight to arrive into Dubrovnik prior to 04:00 PM.
Day 2 Sun, 03 Sep Monopoli (B,L,D)
Tracing its origins back to 545 AD, Monopoli is a melting pot of Byzantine, Venetian and Turkish influence. Its charming harbour is surrounded by medieval stone walls, while the Church of the Purgatory features a Baroque chapel of mummified citizens that passed on.
Included Excursion
Tour of Monopoli
DiscoverMORE
Discover the Trulli of Alberobello (extra expense, must be pre-booked)
DiscoverMORE
Guided tour of Ostuni (extra expense, must be pre-booked)
Day 3 Mon, 04 Sep Otranto (B,L,D)
Regarded as 'the far east of Italy', Otranto gazes out on to the Adriatic Sea and was a key port for trade and conquest during Roman times. Today, you'll find a picturesque town of fortifications, mouthwatering seafood restaurants and a pleasant beach.
DiscoverMORE
Guided tour of Lecce (extra expense)
Day 4 Tue, 05 Sep Crotone (B,L,D)
At the very tip of Southern Italy is the Calabrian city of Crotone. Legend has it that it owes its name to Greek half-god Hercules, and there are Aegean influences at every turn, including the remnants of Apollo's temple.
DiscoverMORE
Visit Santa Severina Village (extra expense)
Day 5 Wed, 06 Sep Giardini Naxos (B,L,D)
Giardini Naxos is a gorgeous beach resort, with a resplendent horseshoe bay and seafront lined with bars and restaurants.
Included Excursion
A walking tour of Taormina
DiscoverMORE
'The Godfather' Tour (extra expense)
DiscoverMORE
Alcantara River Tubing (extra expense)
Day 6 Thu, 07 Sep Amalfi (B,L,D)
Sitting in the foothills of Mount Cerreto, the ambient setting of Amalfi is a pleasant collection of piazzas and waterfront restaurants. Despite its diminutive size, this town was once a maritime powerhouse.
DiscoverMORE
Amalfi Coast by kayak (extra expense)
DiscoverMORE
Gems of the Amalfi Coast (extra expense)
Day 7 Fri, 08 Sep Sorrento (B,L,D)
A quaint resort credited with inspiring the works of Charles Dickens and Leo Tolstoy, Sorrento provides a romantic introduction to the Amalfi Coast. The historic town has spectacular views over the Bay of Naples, and its maze of cobbled streets is punctuated with cosy cafes.
EmeraldPLUS
Guided tour of Sorrento with gelato presentation and tasting
DiscoverMORE
Guided tour of Pompeii (extra expense)
DiscoverMORE
Walking tour of Capri (extra expense)
Day 8 Sat, 09 Sep Civitavecchia (Rome), Italy (B)
Upon your arrival in Civitavecchia, you'll disembark your spectacular superyacht.
Please book your flight to depart out of Rome after 12:00 PM.
The itinerary is a guide only and may be amended for operational reasons. As such Emerald Cruises cannot guarantee the cruise will operate unaltered from the itinerary stated above. Please refer to our terms and conditions for further information.
Flexible Booking Plan
Our Flexible Booking Plan has been introduced for complete peace of mind. We understand you may need to adjust your plans, so we're offering the flexibility to change your travel arrangements or re-book for a more suitable time if needed.
Our Flexible Booking Plan allows you to defer your booking to an alternative date, or cancel your journey, up to 90 days prior to departure, less third-party fees. We will provide you with a Future Travel Credit to use on an alternate tour/cruise, which is valid for 24 months.
This plan is available to purchase for a wide range of destinations* for departures in 2022 and onwards.

*Excludes Russia Cruises. 
| | |
| --- | --- |
| River Cruising | Yacht Cruising |
| $125 | $200 |
Terms and conditions:
Should you choose to defer or cancel your booking, the total monies paid to us (less third-party fees) will be applied as a Future Travel Credit which is valid for 24 months for you to use on an alternate tour/cruise.
If you do not re-book within 24 months, your FTC it will be forfeited.
Non-refundable. Non commissionable.
Excludes Russia cruising.
Not available to guests using COVID Future Travel Credits
Platinum Protection Plan
The Platinum Protection Plan ("PPP") is available for new river and ocean cruising bookings for travel after 1 January 2022 for Scenic and Emerald Cruises ("Eligible Booking"). By adding this plan, you are covered if you unable to travel due to health reasons, or your travel plans are impacted by COVID-19, up to 31 days prior to departure with a 100% refund (less airline cancellation fees and PPP cost), or a 70% refund between 15 and 30 days prior to departure (less PPP cost).
The PPP must be purchased together with the Eligible Booking at time such booking is made and may not be added at a later date. The PPP is provided at a cost of $395 per person per river cruise, $495 per person per cruise on Emerald Cruises yacht cruising and $595 per person per cruise on Scenic Eclipse voyages ("PPP Fee").
The PPP is not available on Oberammergau, Amazon and Galapagos cruises or land tours and the PPP is also not available to new bookings using a Future Travel Credit.