From Amsterdam to Budapest, discover the highlights of Europe over the course of this enchanting 15-day itinerary. We take you from the Netherlands to Hungary along the continent's most breath-taking destinations.
The Rhine, Main and Danube flow across Europe to reveal the continent's most enriching and unforgettable destinations. From the North Sea coast in the Netherlands to the Black Sea in Ukraine, our Splendours of Europe cruise navigates this network of waterways. Explore the cultures of Amsterdam, Cologne, Passau, Vienna, Bratislava and Budapest all in one seamless journey. Setting forth in the Netherlands you'll experience the World Heritage-listed Gothic cathedral of Cologne, the wonderful medieval architecture of Bamberg, guided tours in beautiful Passau and Vienna, and an enchanting traditional folklore show in the Hungarian capital of Budapest.
Travel Best Bets Package Includes
Airfare from Vancouver to  Amsterdam and return from Budapest
Deluxe 14 night all-inclusive river cruise aboard Emerald Dawn
Airport transfers to and from the ship
Prepaid gratuities
It's Amazing What's all Included:
Boutique contemporary hotel feel, with spectacular on board heated pool, cinema, spa and lounge
Spacious, comfortable accommodations with panoramic suites and staterooms
Gourmet all-included on board meals and highlight dinner events, al-fresco on The Terrace or in the well-appointed Reflections Restaurant
Enjoy in depth cultural experiences with EmeraldPlus and EmeraldActive, like a guided hike through a  Black Forest village
Emerald's Concierge Service* – served right to your suite, enjoy continental breakfast, predinner canapés and after dinner treats
A refined selection of wine, beer and soft drinks to accompany lunch and dinner
Tea and coffee available at all times
Bottled water restocked daily in your cabin
Built-in adventure, with an included on shore excursion at every port
Visits to many UNESCO World Heritage Sites
Emerald Active guided biking and hiking tours
Excellent service from an English speaking crew
Knowledgeable, personable local destination guides
Complimentary bicycles on board
Complimentary on board Wi-Fi
Travel Best Bets Exclusive: Book and pay by October 31 and save $1150 per person (reflected in pricing)


| | | | |
| --- | --- | --- | --- |
| Vancouver,  | Outside Stateroom | Balcony Suite | Taxes and fees |
| July 5, 2019 | sold out | $9099 | $798 |
| Victoria, Kelowna | add $300 per person | | |
| Calgary,  Edmonton | add $200 per person | | |
 Pre and post cruise hotel nights available to extend your stay – ask for pricing.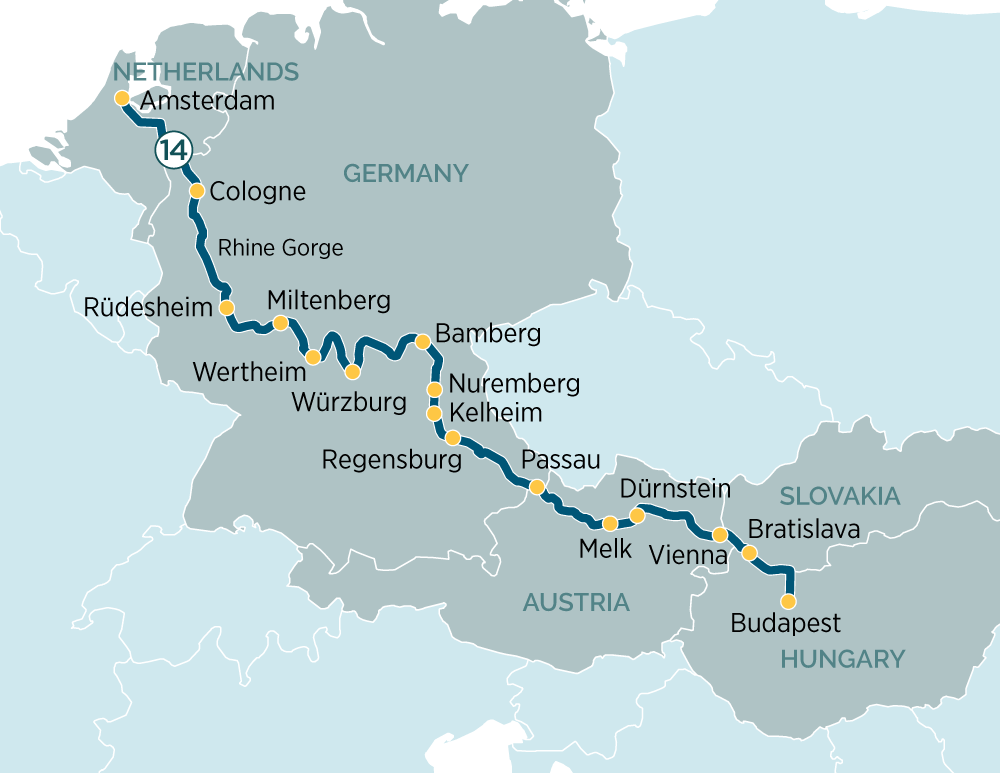 Day 1

Sat, 06 Jul

Arrival Amsterdam (D)

Welcome to Amsterdam, a fascinating 700-year-old city of picturesque canals, world class museums, theatres and cafés. You will be met and transferred from the airport to your Emerald Waterways luxury river cruise ship. After boarding, enjoy some time at your leisure to explore Amsterdam. This evening, join your fellow travellers for dinner on board.
Day 2

Sun, 07 Jul

Amsterdam Cruising (B,L,D)

This morning you can decide to either enjoy a glass top canal boat tour through Amsterdam's canal or a guided bike tour. Return to the ship for your first day sailing through the Dutch countryside passing windmills and sailing through locks towards the Rhine River. Tonight, the Captain will be delighted to host a gala dinner.
EmeraldACTIVE: Guided Bike Tour
Day 3

Mon, 08 Jul

Cologne (B,L,D)

Founded by the Romans, and one of Germany's oldest cities, Cologne is famous for its magnificent World–Heritage listed Gothic Cathedral. Join your guide and explore the city including the Old Town. During your free time shop for handicrafts or visit a local market before returning to your ship.DiscoverMORE: Tour to Drachenburg (extra expense)
OR
DiscoverMORE: Football Stadium Tour (extra expense)*** Please note, you can only choose either the Drachenburg Castle or the Football Stadium Tour as both DiscoverMORE options run at the same time.
Day 4

Tue, 09 Jul

Rüdesheim (B,L,D)

Today's cruising will be a highlight of your trip, as we cruise through the spectacular Rhine Gorge. Keep your camera at the ready as around every bend there are stunning vistas of castles perched above steep vine–covered slopes. We will also pass the infamous Lorelei Rock where sailors are said to have been lured onto treacherous rocks by enchanted temptresses. We also pass the impressive Pfalzgrafenstein Castle which was formerly a toll gate perched on an island in the middle of the river. In the afternoon we arrive in Rüdesheim, one of Germany's most popular towns. You will either have a choice of visiting the Siegfried's Mechanical Musical Instrument Museum or if you feel active take a guided hike through vineyards. Continue exploring, and perhaps taste the famous "Rüdesheimer Coffee", made with Germany's most famous brandy Asbach Uralt.
EmeraldACTIVE:  Guided hike through vineyards
Day 5

Wed, 10 Jul

Miltenberg – Wertheim (B,L,D)

Welcome to Miltenberg, a picturesque village on the Main River, which creates an imitable feeling of Bavarian life in medieval times due to the Old Town being lined with well-preserved half-timbered buildings. The gothic Merchant Hall is an impressive symbol of past affluence created by trade from river traffic. After your included tour of Miltenberg and free time, you will be transferred by coach to the stunning medieval glass-blowing town of Wertheim to enjoy free time until the ship arrives.
EmeraldACTIVE: Guided hike around Miltenberg area
Day 6

Thu, 11 Jul

Würzburg (B,L,D)

Known as the "Pearl of the Romantic Road", Würzburg is surrounded by sloping hills covered with vineyards. After breakfast, visit the Bishops' Residenz, one of Germany's largest and most ornate baroque palaces and a UNESCO World Heritage Site. Your tour highlights the palace's unique staircase, elaborate 18th century frescoes and the amazing 3–dimensional stuccowork.DiscoverMORE: Tour to Rothenburg (extra expense)*** Please note, you can only choose either included visit to Bishop's Residenz or the DiscoverMORE option, as both tours run at the same time.
Day 7

Fri, 12 Jul

Bamberg (B,L,D)

Relax on board this morning as we cruise to Bamberg. Feel the magic of the past as you explore this UNESCO World Heritage city with your guide. Boasting one of Europe's largest intact medieval town centres, Bamberg is bursting with character and charm. At the town centre is the largest preserved old quarter in Europe. Around 2,400 listed buildings and the centuries–old garden quarter form a special cultural heritage. Admire hundreds of building façades richly decorated in fascinating detail with spectacular ornamentation.
Day 8

Sat, 13 Jul

Nuremberg (B,L,D)

Today you will have a sightseeing coach tour of the historic city of Nuremberg. Your coach tour would pass by some of the historical parts of Nuremberg, such as the 900-year-old ramparts, the Nazi party rally grounds, where rallies were held from 1933 until 1938 among other sights.DiscoverMORE: WW2 Tour (extra expense)
Day 9

Sun, 14 Jul

Kelheim – Regensburg (B,L,D)

This morning takes you through the final stretch of the fascinating Main–Danube Canal to Kelheim. Continue cruising along the Danube River to Regensburg, one of Germany's best preserved medieval cities. On our guided walking tour, you will have the chance to see one of the oldest bridges crossing the Danube and see the city's architectural highlights including the Old Town Hall.
EmeraldPLUS: Traditional Bavarian Band on boardDiscoverMORE: Excursion to Kuchlbauer Brewery (extra expense)
Day 10

Mon, 15 Jul

Passau – Linz (B,L,D)

Cobblestone streets and graceful arcades welcome you in the beautiful city of Passau. On this morning's walking tour, stroll through the old town's narrow alleys and see the hilltop Oberhaus Fortress from the town below. Visit St. Stephen's Cathedral, a wonderful example of Baroque architecture and home to Europe's largest church organ with more than 17,000 pipes. Return for lunch and an afternoon cruising along the Danube River.DiscoverMORE: Tour to Salzburg (extra expense)*** Please note, you can only choose either included tour of Passau or the DiscoverMORE option, as both tours run at the same time.
Day 11

Tue, 16 Jul

Melk – Dürnstein (B,L,D)

Situated within Austria's wine–growing region, Melk is home to an imposing 900–year old Benedictine Abbey which features Austria's finest Italian baroque architecture, with its ornate gold leaf walls, 640ft Imperial Corridor and fresco ceilings. Later the ship sails through the spectacular Wachau Valley and on to Dürnstein, one of the most enchanting villages of the Wachau wine region. This is the site of the castle where Richard the Lionheart was imprisoned after returning from the crusades in the 12th century.
EmeraldACTIVE: A guided biking tour along the Danube River from Melk to Dürnstein
OR
EmeraldACTIVE: A guided hike to Dürnstein Castle
Day 12

Wed, 17 Jul

Vienna (B,L,D)

Welcome to Vienna, the capital of classical music. Today, you have a choice of either exploring Austria's capital beginning with a drive along the magnificent Ringstrasse, where we will see the sights of the Vienna's world-famous attractions such as the Opera House, Burgtheater, Town Hall, St. Stephen's Cathedral and the Hofburg Imperial Palace. If you feel active, join the guided bike tour instead of the drive around and guided walk.
EmeraldACTIVE: Guided bike TourDiscoverMORE: Visit to Schönbrunn Palace (extra expense)
AND / or
DiscoverMORE: Exclusive Viennese concert with music from Mozart and Strauss (extra expense)
Day 13

Thu, 18 Jul

Bratislava (B,L,D)

Set on the crossroads of ancient trade routes in the heart of Europe, Bratislava the capital of Slovakia, embodies various cultures – primarily Celtic, Roman and Slavic. Enjoy a sightseeing tour including the enchanting Old City with its Town Hall, Mirbach Palace and the Gothic Cathedral of St Martin. Alternatively, join an active hike to Bratislava Castle.
EmeraldACTIVE: Guided hike to Bratislava Castle
EmeraldPLUS: Home hosted coffee and cake with Slovakians
Day 14

Fri, 19 Jul

Budapest (B,L,D)

Budapest is Eastern Europe's liveliest and most cosmopolitan city. Enjoy a guided tour of the city sights including the Hungarian Parliament Building, the Buda Castle and the Chain Bridge linking Buda and Pest or an exciting hike on the Buda Hill. This evening, enjoy a traditional Hungarian farewell dinner, then a Hungarian folk dancing and music performance on board.
EmeraldACTIVE: A guided active walk to Buda Hill
EmeraldPLUS: Traditional Hungarian Folklore Show & Budapest Evening CruiseDiscoverMORE: Jewish Heritage Tour (extra expense)
Day 15

Sat, 20 Jul

Budapest Disembarkation (B)

After breakfast, it is time to farewell your fellow passengers and disembark the ship for your transfer to the airport.
Terms & Conditions
All rates are per person, based on double occupancy in Canadian dollars (unless otherwise stated) New bookings only. Space and price may be limited and subject to availability at the time of booking.  Errors or omissions may occur on the above information with no guarantee of being honoured. Terms and conditions apply. Tax is not included in the above base fare. Above tax amount includes $30 per adult Booking Management Fee.  Not included in the above rates: Xpresspost fee, recommended medical, cancellation or baggage insurance. Child rate is applicable when travelling with 2 paying adults sharing 1 hotel room, using the existing bedding. Price Match Policy: Travel Best Bets makes every effort to remain competitive by offering our 'Match or Beat Any Price' offer however due to certain restrictions  there will be some product we cannot match or beat. Please note the star ratings found on www.travelbestbets.com are determined by Travel Best Bets based on a number of factors and may not match the star rating found in the Tour Operator's brochure. Please view our star ratings by clicking here. Due to an increasing volume of disputed bookings, we will only accept payment for air only travel to India, the Philippines and the continent of Africa through the following means: book and pay cash in person or by direct deposit into our business account – once the transaction is verified and a copy of the receipt emailed or faxed to our office, we will confirm the booking. Please contact us for details on how to book using this method.Please note there maybe a tax increase when FREE connectors are added with Air Canada Vacations. Please contact

[email protected]

for photo credit information. BPCPA #3287