Luxury Yacht Cruising Experience
Reaching an impressive 110 metres in length, our spectacular luxury yachts will exceed your yacht cruising expectations. An abundance of space on board, combined with a maximum guest number of 100 and a crew of 72, allows us to provide an excellent level of personal service throughout your holiday.
This 8-day cruise travels from Aqaba to Jeddah, and takes you on a captivating journey through Jordan, Egypt, and Saudi Arabia. Along the way, see the glamorous resort city of Sharm el-Sheikh; marvel at the unique black sand dunes in Safaga; and explore the diving capital of Saudi Arabia, Yanbu. Your incredible cruise comes to an end in Jeddah, known as the gateway to the holy cities.
Inclusions
Airfare to Aqaba and return from Jeddah
7 nights all-inclusive cruise aboard Emerald Azzurra
Airport transfers to and from the ship
Dining Highlights:

20 superb meals including 7 Breakfasts (B), 6 Lunches (L), 7 Dinners (D)
Including a Welcome and Farewell Reception & Dinner
Complimentary wine, beer and soft drinks with lunch and dinner on board

The services of an Emerald Cruises Shore Excursion Manager
Included excursions with knowledgeable local guides
Complimentary WIFI
Port taxes and charges
All tipping and gratuities

Book by Dec 14: FREE Airfare* and save $1000 per cabin!

(price reflects discount)
| | |
| --- | --- |
| December 3, 2024 | Vancouver, Victoria, Calgary, Edmonton, Winnipeg, Saskatoon, Regina, Montreal, Ottawa, Toronto, Halifax |
| Oceanview | $6089   $5589 |
| Balcony | $8229   $7729 |
| Taxes & Fees | $836 |
New Booking only – Based on Double Occupancy
Promotion is subject to change without notice
*Total ticket cost, including taxes, not to exceed $3,000 per person. Tax and ticket surcharges may apply. Flights need to be booked 6 months prior.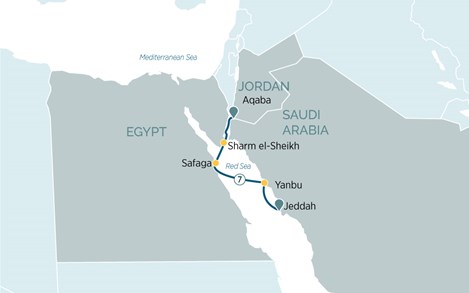 Day 1 Wed, 04 Dec Aqaba, Jordan (D)
Arrive in Aqaba and step aboard your luxurious Emerald Cruises superyacht to embark on an unforgettable cruise of the Red Sea.
Please book your flight to arrive into Aqaba prior to 07:00 PM.
Day 2 Thu, 05 Dec Aqaba, Jordan (B,L,D)
On the edge of the Red Sea, Aqaba, Jordan's only coastal city, is renowned for its stunning coral reefs and sunken vessels. Divers and snorkellers are drawn to warm, clear waters to explore these underwater ecosystems. Beyond its natural allure, Aqaba holds a significant place in history.
Day 3 Fri, 06 Dec Sharm el-Sheikh, Egypt (B,L,D)
On the tip of Egypt's Sinai Peninsula is the glamorous resort city of Sharm el-Sheikh. Here, the desert meets the sea, creating an environment rich in biodiversity and a melting pot of cultures. You could dive into the fascinating world beneath the Red Sea's surface, stroll through ancient mosques or bustling bazaars.
Day 4 Sat, 07 Dec Safaga, Egypt (B,L,D)
Safaga is an enchanting Egyptian city that offers a unique blend of natural beauty, water sports, and interesting history. The former fishing village is known for its fresh air, black sand dunes, and mineral springs.
Day 5 Sun, 08 Dec At sea (B,L,D)
Relish the nautical adventure of a lifetime with some relaxing time at sea. Enjoy the lavish comforts of your luxury yacht — slide into the infinity-style pool where the water touches the horizon; ascend to the Sky Deck to drink in panoramic views or relax in the Observation Lounge.
Day 6 Mon, 09 Dec Yanbu, Saudi Arabia (B,L,D)
Yanbu is known as the capital of diving in Saudi Arabia because of its clear, warm waters teaming with diverse aquatic species. Back on land, step back in time and discover the traditional buildings of Yanbu. Some are made of mud and stone, but in the old town of Yanbu, Yanbu Al-Balad, the historic buildings are made from coral stone, a nod to the city's past as an ancient seaport.
Day 7 Tue, 10 Dec Jeddah, Saudi Arabia (B,L,D)
Jeddah is a major port city considered the gateway to the holy cities of Mecca and Medina for Muslim pilgrims. The city's historical area, Al-Balad, is a UNESCO World Heritage site, filled with traditional homes made from coral stone from the Red Sea.
Day 8 Wed, 11 Dec Jeddah, Saudi Arabia (B)
Your luxurious yacht cruise concludes in Jeddah, where you'll be transferred to the airport for your return flight home or to continue your holiday.
Please book your flight to depart out of Jeddah after 08:00 AM.
The itinerary is a guide only and may be amended for operational reasons. As such Emerald Cruises cannot guarantee the cruise will operated unaltered from the itinerary states above.
Flexible Booking Plan
Our Flexible Booking Plan has been introduced for complete peace of mind. We understand you may need to adjust your plans, so we're offering the flexibility to change your travel arrangements or re-book for a more suitable time if needed.
Our Flexible Booking Plan allows you to defer your booking to an alternative date, or cancel your journey, up to 90 days prior to departure, less third-party fees. We will provide you with a Future Travel Credit to use on an alternate tour/cruise, which is valid for 24 months.
This plan is available to purchase for a wide range of destinations* for departures in 2022 and onwards.
*Excludes Russia, Galapagos & Amazon
| | |
| --- | --- |
| River Cruising | Yacht Cruising |
| $125 | $200 |
Terms and conditions:
Should you choose to defer or cancel your booking, the total monies paid to us (less third-party fees) will be applied as a Future Travel Credit which is valid for 24 months for you to use on an alternate tour/cruise.
If you do not re-book within 24 months, your FTC it will be forfeited.
Non-refundable. Non commissionable.
Excludes Russia cruising.
Not available to guests using COVID Future Travel Credits
Platinum Protection Plan
The Platinum Protection Plan ("PPP") is available for new river and ocean cruising bookings for travel after 1 January 2022 for Scenic and Emerald Cruises ("Eligible Booking"). By adding this plan, you are covered if you unable to travel due to health reasons, or your travel plans are impacted by COVID-19, up to 31 days prior to departure with a 100% refund (less airline cancellation fees and PPP cost), or a 70% refund between 15 and 30 days prior to departure (less PPP cost). The PPP must be purchased together with the Eligible Booking at time such booking is made and may not be added at a later date. The PPP is provided at a cost of $395 per person per river cruise, $495 per person per cruise on Emerald Cruises yacht cruising and $595 per person per cruise on Scenic Eclipse voyages ("PPP Fee").
The PPP is not available on Oberammergau, Amazon and Galapagos cruises or land tours and the PPP is also not available to new bookings using a Future Travel Credit.