Experience an extraordinary voyage through the Caribbean, immersing yourself in its exquisite flavors, stunning landscapes, and unparalleled entertainment. Join us on a once-in-a-lifetime cruise where you'll have the exclusive opportunity to meet up close and personal, Canadian icon Celebrity Chef Michael Bonacini. Prepare for a remarkable culinary adventure that will ignite your senses and create unforgettable memories.
Engage in a world of culinary mastery as you witness Chef Michael Bonacini's culinary magic firsthand. From an intimate cocktail reception, informative cooking demonstration to exclusive dining experiences, savor the chance to taste his delectable creations, meticulously crafted with passion and expertise. Indulge in a culinary adventure that will delight your senses and leave an indelible mark on your palate.
Inclusions
Roundtrip airfare to San Juan, Puerto Rico
7 night all-inclusive cruise aboard Emerald Sakara
Airport transfers to and from the ship
Dining Highlights:

20 superb meals including 7 Breakfasts (B), 6 Lunches (L), 7 Dinners (D)
Including a Welcome and Farewell Reception & Dinner
Complimentary wine, beer and soft drinks with lunch and dinner on board

The services of an Emerald Cruises Tour Manager
Complimentary WIFI
Port taxes and charges
All tipping and gratuities
Included Excursions

The Baths discovery
Culture and history tour
EmeraldPLUS: BBQ Lunch on a fully equipped beach with live band
EmeraldACTIVE: Nature trail in Virgin Gorda

Exclusive Culinary Experiences with Chef Michael Bonacini

FREE Airfare* and FREE Premium Drink Package**!

(price reflects discount)
| | |
| --- | --- |
| March 30, 2024 | Vancouver, Victoria, Calgary, Edmonton, Winnipeg, Saskatoon, Regina, Montreal, Ottawa, Toronto, Halifax |
| Oceanview | $5549 |
| Balcony | $7859 |
| Taxes & Fees | $630 |
New booking only
Based on Double Occupancy – Deposit is due upon booking, final payment is due 30 days after booking.
Promotion is subject to change without notice
*Total ticket cost, including taxes, not to exceed $1,250 per person. Tax and ticket surcharges may apply. Flight needs to be booked 6 months prior.
**Platinum Drink Package includes unlimited access to a range of soft drinks, bottled juices, mocktails, cocktails, long drinks, premium wine from our wine list, Prosecco and Champagne by the glass, and an international selection of draft/bottled beer.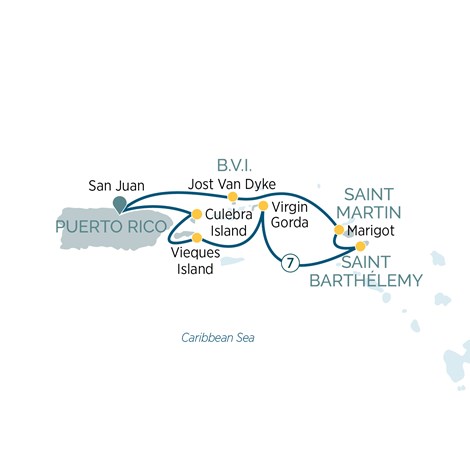 Day 1 Sat, 30 Mar: San Juan, Puerto Rico (D)
Your luxurious yacht cruise begins in San Juan, where you'll be transferred to your Emerald Cruises luxury yacht and embark on your discovery of Puerto Rico, the Virgin Islands and St. Barths.
Please book your flight to arrive into San Juan prior to 03:00 PM.
Day 2 Sun, 31: Mar Culebra, Culebra Island, Puerto Rico (B,L,D)
Culebra is widely known for its white-sand beaches and active reef and is one of the major islands in Puerto Rico's archipelago. This island offers plenty for nature lovers, giving you peace and tranquillity in a truly pristine destination. There are more than 20 cays bustling with diverse marine life, making it an absolute paradise for underwater adventurers and casual beachgoers alike.
Opportunity to spend the day swimming off the yacht and enjoying our marina toys.
Day 3 Mon, 01 Apr: Vieques Island, Puerto Rico (B,L,D)
The quaint coastal town of Esperanza has a lovely waterfront with gorgeous beaches and a bustling strip of restaurants, bars, and guesthouses. One can walk along the boulevard and visit the various establishments for a glimpse into the local culture and activities on offer. Locals enjoy spending the afternoon at Sun Bay, the main urban beach located in the town's eastern outskirts.
DiscoverMORE
Vieques, city overview (extra expense)
DiscoverMORE
Snorkelling tour (extra expense)
DiscoverMORE
Kayaking in the Bioluminescent Bay (extra expense)
Day 4 Tue, 02 Apr: Virgin Gorda, Gorda Sound, British Virgin Islands (B,L,D)
Virgin Gorda is the third largest and second-most populous of the British Virgin Islands. Somehow uncrowded, Gorda Sound itself has recently blossomed into a busy place surrounded with resorts and vacation villas. Virgin Gorda is a beautiful island; an ideal jumping off point for an in-depth discovery of the Virgin Islands.
Included Excursion
The Baths discovery
EmeraldACTIVE
Nature Trail in Virgin Gorda
DiscoverMORE
Snorkelling experience (extra expense)
Day 5 Wed, 03 Apr: Marigot Bay, Saint Martin (B,L,D)
Marigot is a lovely town and the administrative centre of French Saint Martin. Both French and Caribbean culture can be seen throughout the island, creating that unique blend of French Caribbean. Some of the most spectacular sights include the castle of Fort Louis overlooking the town and reminding locals and visitors alike of its significant past. The open-air market is open every day for those seeking to discover the island's local vibe and flavours. Artisans here sell anything from fresh fruits and spices to artwork and even rum. The market is a delight to the senses, and while you are there, don't forget to try Mauby, a local beverage flavoured with bark which tastes like root beer.
Included Excursion
Culture and history tour
DiscoverMORE
Buggy tour (extra expense)
DiscoverMORE
Fragrance creation fun (extra expense)
Day 6 Thu, 04 Apr: Gustavia, Saint Barthélemy (B,L,D)
Named for Sweden's King Gustav III, Gustavia is the charming capital and main seaport of the island of Saint Barthélemy, also known as St. Barth. It is often considered to be one of the most beautiful islands in the Caribbean and a tropical paradise with French flair. You will enjoy the beauty of its large idyllic beaches, plus the charm and refinement of its old wooden houses.
DiscoverMORE
Snorkelling in St. Barths (extra expense)
DiscoverMORE
Guided stroll in Gustavia (extra expense)
Day 7 Fri, 05 Apr: Jost Van Dyke, British Virgin Islands (B,L,D)
Jost Van Dyke is the smallest of all four main islands comprising the British Virgin Islands, approximately eight square kilometres. Known as 'The Last Virgin Island', White Bay Beach on Jost Van Dyke is made up of rather rocky scenery combined with colourful local culture. The bay is by far one of the best beaches to relax on, with plenty of room for visitors to lay down and enjoy splendid Caribbean views. Today, you will enjoy a barbeque on shore together with your fellow travellers.
EmeraldPLUS
BBQ Lunch on a fully equipped beach with live band
DiscoverMORE
Snorkelling to Sandy Spit (extra expense)
Day 8 Sat, 06 Apr: San Juan, Puerto Rico (B)
Your time aboard your Emerald Cruises luxury yacht comes to an end in San Juan. After bidding farewell to the crew and guests, you will be transferred to the airport for your return flight home.
Please book your flight to depart out of San Juan after 12:00 PM.
The itinerary is a guide only and may be amended for operational reasons. As such Emerald Cruises cannot guarantee the cruise will operated unaltered from the itinerary states above.
Exclusive Culinary Experiences with Chef Michael Bonacini on Your Cruise
Indulge in Chef Michael Bonacini's Caribbean inspired feature dishes at a special dinner on board.
Attend a private welcome cocktail reception hosted by Chef Michael Bonacini
Get 'up close and personal' to watch and learn from Chef Michael Bonacini during a live cooking demonstration
Chance for select guests to enjoy an exclusive dining experience with Celebrity Chef Michael Bonacini
See the sights with Chef Michael Bonacini on select island excursions
Flexible Booking Plan
Our Flexible Booking Plan has been introduced for complete peace of mind. We understand you may need to adjust your plans, so we're offering the flexibility to change your travel arrangements or re-book for a more suitable time if needed.
Our Flexible Booking Plan allows you to defer your booking to an alternative date, or cancel your journey, up to 90 days prior to departure, less third-party fees. We will provide you with a Future Travel Credit to use on an alternate tour/cruise, which is valid for 24 months.
This plan is available to purchase for a wide range of destinations* for departures in 2022 and onwards.
*Excludes Russia, Galapagos & Amazon
| | |
| --- | --- |
| River Cruising | Yacht Cruising |
| $125 | $200 |
Terms and conditions:
Should you choose to defer or cancel your booking, the total monies paid to us (less third-party fees) will be applied as a Future Travel Credit which is valid for 24 months for you to use on an alternate tour/cruise.
If you do not re-book within 24 months, your FTC it will be forfeited.
Non-refundable. Non commissionable.
Excludes Russia cruising.
Not available to guests using COVID Future Travel Credits
Platinum Protection Plan
The Platinum Protection Plan ("PPP") is available for new river and ocean cruising bookings for travel after 1 January 2022 for Scenic and Emerald Cruises ("Eligible Booking"). By adding this plan, you are covered if you unable to travel due to health reasons, or your travel plans are impacted by COVID-19, up to 31 days prior to departure with a 100% refund (less airline cancellation fees and PPP cost), or a 70% refund between 15 and 30 days prior to departure (less PPP cost). The PPP must be purchased together with the Eligible Booking at time such booking is made and may not be added at a later date. The PPP is provided at a cost of $395 per person per river cruise, $495 per person per cruise on Emerald Cruises yacht cruising and $595 per person per cruise on Scenic Eclipse voyages ("PPP Fee").
The PPP is not available on Oberammergau, Amazon and Galapagos cruises or land tours and the PPP is also not available to new bookings using a Future Travel Credit.