A phenomenon in nature occurs when brilliant golden sunshine dances across misty, green glens to create a supremely rare effect of celestial light. The luxury of this luminosity is the inspiration for our journey from Scotland to Iceland with wild wonders in-between.
Inclusions
7 night luxury cruise from Glasgow to Reykjavik aboard the BRAND NEW Explora I
An in-suite welcome bottle of champagne and a bottle of spirit of the guests' choice upon arrival
Nine distinct culinary experiences, including in-suite dining
Unlimited beverages, fine wines and premium spirits, specialty coffees, teas and soft drinks available anytime, including in-suite mini-bar
Access to the spa thermal area
Wellbeing and fitness programs on board and at the destinations
All on-board gratuities
Unlimited, high-speed Wi-Fi throughout the ship
Shuttle services from port to city center (where required/available)

Distinctive Voyages extra benefits:

The Services of a Distinctive Voyages Host


A Private Welcome Reception

An Exclusive Shore Event – Portree & Isle of Sky
(please click here for more detail)
September 2, 2023
Cruise Only
Ocean Terrace Suite
$6079
Ocean Penthouse
$8179
Ocean Residence
$11779
Taxes and Fees are included
Price is per person, based on double occupancy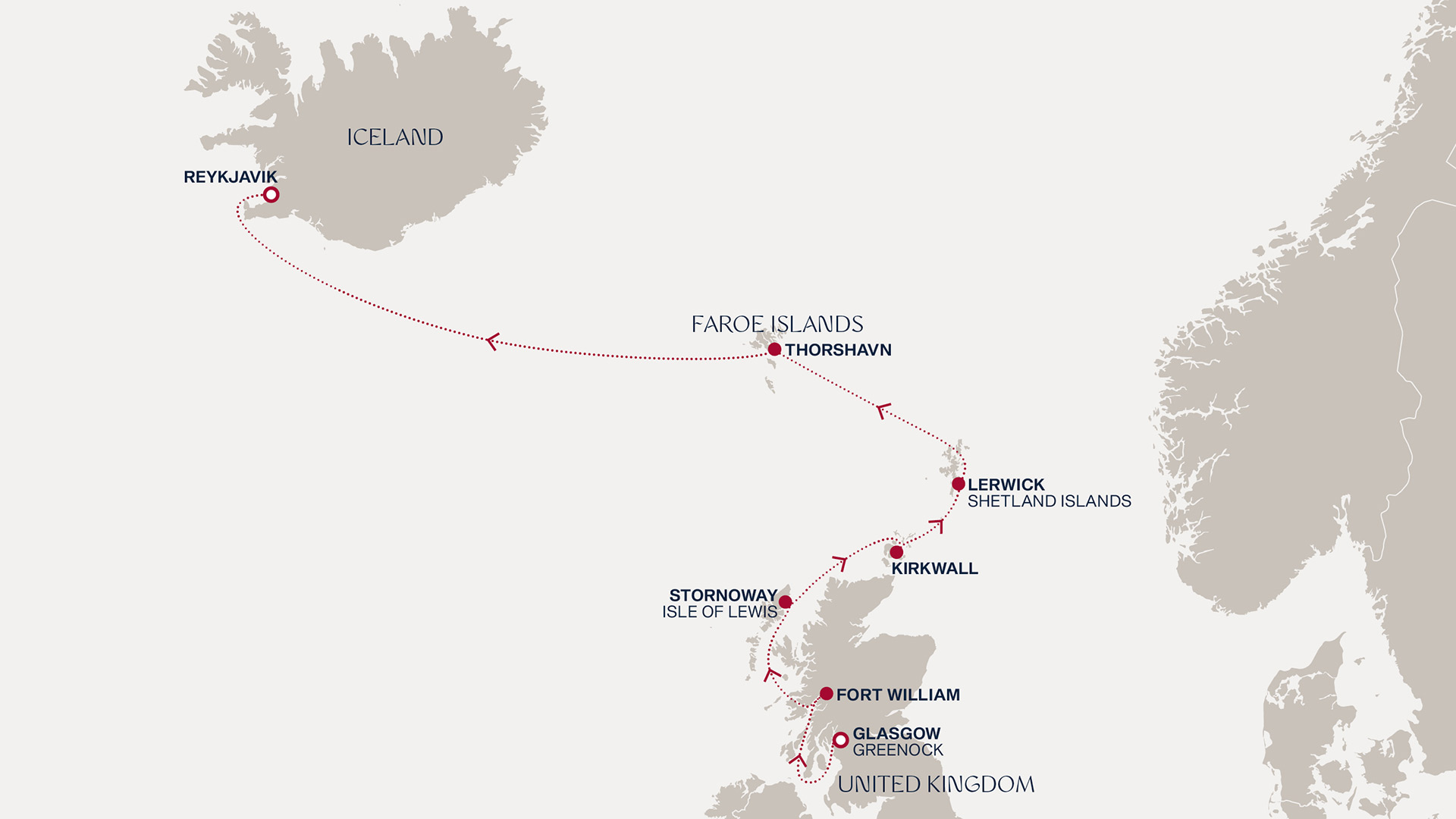 | | |
| --- | --- |
| Date | Ports |
| Sat, 02 Sep 2023 | Glasgow (Embarkation) |
| Sun, 03 Sep 2023 | Fort William, United Kingdom |
| Mon, 04 Sep 2023 | Portree, United Kingdom |
| Mon, 04 Sep 2023 | Portree, United Kingdom |
| Tue, 05 Sep 2023 | Kirkwall, United Kingdom |
| Wed, 06 Sep 2023 | Lerwick (Shetland Islands), United Kingdom |
| Wed, 06 Sep 2023 | Lerwick (Shetland Islands), United Kingdom |
| Thu, 07 Sep 2023 | Thorshavn, Faroe Islands |
| Thu, 07 Sep 2023 | Thorshavn, Faroe Islands |
| Fri, 08 Sep 2023 | At Sea |
| Sat, 09 Sep 2023 | Reykjavik (Disembarkation) |
Day 1: Glasgow (Greenock)
Arrive in style to the haunting hum of a piper. Bursting with colorful character and cutting edge art scene, this vibrant city merges history and heritage with architectural and design. Visit Medieval spiers, Victorian gems, Art Nouveau icons at art galleries and the museum at Kelvingrove. Set forth out of town to experience mythical landscapes; romantic yet rugged countryside where glacial lochs rest, small island skirts and wildlife runs free. Known for courage, Glaswegians welcome with the wee tales of clans, kilts and crests.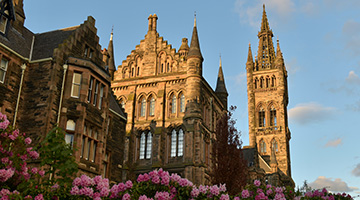 Day 2: Fort William
Ben Navis awaits you, whilst Fort William sits safely within the shadows. Boldly hike up the 2000-foot heights or rise up aboard the Nevis Gondola for eye watering panoramic views; miles of rolling hills dressed with dramatic mountain peaks that sink into the darkest depths of Loch Leven. Discover the town's life and history through the Commando Monument, fresh seafood, distilleries, cozy pubs and more ducks than you can imagine. And as you face the powerful vision that is Loch Ness, you'll understand why this location ruled for Bond and Braveheart.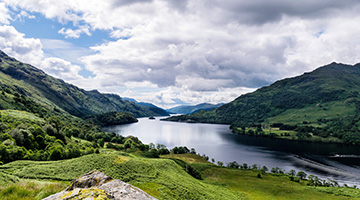 Day 3: Portree
Arrive at the sloping port of Portree, into the lands of the MacDonald clan. Wander through this wildlife haven where waterfalls tumble under shifting skies, wide-eyed deer stand alert, sheep lazily graze and sea eagles swoop. Explore the painted buildings of the charming fishing town, the Talisker distillery and relax in the comfort of a cozy local pub. Capture all the visual treats of this little piece of paradise, for a whole host of new memories.
Day 4: Kirkwall
Orkney's capital and most southern isle is blessed with architectural wonders. Capture the true Viking spirit in the "Church on the Bay"; visit grand sandstone seafront buildings, visit St Magnus Cathedral and smaller churches, the enigmatic Standing Stones of Stennes and other ancient sites. Play Ba, eat cream teas, shop local boutiques and watch fishing fleets depart the bay. Previously claimed to be the most beautiful Scottish high street, soak up the cosmopolitan atmosphere and splendor of this royal Scottish Burgh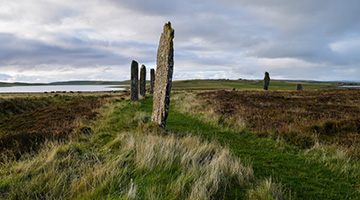 Day 5: Lerwick (Shetland Islands)
Slowly explore this tiny harbor town surrounded by rugged Scottish terrain and native wildflowers. Wander to historical ruins, archaeological sites, the Shetland Croft House Museum and step back in time in the ancient capital, Scalloway. Amble along Da Street for local boutiques and listen to Celtic music where fiddlers tell tuneful tales. View the stunning Shetland archipelago as you spot porpoises, otters and seals. And then there's the ponies – animated short-legged, long fringed caricatures – like Lerwick, they're hardy yet gentle.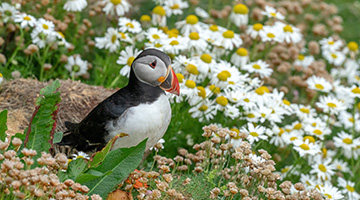 Day 6: Thorshavn (Faroe Islands)
Relax into the peaceful ambiance of this small capital city (named after Thor, the God of Thunder), where neighbouring volcanic islands lie dormant, the sheep supply shops with jumpers. Discover churches, museums, rows of turf roofed houses and Faroese culinary delights. Hike out of  the city or set off by boats to glimpse whales, dolphins and real-life puffin paradise. With over 300 rainy days per year, and more ewes than people, you will return warm, but perhaps not dry.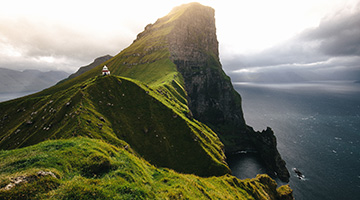 Day 7: At Sea
Day 8: Reykjavik
Feel the magnetic lure of adventure at the world's northernmost capital. Mystical landscapes promise dramatic snow-capped volcanoes, ice fields and mountains for thrilling guests; explore by helicopter, ride Icelandic horses, zip through lava tunnels on super trucks and rocket across glaciers on snow scooters. Then slow to visit a geothermal-fired bakery and greenhouse, soak in wellbeing springs, the blue lagoon  or refresh at the nearby face mask bar. And as  the nightlife beckons under the sun that barely sets, drink black death schnapps as a poetic reminder of Reykjavik's exhilarating activities.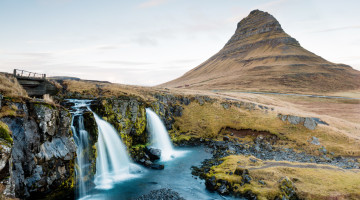 Portree & Isle of Sky with Distinctive Voyages
Highlights

– View The Old man of Storr
– Listen to stories of local Clans, legends of giants and fairies, and immerse you in highland culture
– Enjoy a tasting menu lunch, made up of excellent locally-sourced products
Description
As you transfer from the ship in to Portree harbor, we'll be waiting by the colorful water front houses to collect you and whisk you away around the beautiful Isle of Skye.
Leaving Portree, we'll journey north up the Trotternish Peninsula to view the impressive rock pinnacle-'The Old man of Storr' before  taking a short walk to view the waterfalls plunge into the gorge at Leault falls. You'll be able to enjoy beautiful sea views from the cliff tops at Kilt Rock. Your local guide will enthrall you with stories of local Clans, legends of giants and fairies, and immerse you in highland culture as we travel around the north coast.
Arriving back into Portree, you'll be treated to a tasting menu lunch, made up of excellent locally-sourced products all prepared by a passionate chef. We'll leave Portree and drive across Skye's rugged interior to the west coast and the ancient MacLeod strong hold of DunveganCastle-home to this illustrious Clan for over 800 years, Dunvegan Castle and Gardens provides an excellent afternoon of history, nature and culture. We'll return to Portree harbor via views of the majestic Cuillin Mountains and bid farewell as you re-join your ship.
Included
Lite Lunch in a local venue and a bottle of water on the bus

Not Included
Gratuity and Personal Items

Introducing a bold new vision for luxury ocean travel!
Explora Journeys is the NEW luxury lifestyle travel brand launched by the MSC Group with the AMBITION to redefine the luxury cruise category.
Designed in partnership with the world's foremost super-yacht specialists, EXPLORA I — the first ship in the Explora Journeys fleet — sets sail in Summer 2023.
The concept: Vibrant, cosmopolitan, relaxed European luxury at sea.  Instead of cruises, we create journeys – of the mind, and across the oceans of the world.  Visits to places on and off the beaten track.
On board: Spaces that offer guests relaxed luxury, creating a home at sea. Restoring life's essential balance with a combination of discovery and appreciation for wellbeing and nature. This is what our new discerning travelers have asked for and this is what they will enjoy on Explora Journeys.
Each of our 461 ocean-front suites, penthouses and residences – all DESIGNED with a refined, European elegance – are created to bring guests CLOSER to the ocean itself, with floor-to-ceiling windows and PRIVATE sun terraces.
Explora Journeys is the new European luxury lifestyle travel brand redefining the luxury ocean experience.
ROOM CATEGORIES:
Ocean Terrace Suites
Our Ocean Terrace Suites elegantly combine space re amongst the largest in the category – and light. Floor to ceiling windows bathe the suites in light and private sun terraces help guests truly relax and bring them closer to the ocean  that carries them on their journey
Total suite area: 377-420 sq ft

Ocean Penthouses
The Ocean Penthouses offer a luxurious, spacious retreat with ocean-front floor-to-ceiling windows and expansive terraces to unwind and relax
Total suite area: 463 – 732 sq ft
Additional benefits:
In-suite welcome bottle of superior champagne
Enhanced In-Suite Dining menu
Superior selection of beverages and spirits available in the in-suite mini-bar
Priority check-in and embarkation (where available)
One additional bottle of spirit or wine of the guests' preference (three bottles in total)
Ocean Residences
For a true sense of being at home at sea, experience the sweeping decks and effortlessly elegant spaces of our Ocean Residences.
Total suite area: 753-1604 sq ft
Additional Benefits:
Priority reservations for Destination Experiences
Roundtrip airport to port ground transfers included (available up to a distance of 50 miles / 80 km each way from / to port)
Personal welcome by a butler and priority embarkation upon arrival
VIP lounge at embarkation (where available)
In-suite welcome bottle of premium champagne
In-suite full bar setup with a selection of premium spirits, wines and soft drinks
In-Suite Dining exclusive menu, including specialities from some of our onboard culinary venues
Unlimited complimentary laundry and pressing services
Butler services:
– Packing and unpacking to the guests' preferences
– Pressing and laundering assistance
– Private in-suite dining
– Itinerary and transport planning
– Celebrations planning
– Onboard and ashore reservations assistance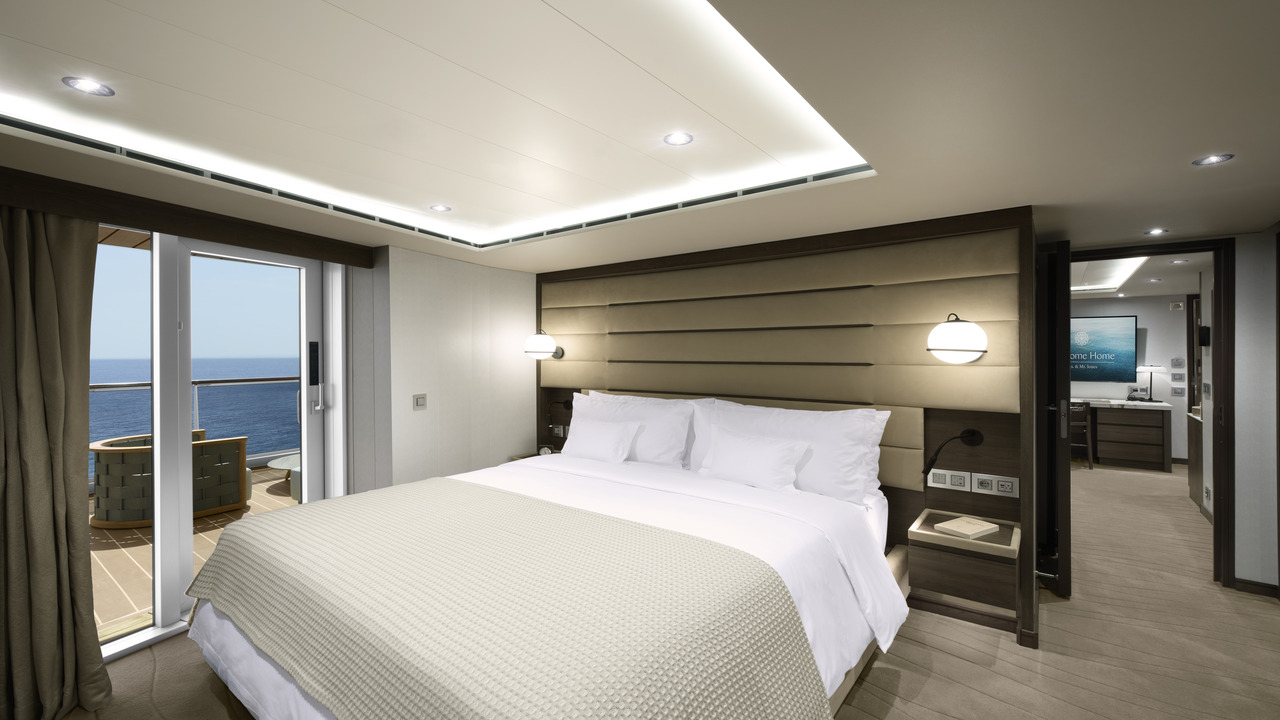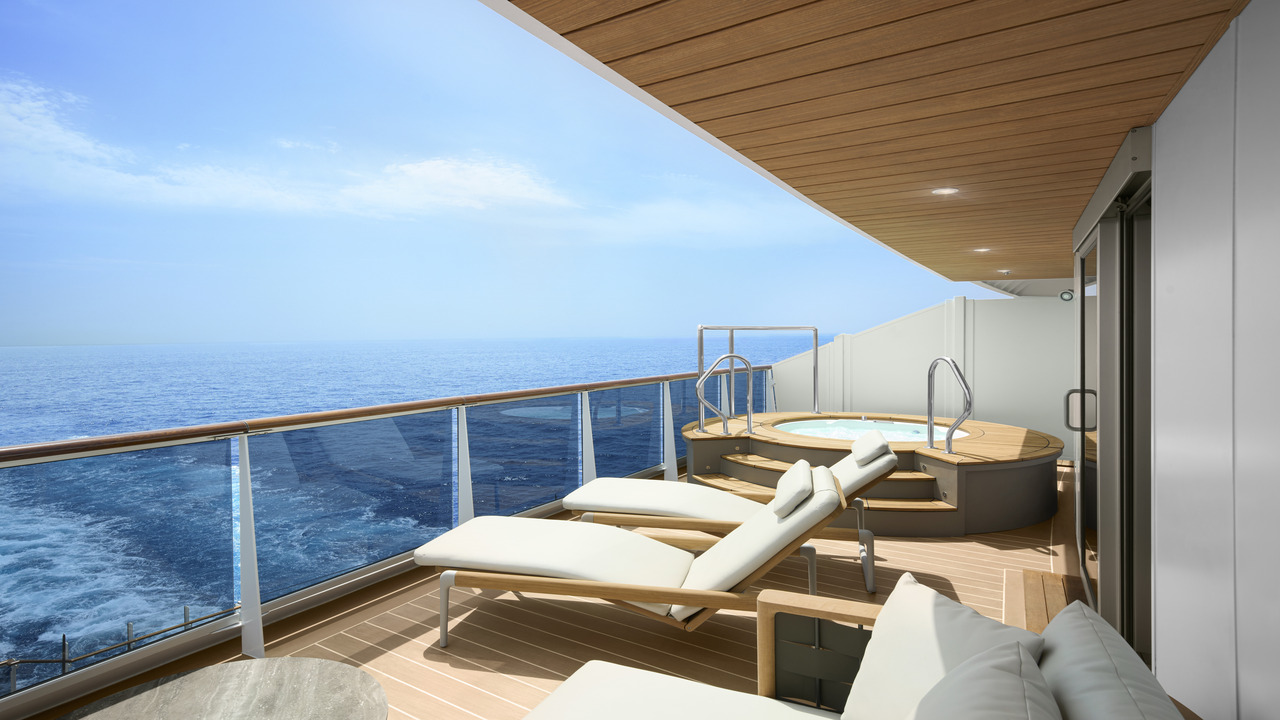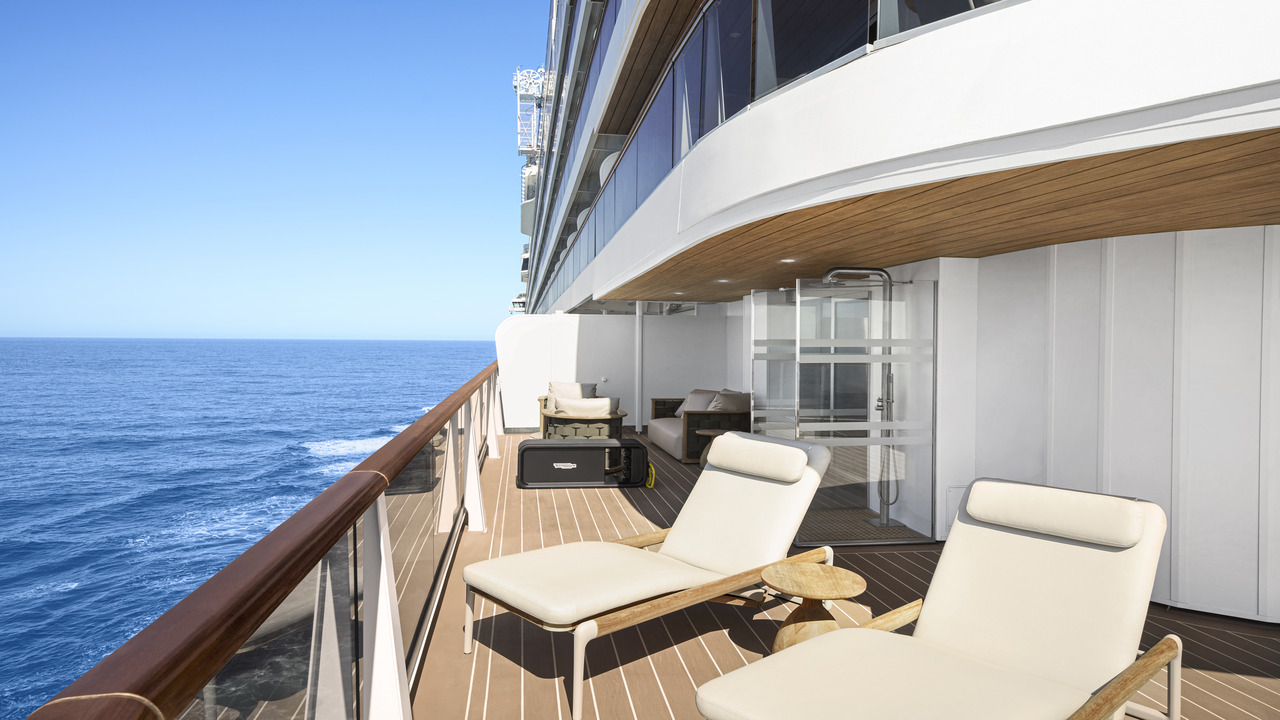 EIGHTEEN RESTAURANTS, BARS AND LOUNGES
RESTAURANTS
• Anthology – Exquisite cuisine celebrating the talents and specialities of guest chefs from around the globe
• Sakura – Immersive Pan-Asian dining
• Marble & Co. Grill – A redefined European steakhouse experience
• Med Yacht Club – Celebrating the flavours of the Mediterranean
• Emporium Marketplace – Effortless all-day dining restaurant
• Fil Rouge – French-inspired international cuisine
As well as
• In-Suite Dining – Refined dining in the comfort of your suite or private terrace
• Chef's Kitchen – An immersive experience offering culinary classes
BARS & LOUNGES
• Lobby Bar – A centrally-located social bar and lounge
• Malt Whisky Bar – A refined tour of the global whisky regions
• Journeys Lounge – Mixology, enrichment and entertainment continuously evolving throughout the day
• Explora Lounge – Luminous lounge offering spectacular 270-degree views of the ocean
• Gelateria & Creperie at The Conservatory – Authentic French and Italian indulgences
• Crema Café – Bustling café lounge with sea views
• Astern Lounge – All-day lounge for a seaside escape opening up to the Astern Pool
• Sky Bar on 14 – A panoramic lounge setting, ideal for soothing cocktails and infinite views
• Astern Pool & Bar – An all-day pool and lounge setting for a seaside escape on deck 5
• Atoll Pool & Bar – An intimate pool on deck 10 with a chilled vibe throughout the day
• Helios Pool & Bar – A panoramic adults-only pool and lounge experience
• The Conservatory Pool & Bar – A weather-protected all-day poolside lounge
OTHER ENTERTAINMENT OPTIONS
— Casino
— Art gallery
— Curated shopping experiences
GENEROUS OUTDOOR DECKS
— Three heated outdoor pools and one indoor heated pool with retractable glass roof
— 64 private cabanas
— Several indoor and outdoor whirlpools
— Poolside dining and lounging
HOLISTIC WELLNESS AND FITNESS
— Over 700 sq m (7,500 sq ft) of indoor and outdoor wellness facilities
— Over 270 sq m (2,900 sq ft) of indoor and outdoor fitness facilities with latest equipment
— A panoramic running track
— Bespoke balanced nutrition and sleep programmes
THE LATEST ENVIRONMENTAL-SUPPORTING TECHNOLOGIES
— Hybrid-ready energy solutions
— Waste-management and energy-saving solutions
— No single-plastic used on-board and ashore