An Alaska cruise vacation is an experience you won't soon forget. Untamed, immense and magnificent, the Great Land is a place of astonishing beauty and no one knows it better than Holland America Line. First in Alaska, we've been showing guests this breathtaking region for nearly 70 years—longer than Alaska has been a state! And because we know this region so well, we've been able to create a fantastic selection of Land and Sea Journeys, combining an Alaska cruise with a more extensive adventure in the Great Land.
Alaska offers unrivaled scenery and adventure among its narrow fjords, rugged mountains and verdant forests. Glaciers loom over the sea like towers of blue ice while migrating whales can be spotted surfacing to exhale jets of spray. And scattered along the coast, remote outposts tell the hardscrabble history of Alaska: Ketchikan is studded with the totem poles of Alaska's native nations. In Skagway, you can walk into a swinging-door saloon, or board the White Pass & Yukon Route Railroad to the legendary Yukon Territory where you can spot wildlife on woodland trails.
Inclusions
7 night cruise round trip Vancouver aboard Nieuw Amsterdam

Book by Jun 26: Exclusive $75 USD on board credit!
| | |
| --- | --- |
| September 25, 2022 | Cruise Only |
| Inside | $479 |
| Oceanview Obstructed | $549 |
| Oceanview | $619 |
| Balcony | $879 |
| Taxes & Fees | $312 |
Non-refundable deposit.
Upgrade your rate to Have It All — For one simple fare, you can enjoy a premium cruise package that includes Shore Excursions, a Drink Package, Specialty Dining and Wi-Fi.
You May Also Like
7 Night Alaska Cruise aboard Koningsdam 2022
7 Night Alaska Cruise aboard Zuiderdam 2022
Do you have a Future Cruise Credit?
Call us today to make redemption a seamless process!
Itinerary
Date
Day
Duration
Vancouver, B.C., CA
25SEP22
SUN
DEPART 4:30PM
PIER: CANADA PLACE PIER                 CHECK IN STARTS AT 1200P
Scenic Cruising The Inside Passage
26SEP22
MON
CRUISING ONLY
Juneau, Alaska, US
27SEP22
TUE
ARRIVE 1:00PM DEPART 10:00PM
Skagway, Alaska, US
28SEP22
WED
ARRIVE 7:00AM DEPART 9:00PM
Glacier Bay
29SEP22
THU
ARRIVE 7:00AM DEPART 4:00PM
CRUISING ONLY            ROUTE SUBJECT TO WEATHER/
Ketchikan, Alaska, US
30SEP22
FRI
ARRIVE 10:00AM DEPART 6:00PM
Scenic Cruising The Inside Passage
01OCT22
SAT
CRUISING ONLY
Vancouver, B.C., CA
02OCT22
SUN
ARRIVE 7:00AM
PIER: CANADA PLACE PIER
Juneau
Juneau, Alaska may well be the most remote, most beautiful and strangest state capital in the United States. Surrounded by water, forest and mountain sights, visitors seeking things to do in Juneau indoors and outdoors can hike a glacier, eat fresh-caught fish on a seaside patio and tour a grand capitol building all in one day.
The city itself is pleasant, but the real highlight of a visit to Juneau is tracking down some wildlife. You can hike up Mount Roberts to chance upon wild deer and bald eagles. Most sightseeing and whale-watching tours head north to Auke Bay—bring a good pair of binoculars to get the best view of these majestic and surprisingly graceful creatures. If you prefer land mammals, catch a floatplane to a nearby wildlife reserve such as Chichagof or Admiralty Island to spy some bears lolling around.
The sleepy, misty city of around 32,000—mostly fishermen and small-business owners—has a frontier town vibe, but welcomes more than a million visitors each summer to its natural attractions, cementing Juneau as Alaska's number-one tourist destination.
Skagway
At the height of the Klondike Gold Rush, the port town of Skagway served as the primary gateway to the legendary gold fields, and quickly grew into Alaska's largest settlement. It was then a raucous frontier hub packed with trading posts, saloons and guesthouses. As the gold rush faded into the 1900s, so did Skagway—but today it has been reinvigorated as a gateway for a new kind of visitor: those looking to explore Alaska's colorful history, pristine wildlife and unrivaled natural beauty.
At every turn, you'll find yourself immersed in gold rush lore, from the infamous Red Onion Saloon that still keeps a pistol that Wyatt Earp left behind en route to the Klondike, to the White Pass & Yukon Route Railroad, a classic narrow-gauge railway that traverses rugged mountains and passes cascading waterfalls and towering glaciers as it connects Skagway to Whitehorse deep in the Yukon. Much of the town has been preserved as part of the Klondike Gold Rush National Historical Park, where rangers offer free walking tours around the historic district. Here you'll also find a vibrant local community, home to a rich collection of local galleries, curio shops and restaurants serving seafood plucked fresh from nearby waters.
Glacier Bay
Frosted crags descend into mossy forests and a 457-meter-deep (1,500-foot-deep) fjord at this World Heritage Site, which is also one of the planet's largest biosphere reserves. Stone, ice and water continue to collide, sculpting a dramatic landscape that is the crown jewel of southeastern Alaska's natural wonders.
The area's first European explorer missed it all—but with good reason. When Captain George Vancouver sailed here in 1794, a vast shield of ice, more than 1,200 meters (3,937 feet) thick, dominated the area. In one of the fastest retreats on record, the glaciers shrank back 105 kilometers (65 miles) by 1916. The formerly glacier-squashed land is rebounding now, rising 30 millimeters (1.18 inches) each year. Visitors can observe this rebirth: A spruce-hemlock rain forest has sprouted near the mouth of Glacier Bay. Farther north, the more recently exposed land shows sharper edges and thinner vegetation. Still, it's enough to encourage the return of wildlife, from bald eagles to bears, moose and humpback whales.
While the national park is open year round, most travelers prefer the warmth of late May to early September. Even in summer, be prepared for any weather—especially rain! Pack a hat, gloves, wool or fleece layers, a warm coat and waterproof gear if you want to admire the landscape from the open deck of your ship.
Ketchikan
Alaska's "First City" of Ketchikan is so named because it's the first major landfall for most cruisers as they enter the picturesque fjords of the Inside Passage, where the town clings to the banks of the Tongass Narrows, flanked by green forests nurtured by abundant rain.
Ketchikan has long been an important hub of the salmon-fishing and -packing industries—visitors can try their luck on a sportfishing excursion or simply savor the fresh seafood at one of the local restaurants. It is also one of the best spots along the Inside Passage to explore the rich cultural sights of Native Alaskan nations like the Tlingit, Haida and Tsimshian. You can see intricately carved totem poles at the Totem Heritage Center and Totem Bight State Park, while the attractions of Saxman Village just outside of Ketchikan offers the chance to see Tlingit culture in action, with working carvers and a dance show in the clan house. And leave time to explore the sights in the town itself, including historic Creek Street, a boardwalk built over the Ketchikan Creek, where you can shop for souvenirs, smoked salmon and local art, while exploring gold rush­–era tourist attractions like Dolly's House Museum.
More value and convenience — now you can Have it all.
Introducing a new way to experience the world of Holland America Line
while enjoying amazing savings. For one simple fare, you can enjoy a premium package that includes four high-value amenities*:
Shore Excursions — The longer you cruise, the more you can explore. Cruise 6 to 9 days and get 1 shore excursion; 10 to 20 days and get 2 shore excursions; 21 days or more and get 3 shore excursions!
Drink Package — Choose from a large selection of wine, beer, spirits and cocktails, plus non-alcoholic options like sodas, coffees and more — with service charges included.
Specialty Dining — Enhance your cruise with award-winning specialty dining at Pinnacle Grill, Canaletto or Tamarind.
Wi-Fi — Stay connected throughout your journey. Surf the web, use social media, check email and send messages to friends and family.
By choosing the Have It All fare, SAVE 50% OR MORE on the four amenities included compared to buying them separately.  This is a value of $99* USD per person, per day!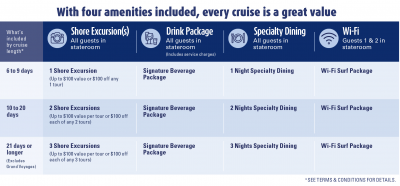 *See Terms and Conditions for complete details
---