Travelers on Pacific Coast cruises will experience rich diversity in landscapes, from laidback San Diego beaches to the glittering hills of San Francisco and charming seaside escapes off the Oregon and Washington coasts. Craft your ideal night on board with excellent dining choices, multiple performance venues and sleek bars and lounges. Enjoy a wide selection of 1- to 7-day cruises. On our 7-day roundtrip California cruises, explore the Golden State's famous vineyards and towering redwoods. Or take the complete journey from California to Canada. Sweep British Columbia's crystal fjords, where orcas swim, bears roam the coast and eagles soar overhead. Head west, and you'll find a region that never ceases to amaze.
Inclusions
4, 5 or 7 night cruise Vancouver to San Diego or San Diego roundtrip aboard Holland America

Book by Sep 30: Exclusive up to $200 USD onboard credit per cabin!
Cruise Only
Shorter sailings
October 1, 2023
Nieuw Amsterdam 5 nights
Vancouver to San Diego
October 8 or 24, 2023
Eurodam or Koningsdam 4 nights
Vancouver to San Diego
Inside
$199
$129-$179
Oceanview*
$249-$349
$179-$229
Balcony
$399
$199-$379
Taxes & Fees
$314
$212-$264
Cruise Only
Longer sailings
October 1, 2023
Noordam 7 nights
Vancouver to San Diego
November 18, 2023
Koningsdam 7 nights
San Diego roundtrip
Inside
$449
$639
Oceanview*
$499-$549
$759
Balcony
$699
$819
Taxes & Fees
$427
$323
*Oceanview may be obstructed
Non-Refundable Deposit. The option for a refundable deposit is available at a higher rate.
Do you have a Future Cruise Credit?
Call us today to make redemption a seamless process!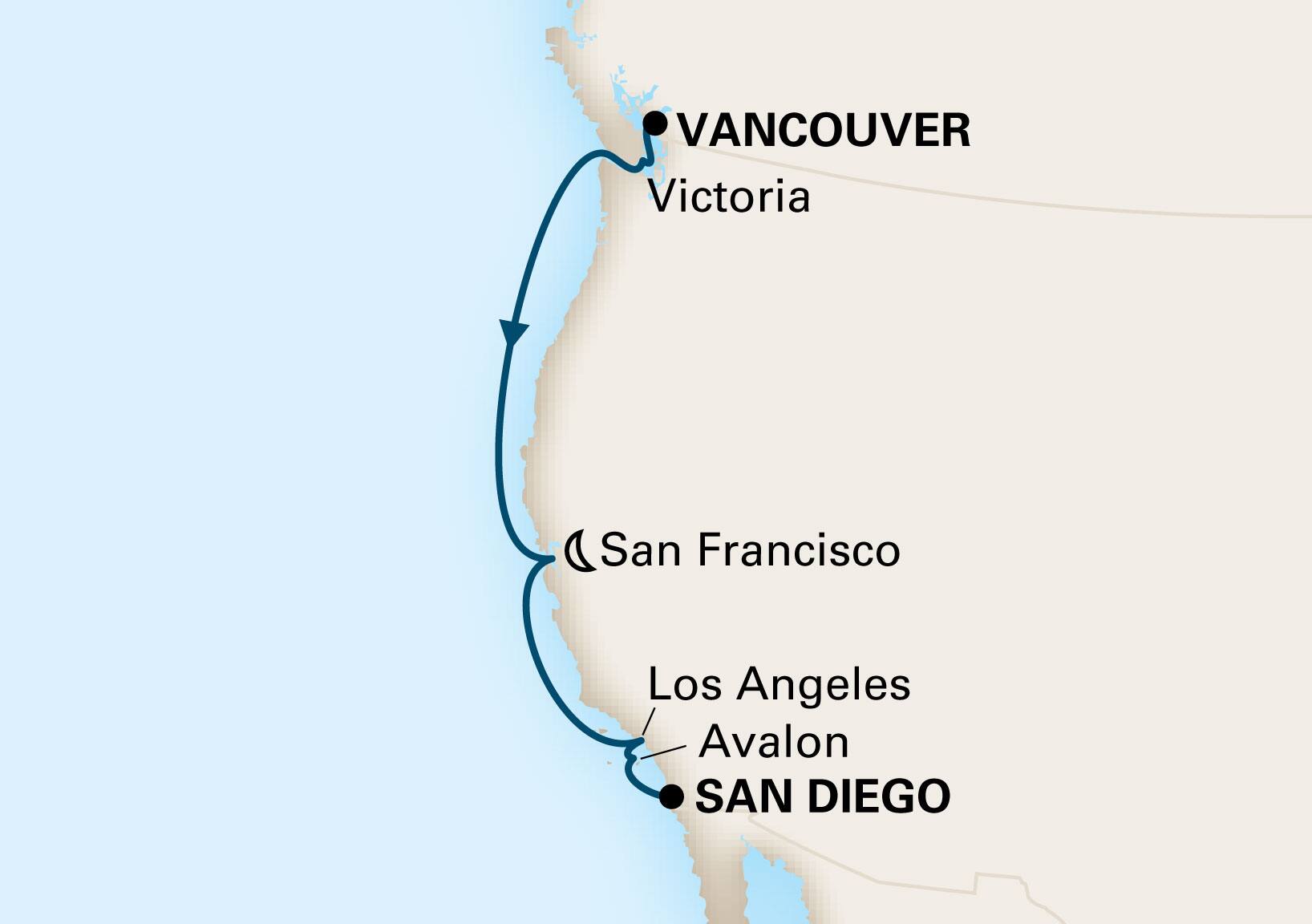 Itinerary
Date
Day
Duration
Vancouver, B.C., CA
01OCT23
SUN
DEPART 4:00PM
PIER: CANADA PLACE PIER                 CHECK IN STARTS AT 1000A
Victoria, British Columbia, Canada
02OCT23
MON
ARRIVE 7:00AM DEPART 3:00PM
At Sea
03OCT23
TUE
AT SEA
San Francisco, California, US
04OCT23
WED
ARRIVE 11:00AM DEPART 11:00PM
At Sea
05OCT23
THU
AT SEA
Los Angeles, California, US
06OCT23
FRI
ARRIVE 9:00AM DEPART 6:00PM
Avalon, California, US
07OCT23
SAT
ARRIVE 7:00AM DEPART 5:00PM
TENDER REQUIRED          WHEELCHAIR ACCESS LIMITED
San Diego, California, US
08OCT23
SUN
ARRIVE 7:00AM
PIER: B STREET TERMINAL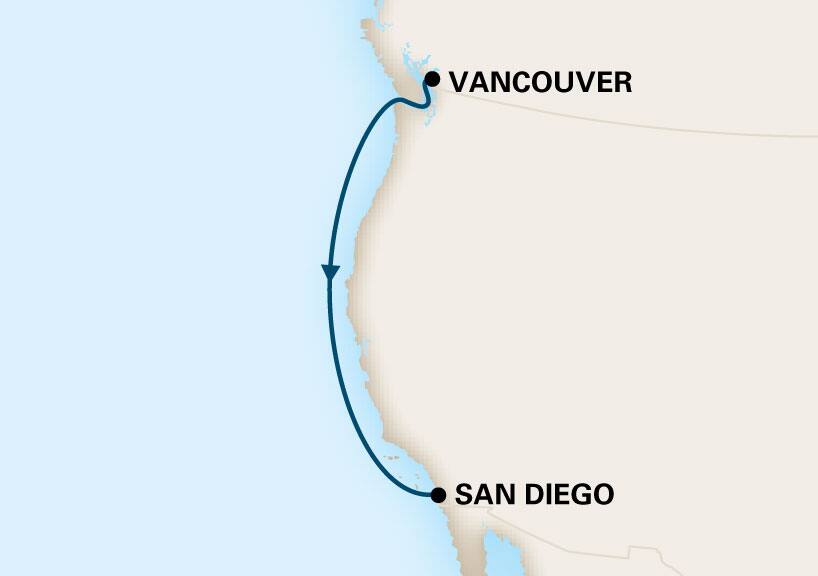 Itinerary
Date
Day
Duration
Vancouver, B.C., CA
01OCT23
SUN
DEPART 3:00PM
PIER: CANADA PLACE PIER                 CHECK IN STARTS AT 1000A
Seattle, Washington, US
02OCT23
MON
ARRIVE 8:00AM DEPART 5:00PM
At Sea
03OCT23
TUE
AT SEA
At Sea
04OCT23
WED
AT SEA
At Sea
05OCT23
THU
AT SEA
San Diego, California, US
06OCT23
FRI
ARRIVE 7:00AM
PIER: B STREET TERMINAL
Itinerary
Date
Day
Duration
Vancouver, B.C., CA
08OCT23
SUN
DEPART 5:00PM
PIER: CANADA PLACE PIER                 CHECK IN STARTS AT 1200P
At Sea
09OCT23
MON
AT SEA
At Sea
10OCT23
TUE
AT SEA
At Sea
11OCT23
WED
AT SEA
San Diego, California, US
12OCT23
THU
ARRIVE 9:00AM
PIER: B STREET TERMINAL
Itinerary
Date
Day
Duration
Vancouver, B.C., CA
24OCT23
TUE
DEPART 3:00PM
PIER: CANADA PLACE PIER                 CHECK IN STARTS AT 1000A
Astoria, Oregon, US
25OCT23
WED
ARRIVE 12:00PM DEPART 8:00PM
At Sea
26OCT23
THU
AT SEA
At Sea
27OCT23
FRI
AT SEA
San Diego, California, US
28OCT23
SAT
ARRIVE 7:00AM
PIER: B STREET TERMINAL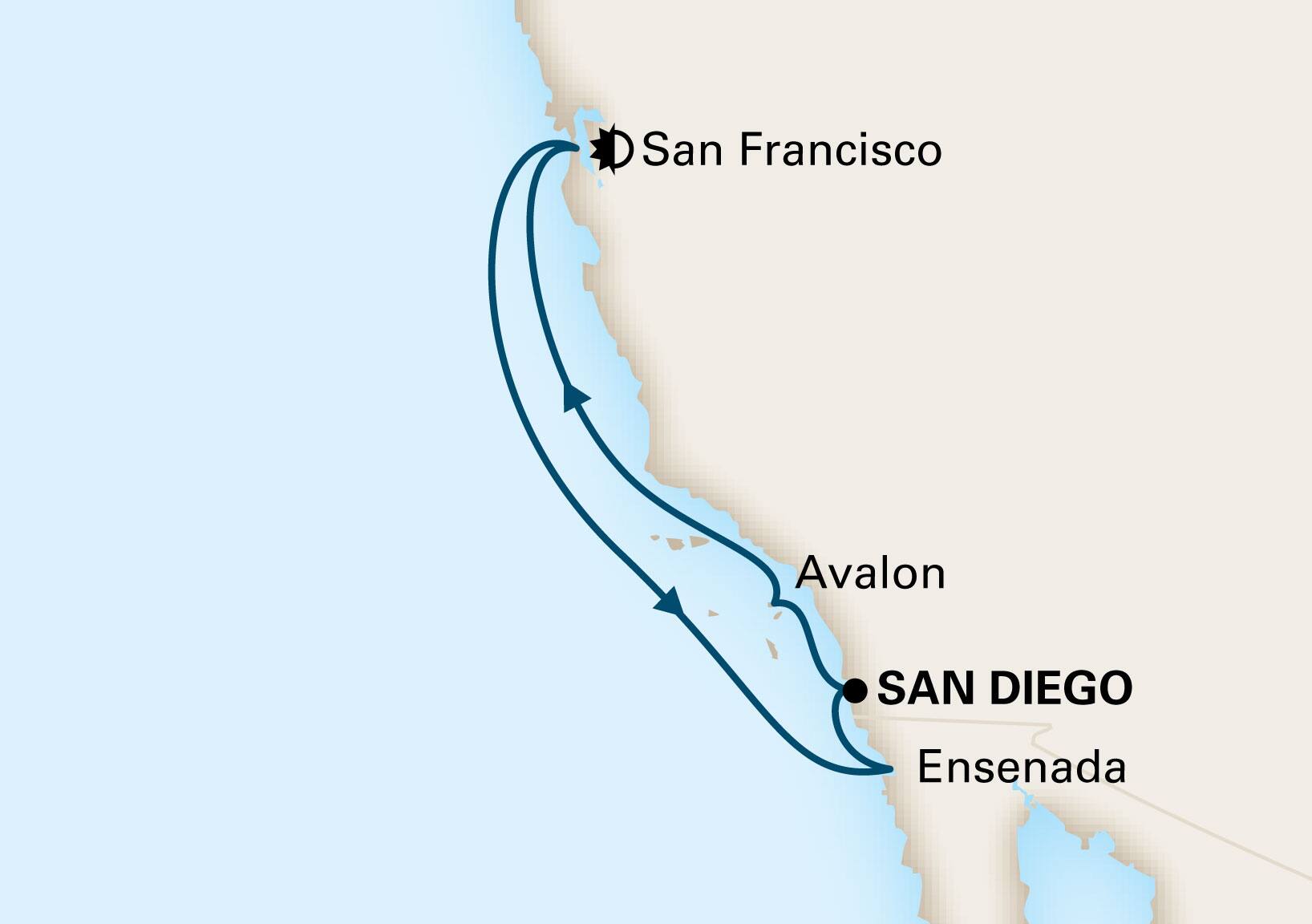 Itinerary
Date
Day
Duration
San Diego, California, US
18NOV23
SAT
DEPART 4:00PM
PIER: B STREET TERMINAL                 CHECK IN STARTS AT 1100A
Avalon, California, US
19NOV23
SUN
ARRIVE 8:00AM DEPART 6:00PM
TENDER REQUIRED          WHEELCHAIR ACCESS LIMITED
At Sea
20NOV23
MON
AT SEA
San Francisco, California, US
21NOV23
TUE
ARRIVE 6:00PM
OVERNIGHT
San Francisco, California, US
22NOV23
WED
DEPART 8:00PM
At Sea
23NOV23
THU
AT SEA
Ensenada, Mexico
24NOV23
FRI
ARRIVE 7:00AM DEPART 6:00PM
San Diego, California, US
25NOV23
SAT
ARRIVE 7:00AM
PIER: B STREET TERMINAL