See the world, differently
Your passion for travel hasn't waned – if anything, over the past couple of years, it's grown deeper. And your purpose of travelling has also become clearer: to make memories that last a lifetime.
This itinerary was created by experts and is meant to inspire you. It is ready to be customized to suit your interests, tastes and budget so you can connect with local cultures and experience authentic travel on your own terms and departing whenever you choose. Journeys that are fully customized to your dreams and expectations, with your own expert private guides, in exceptional handpicked accommodations that always reflect your preferred style.
Expose your senses to the fragrant aromas and delicious flavors of Turkey at Istanbul's Grand Bazaar. Discover the remarkable grandeur and beauty of the Blue Mosque. Explore the troglodyte dwellings of Cavusin in Cappadocia with a private guide and rise into the skies & marvel over sweeping views of Cappadocia's fairy chimneys in a hot air balloon.
This is how you create moments that last. Because now more than ever, travel should be unforgettable.
Inclusions
8 night guided vacation with private tour
8 night luxury hotel accommodation

3 nights in Istanbul
2 nights in Cappadocia
3 nights in Bodrum

Private transfers from the airport
Internal air flights as per itinerary
Personalized, tailor- made journeys and expert planning from our local guides
Private drivers and guides throughout the tour
Exclusive hot air balloon experience at Cappadocia
Private boat cruise in the Bosphorus
One suitcase and one carry-on per person for trip transfers
24/7 in-destination support from our local office
Valid until December 1, 2023
from $9882



Rate is in USD

– per person based on double occupancy
Tour is customizable. Please contact us for more details.
Not Included:
International airfare and domestic airfare not mentioned on the itinerary
Visa(s)
Travel Insurance
Tips/Gratuities for services and experiences
Excess baggage charges
Personal charges such as laundry, phone calls, SIM cards or room service
Day 1: Istanbul
Here we Go!
Your representative will coordinate the meeting with your English-speaking guide and driver who will accompany you to the hotel.
A welcome package with a city map, e-tickets (if relevant), and any other touristic information that we deem you may find useful will be waiting for you upon your arrival at your first hotel on your trip.
Meet your private driver for a transfer to Cemberlitas Hamami, a traditional Turkish bath house, where your admission is included along with a traditional body scrub and soap foam massage. This invigorating treatment is a must when in Turkey. Treat yourself to total rejuvenation while immersing yourself in local culture.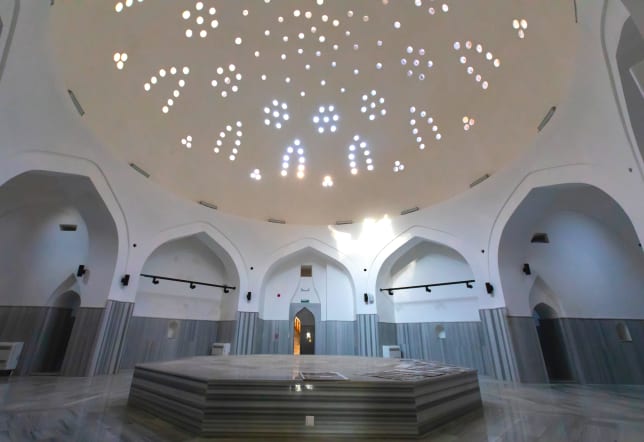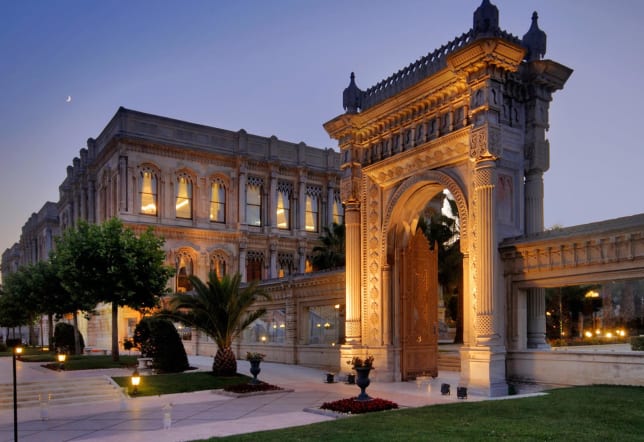 Day 2: Istanbul
Cultural Immersion
With the expert insight of a private guide, step back in time as you embark on a half-day discovery of Sultanahmet Square, the historic hub of Istanbul. Also known as the Hippdrome of Constantinople, this compact and walkable square formerly hosted chariot races in antiquity, and now sports a fusion of relics from both the Byzantine and Ottoman Empires. Here you can admire the ancient Obelisk of Theodosius, a 60-foot-tall Egyptian pillar, as well as the coiled Serpent Column, a Greek monument from ancient Delphi, both re-located to Istanbul by Emperor Constanine the Great during its period of transition from Byzantium to Constantinople. Reflecting the religious changes of the city, the iconic Hagia Sophia is the perfect spot to understand the synthesis of Ottoman and Byzantine influences in the city. You'll visit this impressive 1,500-year-old mosque, basking in the stunning mosaic accents of its domed ceiling. Best approached from head on, you'll continue with a visit of the majestic Blue Mosque, a marvel in structural design meant to surpass that of the Hagia Sophia. Dating to the early 17th century, it features 6 minarets and holds the largest courtyard in the Ottoman Empire, the ideal spot for appreciating the building's perfect proportions. Once inside, observe the intricate details of the 20,000 hand-painted blue Iznik tiles, from which the mosque derives its name.
Being a host of many civilizations, Turkey has a rich and diversified cuisine which goes back several centuries. However, the most amazing food that the country has to offer typically isn't served in restaurants, but in the kitchens of the locals. Meet your private guide and driver, and head over to the home of Ms. Nur for possibly the most authentic culinary encounter of your trip. Ms. Nur's passion for cooking started in her early years and she pursued it through education and extensive work experience at some of Istanbul's most renowned hotels. Ms. Nur lives in a cozy apartment on the Anatolian side of Istanbul with a colorful garden where she likes to host her guests during Spring and Summer. She also loves to produce her own olive oil and honey. Get a unique opportunity to sample some of her signature dishes that she perfected over the years. Tonight's menu consists of typical Istanbul cuisine with grilled meat balls as the main dish. Once the dinner is over, you will be transferred back to your hotel.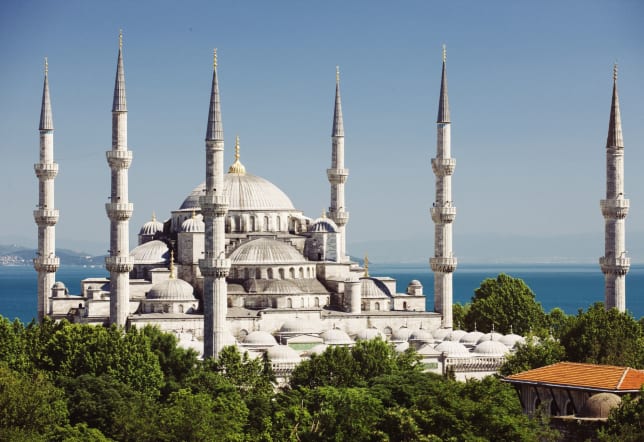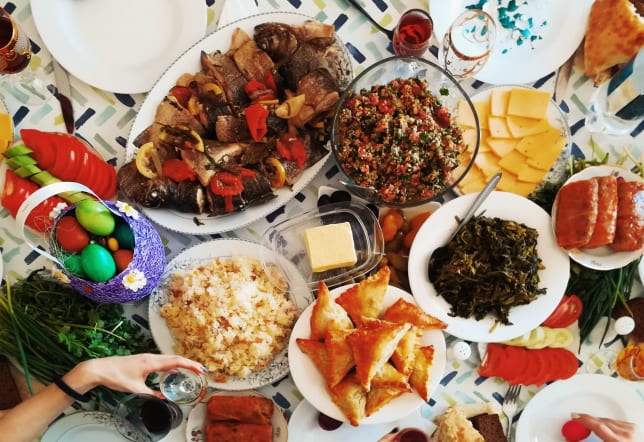 Where you'll be staying
Çiragan Palace Kempinski (Superior)
Day 3: Istanbul
Strolling the Magical Streets
Experience Istanbul's lively bazaars and explore one of the most celebrated mosques in the city on a privately guided tour. Start your day with a visit to the Grand Bazaar, one of the oldest covered markets in the world. Accompanied by your private guide, stroll through the vibrant lanes dotted with countless shops and expose your senses to this melting pot of colors, sounds, and scents. Watch the skillful local artisans and craftsmen work on their masterpieces and try out your bargaining skills. Continue to the Süleymaniye Mosque and enjoy a guided tour of this unmissable and majestic structure that has shaped the landscape of Istanbul for centuries. Walk through the vast, airy interiors and keep an eye out for some of the finest examples of calligraphy in the city. Head to the adjacent gardens for a chance to appreciate stunning vistas of the Golden Horn and Bosphorus. Next, make your way to the Spice Bazaar, also known as the Egyptian Market. Wander through this captivating marketplace with your guide and take in the myriad of sights, flavors, and aromas. Stop by numerous stalls selling fragrant herbs and decadent treats, or perhaps grab a cup of hot Çay and simply watch the local life go by.
See Istanbul's iconic landmarks from aboard a private boat cruise, accompanied by your knowledgeable guide. Journey between two continents as you make your way down the Bosphorus straight. Pass by old wooden mansions and posh marble palaces dotting Istanbul's shoreline and look out for the majestic mosques of the Golden Horn with their ubiquitous minarets reaching up into the sky. Take in the views of the old Ottoman fortresses and sail past the city's charming neighborhoods. A cruise down the Bosphorus allows you to experience this magnificent metropolis in a whole new way.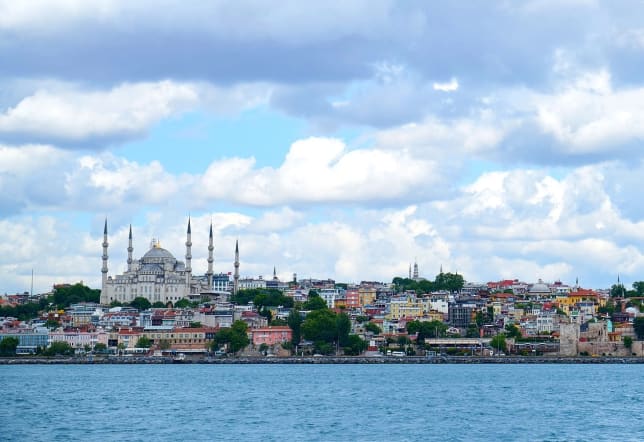 Where you'll be staying
Çiragan Palace Kempinski (Superior)
Day 4: Istanbul to Cappadocia
A private transfer will be provided from your hotel in Istanbul to the airport.
Board a flight in Istanbul with service to Cappadocia. The flight duration is approximately one hour.
A private vehicle with driver and guide will provide a transfer between the airport and your hotel.
Meet your private driver and guide for an adventure-filled day in magnificent Cappadocia. First, visit the picturesque Devrent Valley. Take a guided walk among its peculiar, sculpture-like rock formations and understand why some call this area the 'Imagination Valley'. Transfer to the neighboring Pasabagi Valley and spend some time exploring this geological wonder dotted with the ubiquitous fairy chimneys. Make your way to the town of Avanos, renowned for its beautifully intricate pottery. Have lunch at a local restaurant before being driven to the Goreme Open Air Museum. This World Heritage Site showcases some stunning examples of Byzantine art and marvelous frescos in a series of churches carved into the rocky surroundings. Let your guide introduce you to the rich history of this fascinating area as you stroll through the mystical landscape. Your next stop is the Uchisar Castle, the highest point in the region. Take in the unmatched panoramic views of Cappadocia with Mount Erciyes proudly perched in the background. Continue to the Pidgeon Valley, yet another natural gem of this stunning part of Turkey. Relish in its wonderful scenery and don't forget to take plenty of photographs. Your day concludes as you are dropped off back at your hotel.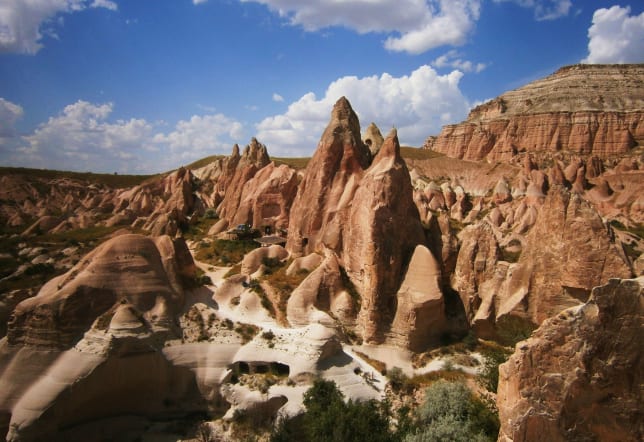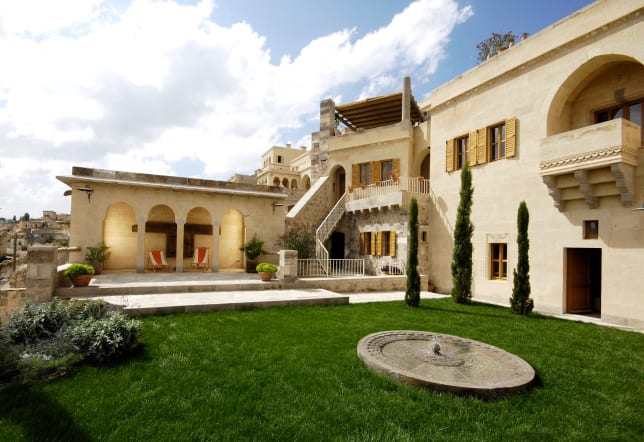 Where you'll be staying
Argos (Suite)
Day 5: Cappadocia
A Bird's Eye View
There is simply no better way to experience Cappadocia and its extraordinary landscapes than from aboard a hot air balloon. Early this morning, meet your private driver for a transfer to the launch site where you'll join fellow adventure seekers and get an opportunity to appreciate one of the most poetic sunrises of your lifetime. Energize on a light complimentary breakfast while your crew completes the necessary preparations before take-off. Once everyone is on board, your aircraft raises slowly into the morning sky and the magnificent vistas of Cappadocia immediately unfold in front of your eyes. Watch dozens of balloons harmoniously lift up above the horizon in preparation for one of Nature's greatest shows. As the sun beings its slow ascent, the warm rays light up your serene surroundings. Glide over the sublime hills and valleys of Cappadocia and get a true sense of the region's fairy tale terrain. After about an hour in the air, your pilot beings the gentle descent and lands the balloon. Enjoy a glass of nonalcoholic champagne as keepsake certificates are distributed to all guests. Afterward, return to your hotel by private driver.
Weather dependent. This decision is made by an organized weather organization in Cappadocia & can be cancelled within 24 hrs of ride
Spend your day getting to know the history and exploring the spectacular landscapes of Cappadocia, accompanied by your private driver and guide. Start by making your way to Ortahisar, a natural citadel carved in rocks. Be amazed at the town's charming stone houses that line its narrow streets and visit the natural fortress that has become an important landmark of the region. Take in the splendid views of the famous fairy chimneys and the majestic Mount Erciyes in the background. Continue your day with a visit to one of Cappadocia's subterranean cities, Kaymakli or Derinkuyu. Descend into the underground labyrinth and learn the fascinating story of 7th century Christians who established these dwellings in an attempt to flee persecution.  Next, transfer to Cavusin Valley for an opportunity to see the peculiar troglodyte settlements that stayed inhabited until the mid-20th century. Break for lunch before being driven to the Red Valley. Feel as if you have been transported to another planet as you marvel at the otherworldly terrain around you. Finish off the day with a visit to the Wine House and get a better understanding why Cappadocia is famous for its fertile vineyards. Upon the conclusion of the tour, you will be dropped off back at your hotel.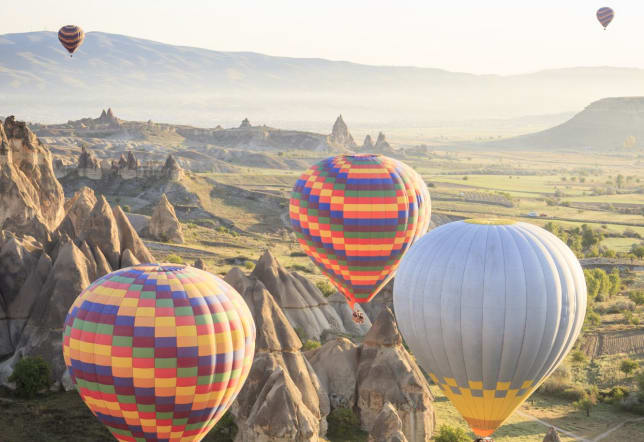 Where you'll be staying
Argos (Suite)
Day 6: Cappadocia to Bodrum
Onward and Upward
A private vehicle with driver and guide will provide a transfer between the airport and your hotel.
Board a flight in Cappadocia with service to Bodrum via Istanbul. Approximate travel time is four hours.
A private vehicle with driver and guide will provide a transfer between the airport and the city or your hotel.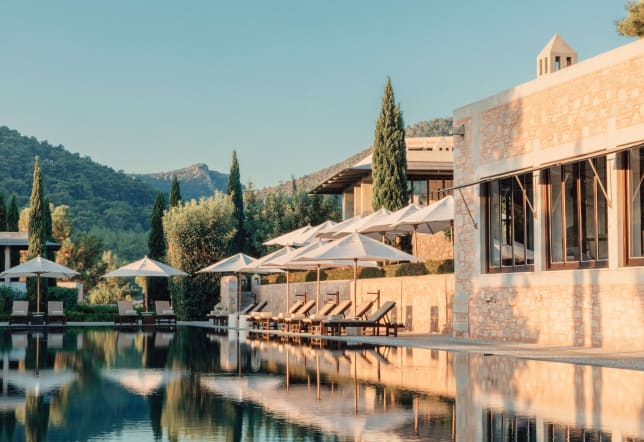 Where you'll be staying
Amanruya (Pool Pavilion Deluxe Sea View)
Day 7: Bodrum
See the Signature Sights in Style
Explore Turkey's Turquoise Coast in style from aboard a private traditional Turkish gulet boat. After a transfer to the local harbor, board your vessel and start your day by sailing along the unspoiled shorelines of the Turkish Riviera to Aquarium Cove, known for its crystal-clear waters and abundance of fish. Take a refreshing swim in this secluded bay or simply unwind and bask in the warm Aegean sun. Continue to Kara Ada, the Black Island famous for its healing mineral springs. Bathe in the soothing thermal waters and head to the nearby cave to treat your skin with mud believed to have been used by Cleopatra herself to preserve her famed beauty. After getting back on your boat sail south past a rocky outcrop towards the Poyraz Cove. Its gorgeous clear waters have made it one of the most popular diving spots in the area. Take in the tranquil scenery as you make your way to the nearby Meteor Bay. Jump into its irresistible blue waters and get unique opportunity to swim in a hole created by a meteorite impact. Your day at sea also wouldn't be complete without a delicious fish lunch. The excursion ends when you travel back to the harbor and are transferred back to your hotel in Bodrum.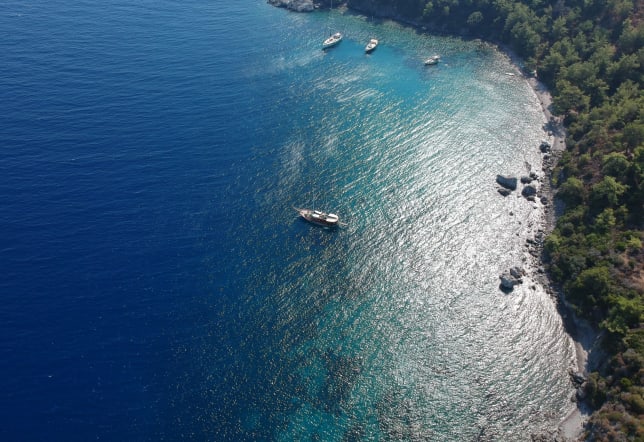 Where you'll be staying
Amanruya (Pool Pavilion Deluxe Sea View)
Day 8: Bodrum
Wind Down
Enjoy time at leisure to explore at your own pace, or relax at your hotel.
Where you'll be staying
Amanruya (Pool Pavilion Deluxe Sea View)
Day 9: Bodrum to Istanbul
Jet Off
A private vehicle with driver and guide will provide a transfer between the airport and the city or your hotel.
Board a flight in Bodrum with service to Istanbul. The flight duration is approximately one hour.
Çiragan Palace Kempinski – Istanbul
The Çiragan Palace Kempinski is situated on the European shores of the Bosphorus, in a very convenient location between the districts of Besiktas and Ortakoy and only 10 minutes' drive to Taksim.  At the Çiragan Palace Kempinski, the tastefully decorated rooms and suites are lavish in style and comfort and capture the essence of pure luxury. Most of them offer a balcony that welcomes you with a breathtaking view of the Bosphorus.  Embark on a journey of culinary delights at the Çiragan Palace Kempinski fine dining restaurants Tugra, the Gazebo Lounge, Laledan Restaurant or the Bosphorus Grill. You will enjoy the essence of Istanbul's social life in pre- or post-meal socialising or in the atmosphere of the bars.  Çiragan Palace Kempinski Spa, managed by Sanitas, features luxury spa services, packages and wellness programmes including signature treatments and facial and body therapies. Amenities such as a Fitness Centre, an indoor pool, a sauna and a whirlpool are complemented by a heated outdoor infinity pool. During the summer months, a plethora of holistic therapies and spa treatments are available in the private luxurious booths in the lush green gardens facing the Bosphorus.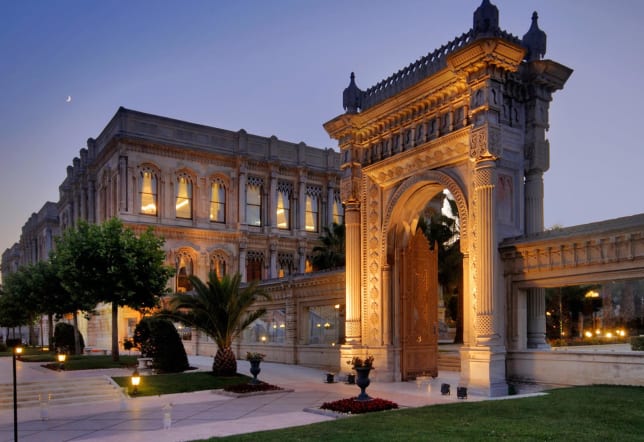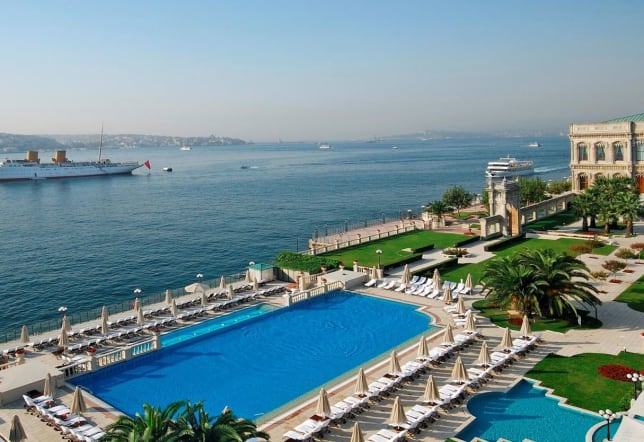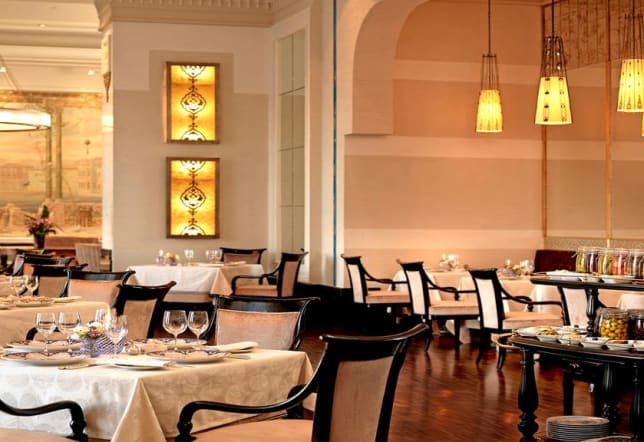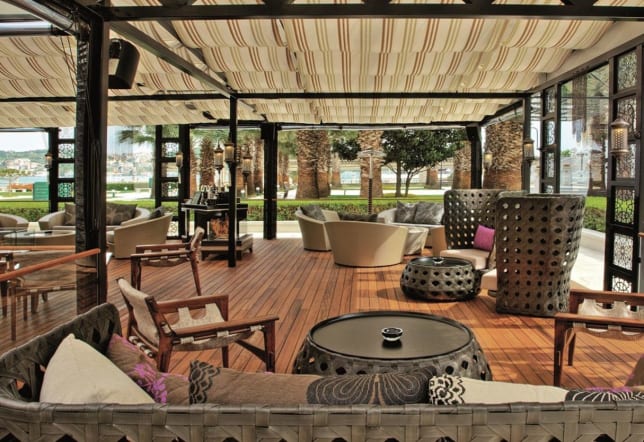 Argos – Cappadocia
Located in the heart of Cappadocia on the site of an ancient monastery in Old Uçhisar Village, the Argos in Cappadocia hotel has carefully restored the remains of historical dwellings, underground tunnels and caves to offer its guests not only an unsurpassed place to stay, but also a unique perspective from which to view this magical land. The accommodations at Argos are spread gracefully across the slope and the delightful landscaping connects various living areas of the property. With its exquisitely decorated interiors, Argos in Cappadocia's aesthetic remains faithful to the spirit of the original settlement. The superior service philosophy is bound to satisfy discerning travelers.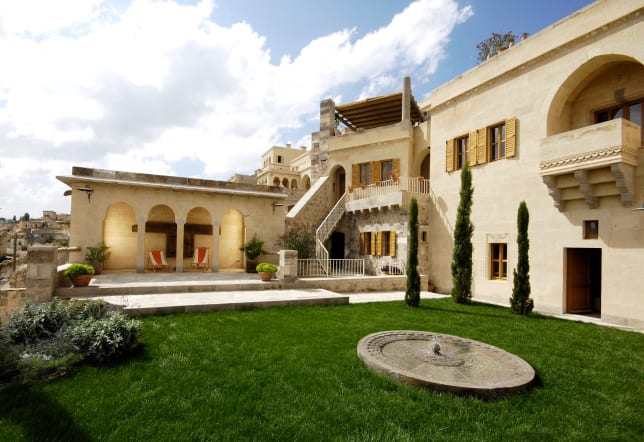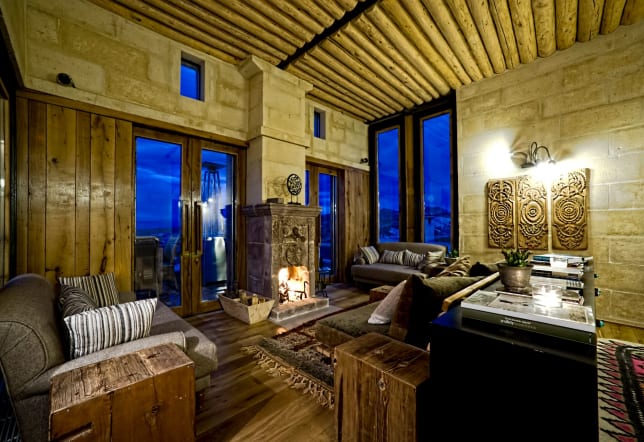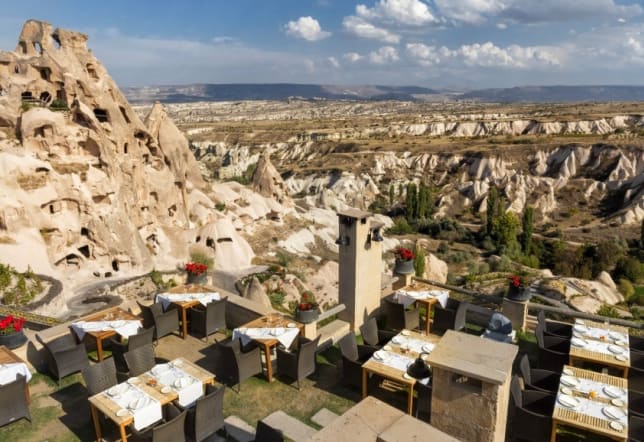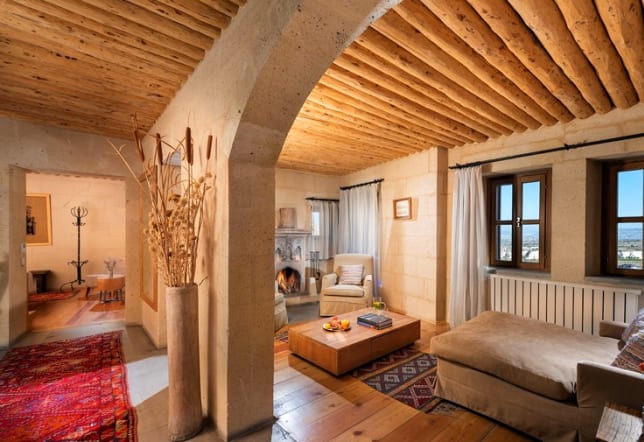 Amanruya – Bodrum
Inspired by the region's traditional architecture and building methods, the Amanruya Resort ascends through a series of levels, offering a variety of courtyards and terraces. The Amanruya Resort has the intimate and organic ambiance of a village in a picturesque natural setting. The traditional facades of Amanruya's 36 Pavilions hide contemporary habitats adorned with four-poster beds inside, opening onto private gardens with heated pools. Surrounded by quiet bays where rolling forested hills touch the seas's edge, Amanruya is positioned within easy reach of the aged battlements and cosmopolitan atmosphere of Bodrum. Turkey is blessed with a variety of microclimates resulting in an amazing array of produce. Combined with the freshest of local seafood, the kitchen at Amanruya delivers a seasonal menu featuring Turkish, Western, and Indonesian and Thai cuisine. An exquisite retreat, the staff pride themselves on exclusive service. No request is too great and no detail too small.