Starting from Basel, experience the romantic Rhine and peaceful Main rivers. Ancient castles, grand palaces and medieval towns are yours to enjoy. Revel in the architectural gems on display—the Würzburg Residenz and Mannheim Baroque Palace. Visit the Alsatian capital of France, Strasbourg and the metropolitan capital of Germany, Frankfurt. Discover the many medieval treasures on this unforgettable journey.
Travel Bets Bets Package Includes
Round trip airfare from Vancouver to Basel and return from Nuremburg
7 nights deluxe river cruise aboard AmaDante
Airport transfers from airport to port and port to airport
All onboard dining in a variety of venues
Unlimited fine wine, beer and soft drinks with lunch and dinner
Unlimited sparkling wine and fresh juice with breakfast
Tapas, sandwiches, snacks and refreshments served daily in the Main Lounge
Captain's Welcome Cocktail and Dinner
Internet and Wi-Fi access
Entertainment on Demand system featuring, movies, TV shows, news and music
Bottled water replenished daily
Personalized service from a highly trained Cruise Manager during both cruise and land programs
Daily entertainment including cultural performances
Immersive tours in every destination
Gentle, regular, active and late-riser tour options
Bike tours and hikes
Special Interest Tours
Knowledgeable guides
Personal headset for easy exploration
Travel Best Bets Exclusive: November 14 departure book by October 31  and FLY for FREE!
Vancouver departures
Outside
French Balcony
Taxes &  Fees
November 14, 2018*
sold out
$4873
$240
Victoria and Kelowna add $400
*Fly for Free promotion is applicable on departures from Vancouver, Calgary, Montreal and Toronto only.  Other cities departures require connector at additional cost.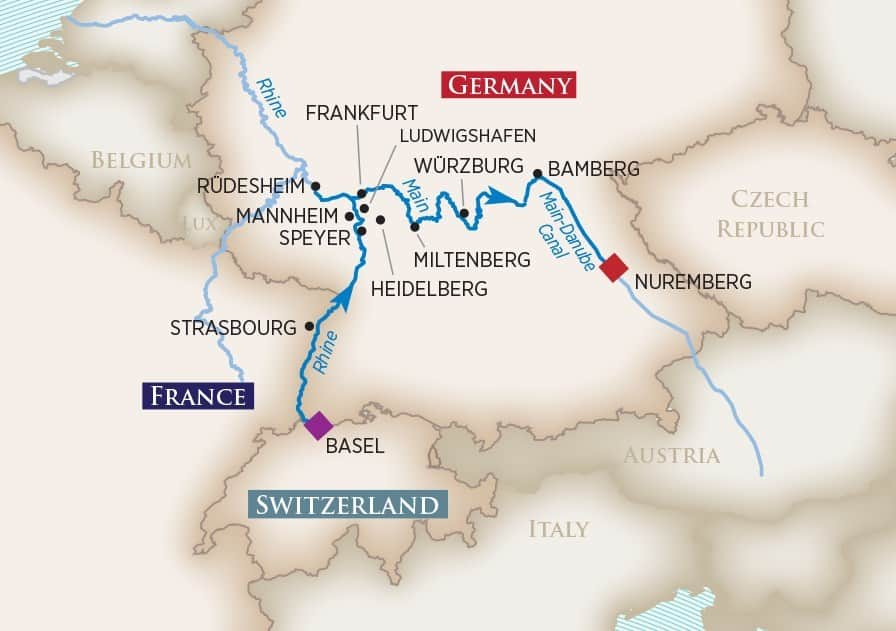 | Day | Date | Time | Activity | Port of Call | Country |
| --- | --- | --- | --- | --- | --- |
| Thu | 11/15/2018 | 03:00 PM | EMBARK | BASEL | SWITZERLAND |
| Thu | 11/15/2018 | 10:00 PM | DEPARTURE | BASEL | SWITZERLAND |
| Fri | 11/16/2018 | 12:00 PM | ARRIVAL | STRASBOURG | FRANCE |
| Fri | 11/16/2018 | 11:00 PM | DEPARTURE | STRASBOURG | FRANCE |
| Sat | 11/17/2018 | 08:00 AM | ARRIVAL | MANNHEIM | GERMANY, FEDERAL REPUBLIC OF |
| Sat | 11/17/2018 | 01:00 PM | DEPARTURE | MANNHEIM | GERMANY, FEDERAL REPUBLIC OF |
| Sat | 11/17/2018 | 06:30 PM | ARRIVAL | RÜDESHEIM | GERMANY, FEDERAL REPUBLIC OF |
| Sat | 11/17/2018 | 11:59 PM | OVERNIGHT | RÜDESHEIM | GERMANY, FEDERAL REPUBLIC OF |
| Sun | 11/18/2018 | 09:00 AM | DEPARTURE | RÜDESHEIM | GERMANY, FEDERAL REPUBLIC OF |
| Sun | 11/18/2018 | 12:00 PM | ARRIVAL | RUESSELHEIM | GERMANY, FEDERAL REPUBLIC OF |
| Sun | 11/18/2018 | 12:30 PM | DEPARTURE | RUESSELHEIM | GERMANY, FEDERAL REPUBLIC OF |
| Sun | 11/18/2018 | 04:00 PM | ARRIVAL | FRANKFURT | GERMANY, FEDERAL REPUBLIC OF |
| Sun | 11/18/2018 | 11:00 PM | DEPARTURE | FRANKFURT | GERMANY, FEDERAL REPUBLIC OF |
| Mon | 11/19/2018 | 03:00 PM | ARRIVAL | MILTENBERG | GERMANY, FEDERAL REPUBLIC OF |
| Mon | 11/19/2018 | 07:00 PM | DEPARTURE | MILTENBERG | GERMANY, FEDERAL REPUBLIC OF |
| Tue | 11/20/2018 | 01:30 PM | ARRIVAL | WÜRZBURG | GERMANY, FEDERAL REPUBLIC OF |
| Tue | 11/20/2018 | 07:00 PM | DEPARTURE | WÜRZBURG | GERMANY, FEDERAL REPUBLIC OF |
| Wed | 11/21/2018 | 02:30 PM | ARRIVAL | BAMBERG | GERMANY, FEDERAL REPUBLIC OF |
| Wed | 11/21/2018 | 07:00 PM | DEPARTURE | BAMBERG | GERMANY, FEDERAL REPUBLIC OF |
| Thu | 11/22/2018 | 06:00 AM | ARRIVAL | NUREMBERG | GERMANY, FEDERAL REPUBLIC OF |
BASEL TO NUREMBERG
DAY 1
EMBARKATION – BASEL, SWITZERLAND
Embark your cruise in Basel. Tonight, meet your fellow passengers on board. (D)
DAY 2
STRASBOURG, FRANCE
Join a tour of the city that takes you past the stunning Parc de l'Orangerie, the European Parliament and the Place de la République and then walk through the iconic "La Petite France" district, which appears to have been lifted straight from the pages of a fairytale. Wander through these charming streets and past the Cathédrale de Nôtre Dame with its famous astronomical clock. Alternatively, the active adventurer can go on a guided bike tour. (B,L,D)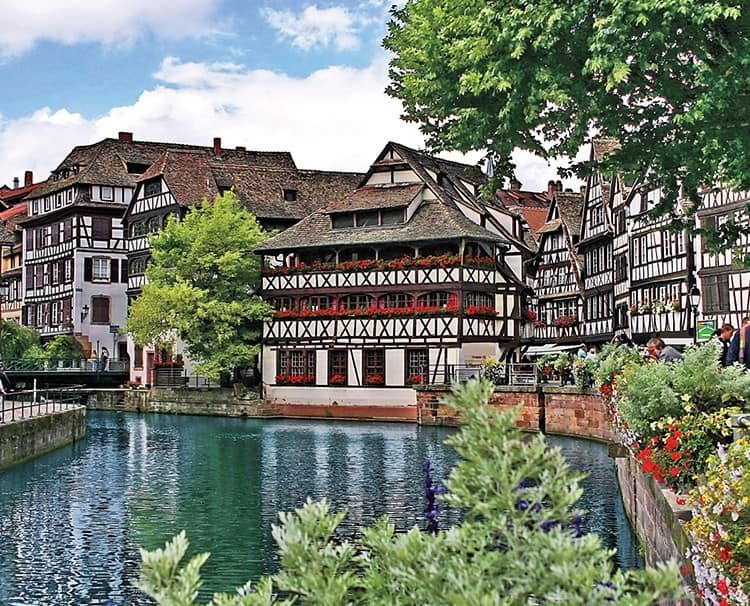 DAY 3
LUDWIGSHAFEN, GERMANY
Ludwigshafen is your gateway to a choice of three excursions. Visit the Mannheim Baroque Palace—one of the largest palaces in Europe. Alternatively, join a walking tour of one of Germany's oldest cities, Speyer, known for the largest Romanesque cathedral in Europe—a UNESCO World Heritage Site—and the medieval Altpörtel, Old Gate; or visit the intriguing Speyer Technical Museum. Later in the day, sail to Rüdesheim, where you'll be treated to a Riesling wine tasting. (B,L,D)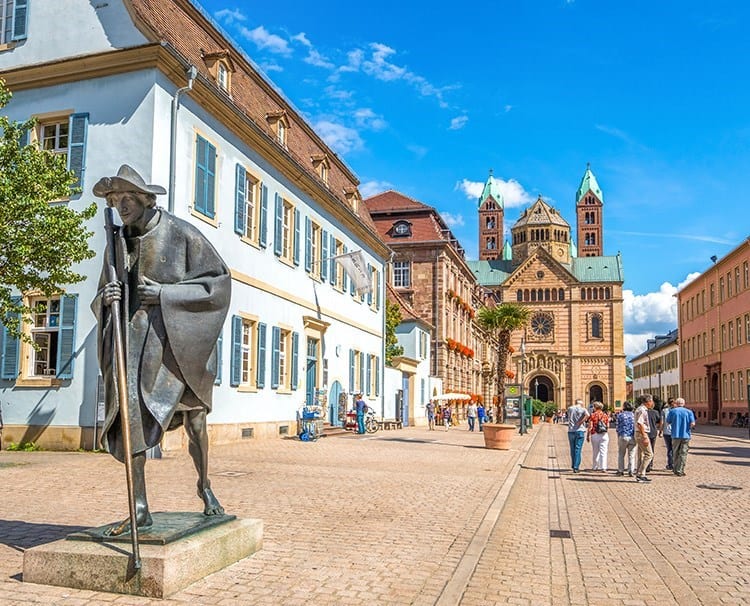 DAY 4
RÜDESHEIM – FRANKFURT
Continue your exploration of Rüdesheim with a choice of excursions. Those who fancy a more whimsical adventure will want to visit Siegfried's Mechanical Musical Instrument Museum, home to one of the greatest collections of self-playing musical instruments. For an adventure of a different kind, soar over the vineyards of Rüdesheim on a gondola to the Niederwald Monument; or opt to take a bike ride along the Rhine. You can also join a full-day excursion to Heidelberg, a perfectly preserved medieval city nestled in the Neckar River Valley along Germany's Castle Road. Later in the day, cruise to the metropolitan capital of Germany, Frankfurt, where you'll take in the sights on a panoramic city tour and then immerse yourself in the local flavors with an authentic Römerberg beer tasting. (B,L,D)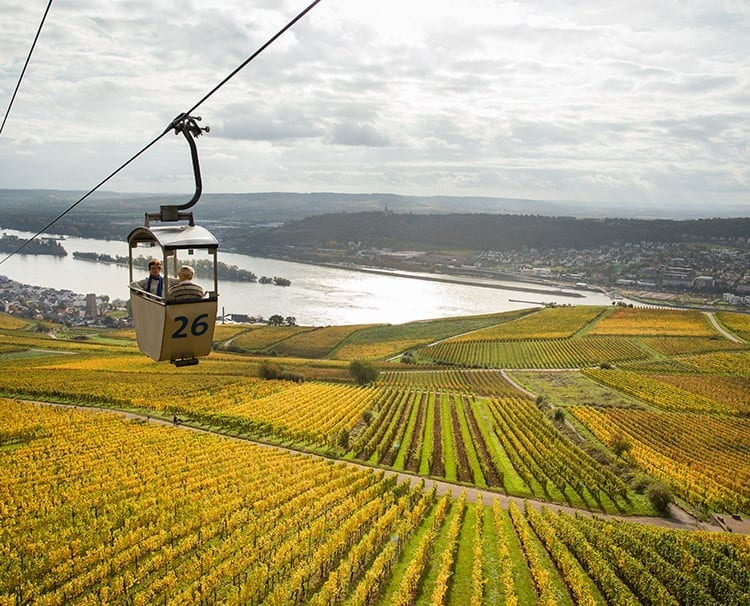 DAY 5
MILTENBERG
Enjoy a scenic cruise to Miltenberg, the "Pearl of the Main River." While on your walking tour, you'll discover why this medieval town seems to leap from the pages of a fairytale with its 14th- and 15th-century half-timbered, gabled houses; the famed Crooked House; and the venerable Royal Inn, which has been a working hotel since the 17th century. Alternatively, indulge in regional specialties of Franconia; or go on a guided bike ride along the Main River. (B,L,D)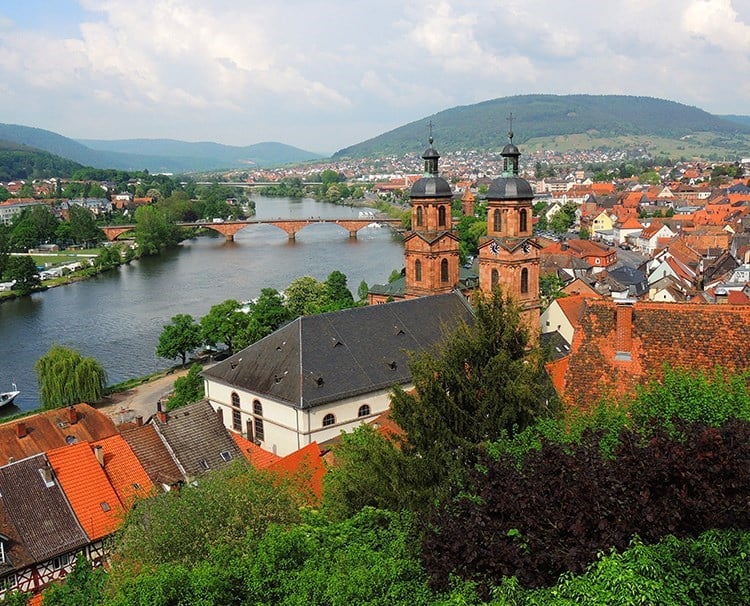 DAY 6
WÜRZBURG
Nestled along the "Romantic Road" in the middle of Germany's largest wine producing region lies Würzburg. Join a walking tour of this beautiful city bursting with Baroque splendor. Or you can visit its crown jewel, the Baroque Residenz Palace, a UNESCO World Heritage Site that features an opulent interior, including a grand fresco by Tiepolo. Get more active with a hike up to the Marienberg Fortress, the most prominent landmark on the left bank of the Main River. During the afternoon, participate in a special Franconian wine tasting at the famous wine cellars located underneath Würzburg. (B,L,D)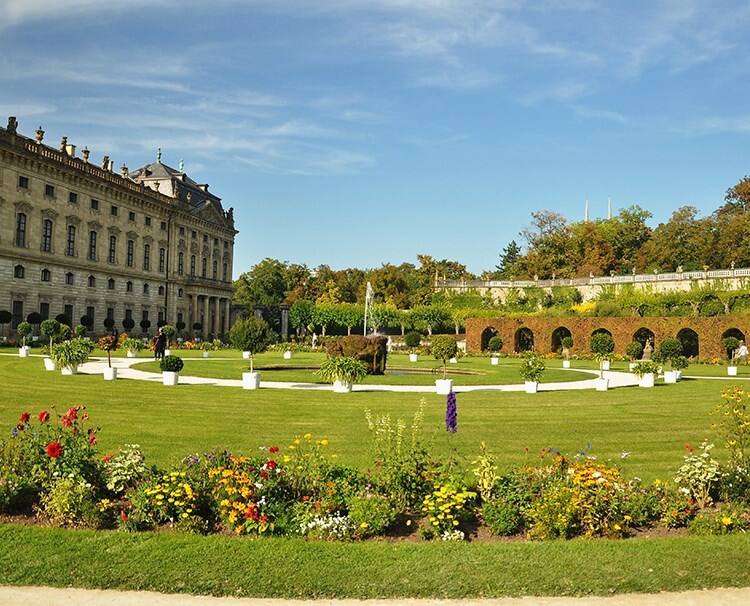 DAY 7
BAMBERG
Explore enchanting Bamberg, a UNESCO World Heritage Site, in one of three ways. Join a guided walking tour of this medieval gem to see its cathedral, Old Town Hall and elegant old mansions. Or taste your way through the city sampling smoked beer, licorice root and Hornla pastry, a local favorite whose recipe dates back to 1427. And for those wishing to explore the town more actively, hop on a bike for a guided bike tour along the Main River and to its quirky quarters beyond the town center. (B,L,D)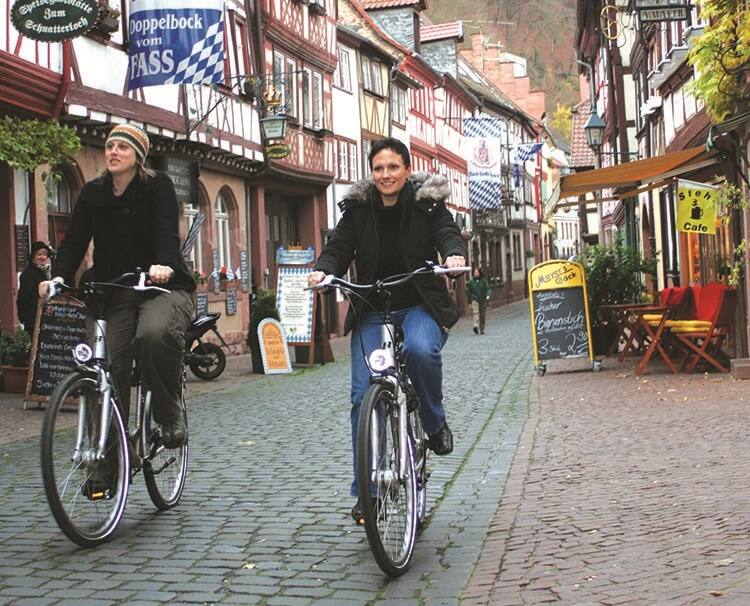 DAY 8
NUREMBERG– DISEMBARKATION
Disembark the ship in Nuremberg after breakfast and return home. (B)
Terms & Conditions
All rates are per person, based on double occupancy in Canadian dollars (unless otherwise stated) New bookings only. Space and price may be limited and subject to availability at the time of booking.  Errors or omissions may occur on the above information with no guarantee of being honoured. Terms and conditions apply. Tax is not included in the above base fare. Above tax amount includes $30 per adult Booking Management Fee.  Not included in the above rates: Xpresspost fee, recommended medical, cancellation or baggage insurance. Child rate is applicable when travelling with 2 paying adults sharing 1 hotel room, using the existing bedding. Price Match Policy: Travel Best Bets makes every effort to remain competitive by offering our 'Match or Beat Any Price' offer however due to certain restrictions  there will be some product we cannot match or beat. Please note the star ratings found on www.travelbestbets.com are determined by Travel Best Bets based on a number of factors and may not match the star rating found in the Tour Operator's brochure. Please view our star ratings by clicking here. Due to an increasing volume of disputed bookings, we will only accept payment for air only travel to India, the Philippines and the continent of Africa through the following means: book and pay cash in person or by direct deposit into our business account – once the transaction is verified and a copy of the receipt emailed or faxed to our office, we will confirm the booking. Please contact us for details on how to book using this method.Please note there maybe a tax increase when FREE connectors are added with Air Canada Vacations. Please contact

[email protected]

for photo credit information. BPCPA #3287