Spend a fortnight exploring and discovering New Zealand in-depth on this fascinating voyage. While in Dunedin, enjoy the amazing views and the enchanting gardens that surround the historic 19th century Larnach Castle. In Picton, watch for playful dolphins while exploring breathtaking Marlborough Sounds. And spend two days seeing firsthand why Auckland is nirvana for nature lovers, with its serene beaches, verdant landscapes and stunning coastal trails.
Package Includes
Round trip airfare to Sydney
14 night cruise aboard Norwegian Jewel
Round trip transfers from airport to pier and pier to airport
January 28, 2019
Vancouver
Inside
$2099
Oceanview Obstructed
$2199
Balcony
sold out
Mini Suite
$3899
Taxes & Fees
$898
Victoria, Kelowna, Comox, Calgary, Edmonton add from $400 more
Winnipeg, Saskatoon, Regina, Montreal, Halifax add from $800 more
Toronto, Ottawa add from $700 more
Please call to inquire for flights from other departure cities.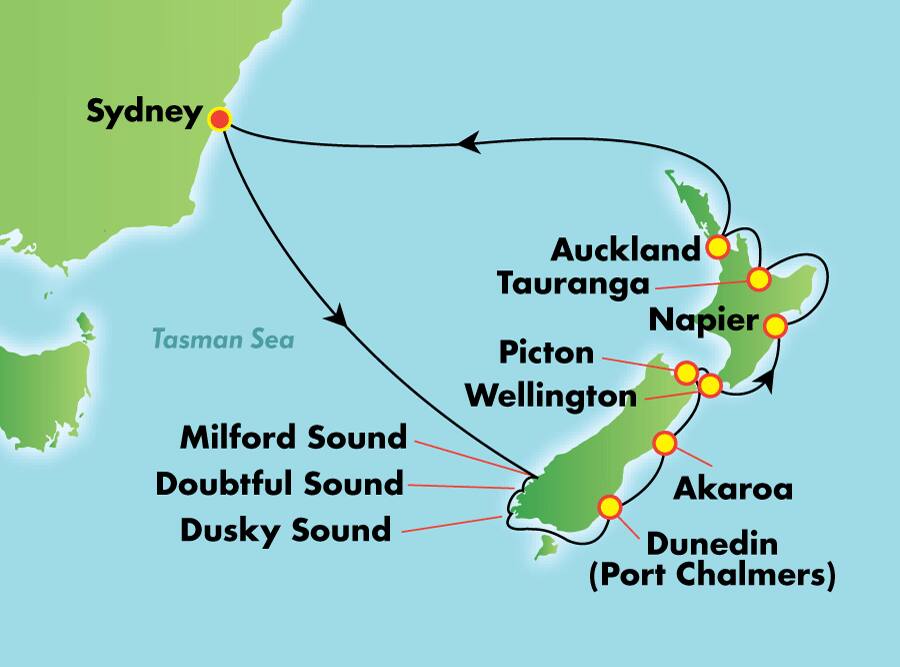 Day
Cruise Ports
Arrive
Depart
Wed, 30Jan19
Sydney, Australia (EMBARK)
—
6:00 pm

Sydney's harbour is the hub from which there's much to see and do. You'll want to explore this area, home of the iconic Opera House. Admire the skyline, swim at a harbour beach or cross the Sydney Harbour Bridge. Want to see surfing? Grab your sunblock and towel and spend the day on world-famous Bondi Beach, or take a scenic walk on the coast from Bondi to Coogee Beach. The Rocks district is a shopper's mecca offering a wide variety of goods, from woodcrafts and unique art to outback fashions.

Thu, 31Jan19
At Sea
—
—
Fri, 01Feb19
At Sea
—
—
Sat, 02Feb19
Cruise Milford Sound
—
—
Cruise Doubtful Sound
—
—
Cruise Dusky Sound
—
—
Sun, 03Feb19
Dunedin (Port Chalmers), New Zealand
9:00 am
7:00 pm

This dramatic South Island coastal town offers a mix of unique natural beauty and fascinating history. Rare, yellow-eyed penguins, fur seals and the Royal Albatross all call Dunedin home. Equally impressive is the Victorian and Edwardian architecture that dates from its days as a gold rush town. New Zealand's only castle sits high above the city and offers sweeping views from its famous gardens. Shop for a locally made souvenir, with crafts, artwork, wool and leather items being popular.

Mon, 04Feb19
Akaroa, New Zealand
8:00 am
5:00 pm

Tiny penguins rule the roost in this historic settlement nestled in the heart of an ancient volcano. With a balmy, year-round climate, these famous foot-tall residents are certainly not snowbirds. The spectacular surroundings offer a wealth of outdoor activities, both in the sheltered harbour and on dry land. Cafes open onto streets and exquisite local boutiques and galleries offer superb local works. Be sure to sample the fine fudge and traditional cheeses.

Tue, 05Feb19
Marlborough (Picton), New Zealand
8:00 am
5:00 pm

Built around a sheltered harbour, Picton is lined with cafés and restaurants for you to choose from (we suggest the fish and chips). Popular attractions in Picton include a maritime museum and an aquarium. But this town is not short on recreational activities. Some of Picton's favourite pastimes include fishing, dolphin watching and sea kayaking. Walk or bike the Queen Charlotte Track or spend the day exploring the scenic Marlborough Sounds. Check out one of the many wine tours (probably after biking the track). Then relax as you browse the local shops that offer a wide range of trinkets, including handmade jewelry, paintings from local artists and woodcarvings. Before leaving Picton, it's time for more fish and chips along the shore. It's the Picton way!

Wed, 06Feb19
Wellington, New Zealand
7:00 am
7:00 pm

Travel to a Victorian past as you stroll by the city's Victorian Gothic buildings. Take the cable car up the mountain for a fantastic view, or grab some sunscreen and head to the beach. Great views abound in Wellington: Journey around the spectacular harbour and enjoy its amazing views. See some of the sites where the Lord of the Rings trilogy was filmed. Shopping opportunities are plentiful, with arts and crafts, jewelry, fine woolens and leather goods on offer.

Thu, 07Feb19
Napier, New Zealand
8:00 am
3:00 pm

Napier calls itself the Art Deco capital of the world, but it's also a leading wine-travel destination. Levelled by an earthquake in 1931, Napier was rebuilt in Art Deco style. Along with Miami Beach, Napier is one of the best examples of this style, with many of its structures well preserved. Take a walk down Marine Parade, a tree-lined ocean boulevard with fountains and gardens, or go out to the country to enjoy the lovely vistas, tour superb area vineyards and relax with a glass of wine.

Fri, 08Feb19
Tauranga, New Zealand
7:00 am
5:00 pm

Go walk-about and explore Tauranga, set on the beautiful Bay of Plenty. And indeed there are plenty of things to do. Head to the beach or discover Tauranga's lovely parks and rich history. Visit a village buried by a volcanic eruption and captured in a moment of time – a fascinating yet moving experience. Take a selfie at Hell's Gate, an aptly named geothermal park with boiling pools, fantastic geysers and mud baths, the largest of which is Poutamu, "the stairway to heaven."

Sat, 09Feb19
Auckland, New Zealand
8:00 am
Overnight

Surrounded by tranquil golden beaches, lush forests and dramatic coastal trails, Auckland is a nature lover's paradise. The 48 volcanic cones that dot the surrounding area provide stunning panoramic views of the city and harbour. New Zealand's largest city is also a shopper's paradise offering everything from top designers to local open-air markets. Learn about the indigenous Maori and take home some native art pieces or jewelry. The fine, locally produced woolens also make excellent gifts.

Sun, 10Feb19
Auckland, New Zealand
—
1:00 pm
Mon, 11Feb19
At Sea
—
—
Tue, 12Feb19
At Sea
—
—
Wed, 13Feb19
Sydney, Australia (DISEMBARK)
7:00 am
—
Please Note:
Disembarkation usually begins 2 hours after docking.
Due to security reasons, all guests must be on board 2 hours before sailing.
Itineraries are subject to change at any time without notice.
Check your specific sailing for exact departure and arrival times. All times are local to the port.
Australia Visa: Canadians must also be in possession of an Electronic Travel Authority (ETA). Ensure that you travel with the same passport used to apply for your ETA. The cost is included when booked with one of our travel agents.