Come aboard Norwegian Jade and discover the rich cultures, historic landmarks and natural beauty of Greece, the Holy Land, Egypt and Abu Dhabi. In Greece, bring the classics to life touring the Acropolis in Athens and then sail into Medieval times while uncovering the historic sites of Rhodes. With two overnights in Haifa, you have plenty of time to travel to Galilee, Nazareth or Jerusalem and explore the region's holy sites. Then recline on the breathtaking unspoiled beaches of Fujairah before concluding your vacation in Dubai where modern marvels await you at every turn.
Airfare to Rome and return from Dubai
21 night cruise aboard Norwegian Jade
Round trip transfers from airport to pier and pier to airport
November 6, 2019
Vancouver
Inside
$2999
Oceanview Obstructed
$3499
Balcony
$4599
Mini Suite
$5299
Taxes & Fees
$998
Victoria, Kelowna, Comox add from $300 more
Calgary, Edmonton add from $200 more
Extend your cruise and book back to back! Please click here for Dubai to Singapore sailing on November 28, 2019.
Please call to inquire for flights from other departure cities.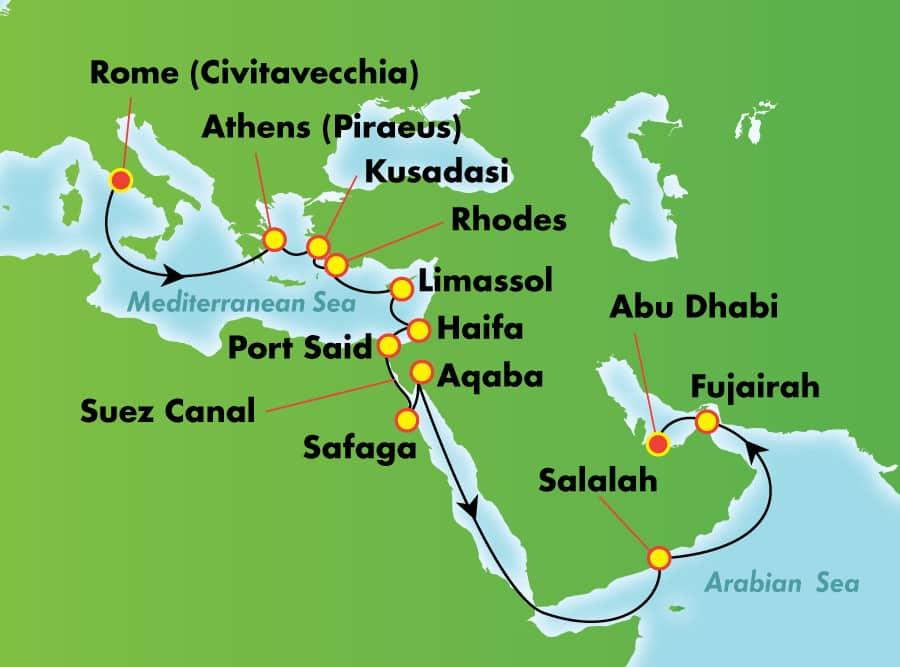 Nov 07 – 28, 2019
Day
Cruise Ports
Arrive
Depart
Thu
Rome (Civitavecchia), Italy (EMBARK)
—
5:00 pm

Endless adventures await in Rome. With two and a half thousand years of history, art and culture, it is no wonder Rome is one of the most visited cities on the planet. Gaze at the masterpieces of the Vatican or walk into the past with visits to ancient relics, historic monuments and legendary museums. Or people-watch while sipping on an espresso in a quaint cafe.

Fri
AT SEA
—
—
Sat
Athens (Piraeus), Greece
9:00 am
7:00 pm

This is the cradle of civilization, the oldest city in Europe. Not only is this city home to the Acropolis and some of the most important architectural structures and archaeological finds in the Western world, It is also a very modern city, an urban amalgam of extraordinary art, culture, cuisine and shopping. Explore more of Athens on a European cruise!

Sun
Kusadasi, Turkey
8:00 am
6:00 pm

Take a journey into the past in richly historic Ephesus. Once an ancient Greek city, Kusadasi was known for the famed Temple of Artemis, one of the Seven Wonders of the Ancient World. Built, destroyed, and rebuilt again through several notably historical periods, Ephesus boasts abounding ruins and archaeological excavation sites. View what remains of the Roman Library of Celsus, the Gate of Augustus, the Tomb of John the Apostle, and the Basilica of St. John, among several other ancient remnants.

Mon
Rhodes, Greece
8:00 am
5:00 pm

This Greek island just off the coast of Turkey exudes beauty and history. Take a walking tour of the old fortified city and stand in awe of the impressive Grand Master's Palace. See where the Colossus of Rhodes, a onetime Wonder of the World, once stood and savour the charm of this remarkable walled town. Along the scenic coast lies the whitewashed town of Lindos with its ancient acropolis and stunning views.

Tue
Limassol, Cyprus
9:00 am
7:00 pm

A strategic garrison for Richard the Lionhearted during the Third Crusade, Limassol provides many archaeological sites, as well as an array of contemporary designer shops for exploring. The island of Cyprus is also home to two ancient kingdoms – Kourion and Amathus.

Wed
Haifa, Israel
6:00 am
—

Considered one of the Middle East's most picturesque cities, Haifa offers incredible sights everywhere you turn. It is also close to holy sites – travel to Galilee, Nazareth or Jerusalem. The views from Bahai Gardens on Mount Carmel, the largest hanging gardens in the world, are incredible, and make for a superb picture spot. Peruse the boutiques on Massada Street or go to the artists' village of Ein Hod for hand-blown glass and crafts.

Thu
Haifa, Israel
—
Overnight
Fri
Haifa, Israel
—
12:00 pm
Port Said, Egypt
11:00 pm
11:59 pm

PLEASE NOTE: We will be making a short technical stop in Port Said to pick up local authorities and the pilot prior to the Suez Canal transit; unfortunately, guests will not be allowed to disembark at this port.

Sat
Suez Canal, Egypt
3:30 am
12:30 pm

Connecting Europe and Asia, this canal through the desert challenged engineers for nearly 4,000 years. Egypt's pharaohs attempted to connect the Nile River and Red Sea but gave up, as did Napoleon Bonaparte thousands of years later. Begun in 1858, the 120-mile (193 km.) Suez Canal took 11 years to build. Unlike many other canals in the world, the Suez Canal has no locks because the terrain is so flat. The passage from one sea to the other takes only 11 to 16 hours.

Sun
Safaga, Egypt
6:00 am
—

Set on the Red Sea, Safaga is a watersports playground. Kite surfing and windsurfing rule here, but diving is also a top attraction with nearby reefs and wrecks. If sun worship is what you seek, the desert sun and black-sand beach will fast-track your sun tan. Experience the splendour of ancient Egypt on an excursion to Luxor, the Karnak Temple Complex and the 3,400-year-old Colossi of Memnon statues.

Mon
Safaga, Egypt
—
8:00 pm
Tue
Aqaba, Jordan
6:30 am
8:00 pm

Aqaba's history dates back to 4,000 BC and was once a key Roman port. With year-round sun, you can enjoy watersports and explore the coral reefs of the Red Sea that teem with brightly coloured fishes. Magnificent Petra, an ancient city carved out of stone, and one of the World's Seven Wonders, is nearby. Back in Aqaba, visit the 13th-century castle fortress, archaeological museum and mosque and enjoy a traditional lamb dish with yogurt and rice accompanied by mint tea or sweet Turkish coffee.

Wed
AT SEA
—
—
Thu
AT SEA
—
—
Fri
AT SEA
—
—
Sat
AT SEA
—
—
Sun
Salalah, Oman
7:00 am
4:00 pm

Discover the charming streets, museums and lively souks of this lovely old city on the Arabian Sea. Those with an interest in architecture will appreciate the Sultan Qaboos Mosque, featuring one of the biggest single-piece-weave rugs in the world. Beyond the city lies the beach of Al Mughsail, featuring blowholes and caves. The landscape is not just desert: a fertile countryside of coconut and banana plantations, mountains and seascapes surround you on the way to Job's (Nabi Ayoub) Tomb.

Mon
AT SEA
—
—
Tue
Fujairah, United Arab Emirates
8:00 am
5:00 pm

The only emirate on the Gulf of Oman rather than the Persian Gulf, Fujairah boasts beautiful, unspoiled beaches. The Hagar mountain range looms majestically behind the port and separates it from the rest of the country. Get a sense of Fujairah's past at the archeological museum or its beautifully restored fort overlooking the old village and date palm oasis. Browse the souks for carpets and pottery and sample local delicacies such as salt-crusted hammour fish, a type of grouper.

Wed
Abu Dhabi, United Arab Emirates
8:00 am
5:00 pm

The world's richest city boasts a wealth of culture, history and adventure, from the emirate's old souks, where you can sip a fragrant Arabic coffee, to the rush of the world's fastest rollercoaster. This 5,000-year-old metropolis is a fascinating mix of modern architecture and atmospheric back streets. Put your bargaining hat on for a friendly faceoff with the merchants at the souk to get deals on handicrafts, artwork, even spices and dried fruit for the cook back home.

Thu
Dubai, United Arab Emirates (DISEMBARK)
7:00 am
—

Experience the blending of traditional Arab culture and modern western culture in Dubai. Gaze skyward to see the tallest building in the world, the 2,722-feet-high futuristic Burj Khalifa tower, or walk over to the impressive Jumeirah Mosque. Seek out jet-set haunts or stroll through the heart of the old city, Dubai Creek, which is home to the Dubai museum as well as the labyrinth alleyways of gold, spice and textile souks, where bargaining is part of the fun and ritual.
Please Note:
Disembarkation usually begins 2 hours after docking.
Due to security reasons, all guests must be on board 2 hours before sailing.
Itineraries are subject to change at any time without notice.
Check your specific sailing for exact departure and arrival times. All times are local to the port.
Please note that the cruise ends on Nov 28 however majority of the flights depart Dubai after midnight on Nov 29.
Add on option in Dubai:
Tour & Transfer from $187 per person (on request – based on a minimum of 10 guest)
Nov 28: Disembark, pick up from pier. Full day sightseeing tour. Late evening transfer to the airport.
-Pick up from Port Rashid for half day modern Dubai, photo stop at Burj AL Arab, photo stop at Atlantis The Palm, drive through Dubai Marina, photo stop at Burj Khalifa (ticket not included), shopping free time at Dubai Mall
-16:00 hrs Drive for Half Day Old Dubai: Museum, Abra, Gold and spice Souk . Free Time with guide until the transfer time
-21:30 hrs Drive to Dubai International Airport for final departure. Drop off at 22:00
Nov 29: Flight departs Dubai at 01:55 am (subject to change)