Take in some of the world's most exotic destinations on this fascinating Southeast Asia cruise. Before departing from Singapore, take time to explore this compact, global city-state, with its British colonial architecture, Chinese quarter and vibrant Hindu temples. Visit Bangkok's Royal Palace – familiar to many as the scene of the true story of Anna and the King of Siam, this massive complex of carved and gilded buildings still used by the Thai royal family. While in Ho Chi Minh City, admire the city's lovely pagodas, colonial architecture and broad boulevards. And drink in the exquisite beauty of Ha Long Bay with its breathtaking monolithic limestone islands before heading to Hong Kong.
Airfare to Singapore and return from Hong Kong
12 night cruise aboard Norwegian Jewel
Round trip transfers from airport to pier and pier to airport
March 2, 2019
Vancouver
Inside
$2099
Oceanview Obstructed
$2399
Balcony
$3999
Mini Suite
$4199
Taxes & Fees
$698
Victoria, Kelowna, Comox add from $300 more
Calgary, Edmonton add from $200 more
March 4 – 16, 2019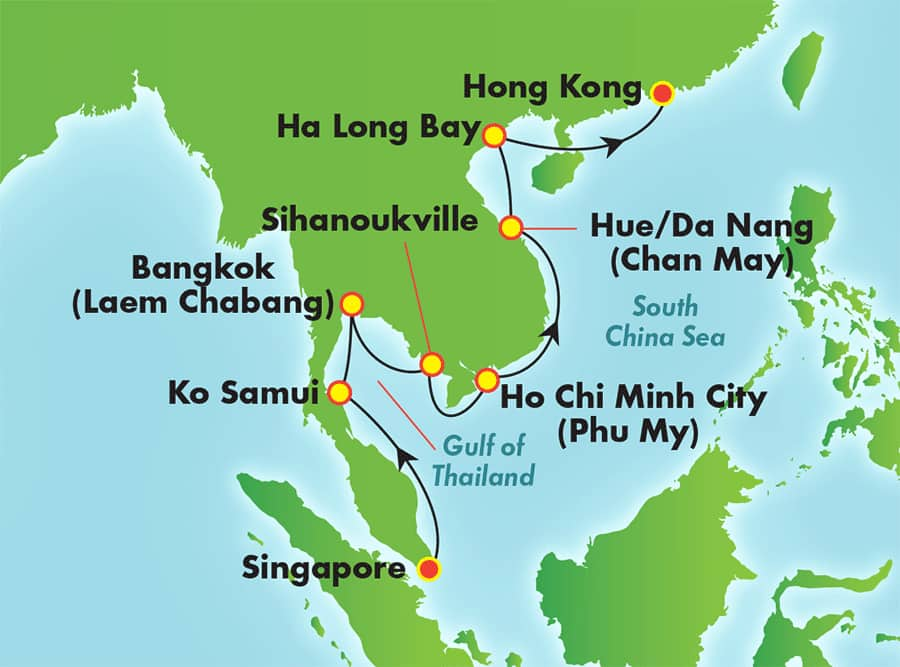 Day
Cruise Ports
Arrive
Depart
Mon
Singapore, Singapore (EMBARK)
—
5:00 pm

Explore a compact, fascinating city-state that's truly global. A onetime British trading post, its diverse past is reflected everywhere, from its old Chinese quarter and colourful Hindu temples to its modern skyscrapers and common language, English. Take a short cruise along the Singapore River or a pedicab ride through town, or enjoy the quiet at the National Orchid Garden. Interested in Asian medicine? A special medicinal restaurant can prescribe just the menu to help you feel your best.

More Details

Tue
At Sea
—
—
Wed
Ko Samui, Thailand
8:00 am
5:00 pm

Feel like Thai royalty as you ride an elephant then see these clever animals show their work skills. Ko Samui is an idyllic, forested island with pristine sandy beaches, but venture inland and see majestic cascading waterfalls or a plantation where monkeys harvest coconuts. Back in town, shop for Thai silk, elegant resort clothes and handicrafts. Don't leave the island without sampling the spicy local fare, which will pleasantly jolt your taste buds.

More Details

Thu
Bangkok (Laem Chabang), Thailand
8:00 am
—

Bangkok's glorious golden temples and palaces, the royal barges and the Temple of the Emerald Buddha, carved from a single block of jade, are must-sees for any visitor. The riverside Temple of Dawn is also stunning and worth seeing. The Royal Palace, a massive complex of carved and gilded buildings, is familiar to many as the setting of the true story of Anna and the King of Siam – and is still used by the royal family today. Bangkok will heighten your senses and fuel memories for a lifetime.

More Details

Bangkok (Laem Chabang), Thailand
—
Overnight
Fri
Bangkok (Laem Chabang), Thailand
—
4:00 pm
Sat
Sihanoukville, Cambodia
8:00 am
6:00 pm

Sihanoukville sits on the lovely island-studded Bay of Thailand. Neighbouring the city is the ecological gem Ream National Park, an 81-square-mile reserve that encompasses a variety of land and marine habitats including evergreen mountain forests, mangrove forests, reefs and freshwater wetlands. There, you might see dolphins, dugongs (a type of manatee) or monkeys. Beach lovers will want to soak up the sun on tree-lined Serendipity Beach, with fine sand and clear water.

Sun
At Sea
—
—
Mon
Ho Chi Minh City (Phu My), Vietnam
7:00 am
9:00 pm

Discover the rich heritage of Saigon and the Mekong Delta. You won't forget a ride on a cycle rickshaw, known locally as xích lô ("sick-low"). Sit back as your driver whisks you past pagodas, colonial architecture and vibrant markets. A nice contrast to the city is the lush countryside of rice paddies and tiny villages along the Mekong. The freshness of the food is highlighted by the phenomenal fusion of local cuisine, a unique blend of Asian spices and French cooking styles.

Tue
At Sea
—
—
Wed
Hue/Da Nang (Chan May), Vietnam
8:00 am
5:00 pm

The Cham Museum is filled with a rich collection of artifacts of the Cham culture. Da Nang is also a place known for authentic local cuisines. Vendors can be found in the market and along the Han river offering fresh seafood and Quang noodle dishes. Browse the shops for locally woven cotton cloth, lacquerware and charming silk paintings on note cards.

Thu
Hanoi (Ha Long Bay), Vietnam
9:00 am
8:00 pm

Dotted with thousands of limestone islets, Ha Long Bay is a breathtaking World Heritage Site that calls out to be explored. Hop on a kayak or take a boat tour to get close to these jungle-capped karst wonders or explore the caves inside. If history draws you, head 60 miles west to Hanoi, the capital of Vietnam for 1,000 years. Rich in native and French colonial influences in architecture, it has been called the "Paris of Asia." The grounds of the Temple of Literature and ancient university are particularly stunning.

Fri
At Sea
—
—
Sat
Hong Kong, China (DISEMBARK)
7:00 am
—

This former British colony brims with modern skyscrapers, ancient traditions and incredible food. A shopper's paradise, local shops and markets offer everything imaginable, from silk to jewelry and electronics. The highest point in the city, Victoria Peak, offers sweeping views of this vibrant city. Hollywood Road's temple and antique shops are worth exploring, or take a junk cruise and explore the magnificent bay. As Asia's culinary capital, your gastronomic desires are sure to be fulfilled.
Please Note:
Disembarkation usually begins 2 hours after docking.
Due to security reasons, all guests must be on board 2 hours before sailing.
Itineraries are subject to change at any time without notice.
Check your specific sailing for exact departure and arrival times. All times are local to the port.