Uncover the natural beauty and rich cultures of the Mexican Riviera and Latin America during a Panama Canal cruise. In Cabo San Lucas, experience a one-of-a-kind excursion into the Mexican Outback to ride a camel along a white-sand beach and then savour traditional cuisine at a local ranch. Hang with baby sea turtles in Acapulco at the Sea Turtle Rescue Centre where you can learn about this endangered species and possibly witness some being released back into the ocean. Then enjoy a short tranquil boat ride from Puerto Caldera to Tortuga Island and explore its lush forest and splash around its warm turquoise waters.
Inclusions
12 night cruise aboard Norwegian Jewel
Book Oceanview or higher and Receive $50 USD per cabin on board credit, Plus:


Norwegian's Free at Sea Promotion! Choose up to 4 Offers:




1. Premium Beverage Package ($318.11 per person service charge)




2. Specialty Dining Package ($30.53 per person service charge)




3. 250-Minute Internet Package




4. $50 USD Per Port Shore Excursions


(Promotional offer may be withdrawn at anytime)
| | |
| --- | --- |
| November 12, 2022 | Cruise Only |
| Inside | $1199 |
| Oceanview Obstructed | $1977 |
| Balcony | $2099 |
| Mini Suite | $2886 |
| Taxes & Fees | $560 |
Do you have a Future Cruise Credit?
Call us today to make redemption a seamless process!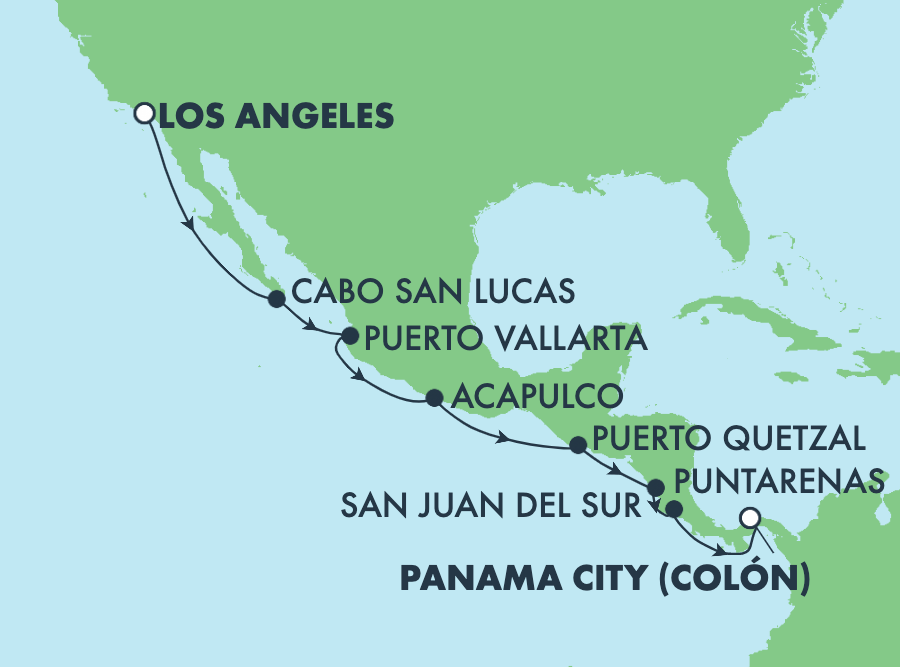 SAT Nov 12 – THU Nov 24, 2022
Day
Cruise Ports
Arrive
Depart
Sat
Los Angeles, California (EMBARK)
—
3:00 pm

Check out the scene at Venice Beach. Spot someone famous or two on Rodeo Drive. Take a walk down the Hollywood Walk of Fame. Explore the La Brea Tar Pits or Getty Centre. Or spend the day at one of L.A.'s world-famous theme parks.

Sun
At Sea
—
—
Mon
Cabo San Lucas, Mexico
10:00 am
7:00 pm

Cabo's signature landmark is El Arco ("The Arch"), a rock formation at the tip of "Land's End." The jewel of the Baja Peninsula is famous for its world-class sportfishing, as well as its high-end resorts and exclusive gated communities that line an area simply called "the Corridor."

Tue
Puerto Vallarta, Mexico
12:00 pm
10:00 pm

Smaller and more subdued than Acapulco, Puerto Vallarta has retained a good deal of its small village charm along with 26 miles of spectacular beaches along the Banderas Bay. Stroll the cobblestone streets to the Church of Our Lady of Guadalupe. Or peruse the many local wares for sale at the open-air markets.

Wed
At Sea
—
—
Thu
Acapulco, Mexico
8:00 am
5:00 pm

As one of Mexico's oldest coastal tourist destinations, Acapulco has much to offer both tourist and traveller. Shop, swim or simply take a siesta on the beach. But be sure not to miss the legendary La Quebrada cliff divers.

Fri
At Sea
—
—
Sat
Puerto Quetzal, Guatemala
7:00 am
4:00 pm

This port city was constructed in 1984 to help connect nearby cities. Travellers often venture out to Antigua, a 90-minute trek to where 17th century colonial facades beckons and Guatemalan history comes alive.

Sun
San Juan del Sur, Nicaragua
10:00 am
7:00 pm

Situated along the Pacific in southwestern Nicaragua, the coastal town of San Juan Del Sur is one of the country?s most popular vacation destinations. Discover local boutiques, delicious cuisine and beautiful landscape through a wide range of activities and tours. Whether horseback riding through a lush forest, gliding across emerald waters on a catamaran or catching some waves at one of the world-class surfing spots, everyone can find a piece of paradise in San Juan Del Sur.

Mon
Puntarenas (Puerto Caldera), Costa Rica
7:00 am
6:00 pm

Just a few miles from Puerto Caldera is Puntarenas, where stunning beaches, an array of wildlife, and streets lined with restaurants, bars and cafés await. Carara National Park is a must for nature lovers and features ancestral trees and secondary forests, perfect for spotting wildlife such as crocodiles and 400-plus species of birds, including colourful scarlet macaws. Or, switch gears and party with the locals at Jaco, about 30 miles south. There, find sun, fun and sand with plenty of bars and places to grab a bite.

Tue
At Sea
—
—
Wed
Daylight Transit Panama Canal
—
—

Experience one of the world's best short cuts! Journey 40 miles through the Panama Canal for an unforgettable experience. Witness first-hand one of the world's manmade short cuts that has changed travel and the transport of goods worldwide.

Thu
Panama City (Colón), Panama (DISEMBARK)
7:00 am
—

Sail into the Caribbean seaport of Colón and grab a good spot on deck so you can take in the view. What a picture it is. Behold the Atlantic Ocean entrance to the famous Panama Canal. Born from a desire to get to California (and its Gold Rush) as fast as possible, this industrious town was the last stop on the 19th century Panama Railroad. It?s now home to Canal Zones, U.S. military bases and of course, beauty.
Please Note:
Disembarkation usually begins 2 hours after docking.
Due to security reasons, all guests must be on board 2 hours before sailing.
Itineraries are subject to change at any time without notice.
Check your specific sailing for exact departure and arrival times. All times are local to the port.
Upgrade your Package Price and Choose up to 5 Offers
Norwegian's Free at Sea Promotion!
1. Premium Beverage Package (service charge applies)
2. Specialty Dining Package (service charge applies)
3. 250-Minute Internet Package
4. $50 USD Per Port Shore Excursions
5. 3rd & 4th Guest Free (select sailings)
Please call to inquire additional costs. Restriction applies. Offer is not applicable to categories IX, OX, BX, or MX (Sail Away Categories).