Inclusions
13 night cruise aboard Norwegian Spirit

Exclusive $50 USD per cabin on board credit!

Norwegian's Free at Sea Promotion! Choose up to 4 Offers:




1. Premium Beverage Package ($344.62 per person service charge)




2. Specialty Dining Package ($30.53 per person service charge)




3. 250-Minute Internet Package


4. $50 USD Per Port Shore Excursions
(Promotional offer may be withdrawn at anytime)
| | |
| --- | --- |
| March 27, 2022 | Cruise Only |
| Inside | $1712 |
| Oceanview Obstructed | $3480 |
| Balcony | $3694 |
| Taxes & Fees | $444 |
Please call to inquire for flights from other departure cities.
Do you have a Future Cruise Credit?
Call us today to make redemption a seamless process!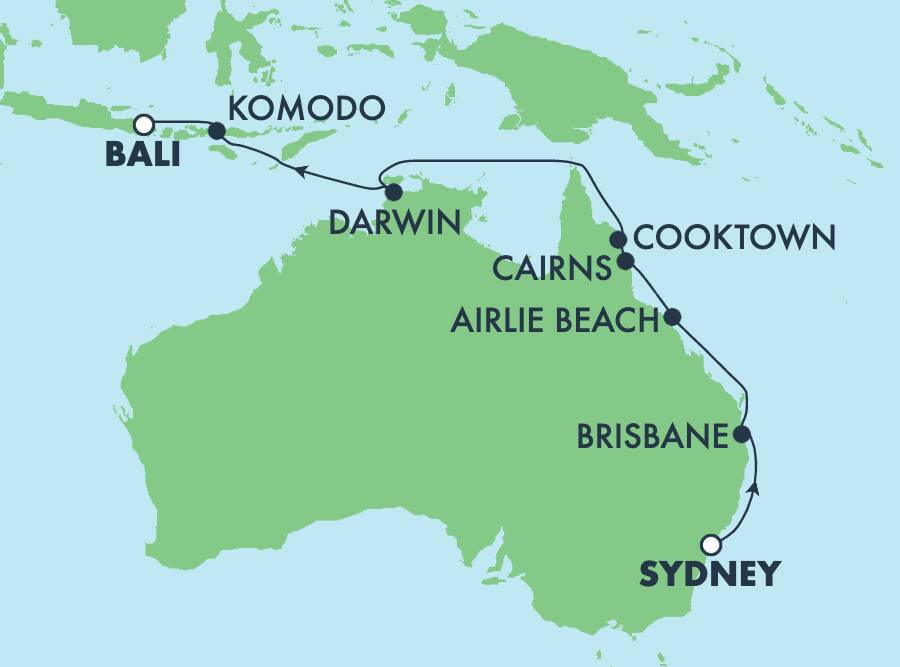 SUN, MAR 27 – SAT, APR 9, 2022
Day
Cruise Ports
Arrive
Depart
Sun
Sydney, Australia (EMBARK)
—
4:00 pm

Sydney?s harbour is the hub from which there?s much to see and do. You?ll want to explore this area, home of the iconic Opera House. Admire the skyline, swim at a harbour beach or cross the Sydney Harbour Bridge. Want to see surfing? Grab your sunblock and towel and spend the day on world-famous Bondi Beach, or take a scenic walk on the coast from Bondi to Coogee Beach. The Rocks district is a shopper?s mecca offering a wide variety of goods, from woodcrafts and unique art to outback fashions.

Mon
At Sea
—
—
Tue
Brisbane, Australia
8:00 am
5:00 pm

Australia?s third largest city and the capital of Queensland, this modern, vibrant city offers plenty to see and do. Lush mountains backing the city offer breathtaking views. Nearby, stunning forests and wineries await. The South Bank of the Brisbane River offers a diverse mix of parklands, cafés, boutiques, museums and galleries to explore. Or visit the markets downtown and in Chinatown where you can practice you chopstick technique.

Wed
At Sea
—
—
Thu
Airlie Beach, Australia
8:00 am
4:00 pm

A gateway to the Great Barrier Reef, water sports are the main attraction here, from kayaking to water skiing. Take a day-trip to Whitsunday Island and Whitehaven Beach, one of the most-photographed places in Australia, with gorgeous turquoise, clear water and sugar-white sand. Airlie?s manmade lagoon in the heart of town is ideal for relaxing, swimming or even having a picnic ? spend an hour there or two. If getting a move on is more your speed, head out to the Bicentennial Walkway for a walk or short bike ride.

Fri
Cairns (Yorkey's Knob), Australia
11:00 am
8:00 pm

Ride through the magnificent rainforest aboard the historic Kuranda Railway. Unwind your way through rugged mountains and waterfalls tumbling into deep ravines. Or immerse yourself in tradition at the Tjapuki Aboriginal Culture Park, and maybe take home a boomerang. Take a waterfront walk along the Esplanade Boardwalk with beautiful views of the mountains and sea, have a snack at one of the many eateries, or people-watch while the little ones play in one of the playgrounds or small water parks.

Sat
Cooktown, Australia
7:00 am
4:00 pm

Named after the famous British Navigator Captain James Cook, Cooktown is located on the coast of Cape York Peninsula. Since the town is uniquely situated among several major ecozones ? tropical rainforest, sclerophyll forests, lagoons and sand dunes – the region is an outdoor playground for visitors looking to hike, fish, bird watch or simply soak in panoramic views on a scenic drive. In town, learn about the local history at James Cook Museum and stroll through the Botanical Gardens, one of the oldest in the country. Cooktown's biggest draw, though, is its close proximity to the world-famous Great Barrier Reef where you can snorkel or dive among a dizzying array of colorful fish, sea turtles, unique molluscs and perhaps even glimpse a whale or dolphins.

Sun
At Sea
—
—
Mon
At Sea
—
—
Tue
Darwin, Australia
8:00 am
6:00 pm

Australia?s only tropical capital city, Darwin is rich in culture and ethnically diverse. While the Northern Territory boasts some of the most incredible wildlife on the planet, the city?s innovative museums celebrate the city?s past and the galleries showcase the region?s rich indigenous art. For a tamer experience, enjoy the city?s wonderful gardens, or browse for authentic Aboriginal art pieces and crafts and take a little piece of Australia home with you.

Wed
At Sea
—
—
Thu
Komodo, Indonesia
8:00 am
4:00 pm

No myth here, real dragons with forked tongues run about the island in search of prey and carrion. One of three major islands making up Komodo National Park and a UNESCO World Heritage Site, Komodo is the natural habitat of the Komodo dragon, a prehistoric-looking lizard up to 10 feet long. If you?re leery of these reptiles, the ecologically diverse waters around the island provide superb diving and snorkelling and are home to graceful manta rays, dolphins and even seahorses.

Fri
Bali (Celukan Bawang), Indonesia
10:00 am
5:00 pm

Explore the hidden wonders of northern Bali from this busy port, where modern seagoing vessels mingle with traditional Bugis schooners, high-prowed wooden ships that have plied these waters for centuries. More eclectic charms await in Bali?s former capital of Singaraja, whose colonial Dutch influence contrasts with the island?s age-old stone temples. Immerse yourself in the untamed wilderness of Bali Barat National Park, perhaps snorkelling among the luminous coral reefs surrounding Menjangan Island or sighting the graceful Bali starling in a lush monsoon forest. Stroll exotic botanical gardens in the lakeside village of Bedugul and browse a colorful farmer's market for an authentic glimpse of Bali's timeless allure.

Sat
Bali (Benoa), Indonesia (DISEMBARK)
7:00 am
—

This exquisite island is known for terraced rice fields, beautiful beaches and volcanic mountains. Its lush countryside is home to iconic stone temples and mischievous monkeys. Historic sites like the Cliffside Uluwatu Temple mesmerize visitors. Soak up the atmosphere of villages filled with beautiful arts and crafts. From scenic vistas to cultural performances, there?s bound to be something to invigorate your mind and body.
Please Note:
Disembarkation usually begins 2 hours after docking.
Due to security reasons, all guests must be on board 2 hours before sailing.
Itineraries are subject to change at any time without notice.
Check your specific sailing for exact departure and arrival times. All times are local to the port.
Australia 
Canadians must be in possession of an Australian visa (Electronic Travel Authority) prior to departure from Canada. Ensure that you travel with  the same passport used to apply for your visa. You can apply online https://www.eta.homeaffairs.gov.au/ETAS3/etas for $20 Australian dollars per person (subject to change).
If you prefer Travel Best Bets will issue your Australia visas for $25 CAD per person (plus the Visa costs) after providing your agent with the required information.