From Russia to Germany and France, cruising through eastern Europe will not only elevate your taste buds but your cultural intelligence, too. Explore where the Tsar family used to live 300 years ago in St. Petersburg, along with all the extravagant Russian royal palaces. In Warnemünde, don't miss the iconic Lighthouse and Teapot building while taking in its picturesque storefronts and open-air beer gardens. Have yourself a French moment as you stroll past the Impressionist works of Monet, Pissarro, and more renowned artists. Your 12-day journey will be nothing but exciting on land and sea.
Inclusions
12 night cruise aboard Norwegian Escape
| | |
| --- | --- |
| October 10, 2021 | Cruise Only |
| Inside | $1565 |
| Balcony | $2435 |
| Club Balcony Suite | $2649 |
| Taxes & Fees | $331 |
Do you have a Future Cruise Credit?
Call us today to make redemption a seamless process!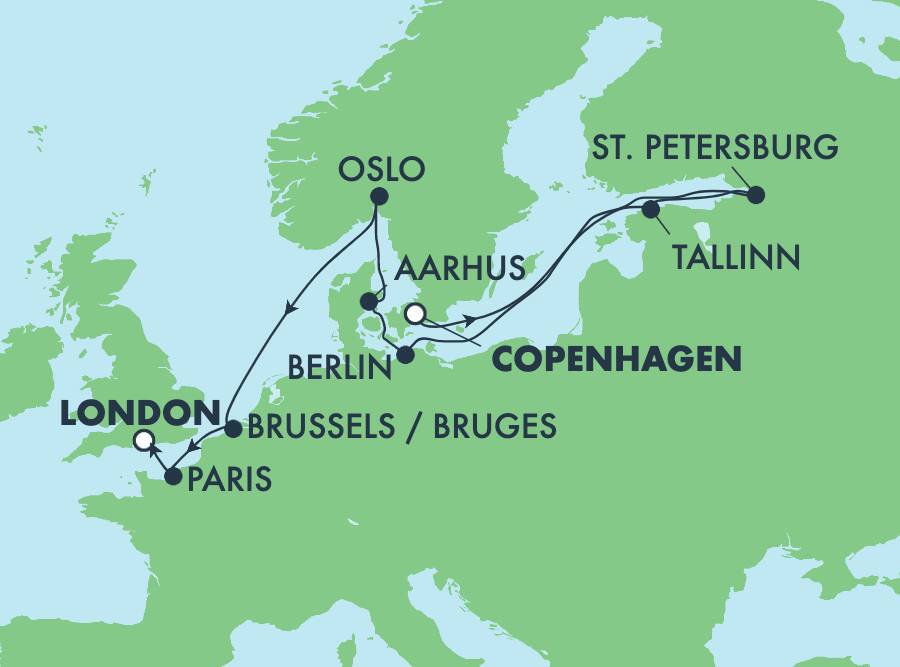 Oct 10 – 22, 2021
Day
Cruise Ports
Arrive
Depart
Sun
Copenhagen, Denmark (EMBARK)
—
5:00 pm

The capital of Denmark, Copenhagen, is filled with canals, cobbled squares and copper spires. But don't let the historic appearance fool you. This is also Scandinavia's most cosmopolitan city. Certainly you can relive medieval times in The Latin Quarter, but you can also enjoy some of Europe's finest shopping, museums, cafes and night life prior to your cruise around the Baltics.

Mon
At Sea
—
—
Tue
Tallinn, Estonia
8:00 am
5:00 pm

The capital of Estonia impresses cruise guests with its mix of medieval houses and very modern boutiques and café culture. Journey inside the ancient walls of Old Town to explore stunning Medieval landmarks like Toompea Castle and a 15th Century apothecary shop. Move up a couple centuries to experience Tsar Peter I's Kadriorg Palace, filled with art and surrounded by sculpted gardens and peaceful woodlands.

Wed
St. Petersburg, Russia
7:00 am
Overnight

Founded by Russian Tsar, Peter the Great, St. Petersburg has for centuries been the cultural centre of Russia, with its spectacular architecture, Tchaikovsky operas, and the famous Kirov ballet. It has undergone many changes over the decades, but "The Venice of the North" remains a dazzling cruise destination, a Russian city with a European flair, a city with more than 200 museums, and one of the largest English gardens in Europe!

Thu
St. Petersburg, Russia
—
6:00 pm
Fri
At Sea
—
—
Sat
Berlin (Warnemünde), Germany
8:00 am
10:00 pm

It's been more than two decades since the walls came down and Berlin became unified in many ways, including the pursuit of joy. Germany's capital city is a city that balances cosmopolitan chic with a liberal undercurrent of creativity and cool. Famous landmarks like the Brandenburg Gate and Reichstag fascinate. The elegant Bavarian Quarter amazes.

Sun
Aarhus, Denmark
8:00 am
6:00 pm
Mon
Oslo, Norway
8:00 am
6:00 pm

Imagine sailing on the incredible Viking long ships in the Viking Ship Museum. Picture perfect, the oldest Scandinavian city sits at the head of a 60-mile fjord framed by lakes, woods, moors. Views forever, visit the cliff-dwelling Akershus Castle, originally built in 1300.

Tue
At Sea
—
—
Wed
Brussels / Bruges (Zeebrugge), Belgium
8:00 am
5:00 pm

The ultimate European city, Brussels has tons of museums, fountains, gardens and great shopping. Stroll the Old Town area to see St. Hubert Arcades and its shops, as well as Butchers' Street with its plethora of restaurants and cafes and the Grand Place with its Baroque guild houses.

Thu
Paris (Le Havre), France
7:00 am
10:30 pm

Hop on a tour bus to the City of Light to experience the magic of Paris. Stroll down the Champs-Elysées as you nibble on a croissant. Take photos of beautiful Paris from the top of the Eiffel Tower. Notre-Dame, the Louvre, Montmartre and all the other iconic places of Paris lie 120 miles up the Seine from the port of Le Havre. Or explore the charms of Le Havre, spend the day at Monet's Giverny or explore Rouen's Old Market Place, where Joan of Arc was burned in 1431.

Fri
London (Southampton), England (DISEMBARK)
6:00 am
—

Protected from the frequent storms of the English Channel by the Isle of Wight, Southampton has survived a turbulent history to serve as a principal port of the United Kingdom today. Pay homage to one of the most famous ships to sail these shores at the Mayflower Memorial. Visit the stoic walls of Bargate and the Tudor House Museum.
Please Note:
Disembarkation usually begins 2 hours after docking.
Due to security reasons, all guests must be on board 2 hours before sailing.
Itineraries are subject to change at any time without notice.
Check your specific sailing for exact departure and arrival times. All times are local to the port.
Russia
All guests may cruise with or without a Russian visa. Guests from nationalities that require a Russian visa may go ashore on an organized tour, but cannot go ashore independently without a visa.