Uncover natural beauty, rich cultures and a storied past on this grand cruise through the tropics on Norwegian Jewel. Enjoy a short tranquil boat ride from Puerto Caldera to Tortuga Island and explore its lush forest and splash around its warm turquoise waters. In Puerto Quetzal, embark on a guided tour of a local coffee plantation to learn about and sample some of the country?s famous coffee, or journey to the charming city of Antigua and visit its unique historic sites. Experience a one-of-a-kind excursion in Cabo San Lucas into the Mexican Outback to ride a camel along a white-sand beach and then savour traditional cuisine at a local ranch.
Inclusions
12 night cruise aboard Norwegian Jewel
| | |
| --- | --- |
| March 29, 2022 | Cruise Only |
| Inside | $1227 |
| Oceanview Obstructed | $1630 |
| Balcony | $2361 |
| Mini Suite | $3036 |
| Taxes & Fees | $509 |
Please call to inquire for flights from other departure cities.
Do you have a Future Cruise Credit?
Call us today to make redemption a seamless process!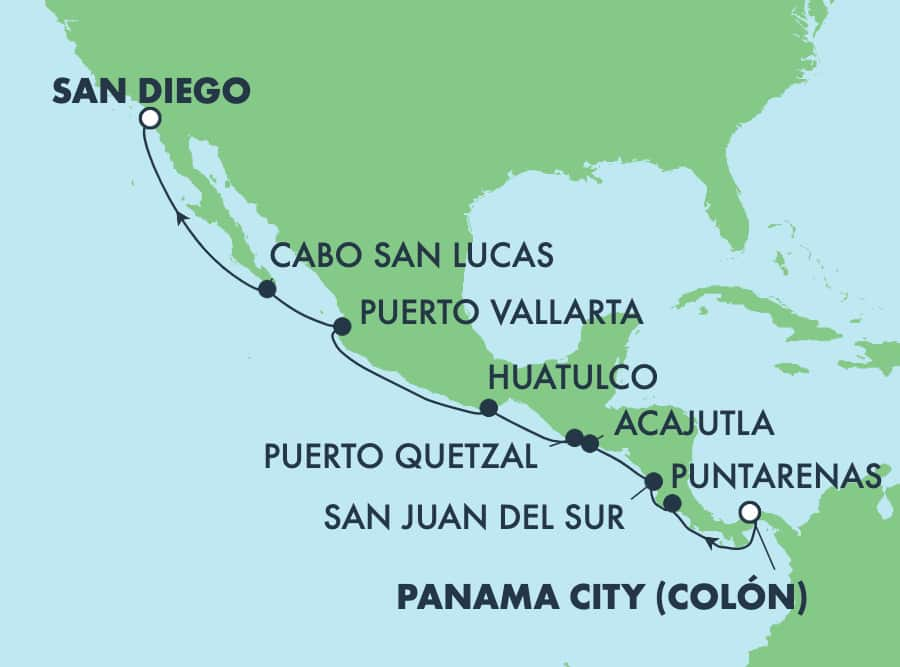 March 29 – April 10, 2022
Day
Cruise Ports
Arrive
Depart
Tue
Panama City (Colón), Panama (EMBARK)
—
5:00 pm

Sail into the Caribbean seaport of Colón and grab a good spot on deck so you can take in the view. What a picture it is. Behold the Atlantic Ocean entrance to the famous Panama Canal. Born from a desire to get to California (and its Gold Rush) as fast as possible, this industrious town was the last stop on the 19th century Panama Railroad. It?s now home to Canal Zones, U.S. military bases and of course, beauty.

Wed
Daylight Transit Panama Canal
—
—

Experience one of the world's best short cuts! Journey 40 miles through the Panama Canal for an unforgettable experience. Witness first-hand one of the world's manmade short cuts that has changed travel and the transport of goods worldwide.

Thu
At Sea
—
—
Fri
Puntarenas (Puerto Caldera), Costa Rica
7:00 am
5:00 pm

Just a few miles from Puerto Caldera is Puntarenas, where stunning beaches, an array of wildlife, and streets lined with restaurants, bars and cafés await. Carara National Park is a must for nature lovers and features ancestral trees and secondary forests, perfect for spotting wildlife such as crocodiles and 400-plus species of birds, including colourful scarlet macaws. Or, switch gears and party with the locals at Jaco, about 30 miles south. There, find sun, fun and sand with plenty of bars and places to grab a bite.

Sat
San Juan del Sur, Nicaragua
7:00 am
6:00 pm

Situated along the Pacific in southwestern Nicaragua, the coastal town of San Juan Del Sur is one of the country?s most popular vacation destinations. Discover local boutiques, delicious cuisine and beautiful landscape through a wide range of activities and tours. Whether horseback riding through a lush forest, gliding across emerald waters on a catamaran or catching some waves at one of the world-class surfing spots, everyone can find a piece of paradise in San Juan Del Sur.

Sun
Acajutla, El Salvador
9:00 am
7:00 pm

Off the Pacific Coast, Acajutla is El Salvador?s principal seaport. Its beautiful quiet beaches are becoming increasingly popular for their white sand, blue waters and biodiverse reefs. A short ride away is San Salvador, where guests can tour Mayan ruins, hike dormant volcanoes and visit historic churches.

Mon
Puerto Quetzal, Guatemala
6:30 am
4:30 pm

This port city was constructed in 1984 to help connect nearby cities. Travellers often venture out to Antigua, a 90-minute trek to where 17th century colonial facades beckons and Guatemalan history comes alive.

Tue
Huatulco, Mexico
12:00 pm
8:00 pm

Its ancient name means "the place where wood is adored." Thanks to some eco-tourism planning, Huatulco retains a great deal of its beloved natural beauty that surrounds its nine crystalline bays and has been awarded the prestigious Green Globe certification for its efforts.

Wed
At Sea
—
—
Thu
Puerto Vallarta, Mexico
8:00 am
4:00 pm

Smaller and more subdued than Acapulco, Puerto Vallarta has retained a good deal of its small village charm along with 26 miles of spectacular beaches along the Banderas Bay. Stroll the cobblestone streets to the Church of Our Lady of Guadalupe. Or peruse the many local wares for sale at the open-air markets.

Fri
Cabo San Lucas, Mexico
7:00 am
2:00 pm

Cabo's signature landmark is El Arco ("The Arch"), a rock formation at the tip of "Land's End." The jewel of the Baja Peninsula is famous for its world-class sportfishing, as well as its high-end resorts and exclusive gated communities that line an area simply called "the Corridor."

Sat
At Sea
—
—
Sun
San Diego, California (DISEMBARK)
7:00 am
—

It's not just a cliché ? San Diego really does have some of the most enjoyable weather anywhere. This Southern Cal city also offers 70 miles of soft-sand beaches, a world-renowned zoo, spectacular golf course, and memorable destinations like Coronado, La Jolla and Del Mar.
Please Note:
Disembarkation usually begins 2 hours after docking.
Due to security reasons, all guests must be on board 2 hours before sailing.
Itineraries are subject to change at any time without notice.
Check your specific sailing for exact departure and arrival times. All times are local to the port.
Upgrade your Package Price and Choose up to 5 Offers
Norwegian's Free at Sea Promotion!
1. Premium Beverage Package (service charge applies)
2. Specialty Dining Package (service charge applies)
3. 250-Minute Internet Package
4. $50 USD Per Port Shore Excursions
5. 3rd & 4th Guest Free (select sailings)
Please call to inquire additional costs. Restriction applies. Offer is not applicable to categories IX, OX, BX, or MX (Sail Away Categories).