Spend more than three weeks discovering idyllic, sun-soaked islands sprinkled in the shimmering Caribbean and Brazil's mighty Amazon teeming with lush rainforests, exotic wildlife and towns built by the rubber trade, all bookended by glitzy Miami.
Small, Luxurious Ships
You can sail to the far corners of the globe on our small, luxurious ships, but you'll always feel like you're coming home to family. Our personalized service means our staff and crew attend to your every request with a smile. From the moment you step on board, you'll feel cared for and cared about because our dedication to service comes from the heart.
Inclusions
Round trip airfare to Miami
24 night cruise aboard Sirena (Oceania Cruises)
Round trip transfers from airport to pier and pier to airport
Internet

OLife Choice: Choose one (Valid for guests 1 & 2)




-FREE 8 Shore Excursions




-FREE House Select Package*




-FREE $800 USD Shipboard Credit
November 27, 2023
Vancouver, Toronto, Ottawa, Montreal
Inside
$7729 (waitlist) – $7979
Oceanview
$8329
Balcony
$11579
Concierge Balcony
$12279
Taxes & Fees Included
Victoria, Calgary, Edmonton, Winnipeg, Quebec City add $249 more
Cancel up to 121 days (cruises of less than 15 days) or 181 days (cruises 15 days or longer) prior to departure without cruise penalty.
*HOUSE SELECT – This package includes beer and a selection of wines by the glass during lunch and dinner in any dining venue or through room service.
Do you have a Future Cruise Credit?
Call us today to make redemption a seamless process!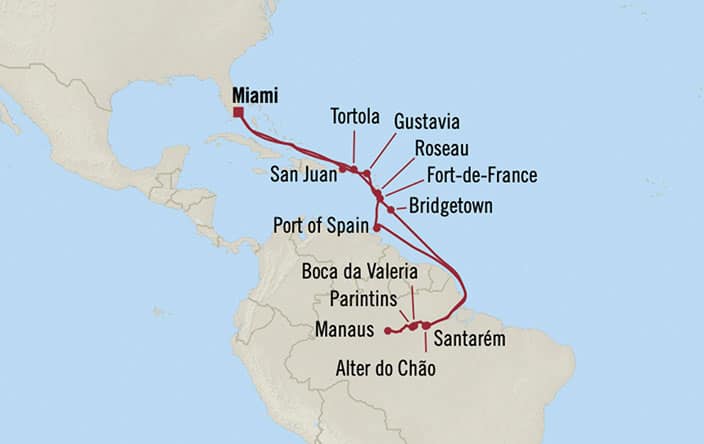 | | | | |
| --- | --- | --- | --- |
| DAY | PORT | ARRIVE | DEPART |
| Nov 28 Tue | Miami, Florida, United States | Embark 1 PM | 6 PM |
| Nov 29 Wed | Cruising the Atlantic Ocean | | |
| Nov 30 Thu | Cruising the Atlantic Ocean | | |
| Dec 1 Fri | San Juan, Puerto Rico | 8 AM | 5 PM |
| Dec 2 Sat | Gustavia, St. Barts | 7 AM | 5 PM |
| Dec 3 Sun | Fort de France, Martinique | 8 AM | 4 PM |
| Dec 4 Mon | Port of Spain, Trinidad and Tobago | 8 AM | 4 PM |
| Dec 5 Tue | Cruising the Atlantic Ocean | | |
| Dec 6 Wed | Cruising the Atlantic Ocean | | |
| Dec 7 Thu | Cruising the Amazon River | | |
| Dec 8 Fri | Santarem (Amazon River), Brazil | 10 AM | 6 PM |
| Dec 9 Sat | Boca Da Valeria (Amazon River), Brazil | 8 AM | 3 PM |
| Dec 10 Sun | Manaus (Amazon River), Brazil | 10 AM | |
| Dec 11 Mon | Manaus (Amazon River), Brazil | | 4 PM |
| Dec 12 Tue | Parintins (Amazon River), Brazil | 11 AM | 7 PM |
| Dec 13 Wed | Alter Do Chao (Amazon River), Brazil | 8 AM | 4 PM |
| Dec 14 Thu | Cruising the Amazon River | | |
| Dec 15 Fri | Cruising the Atlantic Ocean | | |
| Dec 16 Sat | Cruising the Atlantic Ocean | | |
| Dec 17 Sun | Bridgetown, Barbados | 10 AM | 7 PM |
| Dec 18 Mon | Roseau, Dominica | 7 AM | 4 PM |
| Dec 19 Tue | Tortola, British Virgin Islands | 9 AM | 5 PM |
| Dec 20 Wed | Cruising the Atlantic Ocean | | |
| Dec 21 Thu | Cruising the Atlantic Ocean | | |
| Dec 22 Fri | Miami, Florida, United States | Disembark 8 AM | |
INTIMATE & LUXURIOUS
Intimate ships catering to just 684 or 1,250 guests
Visit boutique ports and seaside villages that large ships cannot access
Never a crowd and no waiting in lines; experience your vacation according to your own schedule
With open-seating in all our restaurants, dine where, when and with whom you please, at your own pace
Cuisine never prepared en masse; every single dish created à la minute just for you
Staff and crew attend to your every whim and remember your individual preferences