Take the route less traveled as you cruise the exhilarating Amazon River, with five intriguing ports of call including an overnight stay in jungle-bound Manaus. Also enjoy visits to seldom-seen tropical destinations such as Tobago and French Guiana.
Inclusions
Round trip airfare to Bridgetown
18 night cruise aboard Sirena (Oceania Cruises)
Round trip transfers from airport to pier and pier to airport
Inclusive amenities: Internet, Specialty Restaurants, Room Service 24 Hours a Day, Shuttles to City Center, Fitness Classes, Still & Sparkling Vero Water, Soft Drinks & Specialty Coffees, Launderette and more

Exclusive Prepaid Gratuities, Plus OLife Choice: Choose one (Valid for guests 1 & 2)




-FREE 8 Shore Excursions per cabin




-FREE House Select Package*




-FREE $800 USD Shipboard Credit per cabin
January 3, 2025
Vancouver, Toronto, Ottawa, Montreal
Inside
$8129
Oceanview
$8579
Balcony
$11479
Concierge Balcony
$12079
Taxes & Fees Included
Victoria, Calgary, Edmonton, Winnipeg, Quebec City add $249 more
*HOUSE SELECT – This package includes beer and a selection of wines by the glass during lunch and dinner in any dining venue or through room service.
Do you have a Future Cruise Credit?
Call us today to make redemption a seamless process!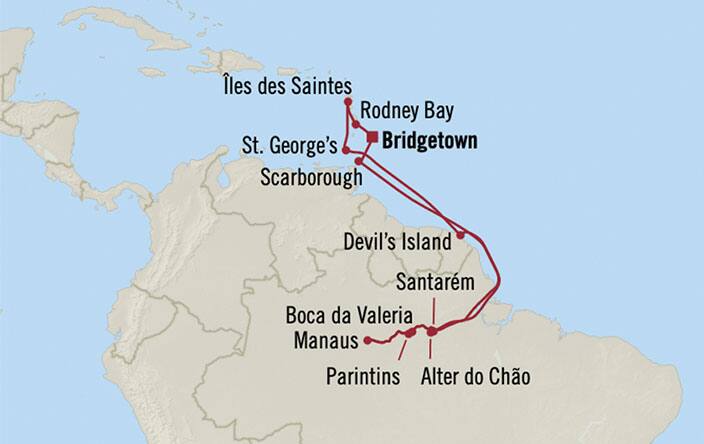 | | | | |
| --- | --- | --- | --- |
| Date | Ports | Arrive | Depart |
| Saturday, 04 Jan 25 | Bridgetown, Barbados | Embark 1 PM | 7:00 PM |
| Sunday, 05 Jan 25 | Scarborough, Trinidad and Tobago | 7:00 AM | 5:00 PM |
| Monday, 06 Jan 25 | Cruising the Atlantic Ocean | | |
| Tuesday, 07 Jan 25 | Cruising the Atlantic Ocean | | |
| Wednesday, 08 Jan 25 | Cruising the Amazon River | | |
| Thursday, 09 Jan 25 | Santarem (Amazon River), Brazil | 9:00 AM | 6:00 PM |
| Friday, 10 Jan 25 | Boca Da Valeria (Amazon River), Brazil | 7:00 AM | 4:00 PM |
| Saturday, 11 Jan 25 | Manaus (Amazon River), Brazil | 11:00 AM | |
| Sunday, 12 Jan 25 | Manaus (Amazon River), Brazil | | 4:00 PM |
| Monday, 13 Jan 25 | Parintins (Amazon River), Brazil | 10:00 AM | 6:00 PM |
| Tuesday, 14 Jan 25 | Alter Do Chao (Amazon River), Brazil | 8:00 AM | 4:00 PM |
| Wednesday, 15 Jan 25 | Cruising the Amazon River | | |
| Thursday, 16 Jan 25 | Cruising the Atlantic Ocean | | |
| Friday, 17 Jan 25 | Devil's Island, French Guiana | 7:00 AM | 4:00 PM |
| Saturday, 18 Jan 25 | Cruising the Atlantic Ocean | | |
| Sunday, 19 Jan 25 | St. George's, Grenada | 9:00 AM | 6:00 PM |
| Monday, 20 Jan 25 | Îles des Saintes, Guadeloupe | 10:00 AM | 7:00 PM |
| Tuesday, 21 Jan 25 | Rodney Bay, St. Lucia | 7:00 AM | 6:00 PM |
| Wednesday, 22 Jan 25 | Bridgetown, Barbados | Disembark 8 AM | |
INTIMATE & LUXURIOUS
Intimate ships catering to just 684 or 1,250 guests
Visit boutique ports and seaside villages that large ships cannot access
Never a crowd and no waiting in lines; experience your vacation according to your own schedule
With open-seating in all our restaurants, dine where, when and with whom you please, at your own pace
Cuisine never prepared en masse; every single dish created à la minute just for you
Staff and crew attend to your every whim and remember your individual preferences