Marvel at sophisticated cities that have flourished in the starkly beautiful desert landscapes of the Middle East, where gleaming skyscrapers and world-class museums share space with bustling souks that evoke the nomadic life of centuries past.
Small Ship Luxury
Riviera blends sophistication with a contemporary flair to create a casually elegant ambiance. From the sparkling Lalique Grand Staircase to the stunning Owner's Suites furnished with Ralph Lauren Home, designer touches are everywhere, highlighting the finest residential design and furnishings. More than anything, Riviera personifies the Oceania Cruises experience.
Inclusions
Airfare to Dubai and return from Abu Dhabi
10 night cruise aboard Riviera (Oceania Cruises)
Round trip transfers from airport to pier and pier to airport
Inclusive amenities: Internet, Specialty Restaurants, Room Service 24 Hours a Day, Shuttles to City Center, Fitness Classes, Still & Sparkling Vero Water, Soft Drinks & Specialty Coffees, Launderette and more
Book by Jun 30: Choose 1 Olife Choice:


-FREE 6 Shore Excursions




-FREE House Select Package*


-FREE $600 USD Shipboard Credit
Amenities are per stateroom. Valid for guests 1 & 2

Plus book a balcony or higher and receive 3 nights Pre-Cruise Dubai Discovery Land Tour!

(valued at $1437 per person)
December 18, 2023 (Dubai to Abu Dhabi)
or December 28, 2023 (Abu Dhabi to Mumbai)
Vancouver, Toronto, Ottawa, Montreal
Inside
waitlist
Oceanview
$6279
Balcony
$6279 – $6929
Concierge Level Veranda
$6579 – $7229
Taxes & Fees Included
Victoria, Calgary, Edmonton, Winnipeg, Quebec City add from $249 more
*HOUSE SELECT – This package includes beer and a selection of wines by the glass during lunch and dinner in any dining venue or through room service.
Do you have a Future Cruise Credit?
Call us today to make redemption a seamless process!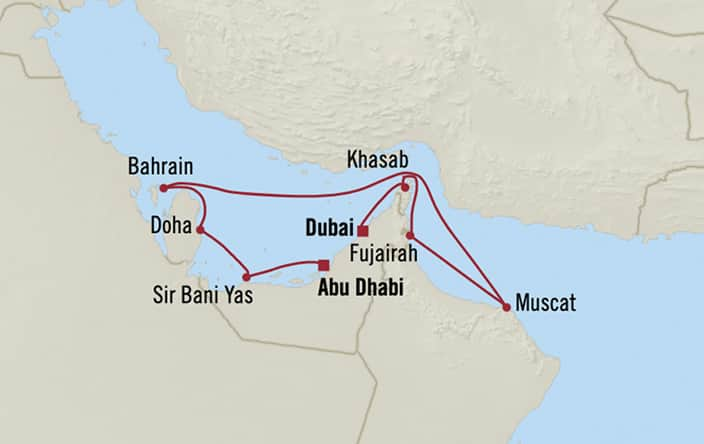 | | | | |
| --- | --- | --- | --- |
| DAY | PORT | ARRIVE | DEPART |
| Dec 19 Tue | Dubai, United Arab Emirates | Embark 1 PM | |
| Dec 20 Wed | Dubai, United Arab Emirates | | 9 PM |
| Dec 21 Thu | Khasab, Oman | 7 AM | 7 PM |
| Dec 22 Fri | Fujairah, United Arab Emirates | 8 AM | 6 PM |
| Dec 23 Sat | Muscat, Oman | 8 AM | 6 PM |
| Dec 24 Sun | Cruising the Gulf of Oman & Persian Gulf | | |
| Dec 25 Mon | Bahrain, Bahrain | 8 AM | 6 PM |
| Dec 26 Tue | Doha, Qatar | 8 AM | 7 PM |
| Dec 27 Wed | Sir Bani Yas, United Arab Emirates | 8 AM | 6 PM |
| Dec 28 Thu | Abu Dhabi, United Arab Emirates | 7 AM | 11 PM |
| Dec 29 Fri | Abu Dhabi, United Arab Emirates | Disembark 8 AM | |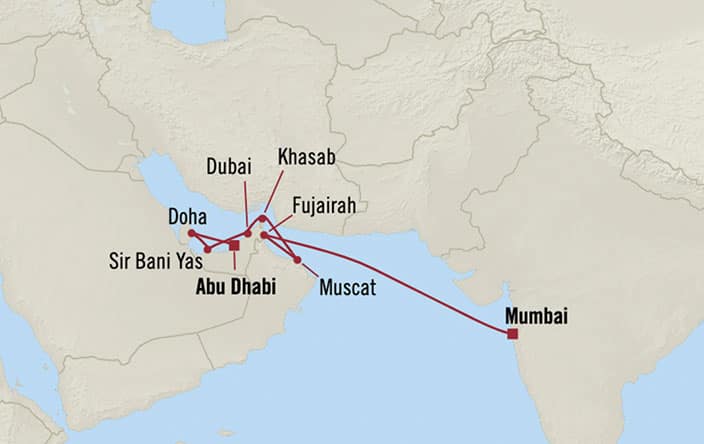 | | | | |
| --- | --- | --- | --- |
| DAY | PORT | ARRIVE | DEPART |
| Dec 29 Fri | Abu Dhabi, United Arab Emirates | Embark 1 PM | 7 PM |
| Dec 30 Sat | Doha, Qatar | 8 AM | 7 PM |
| Dec 31 Sun | Sir Bani Yas, United Arab Emirates | 8 AM | 6 PM |
| Jan 1 Mon | Dubai, United Arab Emirates | 7 AM | 7 PM |
| Jan 2 Tue | Khasab, Oman | 8 AM | 5 PM |
| Jan 3 Wed | Muscat, Oman | 9 AM | 7 PM |
| Jan 4 Thu | Fujairah, United Arab Emirates | 7 AM | 5 PM |
| Jan 5 Fri | Cruising the Arabian Sea | | |
| Jan 6 Sat | Cruising the Arabian Sea | | |
| Jan 7 Sun | Mumbai, India | 7 AM | |
| Jan 8 Mon | Mumbai, India | Disembark 8 AM | |
Visa Packages
As a service to you, Oceania Cruises has made arrangements to provide visa packages for citizens of the U.S. and Canada. If you are not a citizen of the United States or Canada, it is your responsibility to consult with a professional immigration counsel or contact your nearest Embassy or Consulate to obtain the latest, up-to-date information on immigration and entry requirements for the destinations you will be visiting.
Visa – UAE – Non Us/Canadian
$166 CAD per person
Add on (India) for Canadian citizen
E-Visa $256 CAD per person
Pre-Cruise: Dubai Discovery Land Tour
Valued at CA$1,437.00/person
Discover the modern wonders of Dubai through icons such as the Palm Jumeirah, Burj Khalifa and the Sheikh Zayed Grand Mosque in the capital of Abu Dhabi, followed by a day spent browsing the souks in Old Dubai.
Day 1:
Arrive at the Dubai International Airport. You will be met outside the Customs area and transferred to your hotel.
Check in time is at 3:00 pm. Although every effort will be made to have the rooms available sooner, this cannot be guaranteed. Should your flight arrive very early in the morning you may wish to book an additional night.
The remainder of the day is at your leisure and all meals are on your own.
Your hotel is an iconic building, adorned with a gold pyramidion and in the shape of an obelisk, representative of the Luxor Obelisk currently in Paris. It is attached to WAFI Mall and its rooms are located from the 19th floor and above, offering unparalleled views.
Day 2:
After breakfast at your hotel, meet your tour guide and proceed to Abu Dhabi, the capital city of the United Arab Emirates – named after a breed of gazelles by a Sheikh of the Bani Yas tribe. This magnificent city which was founded in 1761 is situated on a small peninsula surrounded by a cluster of islands.
Your tour today offers an ideal introduction to Abu Dhabi with your first stop being a visit to the Louvre -the first universal museum in the Arab world. This museum brings the Louvre name to Abu Dhabi and presents both ancient and contemporary works of historic, cultural, and sociological interest from around the world. Virtually surrounded by the sea, the dozens of buildings that comprise the museum are linked by waterfront promenades and by the museum's most arresting feature – its dome. As sunlight filters through the dome's perforations, it creates a "rain of light" effect in the museum galleries below.
Following your enlightening visit at the museum you will stop at the magnificent Grand Mosque of Abu Dhabi. The majestic Sheikh Zayed Bin Sultan Al Nahyan Mosque is probably the most imposing religious and national landmark in Abu Dhabi to date. It is also arguably one of the most important architectural treasures of contemporary UAE society – and one of the most beautiful in the world – initiated no less by the late president HH Sheikh Zayed bin Sultan Al Nahyan, who is fondly thought of as the father of UAE.
Lunch is served at the Rosewood Hotel before continuing back to Dubai where the remainder of the day is at leisure and dinner is on your own.
**Note: The Grand Mosque does not provide ladies a headscarf or abaya free of charge and there is no shop on sight to buy them. Ladies please come prepared with something to cover you head or entrance will unfortunately be denied. For men and women: no transparent clothing, no shorts or skirts, no sleeveless shirts, no clothing with profanity and no tight clothing (including leggings) or beachwear.
Day 3
Following breakfast at your hotel you will have a few hours at leisure before your tour. After lunch on your own, meet up with your guide and proceed into the heart of Dubai to behold its most innovative and futuristic architecture. Thanks to the staggering wealth that came from a somewhat recent oil boom, the urban landscape of Dubai was transformed.
Begin with a photo stop at Jumeirah Mosque – a magnificent example of modern Islamic architecture. Another photo stop is made near the world renowned five-star hotel which is a famous landmark of the city – "The Burj Al Arab".
Drive through what is considered the 8th wonder of the world – The Palm Jumeirah. As you drive through Palm Island take in the beautiful views of the Jumeirah coastline.
Return past Sheikh Zayed road and journey through the city center see all the historical landmarks.
You will also stand atop the world's tallest observation deck, which perches on the 124th floor of the Burj Khalifa, the world's tallest building. On the way the elevators, you will be entertained by a multi-media presentation that chronicles Dubai's exotic history and the fascinating story of the Burj Khalifa.
Then, you will zip up to the observation deck on an elevator that travels 32 feet (10 meters) per second. As the doors open, you will be treated a breathtaking, unobstructed 360-degree view of Dubai, the desert and ocean. It's an experience you will not soon forget.
Enjoy some free time to do some shopping at the Dubai Mall.
After some time to freshen up, board a Marina Dhow Cruise for a delightful buffet dinner with live entertainment and stunning views of the Dubai skyline.
Day 4
Following breakfast at the hotel, you will depart for old Dubai, where you will browse several Arabic-style souks featuring local goods and merchandise from other emirates. Tucked into Dubai's Deira district just north of Dubai Creek, the Dubai Spice Souk offers an abundance of spices, dried fruits, nuts and other delicacies in a wonderfully fragrant, exuberant setting.
Similarly, the Gold Souk is devoted solely to jewelers. Although gold is the predominant precious metal, platinum and diamond jewelry are also sold. You will also visit the extraordinary Textile Souk and Perfume Souk, where you will find countless stalls offering an exotic array of fabrics and scents.
After a bit of free time to peruse the souks, you will transfer to the port and embark the ship.
Land Program Details Step by Step
•The order of sites visited may vary to avoid congestion. Program times are approximate, given here for general reference purposes and subject to change.
•Itineraries with the up-to-date details will be issued when you are emailed your final cruise documents 21 days prior to sailing. You will then receive a final itinerary from our ground operator with a Welcome Letter upon arrival or at your hotel. Please review the letter and your final itinerary carefully for further amendments.
•The hotels used for your land program will be the hotels listed in this document unless you have been advised otherwise in advance of the land program start date.
•Guests failing to arrive on Day 1 of a scheduled land program will be considered a no-show and their hotel space released.
Extra Nights
•If you book extra nights through the cruise line, you will be met as per the flight details provided and transferred to your hotel. Check-in is 3:00pm (subject to change). Meals other than breakfast, as well as activities, are on your own until day 2 of the program.
•If you have an early-arriving flight, you may wish to book an extra night as your room will not be ready for occupation until approximately 3:00pm.
•If you book extra nights on your own, transfers are not included.
Day 1:
Arrive at the Dubai International Airport
Meet and greet in the designed Meet and Greet area after Customs
Transfer to your hotel
3:00pm – check in at your hotel with the remainder of the day at leisure
Meals are on your own
Overnight at the Sofitel Dubai The Obelisk or similar hotel
Meet and Greet and transfers
•Final cruise documents will be emailed 21 days prior to sailing. The local ground agent's telephone number will be on page 1, if you can't locate the meet-and-greet representative upon arrival. Be aware that the representative may be assisting others and may not be in sight when you first exit Customs and the luggage claim area.
•Look for someone holding a sign with the cruise line logo and possibly your name. If in doubt, ask the airport staff to direct you to the meeting area for transfers or to page our representative.
•Meet and Greet and transfers are arranged for guests arriving on Day 1 of a land program or for extra nights booked through the cruise line and are arranged based on the flight details received by guests at least 14 days before sailing. Guests arriving independently before the program start date will not have a transfer included.
•If we have not received your flight details or your flights have changed, and the Destination Services Land Team has not been notified, then a transfer cannot be provided, and guests will be responsible for getting to the land program hotel at their own expense. Please immediately contact our Reservations Department for any flight changes before departure.
Day 2:
From 7:30am Breakfast at your hotel
9:00am Meet your guide and proceed to Abu Dhabi
10:30am Visit the Louvre and Grand Mosque
1:30pm Depart for lunch
2:00pm Lunch at the Rosewood Hotel or similar venue
3:30pm Drive back to Dubai
5:00pm Check in at your hotel
The remainder of the day is at your leisure, dinner on own
Overnight at the Sofitel Dubai The Obelisk or similar hotel
Day 3:
From 7:30am Breakfast at your hotel
Lunch on own
1:00pm Modern Dubai tour including entrance to the 124th floor observation deck at Burj Khalifa
Free time at the Dubai Mall
Return to your hotel to freshen up before dinner
5:30pm Marina Dhow dinner cruise
TBA Return to your hotel
Overnight at the Sofitel Dubai The Obelisk or similar hotel
Day 4:
From 7:30am Breakfast at your hotel
9:00am Souk experience tour
1:00pm Transfer to the port of Dubai
1:30pm Approximate arrival at the port for embarkation
Expected Weather:
Warm and Sunny (Average temperature – 26 degrees Celsius /78 degrees Fahrenheit)
What to Bring:
Light loose clothing, comfortable shoes, sunglasses, hats, sunscreen. We recommend taking a light jacket for the dune dinner safari as the temperatures can be quite cooler in the desert at night.
For the visit of Grand Mosque –
•Modest, conservative, loose fitting clothing, long sleeves and trousers
•No transparent (see-through) clothing. No white cloths are allowed at the Mosque
•No shorts for men
•No shorts or skirts for ladies
•No tight clothing including leggings, no swimwear and no beachwear.
•Shoes will be removed before entering the mosque, so we recommend slip off shoes
•Headscarf for ladies is essential (these are not provided at the mosque – please bring your own)
Currency:
UAE Dirham. USD are not accepted
Electricity:
220 volts. We recommend bring your own adapters or converters.
Documents and Visa Requirements:
It is imperative that each passenger traveling to the United Arab Emirates possess a valid passport. The passport must be valid for at least 6 months from the date of entry into the United Arab Emirates. Some nationalities require a Visa to enter the UAE. Please consult your local embassy for further details.
Accommodations:
Sofitel Dubai The Obelisk
Wafi City, Umm Hurair 2, 26th St, P.O. Box 30904, Dubai
Phone: +971 4 3249999
Program Includes for guests
•3 nights at the Sofitel Dubai The Obelisk (deluxe room)
•Breakfast daily, 1 lunch, 1 dinner (beverages not included)
•All touring and entrances per the itinerary
•Transfers
Please Note: Guests booking their own flights (independent of the cruise line) are responsible for ensuring that the cruise line has the updated arrival information, so your transfer can be arranged. If you book additional nights independently of the cruise line, an arrival transfer is not provided. If we do not receive flight details a minimum of 14 days in advance, transfers will not be provided.
Program Excludes for guests:
•Meals and beverages not listed above
•Gratuities to drivers and guides
•Portage at the airport and hotel
•Any personal expenses
•Visa fees if required
•Hotel incidentals including mini bar and room service
Please note: Land programs that encompass multiple days ashore customarily include extensive and prolonged activity, while those of shorter durations typically have more moderate activity levels. However, each program varies, and participants should be prepared to negotiate a mixture of surfaces which may include inclines, cobblestones, sand, and gravel or natural paths. There may also be a need to climb steps or stairs on occasion. Guests who utilize a wheelchair and those with mobility concerns are advised to check with the cruise line in advance to see if any portion of the tour program may not be considered suitable for their individual situation. Weather appropriate clothing; hats; sunglasses; and flat, comfortable walking shoes are generally recommended.
Please note: All land programs are capacity controlled and subject to availability. Programs falling under the minimum number of required participants are subject to cancellation. Pricing listed is also subject to change to meet unexpected cost increases for transportation, land arrangements or currency fluctuations. Once purchased, pricing is guaranteed and not subject to change. Land Programs must be purchased no later than 60 days prior to your sail date. Cancellations made within 60 days or less prior to the sail date are subject to 100% cancellation penalty. There are no refunds for unused portions of any program. Guests failing to arrive on Day 1 of a scheduled land program will be considered a no-show and their hotel space released. Arrangements for accommodation and transfers will be at the expense of guests.
INTIMATE & LUXURIOUS
Intimate ships catering to just 684 or 1,250 guests
Visit boutique ports and seaside villages that large ships cannot access
Never a crowd and no waiting in lines; experience your vacation according to your own schedule
With open-seating in all our restaurants, dine where, when and with whom you please, at your own pace
Cuisine never prepared en masse; every single dish created à la minute just for you
Staff and crew attend to your every whim and remember your individual preferences