Bavaria is brought to life during excursions to UNESCO World Heritage-listed towns whilst every corner turned on this journey down the Moselle, Rhine and Main unveils rich history.
Package Includes
Return airfare to Nuremberg and return from Frankfurt (or reverse)
Deluxe 7 night all-inclusive river cruise aboard Emerald Sky
Airport transfers to and from the ship
Prepaid gratuities
Book by March 31 and Save $1000 and receive extended beverage package upgrade (price reflects savings)
| | |
| --- | --- |
| Vancouver, Toronto, | August 16, 2020 |
| Stateroom | $3599 |
| Balcony Suite | $4699 |
| Taxes and fees | $978 |
| Kelowna, Victoria, Calgary, Edmonton | add $300 |
It's Amazing What's also Included:
Boutique contemporary hotel feel, with spectacular on board heated pool, cinema, spa and lounge
Spacious, comfortable accommodations with panoramic suites and staterooms
Gourmet all-included on board meals and highlight dinner events, al-fresco on The Terrace or in the well-appointed Reflections Restaurant
Enjoy in depth cultural experiences with our EmeraldPLUS excursions; cheese and olive tasting or Provencal dinner on board hosted by a local chef
Emerald's Concierge Service* – served right to your suite, enjoy continental breakfast, predinner canapés and after dinner treats
A refined selection of wine, beer and soft drinks to accompany lunch and dinner
Tea and coffee available at all times
Bottled water restocked daily in your cabin
Built-in adventure, with an included on shore excursion at every port
Visits to many UNESCO World Heritage Sites
Emerald Active guided biking and hiking tours
Excellent service from an English speaking crew
Knowledgeable, personable local destination guides
Complimentary bicycles on board
Complimentary on board Wi-Fi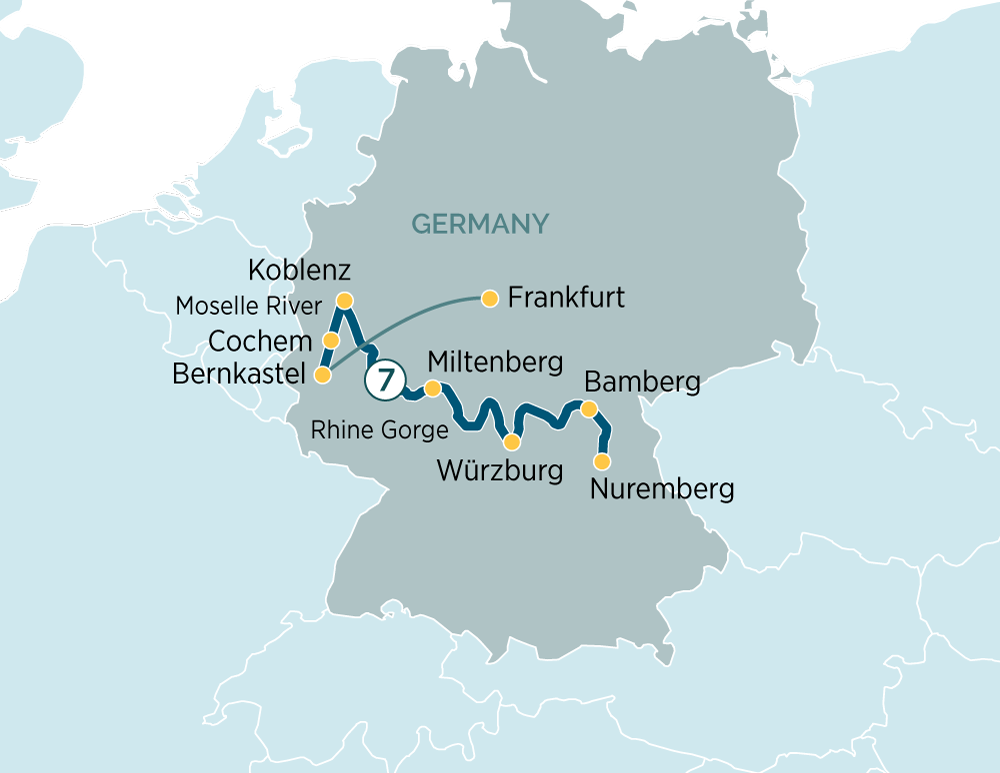 Day 1

Mon, 17 Aug

Nuremberg (D)

Welcome to Nuremberg, board your Emerald Waterways Star-Ship, where your captain and crew will warmly welcome you.
Day 2

Tue, 18 Aug

Bamberg (B,L,D)

This morning, relax on your Star-Ship as we cruise towards Bamberg. When we arrive in Bamberg, the UNESCO World Heritage-listed charms of this ancient city are certain to delight.
Join your local guide for a tour of Bamberg's medieval heart, including Cathedral Square, where architecture from across the ages can be seen, and the Rose Garden at the New Residence, where carefully clipped lime trees border more than 4,000 roses of various colours.
EmeraldEXCURSION: A guided tour of Bamberg with local tasting
Day 3

Wed, 19 Aug

Würzburg (B,L,D)

Art, architecture and local wines are among the primary features of Würzburg, where vineyards pepper the surrounding landscape and viticulture flourishes. Air raids during WWII destroyed most of the old town, but it has been rebuilt and restored to its former glory, leaving an enchanting mixture of medieval and contemporary architecture.
Today, you'll have the opportunity to indulge in an EmeraldPLUS wine tasting in the Staatlicher Hofkeller below the Würzburg Residence, a UNESCO World Heritage-listed Baroque palace that is considered to be one of the finest examples of Baroque architecture in the world.
EmeraldPLUS: A wine tasting in the cellars of the Würzburg Residence
EmeraldEXCURSION: A walking tour of Würzburg and a visit to the Würzburg Residence
Day 4

Thu, 20 Aug

Wertheim – Miltenberg (B,L,D)

Start your day with free time to explore the medieval glass-blowing town of Wertheim, perhaps stopping to watch its ancient craft in the local museum, before travelling to Miltenberg for an included tour or a guided hike to Mildenburg Castle. Marvel at Miltenberg's Old Town, with its well-preserved half-timbered buildings and the Gothic Merchant Hall, an impressive symbol of past affluence created by trade from river traffic.
EmeraldACTIVE: A guided hike to Mildenburg Castle
EmeraldEXCURSION: A guided tour of Miltenberg
Day 5

Fri, 21 Aug

Koblenz (B,L,D)

Koblenz stands as the gateway to the Moselle Valley and part of the UNESCO World Heritage-listed Rhine Valley; a place that has influenced celebrated artists for centuries. Enjoy learning about the history of one of the oldest cities in Germany as you embark on a walking tour with a local guide, touching on the twin-towered façade of the Church of Our Lady and the old Town Hall, before riding a cable car to Ehrenbreitstein Fortress on the right bank of the Rhine.
Later this afternoon, continue to sail through the picturesque surrounds of the Rhine Gorge, and be left inspired by the ruined castles and hilltop fortresses that pepper the area.
As part of your EmeraldPLUS experience, enjoy a tasting of regional wines at the Horizon Bar.
EmeraldPLUS: A regional wine lecture on board
EmeraldEXCURSION: A guided tour of Koblenz and Ehrenbreitstein Fortress
Day 6

Sat, 22 Aug

Cochem (B,L,D)

Today, enjoy the enchanting town of Cochem. In the morning, you will have a guided walk and the opportunity to visit Reichsburg Castle. This evening, we welcome you to the Farewell Dinner.
EmeraldEXCURSION: A guided tour of Cochem and the Reichsburg Castle
Day 7

Sun, 23 Aug

Bernkastel (B,L,D)

Dating back to 3000 BC, Bernkastel is situated along the banks of the Moselle River and home to well-preserved buildings dating back to 1416. Enjoy a guided walking tour, where you will have the opportunity to stroll through the medieval marketplace with its gabled timber-framed houses, castle ruins and town gate. Or, take part in a guided bike tour of the area.
EmeraldPLUS: A wine tasting in Bernkastel
EmeraldACTIVE: A guided bike tour near Bernkastel
EmeraldEXCURSION: A walking tour of Bernkastel
DiscoverMORE: A guided tour of Trier (extra expense)
Day 8

Mon, 24 Aug

Bernkastel – Frankfurt (B)

After breakfast, it is time to say farewell to your fellow guests and disembark the ship for your transfer to the airport.