Terraced vineyards rise from riverbanks and Baroque villages remain a marvellous reminder of the past. Experience Roman Salamanca for its vibrant nightlife, and try Porto's famous fortified wine.
Exceptional. Amazing. Unique. Expect more from your deluxe river cruise with Emerald Waterways. Our award-winning river cruise fleet and inspiring itineraries reveal the stunning scenery and fascinating culture of Europe and Asia as you've never experienced them.
Enjoy the Emerald difference. Our innovative river cruise ships offer you panoramic views of the stunning scenery, and feature contemporary boutique hotel styling, deluxe in-suite comfort, gourmet dining options and exceptional service, all included in the price. Explore unique cultural experiences at every destination with our included exclusive EmeraldPLUS and Emerald Active excursions. See even more, with our adventurous Discover More optional tours and destination hotel extensions. We guarantee you the best value in river cruising, so you can enjoy your vacation to the fullest. Welcome on board.
Travel Best Bets Package Includes
Return airfare from Vancouver to  Porto
Deluxe 7 night all-inclusive river cruise aboard Emerald Radiance
Airport transfers to and from the Ship
Prepaid gratuities
Book by December 31 and fly for $695
Vancouver,  Toronto
Outside
Balcony Suite
Taxes & Fees
April 3, 2020
$4499
$6049
$571
July 3, 2020
$4799
$6149
$571
Calgary, Victoria, Kelowna, Edmonton
same as Vancouver
It's Amazing What's also Included:
Boutique contemporary hotel feel, with spectacular on board heated pool, cinema, spa and lounge
Spacious, comfortable accommodations with panoramic suites and staterooms
Gourmet all-included on board meals and highlight dinner events, al-fresco on The Terrace or in the well-appointed Reflections Restaurant
Enjoy in depth cultural experiences with EmeraldPLUS excursions; cheese and olive tasting or Provencal dinner on board hosted by a local chef
Emerald's Concierge Service* – served right to your suite, enjoy continental breakfast, predinner canapés and after dinner treats
A refined selection of wine, beer and soft drinks to accompany lunch and dinner
Tea and coffee available at all times
Bottled water restocked daily in your cabin
Built-in adventure, with an included on shore excursion at every port
Visits to many UNESCO World Heritage Sites
Emerald Active guided biking and hiking tours
Excellent service from an English speaking crew
Knowledgeable, personable local destination guides
Complimentary bicycles on board
Complimentary on board Wi-Fi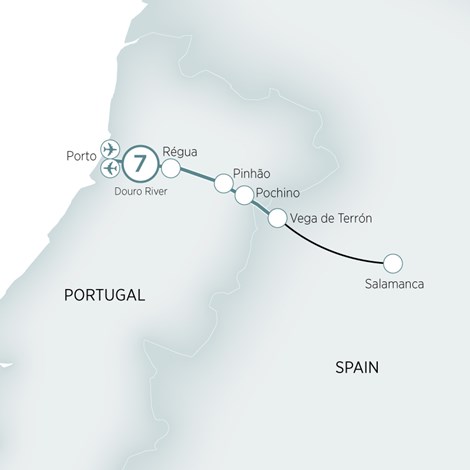 2020 Itinerary
Day 1

Sat, 04 Apr

Porto (D)

You will be met at the airport and transferred to your contemporary Emerald Waterways Star-Ship, where a sunset cruise will introduce you to the best of Porto's illuminated skyline.
EmeraldPLUS: A sunset cruise through Porto
Day 2

Sun, 05 Apr

Porto – Pinhão (B,L,D)

Relax on board today and enjoy a full day of sailing through the UNESCO World Heritage-listed Douro Valley. This fascinating area was inscribed because it hones in on two millennia of wine producing history, where viticulture has shaped the surrounding landscape and small, sleepy villages are peppered with dozens of sun-drenched vineyards. Tonight, your captain will host a welcome dinner and cocktail reception.
Day 3

Mon, 06 Apr

Pinhão – Vega de Terrón (B,L,D)

Begin your day with a visit to the beautiful Quinta do Tedo vineyard in the heart of Portugal's Douro Valley, nestled on the confluence of the Douro and Tedo rivers. This 18th-century estate is environmentally sound, creating organic produce by using traditional viticulture methods.
Alternatively, enjoy a guided walk through local vineyards, stopping along the way to admire your surroundings.
This afternoon, enjoy sailing to Vega de Terrón, perhaps relaxing on the Sun Deck before your included Port wine cocktail demonstration or cooking demonstration on board.
EmeraldPLUS: A Port wine cocktail lesson on board
EmeraldPLUS: A Portuguese cooking demonstration on board
EmeraldACTIVE: A guided walk through the vineyards
EmeraldEXCURSION: A visit to Quinta do Tedo with tasting
Day 4

Tue, 07 Apr

Vega de Terrón – Salamanca (B,D)

Founded in Roman times, the ancient city of Salamanca and its UNESCO World Heritage-listed old quarter have an illustrious past, having been held by the Carthaginians, Romans and Moors.
Travel to the beautiful golden city for a walking tour, starting among the postcard-worthy galleries and arcades that adorn Plaza Mayor. You will have the opportunity to see Casa de las Conchas, a building that has been lovingly decorated with more than 300 shells.
EmeraldPLUS: Enjoy local entertainment from a tuna music band
EmeraldEXCURSION: A guided tour of Salamanca
Day 5

Wed, 08 Apr

Pocinho – Régua (B,L,D)

This morning, arrive in Pocinho where you'll have the opportunity to embark on a canoeing excursion or to visit the Côa Valley Museum. Later, return to your ship for lunch and soak up your idyllic surrounds as you sail towards Régua, taking part in a casa painova tasting on board. A rural dinner at a wine estate is certain to be a highlight of your trip.
EmeraldPLUS: A Casa Painova product tasting on board
EmeraldPLUS: A rural dinner with entertainment at Quinta da Pacheca
EmeraldACTIVE: A canoeing excursion
EmeraldEXCURSION: A visit to the Côa Valley Museum
Day 6

Thu, 09 Apr

Régua (B,L,D)

Today, on an included excursion, you will visit the marvellous Baroque village of Lamego, stopping to see the picturesque Shrine of Our Lady of Remedies, a structure that stands gracefully over the town
EmeraldPLUS: A mosaic tile painting lesson on board
EmeraldACTIVE: Walk down the steps of the Sanctuary of Our Lady of Remedies
EmeraldEXCURSION: A guided tour of Lamego
DiscoverMORE: A visit to Mateus Manor House with wine tasting (extra expense)
Day 7

Fri, 10 Apr

Porto (B,L,D)

Located at the mouth of the Douro River, Porto is a fascinating eclectic mix of modern and ancient architecture. Famous for its exports of Port wines, it's easy to imagine how British merchant ships would have once clustered together in the medieval harbour, waiting to take Port wines across the water.
Your included tour of the coastal city will touch on the fortified structures of Castelo da Foz and Castelo do Queijo, a building whose pentagonal façades overlook the ocean.
EmeraldACTIVE: A guided active walk in Porto
EmeraldEXCURSION: A guided tour of Porto
DiscoverMORE: An excursion to Guimarães (extra expense)
Day 8

Sat, 11 Apr

Porto (B)

After breakfast, it's time to say farewell to your fellow guests, taking memories of sun-drenched vineyards with you.