Espouse the coasts of some of the world's most fascinating countries. Zig zag your way from Nova Scotia across the Atlantic to Greenland and the British Isles, learning of each country's inextricable link with one another from your onboard expedition experts. Expect extraordinary scenery from the "bones of the Earth" in Woody Point, Canada, the Norse ruins of the Qassiarsuk Settlement in Greenland and the misty, ethereal hills of Britain's Isle of Man. A trip to the spiritual Iona Abbey completes this captivating cruise.
A major upgrade in December 2018 will saw Silver Wind looking better than ever. A second refurbishment in summer 2021 will see her benefitting from a strengthened to ice-class hull and will make her one of the most adaptable ships in our fleet. Still timelessly elegant, still luxuriously relaxed, her improved cruising versatility means she is able to whizz from the Polar Regions at the ends of the earth to the iconic ports of the Mediterranean with fluid ease. So whether you want to get up close and personal to penguins in Antarctica or laze on the golden sands of the Caribbean, get ready for a wealth of diverse destination experiences, in traditional Silversea comfort.
Inclusions
Airfare to Halifax and return from London
1 pre night hotel in Halifax with breakfast
18 night cruise aboard the luxury Silver Wind (Silversea)
1 post night hotel in London with breakfast (depending on air schedule)
All transfers between airport, hotel and ship and luggage handling
Guided Zodiac, land and sea tours, and shoreside activities led by the Expeditions Team
Enrichment lectures by a highly qualified Expeditions Team
Spacious suites
Butler service in every suite
Unlimited Free Wifi
Personalised service – nearly one crew member for every guest
Choice of restaurants, diverse cuisine, open-seating dining
Beverages in-suite and throughout the ship, including champagne, select wines and spirits
In-suite dining and room service
Onboard entertainment
Onboard gratuities

Book and Pay in Full by Sep 30 to receive additional savings & $300 USD per cabin on board credit!

(price reflects below)
May 13, 2022
Vancouver, Calgary, Montreal & Toronto
Vista Suite
$16700 $13390
Verandah Suite
$19800 $15870
Deluxe Verandah
$23000 $18430
Taxes & Fees
Included
Upgrade airfare to Business Class from $1498 per person
Do you have a Future Cruise Credit?
Call us today to make redemption a seamless process!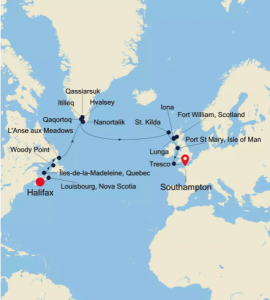 Day 1 Halifax, Nova Scotia CANADA SAT, MAY 14 DEPARTURE 17:00
A city that thrives on a diet of music, outdoor events and ocean-faring history, Nova Scotia's capital – and Atlantic Canada's largest conurbation – oozes salt-licked charm. The star-shaped fortress of Halifax Citadel sits above the city, while down below, Halifax revolves around its bustling harbour. Here, jet-skis skid across the water and heritage ships jaunt out to scenic offshore islands. Music carries on the waterfront's breeze as summer's events play out, while a hefty population of pubs and restaurants provides all the space required for sitting back and relaxing. The shorefront boardwalk invites you on a gentle stroll along the waves, wandering back through Halifax's history. The Canadian Museum of Immigration waits at Pier 21 and was the doorway to a country of opportunity for so many – with over a million immigrants taking their first footsteps into Canada here. The pier's wooden boards are dotted with cafes, craft shops and artist studios. Sail deeper into seafaring heritage at the maritime museum. As the closest city to the sinking of the Titanic, recovered victims were transported to – and many were buried – in Halifax. The story, and items from the doomed vessel, are displayed in the museum's collection. Peggy's Cove lighthouse is nearby, and this immaculate little lighthouse is one of Canada's favourite, watching out stoically over the Atlantic's waves. With rich pickings available from its coastal location, the fruits of the sea are served up in the fryers of Halifax's varied restaurants – try seared scallops and juicy mussels. Round off any meal with a buttery blueberry grunt dessert – delicious when served up warm with a dollop of melting vanilla ice cream.
Day 2 Louisbourg, Nova Scotia CANADA SUN, MAY 15 08:00 – 17:00
Home to a unique 18th-century fortress city, visit Louisbourg to be transported back in time, to an immersive recreation of life in an authentic fortified French outpost. Named Louisbourg after the French King Louis XIV – this easterly settlement was favoured thanks to its position close to the French colonies, and the expedited route it offered across the waves back to Europe. Set among Cape Breton Island's thrilling, rugged coastal scenery, bask in Louisbourg's glorious seascapes and evocative, centuries-old history. Located close to the most easterly point of Nova Scotia, and overlooking the entrance to the St Lawrence River from the Atlantic, there were few better locations to build such an imposing fortress, as the French and British jostled for these lands. Louisbourg is one of North America's most impressive and was constructed with 2.5 miles of thick walls around it. While practically impenetrable from the sea, it was undone by a land assault in 1745, and ultimately in 1758 – when it was largely destroyed by the British, swaying the course of Canadian history in the process. Now painstakingly reconstructed, you can enter a timewarp to experience life in this unique fortress. Walk streets that echo with the clinking of smithy hammers, and feel the full force of canons shaking the ground as they fire. Be sure to try some oaky local rum too – the vice of choice for Louisbourg's former residents. Nearby, stroll along the stirring coastline to the tip of the peninsula, which is crowned by Lighthouse Point. A popular spot to enjoy some sandwiches and a sit-down, it's the site of the first lighthouse to be constructed in Canada, all the way back in 1734. The handheld fog horn can still be wound up to blare out warnings through the gloomy blanket.
5 Included Shore Excursions
Cape Breton Miner's Experience Code: LOU-EXP-01
Meet the Locals – Living the Life in Fortress LouisbourgCode: LOU-EXP-02
Louisbourg Lighthouse & Coastal WalkCode: LOU-EXP-03
Coxheath Mountain Wilderness TrailCode: LOU-EXP-04

ACTIVITY LEVEL

Physically fit

Kayaking with Silversea Expedition team
Day 3 Îles-de-la-Madeleine, Quebec CANADA MON, MAY 16 07:00 – 15:00
Rising in the heart of the Gulf of Saint Lawrence, the archipelago of Iles-de-la-Madeleine offers diverse wildlife and sweeping coastal scenery. The somewhat precarious location of these 12 islands, in the middle of the world's most immense estuary, means they have historically been something of a ship graveyard. The craggy red rocks that emerge suddenly from the waves here have gashed the hulls of countless ships in times gone by. A gang of six pretty lighthouses share the task of warning of the islands' treacherous waters, while simultaneously providing a scenic twinkle amid the copper-coloured cliffs and coastal archways. Acadian French accents ring out on the shores and, despite their location, the Iles-de-la-Madeleine form part of Quebec's province. Historically cut off by thick ice, they have developed a distinct culture and character of their own. The 55 mile-long stretch of Route 199 provides the backbone of the island, tying the seven inhabited landforms together, along with a chain of undulating sand dunes. Each of the islands has its own character and profile to explore – offering everything from windswept beaches to sheltered lagoons and rolling emerald hills. Whales cruise through the deep waters offshore, and you can sail up close and personal to the marine mammals, as well as the seals who are occasionally spotted lounging around on floating chunks of ice. Port du Millerand's flotilla of fishing boats reap the rewards of the location, bringing home vast hauls so local restaurants can serve up the freshest lobster, mussels and crab. With bird watching, coastal golf courses, water-sports and diving opportunities among the many recreations on offer here – this clutch of estuary islands has something for everyone.
1 Included Shore Excursion
Culture of the Iles de la MadeleineCode: YGR-EXP-01
Day 4 Woody Point, Newfoundland CANADA TUE, MAY 17 12:30 – 20:00
Acclaimed for its unearthly landscape, Woody Point is probably as close to Mars as you will ever get in this lifetime. Situated on the west coast of the island, the Tablelands behind Woody Point in the Gros Morne National Park are composed of peridotite — like much of the surface of Mars — and NASA, the Canadian Space Agency, plus others are studying this unique land form searching for insights into possible bacterial life on the red planet. The story of the Tablelands earned Gros Morne its World Heritage Site status from UNESCO in 2010, and the area remains a geological wonder, showcasing a time when the continents of Africa and North America collided. When the plates struck 485 million years ago, the peridotite was pushed to the surface, and remained above sea level. The rock lacks the nutrients to sustain plant life, thus giving the Tablelands a barren, isolated appearance. As the name suggests, the flat topped mountains dwarf the tiny village (population 281!), yet Woody Point has retained its character and the historic houses and buildings dating from 1870 have been beautifully maintained.
2 Included Shore Excursions
Journey to the Centre of the EarthCode: WOO-EXP-01
Look out Hills HikeCode: WOO-EXP-02
Day 5 L'Anse aux Meadows CANADA WED, MAY 18 10:00 – 16:30
L'Anse aux Meadows is a National Historic Site in Newfoundland and a UNESCO World Heritage Site. Found at the very northern end of the Great Northern Peninsula, the area shows archaeological evidence of eight timber-framed turf structures, a complete Norse settlement established more than 1,000 years ago similar to those found in Greenland and Iceland. It still is the only authenticated Norse site in North America and indicates the first European presence in the New World. The original site has been reburied after excavations to ensure protection from deterioration. Replicas of Norse houses, a workshop, a boat shed and an old Norse ship have been set up at Norstead a few hundred meters northeast of the original site.
1 Included Shore Excursion
Viking ExperienceCode: LAN-EXP-01
Day 6 at sea INTERNATIONAL WATERS THU, MAY 19
Days at sea are the perfect opportunity to relax, unwind and catch up with what you've been meaning to do. So whether that is going to the gym, visiting the spa, whale watching, catching up on your reading or simply topping up your tan, these blue sea days are the perfect balance to busy days spent exploring shore side.
Day 7 at sea INTERNATIONAL WATERS FRI, MAY 20
Day 8 Nanortalik (Kujallek) GREENLAND SAT, MAY 21 06:30 – 18:00
There is a wonderful legend that the Vikings named Greenland Green and Iceland Ice in order to confuse potential attackers. Because it is quite the opposite; if Iceland is full of emerald forest, then expect ice in Greenland. Lots and lots of ice. Thus one shouldn't be too surprised to learn that the name Nanortalik means "place of polar bears". Although, as Nanortalik is Greenland's most southerly town, don't be too disappointed if you don't see any. In truth, Greenland's polar bears typically live much further north. What you will see however is Mother Nature at her finest. Vertical cliff walls, sheets of floating sea ice and a plethora of Arctic wildlife that amount to an adventurer's wonderland. As Nanortalik itself is located on a small island in the southern tip of Greenland, nature is never far away, wherever you find yourself. The optimistically named city centre is surrounded by the pristine waters of Tasermiut Fjord and dotted with the colourful houses you would expect this far north. Traditionally, artisans' houses were painted different colours to showcase what they did, i.e. commer cial houses were red; hospitals were yellow; police stations were black; the telephone company was green and fish factories were blue. Today it is more a case of anything goes! Nanortalik locals are warm and welcoming, and are known to extent the art of Kaffe-Mik to its visitors. This old tradition is where a family invites guests into their home to drink coffee and taste their famous Greenlandic cake.
2 Included Shore Excursions
Kayaking with Silversea Expedition team
Expedition activities with Silversea Expedition team
Day 9 Qassiarsuk (Brattahlid) GREENLAND SUN, MAY 22 07:30 – 13:00
Green fields, farms and sheep are not the first thing people usually think of as typically Greenlandic, but in Qassiarsuk, agriculture has been the way of life for over a thousand years. Qassiarsuk is one of several settlements in Southern Greenland which subsist by sheep farming since the 1960s, and the rolling meadows could easily evoke Scotland or Norway, if not for the icebergs drifting past. Qassiarsuk lies in the heart of Norse Greenland, home of one of the most famous Norsemen of all, Eric the Red, who founded the colony in Southern Greenland around 985. Eric was fiercely pagan, but his wife Thjodhild was a devout Christian. The Sagas say that she demanded her husband build her a church; Eric refused, but Thjodhild refused to share his bed until he relented, unwittingly constructing the first church in North America, on the condition that it be out of view of his hall. Today, Eric's house and Thjodhilds church are outlines in the turf of the modern town, but extensive archaeological investigations have shown a once thriving community centred around the church. Today, one can visit faithful reconstructions of Eric's hall and Thjodhild's church, and gain a stunning view over the fjord from the bronze statue of their son Leif Ericson (the first European to visit the North American Mainland), as well as enjoying the hospitality of the locals, who are proud of their idyllic town and its epic history. Several sites in Norse Greenland including Brattahlíð are now a UNESCO World Heritage Site.
3 Included Shore Excursions
Hiking with Silversea Expedition team
Kayaking with Silversea Expedition team
Expedition activities with Silversea Expedition team
Day 9 Itilleq (Qeqqata) GREENLAND SUN, MAY 22 15:00 – 22:00
Three kilometers off Yukon's north coast, only Workboat Passage separates Herschel Island-Qikiqtaruk from Ivvavik National Park. The low-lying treeless island of 116 k2 was Yukon's first territorial park. Herschel Island-Qikiqtaruk has been declared a National Historic Site of Canada in 1972, was classified as a Nature Preserve in 1987, designated a Natural Environment Park in 2002 and as an example of the technologies and techniques used for living and construction over the past several millennia. It is now also on the tentative UNESCO World Heritage Site list! Itilleq is an important area for Ice Age fossils. Normally snow-covered during winter, the island shows abundant and diverse wildlife, with many migratory birds, including the largest colony of Black Guillemots in the Western Arctic, caribou, muskox, polar bear, and brown bear on land and bowhead and beluga whales, ringed and bearded seals, and occasionally walrus in its surrounding waters. The Inuvialuit community has used the area for hundreds of years. When Franklin arrived in 1826 he saw three of their camps. Remains of their old dwellings are still visible near Simpson Point. This is where in the late 1800s, American whalers established a now abandoned station. At the height of the Beaufort Sea whale hunting period there were 1,500 residents. Several of the historic buildings by whalers, and later missionaries, traders and the RCMP are still standing – although some had to be moved further inland to escape the rising sea level.
1 Included Shore Excursion
Igaliku Settlement VisitCode: ITI-EXP-01
Day 10 Qaqortoq (Julianehåb) GREENLAND MON, MAY 23 07:00 – 13:30
The largest town in southern Greenland, Qaqortoq has been inhabited since prehistoric times. Upon arrival in this charming southern Greenland enclave, it's easy to see why. Qaqortoq rises quite steeply over the fjord system around the city, offering breath-taking panoramic vistas of the surrounding mountains, deep, blue sea, Lake Tasersuag, icebergs in the bay, and pastoral backcountry. Although the earliest signs of ancient civilization in Qaqortoq date back 4,300 years, Qaqortoq is known to have been inhabited by Norse and Inuit settlers in the 10th and 12th centuries, and the present-day town was founded in 1774. In the years since, Qaqortoq has evolved into a seaport and trading hub for fish and shrimp processing, tanning, fur production, and ship maintenance and repair.
2 Included Shore Excursions
Kayaking with Silversea Expedition team
Expedition activities with Silversea Expedition team
Day 11 Hvalsey GREENLAND MON, MAY 23 15:30 – 19:30
18 kilometers northeast of Qaqortoq, Hvalsey is part of Qaqortukulooq, one of the five sites of the UNESCO World Heritage Arctic farming complex Kujataa. Between Eriksfjord to the north and Einarsfjord to the south, the Hvalseyfjord branches off from Einarsfjord. Although Hvalsey is better known for the well-preserved ruins of one of the sixteen churches in the Norse's Eastern Settlement, the church was in a farmstead known as Thjodhild's Stead. This farmstead at the northeastern end of the fjord included a large building with living quarters, a hall and livestock pens, as well as other livestock pens, a storage building and a warehouse –the ruins of which can still be seen. The Norse farming laid the foundation for the Inuit farming in later centuries, leading to the UNESCO World Heritage status in 2017. In the 14th century account "Descriptions of Greenland" the abundant fish, a reindeer farm on Reindeer Island and Hvalsey's name "Whale Island" clearly indicate that the Norse had ample food sources at that time. The farmstead is mentioned in the Icelandic "Book of Settlements" as property of the Kings of Norway, and the last documented event of the Norse in Greenland is a wedding which took place in the church in September 1408. After almost 600 years of abandonment, conservation work had to be done to prevent the seaward wall from collapsing.
Day 11 at sea INTERNATIONAL WATERS TUE, MAY 24
Day 12 at sea INTERNATIONAL WATERS WED, MAY 25
Day 13 at sea INTERNATIONAL WATERS THU, MAY 26
Day 14 St. Kilda UNITED KINGDOM FRI, MAY 27 10:30 – 17:00
Gloriously remote, St. Kilda is an archipelago 50 miles off the Isle of Harris. Although the four islands are uninhabited by humans, thousands of seas birds call these craggy cliffs home, clinging to the sheer faces as if by magic. Not only is St. Kilda home to the UK's largest colony of Atlantic Puffin (almost 1 million), but also the world largest colony Gannets nests on Boreray island and its sea stacks. The islands also home decedents of the world's original Soay sheep as well as having a breed of eponymously named mice. The extremely rare St. Kilda wren unsurprisingly hails from St. Kilda, so birders should visit with notebook, binoculars and camera to hand. While endemic animal species is rife on the island, St. Kilda has not been peopled since 1930 after the last inhabitants voted that human life was unsustainable. However, permanent habitation had been possible in the Medieval Ages, and a vast National Trust for Scotland project to restore the dwellings is currently being undertaken. The islands even enjoyed a status as being an ideal holiday destination in the 19th century. Today, the only humans living on the islands are passionate history, science and conservation scholars. One of the caretakers even acts as shopkeeper and postmaster for any visitors who might like to send a postcard home from St. Kilda. It should be noted that St. Kilda is the UKs only (and just one of 39 in the world) dual World Heritage status from UNESCO in recognition of its Natural Heritage and cultural significance.
1 Included Shore Excursion
Expedition Activities with Silversea Expedition team
Day 15 Fort William, Scotland UNITED KINGDOM SAT, MAY 28 06:30 – 22:30
Flanked by the UK's tallest mountain on one side and Loch Linnae on the other, Fort William – or "Bill" to the locals – is what you imagine when it comes to Scottish Highland towns. Verdant moors stretch as far as the eye can see, pastel painted houses front the water and it is not unusual to see pipers in kilts on street corners. But while Fort William may play to certain critics' idea of a cliché, the pretty town goes far beyond tartan cushions and wee drams of Scotch (although there is a fair amount of this too!). Fort William has everything you could possibly want while in the Highlands. The High Street has plenty to keep you occupied with its good range of shops, cafes and restaurants – a lunch of locally caught seafood or the iconic haggis, neeps and tatties is a must. Because of its privileged location sitting in the shadow of the mighty Ben Nevis (standing a proud 1,345 metres high) outdoor enthusiasts are especially well catered for. Unsurprisingly so, as Fort William is considered the UK's outdoor capital. But it's not all high adrenaline sports. Certainly, those who want to climb up a rock or hurtle down white water rapids will find their nirvana, but if gentle fishing, a quiet county walk or curling up in cosy pubs warmed by an open fire are more your glass of whiskey then you're catered for. The West Highland Museum in the centre of the town is excellent, while St Andrew's Church, towards the north end of the main street, has a very attractive interior. Also well worth a look is St Mary's Catholic Church, on Belford Road, and no visit should be considered complete without a look at the Old Fort, almost invisible to passing traffic. Add a wildlife cruise amid stunning scenery and the steam train that took Harry to Hogwarts and you can easily spend a day in this lovely port.
7 Included Shore Excursions
Eilean Donan CastleCode: FWS-EXP-01
Fort Augustus & Loch Ness Cruise – Wonders of the DeepCode: FWS-EXP-02
Glen Nevis HikeCode: FWS-EXP-03

ACTIVITY LEVEL

Physically fit

High in the Nevis RangeCode: FWS-EXP-04
Glenfinnan and Mallaig with Afternoon TeaCode: FWS-EXP-05
Canoe Loch LochyCode: FWS-EXP-06
Glorious Glenfinnan, Historic Highlands and a DramCode: FWS-EXP-07
Day 16 Lunga UNITED KINGDOM SUN, MAY 29 06:30 – 12:00
The stunning Isle of Lunga is the largest island in the Treshnish archipelago. With volcanic origin the isle was populated until the 19th Century, and remains of black houses can be seen around this magnificent coastal jewel. Abundant plant life and exotic birdlife are now the main inhabitants of the area. Fortunate visitors view the magnificent array of birds, especially the great puffins that breed on the islands plateau. One can sit within just a few feet away without disturbing the avian ambassador's peace. The 81 hectare island is home to many rare and endangered plants such as, primroses and orchids. Views over the landscape and across the ocean can be seen from the 300 foot high cliffs.
3 Included Shore Excursions
Zodiac Cruise with Silversea Expedition team
Hiking with Silversea Expedition team
Kayaking with Silversea Expedition team
Day 16 Iona UNITED KINGDOM SUN, MAY 29 14:00 – 18:00
If tiny islands that resonate with peace and tranquillity are your idea of travel heaven, then welcome to Iona. Almost 200 miles east of Edinburgh, set in Scotland's Inner Hebrides, this magical island has a spiritual reputation that precedes it. And luckily, more than lives up to. The island is miniscule. Just three miles long and only one and a half miles wide, this is not a place that hums with urban attractions. 120 people call Iona home (this number rises significantly if the gull, tern and Kittiwake population is added), although residential numbers do go up (to a whopping 175) in summer. The beautiful coastline is lapped by the gulf stream and gives the island a warm climate with sandy beaches that look more Mediterranean than Scottish! Add to that a green field landscape that is just beautiful, and you'll find that Iona is a place that stays with you long after you leave. Iona's main attraction is of course its abbey. Built in 563 by Saint Columbia and his monks, the abbey is the reason why Iona is called the cradle of Christianity. Not only is the abbey (today an ecumenical church) one of the best – if not the best – example of ecclesiastical architecture dating from the Middle Ages, but it also serves as an important site of spiritual pilgrimage. St. Martin's Cross, a 9th century Celtic cross that stands outside the abbey, is considered as the finest example of Celtic crosses in the British Isles. Rèilig Odhrain, or the cemetery, allegedly contains the remains of many Scottish kings.
1 Included Shore Excursion
Iona AbbeyCode: ION-EXP-01
Day 17 Port St Mary, Isle of Man UNITED KINGDOM MON, MAY 30 06:30 – 14:30
The Isle of Man sits in the middle, but a world apart, from the UK. It is in the Irish sea almost equidistant from Scotland, England and Northern Ireland. But it is not part of any of them. It is a self-governing British crown dependency. The island's cultural heritage is Gaelic with influences from the Norse and surrounding lands. This background has produced an island with its own traditions. Everything associated with the Isle of Man is Manx. The people are Manx and the language is Manx.
Port St Mary is a quiet former trading and fishing port at the southern end of the Isle which provides access to the rural countryside and nearby towns. One route leads past historic thatched cottages in the crofters hamlet of Gregneash, and on to The Sound. Walking routes cross the narrow Mull Peninsula through scenery and history to Port Erin, a quaint old coastal settlement and shoreline set amongst a rugged coastline. In tune with the yesteryear feel of the island, a steam train still operates on the island, taking visitors to destinations like the Castle Rushen, built in 1200 and once the home of a Norse king.
Manx people are proud of their Manx cats, famous for having no or little tail, the result of a genetic mutation passed down the generations. Manx Loaghtan sheep are another animal that evolved on the Isle. These sheep have two (sometimes three) pairs of remarkable horns.And the island is not just an isle of men – the name 'Isle of Man' evolved from 'Manannán', the Celtic god of the sea.
6 Included Shore Excursions
Mull Peninsula Walk – Port St Mary to Port ErinCode: PTM-EXP-01
Port St Mary to Bradda Head HikeCode: PTM-EXP-02

ACTIVITY LEVEL

Physically fit

Magnificent Castle Rushen & Vintage Steam TrainCode: PTM-EXP-03
Cregneash & The SoundCode: PTM-EXP-04
Kayaking with Silversea Expedition team
Expedition activities with Silversea Expedition team
Day 18 Tresco, Isles of Scilly UNITED KINGDOM TUE, MAY 31 09:00 – 13:00
For many visitors Tresco is the most attractive of the Isles of Scilly. This is especially due to its Abbey Garden, which is home to thousands of exotic plant species from around 80 different countries. Plant collector Augustus Smith began the gardens in the 1830s on the site of an old Benedictine Abbey by channelling the weather up and over a network of walled enclosures built around the Priory ruins. He had three terraces carved from the rocky south slope and maximised Tresco's mild Gulf Stream climate. Even in mid-winter there still are hundreds of plants flowering here. Another surprising attraction at the Abbey Garden is the collection of figureheads from ships that wrecked among the Isles of Scilly.
1 Included Shore Excursion
Exotic Tresco GardensCode: TSC-EXP-01
Day 19 Southampton UNITED KINGDOM WED, JUNE 1 ARRIVAL 07:00
Home of the ill-fated Titanic departure, Southampton has a long maritime history. Henry V's fleet bound for the battle of Agincourt left from here, as did the Mayflower (not from Plymouth as many believe) and the great British ocean liners, Queen Elizabeth 2 and Queen Mary both departed on their maiden voyages from the port. So suffice to say, that Southampton is a seafearing place. Today Southampton is the cruise capital of Northern Europe, so expect a city that understands how to have fun. This comes in a variety of ways: a castellated old city that has lots of charm, some excellent museums (the most notable of which is the Sea City Museum) and extensive green spaces. Authentic Tudor remains provide a fascinating insight to 15th century living while other landmarks date back even further. A stroll around the city is generous in its attractions, so there is no better way to see Southampton than on foot. Culture wise, the city's bustling Guildhall Square is the centre for art, education and food and drink. Southampton's location of the south coast of England means just a short distance away lie some interesting spots. Pre-historic enigma Stonehenge is less than an hour away while the quintessentially English market town Salisbury is perfect for a bit of shopping. Both are well worth a visit. For those who prefer their entertainment crafted by Mother Nature, a short ride to the New Forest will give you peace; think idyllic glades, ancient woodland, open moors, heathland and cliff top walks.