Sailing round trip out of Amsterdam in April, the itinerary will include stops in lesser-explored ports such as Maastricht, Holland's oldest fortified city, and Haarlem, the heart of the Dutch flower growing industry. And because April is the height of tulip season in Holland.  The itinerary will include a visit to the iconic Keukenhof Gardens, which boasts nearly 80 acres abloom with more than seven million multicolored flower bulbs.
Inclusions
Return airfare to Amsterdam
9 night River Cruise aboard Emerald Sun or Dawn
Accommodation in Boutique hotel-style suites
All on-board meals and gourmet dining at Reflections restaurant
Unlimited beer, wine & soft drinks
Guided city tours and cultural excursions courtesy of our EmeraldPLUS program
Biking and hiking guided tours with EmeraldACTIVE
All airport transfers to and from your Star-Ship
Port charges and taxes include
All gratuities are included
Book by Sep 18 and fly for $295!

Vancouver, Calgary,
Victoria, Edmonton
Outside
Balcony Suite
Taxes
March 31 or April 5, 2021
$4999
$6079
$521
Kelowna
$5299
$6379
$521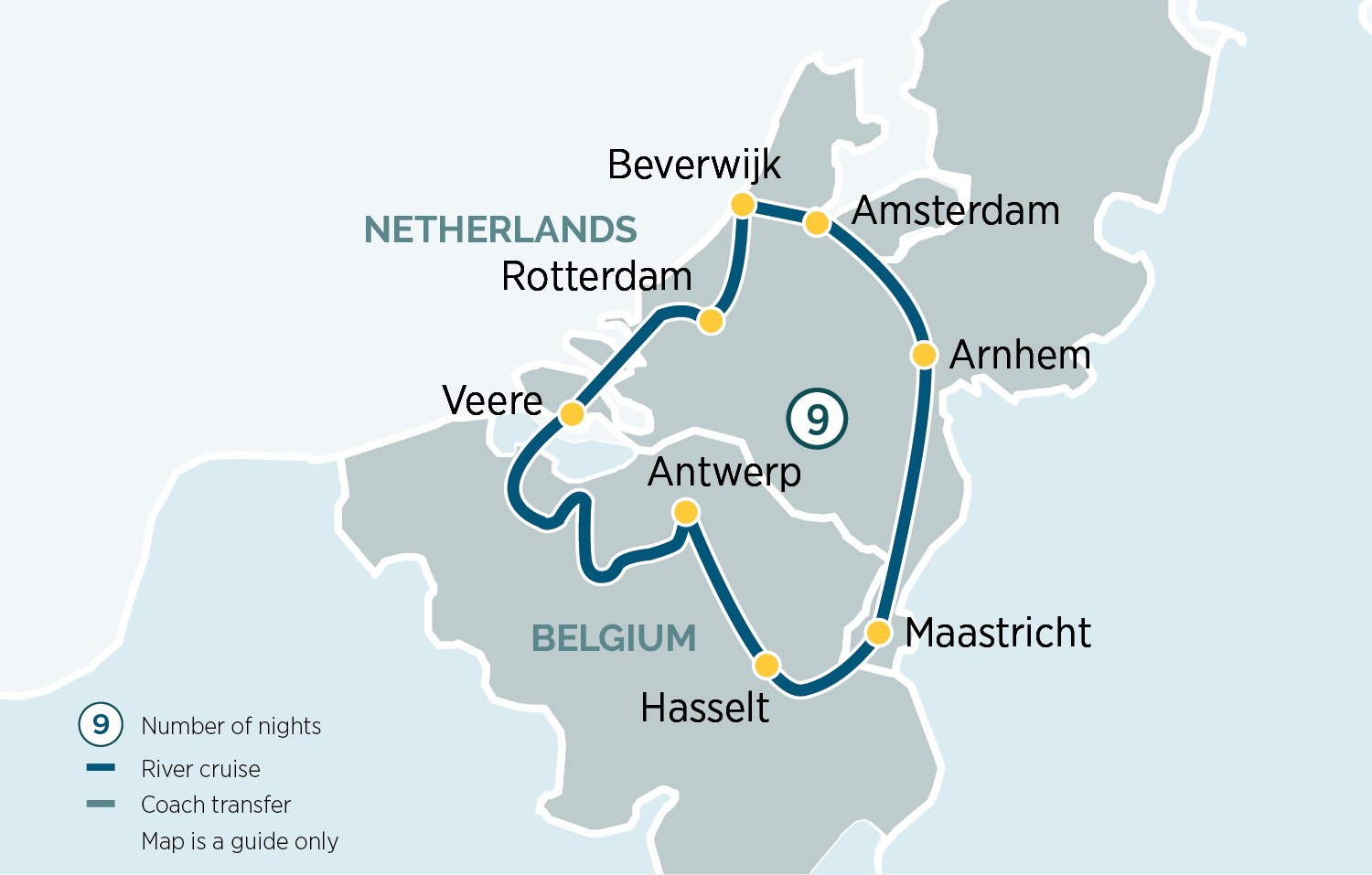 Please note: Pre-release itinerary subject to change.
Day 1

Thu, 01 Apr

Amsterdam (D)

Upon arrival, you will be met and transferred from the airport to your boutique Emerald Waterways Star-Ship, before enjoying an afternoon at leisure.
Day 2

Fri, 02 Apr

Amsterdam (B,L,D)

Touch on Holland's traditional heart today with a visit to Keukenhof Gardens. Nestled in the middle of Holland's tulip farm area, row-upon-row of colourful flowers run as far as the eye can see. Witness the incredible displays of millions of flowers and tulips, each assembled by an expert landscape architect.
Day 3

Sat, 03 Apr

Arnhem (B,L,D)

Located within the Hoge Veluwe National Park, the Kröller-Müller Museum boasts the second-largest Van Gogh collection in the world, with almost 90 paintings and over 180 drawings. The Van Gogh Gallery displays varying collections of about 40 works by the post-impressionist.

Included excursion – Home to Europe's largest sculpture garden, featuring over 160 sculptures by iconic artists, from Aristide Maillol to Jean Dubu et, Marta Pan to Pierre Huyghe, wander the grounds of HogeVeluwe National Park and tour the Kröller Müller Museum, enjoying the art as well as the surrounding nature.
EmeraldACTIVE – A guided bike tour of Arnhem
Day 4

Sun, 04 Apr

Maastricht (B,L,D)

After a relaxing morning spent sailing through the Dutch waterways, you'll arrive in Maastricht, Holland's oldest fortified city. Your city tour will provide you with the opportunity to pass by many museums, churches, historical buildings, hidden alleys and squares. You'll be amazed by all the different architecture, ranging from Roman excavations to the modern design of the Bonnefantenmuseum.
Day 5

Mon, 05 Apr

Hasselt (B,L,D)

Discover Belgium's culinary delights during a guided walking tour with local tastings. While discovering daily life, your local expert will reveal the gastronomical secrets of the area. Culture, history and fascinating stories, combined with delicious food – especially waffles – will give you a real taste of Belgium.
Day 6

Tue, 06 Apr

Antwerp (B,L,D)

This morning we'll arrive in Antwerp, Belgium's second-largest city, home to the country's biggest port. Positioned on the River Sheltz, with a large harbour linking to the sea, it has been pivotal in the country's history.

Home to the famous Baroque artist Pieter Paul Rubens, it attracts art lovers and diamond dealers from all over the world. Having been decimated during WWII, today the city is modern and organised, yet still retains an intriguing medieval heart.

Enjoy a guided walking tour of the city centre, passing by its café-filled cobbled lanes and stopping for tastings.

EmeraldPLUS – Admire the Renaissance Town Hall and the unique Gothic Cathedral of Our Lady, the symbol of Antwerp with your guide. Then, pass through the Vlaeykensgang, a charming 16th century secret alley dating back to 1591.
Day 7

Wed, 07 Apr

Veere (B,L,D)

Today, visit the Dutch Delta Works. Witness the sheer enormity of the world's biggest storm surge barrier and be left awe-inspired by the immense feat of engineering. Those feeling active may choose to enjoy a guided bike tour of Veere, stopping to learn about how it encapsulates the opulence of a by-gone era.
EmeraldPLUS – A guided tour of the Delta Works
EmeraldACTIVE – A guided bike tour of Veere
Day 8

Thu, 08 Apr

Rotterdam (B,L,D)

Today, embark on a tour of Rotterdam's architecture. After the war, instead of reconstructing the city as it once was, many talented architects worked to rebuild the skyline. The result? Something spectacular. Rotterdam has regenerated into a hub of innovative and impressive architecture, as well as transforming into a centre for gourmet food and trendy cafes. Finish at the MarktHal, a unique combination of residential and office buildings, complete with a market hall underneath. Its impressive volume of artwork has given it the reputation as the Dutch version of the Sistine Chapel.
EmeraldPLUS – Rotterdam architecture tour with MarktHal visit
DiscoverMORE A visit to a Delft Pottery factory (extra expense)
Day 9

Fri, 09 Apr

Beverwijk (B,L,D)

Explore quintessential Holland today as we take you to the heart of the charming medieval town of Haarlem. This vibrant community acts as the centre of the flower-growing district and is highly regarded for its exports of flower bulbs, with the famed Keukenhof Gardens only a short drive away.

It comes as no surprise that Haarlem was once home to many a Dutch artist, including Frans Hals, famed painter of the 'Laughing Cavalier'. Enjoy a guided tour of this hidden gem, strolling down cobblestone streets adorned with postcard-worthy examples of ancient architecture. Your local guide will introduce you to its bustling social scene, which has been attracting visitors from around the world for years.
EmeraldACTIVE – Those feeling more active may choose to join a group for a wonderful guided bike tour of Haarlem, for a different perspective on the traditional town.
Day 10

Sat, 10 Apr

Amsterdam (B)

After breakfast, it's time to bid farewell to your fellow guests and quintessential Holland as you disembark the ship for your transfer to the airport, taking memories of wooden windmills and spring-blooming flowers with you.