From the legendary Colosseum to the rocky cliffs of the Amalfi Coast, take in the best of southern Italy. Uncover Classic Rome's myriad treasures and embark on an in-depth guided visit of the spectacular Colosseum. Explore the breathtaking scenery of Italy's coastline, from the dramatic beauty of the Amalfi Coast to the charms of seaside Sorrento. Visit the renowned monastery of Montecassino. Discover Pompeii's ruins. Stop at a local winery at the foot of Mount Vesuvius, learn how mozzarella cheese is made, and sip on some real-deal limoncello. From 2 of Italy's most beloved locales, experience the country's renowned food, culture, history, and landscapes.
Inclusions:
8 night guided vacation
8 nights at hotel accommodations
13 Meals – 8 Breakfasts, 2 Lunches, 3 Dinners
Services of a qualified Travel Director & Driver Guide
Must See Inclusions
Take a walking tour of Classical Rome, featuring in-depth visit to the legendary Colosseum
Visit the seaside resort of Sorrento
Discover the excavated ruins of Pompeii with a local expert
Culinary Inclusions
Sample local specialties at a family-owned limoncello factory in Minori
Enjoy a tasting and lunch at a local winery at the foot of Mount Vesuvius
Cultural Experiences
Discover the mountaintop monastery of Montecassino and its role in World War II
Tour a family-run farm on the Sorrento Coast and learn how they make mozzarella cheese by hand
Enjoy free time to explore Amalfi, a historic trading hub along its namesake coast
| | |
| --- | --- |
| Mar 1,20, 2024 | from $3679 tax included |
| Apr 13,20, 2024 | from $4129 tax included |
| Jun 21,23,29, 2024 | from $4579 tax included |
| Jul 5-Aug 22, 2024 | from $4379 tax included |
| Aug 31-Sep 25, 2024 | from $5079 tax included |
| Sep 30-Oct 20, 2024 | from $4739 tax included |
| Single Room Supplement | from $1100 more |
| 3-Night Florence Pre-Tour  Extension | add $1165 per person |
Airfare additional, but can be added once available!
Plus add air & roundtrip airport transfers and sedan service to and from hometown airport is included (restrictions apply)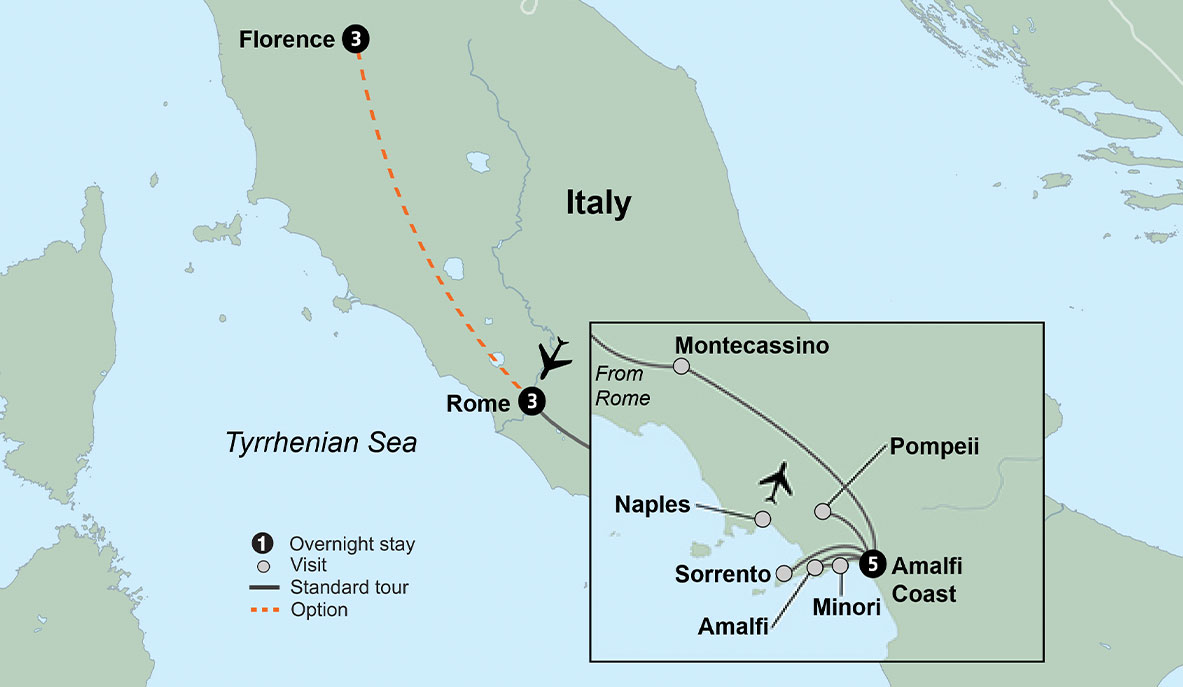 Day 1: Canada – Rome (Flight Additional)
Your adventure begins with an overnight flight to Italy. Journey through southern Italy and experience its rich scenery, art, culture, food and wine.
Day 2: Rome – Tour Begins (D)
Your tour opens in the "Eternal City" of Rome! Tonight, join your fellow travelers for a welcome dinner featuring wines and local delicacies. Hotel: Imperiale (or similar)
Day 3: Rome (B)
On a locally guided tour of Classical Rome, walk over cobblestone streets and weathered passageways to discover famous sights such as the Trevi Fountain, the Pantheon, and Piazza Navona. Recount the rich history of the Colosseum on an in-depth visit with a guide, walking in the footsteps of former gladiators and attendees. The evening is yours. Perhaps you will join an optional dinner in a popular restaurant, where you'll indulge in a hearty meal accompanied by wine and local entertainment.
Day 4: Rome (B)
Make the most of a free day in Italy's capital city. Perhaps you will join an optional tour* in the morning to the Vatican Museums and St. Peter's Basilica, taking in world-renowned wonders such as the Sistine Chapel and Michelangelo's mural of the Last Judgment. In the afternoon, consider strolling through the Borghese Gardens for views of the city's skyline or meander through Rome's bohemian Trastevere district.
Day 5: Rome – Montecassino – Amalfi Coast (B/D)
Journey to the Amalfi Coast, an iconic coastline of rocky beaches and towering cliffs. En route, make a stop at the Benedictine monastery of Montecassino, perched on a mountaintop that played a pivotal role in World War II. Discover its history while exploring the monastery's ornate chapel, courtyards, and museum. In the afternoon, settle into the Amalfi Coast,  your new home for the next 4 nights. Hotel: Raito (or similar).
Day 6: Amalfi Coast – Sorrento – Farmhouse lunch – Amalfi Coast (B/L)
Begin your day exploring the popular and charming resort town of Sorrento. Wander through the narrow streets of the city center, perhaps exploring the peaceful courtyard of St. Francis Church or sampling some gelato made with local lemons. Visit a local farm and see how traditional mozzarella cheese is made by hand. Get a taste of the product at a farm-to-table lunch before returning to your hotel in the late afternoon.
Day 7: Amalfi Coast – Amalfi – Minori – Amalfi Coast (B)
Drive along the stunning Amalfi Coast, pausing for a peek of Positano with its pastel-colored houses and pebbly beaches. Spend time in the town of Amalfi. A former trading hub, Amalfi is now a quiet coastal town of historic landmarks and a black-and-white marble cathedral. Explore on your own before continuing to Minori, where you'll get to sample local specialties at a family-owned limoncello factory. Savor a traditional Italian afternoon break at a local café and pastry shop before an evening at leisure.
Day 8: Amalfi Coast (B)
Enjoy a day at leisure to take in the relaxing beauty of the Amalfi Coast. Perhaps you will embark on an optional boat trip (weather permitting) to the Mediterranean isle of Capri, where you'll enjoy a locally guided tour with lunch before setting out on your own adventure.
Day 9: Amalfi Coast – Pompeii – Winery – Amalfi Coast (B/L/D)
Experience the excavated ruins of Pompeii at the foothills of Mount Vesuvius. On an in-depth historical tour with a local guide, see the eerily preserved buildings of this 2,000-year-old Roman town. At the foot of Mount Vesuvius, stop at a local winery to savor the famous Lacryma Christi wines and enjoy a typical Neapolitan lunch. After some free time, join your fellow travelers for a farewell dinner and bid salute to the end of your Italian getaway.
Day 10: Amalfi Coast – Tour Ends (B)
Your tour comes to a close today.
3-Night Pre-tour Florence Extension
Begin your trip with a 3-night sojourn in Florence, the 'Cradle of the Renaissance'. Your Extension includes 2 walking tours, one focusing on Florence's iconic monuments and the other focusing on the Left Bank district, the Oltrarno. Enjoy ample free time to explore Florence's charms or pay a visit to Michelangelo's David at the Accademia Museum before transferring to Rome aboard a high-speed train.
Day 1: Florence, Italy – Tour Begins
Get settled into Florence for your 3-night stay. Take time to get acquainted with the area on your own.
Day 2: Florence – Optional Excursion (B)
Start your morning with a locally guided walking tour of Florence's cultural treasures, passing by the Duomo, the Baptistery, the Palazzo Vecchio, and the Piazza della Signoria. The afternoon is yours to browse the shops of via Tornabuoni, or perhaps visit one of the city's great museums* such as the Uffizi or the Accademia, which houses Michelangelo's statue of David.
Day 3: Florence (B)
Explore Florence's bohemian Oltrarno district during a guided walking tour of the city's Left Bank. Oltrarno literally means "on the other side of the Arno," the river which runs through Florence. Grasp the spirit of this "Florence of the Florentines": here the last craftsmen, the market stalls, the gardens and churches, the typical restaurants and cafés still move at the gentle rhythm of everyday life, away from the hustle and bustle of Florence's more famous monuments. The Oltrarno was so dear to the Medici family – Florence's great rulers – that they made it their home by establishing themselves in the Pitti Palace. The remainder of the day is yours to explore more of Florence. Perhaps you'll venture up to Piazzale Michelangelo, a panoramic terrace offering charming views over the city's towers and domes.
Day 4: Florence – Rome (B)
Your Florentine sojourn comes to a close today. Say Arrivederci! as you transfer to Rome by high-speed train** to begin your tour.
Please note:
*Most museums in Florence are closed on Mondays, including the Academy Gallery and the Uffizi, as are other state museums. Most state museums in Florence require reservations to access. In order to avoid standing in long lines, we suggest you reserve your ticket online prior to departure if you plan to visit the Academy Gallery or the Uffizi during your free time in Florence.
**Porterage is not available at the Florence and Rome train stations. You must be able to handle your luggage on and off the trains, including 2 steps to lift the luggage onto your assigned carriage as there is no checked luggage service available on Italian trains.
Single accommodations are limited and are available on a first come, first served basis.
We reserve the right to cancel this extension if a minimum of 4 passengers is not met to operate.
The overall activity level of this extension is a level 3. This means walking and standing for longer periods of time (1-2 hours) isn't a big deal for you. You can navigate hills and uneven ground, climb into various modes of transportation (tuk-tuk, cable car, Zodiac, etc.), and could possibly anticipate changes in elevation. You can expect some longer days balanced with free-time to recharge or set out on your own adventure.
The space on this extension is limited and will be available on a first come, first served basis. Applicable charges may apply at time of request.
During this extension, you can expect to have a hosted experience or two, with a local representative revealing more of what this destination has to offer. Enjoy a mix of independent exploration and guided sightseeing and experiences.