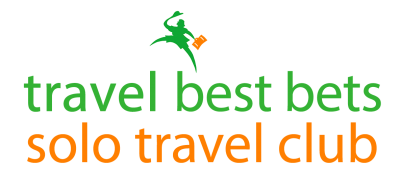 Are you interested in travelling but don't have anyone to go with? Sick of those single supplement fees?
Or would do you like your own room but still a group to meet up with for excursions and meals?
If you are interested in taking a trip with Travel Best Bets Solo Travel Club, fill out the form below and tell us a little about yourself. The head of our program, Janita Hubbard, is organizing our first meeting soon so that you can get to know other local single travellers and she can start planning the adventures to come. If you get to know someone at the meetings that you would like to room with, just let us know and we will make it happen.
Janita and the other Solo Travel Club members can't wait to explore the world with you!
Meet Ups
Newsletters & Info:
About Janita
I wanted to start this travel club because one of my strengths is bringing people together. I love to entertain, to introduce people and see the relationships that evolve. I have always said strangers are simply friends you have not met, and trust me when I say that there are many friends out there with the same interests as you, who want to explore but just don't want to do it on their own. They share your love of adventure and I want nothing more than to create the opportunity to bring you together to explore what happens next.
"Travel makes one modest. You see what a tiny place you occupy in the world."
-Gustav Flaubert
---
To be contacted regarding Solo Travel Club, please fill out the form below.