Luxury Yacht Cruising Experience
Reaching an impressive 110 metres in length, our spectacular luxury yachts will exceed your yacht cruising expectations. An abundance of space on board, combined with a maximum guest number of 100 and a crew of 72, allows us to provide an excellent level of personal service throughout your holiday.
Discover a secluded spot to read a book, enjoy unimpeded views of the unspoiled landscapes, take a relaxing dip in the Aqua Pool, or arrange to meet new-found friends at one of our comfortable meeting spots.
Inclusions
7 nights on board an Emerald Cruises luxury yacht
Airport transfers to and from the ship
Dining Highlights:
-20 superb meals including 7 Breakfasts (B), 6 Lunches (L), 7 Dinners (D)
-Including a Welcome and Farewell Reception & Dinner
-Complimentary wine, beer and soft drinks with lunch and dinner on board
The services of an Emerald Cruises Tour Manager
Port taxes and charges
All tipping and gratuities

*Book by Sep 30: Complimentary Premium Drinks Package!

(valued at $80 CAD per person, per day)
November 18 or
December 16, 2023
Cruise Only
Pay In Full: Save 10%
Oceanview Stateroom
$5545
$4990
Balcony Suite
$7070
$6283
Taxes & Fees
$480
$480
*Secure your 2023 or 2024 Luxury Yacht Cruise Today. For a limited time, enjoy a premium drinks package. We've got an offer worth raising a glass to – enjoy a Premium Drinks Package on any new bookings for 2023 and 2024 Caribbean and Central America sailings.
Plus, save up to 20% on any 2023 or 2024 luxury yacht cruise when paying in full 12 months prior to departure. Bookings made within 12 months of departure require full payment at the time of booking. Book early to secure your preferred cabin and take advantage of this offer – then get ready to sit back, relax beneath the warm Caribbean sun on board your luxury yacht, and of course, enjoy your favourite beverage, on us.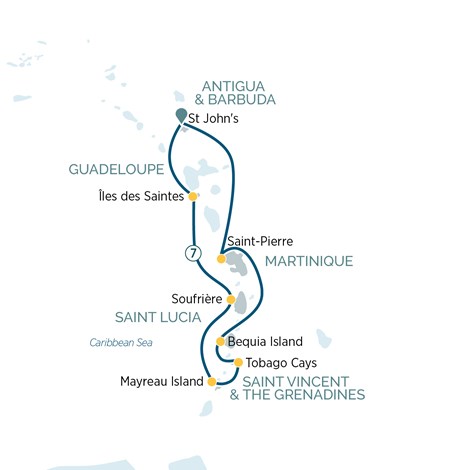 Day 1 Sat, 18 Nov St. John's, Antigua, Antigua and Barbuda (D)
Your luxurious yacht cruise begins in St. John's, where you'll be transferred to your Emerald Cruises luxury yacht and embark on your discovery of the Eastern Caribbean and the Grenadines.
Day 2 Sun, 19 Nov Saint-Pierre, Martinique (B,L,D)
Home to around 5,000 people, the village of Saint-Pierre was once almost wiped off the map in less than two minutes during an eruption of the Mount Pelée volcano in 1902. In more recent years, Saint-Pierre (also known as 'Little Paris') has been named as the 101st 'City of Art and History'. A visit to Saint-Pierre will allow you to discover a few remnants of Martinique's colonial history: the old theatre, the ruins of the island's fort and the dungeon of Cyparis, as well as the wonderful site it is today, facing a gorgeous bay and leaning in the foothills of Mount Pelée.
Day 3 Mon, 20 Nov Port Elizabeth, Bequia Island, Saint Vincent and the Grenadines (B,L,D)
The second largest in the Grenadines Island chain, and Bequia's main port, is Port Elizabeth. It is a tranquil and quiet destination built along a picturesque little bay with forested hills behind. The most popular sights in town are the open-air market, which gives a very 18th-century feel, as well as the Belmont Walkway known for the town's best shops and restaurants along Admiralty Bay.
Day 4 Tue, 21 Nov Tobago Cays, Saint Vincent and the Grenadines (B,L,D)
The Tobago Cays are an archipelago located in the southern Grenadines, famous for five small uninhabited islands: Petit Rameau, Petit Bateau, Baradal, Petit Tobac and Jamesby. The main attraction here is the Tobago Cays Marine Park, a national park and wildlife reserve. Renowned for its massive 1,400-acre lagoon, the park is surrounded by the vivid horseshoe-shaped reef. This is an idyllic area to enjoy sand-bottomed and crystal-clear waters teeming with colourful fish and turtles.
Day 5 Wed, 22 Nov Mayreau Island, Saint Vincent and the Grenadines (B,L,D)
Mayreau is the smallest of the Grenadines' uninhabited islands, with a surface area of only 4 square kilometres (1.5 square miles). The population of Mayreau is no more than 250 people who live in the village on the island's highest hill, Station Hill. The charming little church and community centre at the top of the hill provide spectacular views over the islands. On a clear day, one can see both Grenada and St. Vincent, as well as the nearby islands, showcasing the pretty colours of the reefs and waters around the Tobago Cays. Today you will enjoy a barbeque on shore together with your fellow travellers.
Day 6 Thu, 23 Nov Soufrière, Saint Lucia (B,L,D)
Soufrière was the original capital of Saint Lucia and is one of the island's most memorable spots. The town has kept the spirit of the French colonialists who first settled there but were later followed by the British. Soufrière is situated in the Qualibou Depression, the crater of a dormant volcano, so one can enjoy hot springs and geothermal fields, as well as botanical gardens and waterfalls all in the same area. Later, you'll visit the Glittering Beach, where you can indulge in the warm sunshine from your lounger or take a refreshing swim in the azure Caribbean waters.
Day 7 Fri, 24 Nov Terre-de-Haut, Îles des Saintes, Guadeloupe (B,L,D)
A visit to Terre-de-Haut is like taking a trip to the South of France – with the addition of just a few more palm trees and white-sand beaches. Situated off the beaten path, Les Saintes' eight peaceful tropical islands are part of a volcanic archipelago fully encircled by shallow reefs. The history and culture of the Îles des Saintes are to be discovered in Fort Napoléon, where one can also get to know the local flora and fauna at the botanical gardens. Don't miss the chance to try the island's signature dish, le tourment d'amour, a small tart with coconut jam and covered in sponge cake.
Day 8 Sat, 25 Nov St. John's, Antigua, Antigua and Barbuda (B)
Your time aboard your Emerald Cruises luxury yacht comes to an end in St. John's. After bidding farewell to the crew and your fellow guests, you will be transferred to the airport for your return flight home.
The itinerary is a guide only and may be amended for operational reasons. As such Emerald Cruises cannot guarantee the cruise will operated unaltered from the itinerary states above.