Set sail from Singapore to discover Indonesia's rich cultural heritage and stunning natural beauty. This exotic journey visits the archipelago's pristine Parai Beach and explores Javanese treasures in Surabaya and Semarang. Bali enchants with its rainforests and temples while Komodo National Park intrigues with the world's largest lizard. From Timor-Leste's charming capital, Dili, journey on to tropical Darwin in Australia's verdant Northern Territory.
Inclusions
14 nights cruise from Singapore to Darwin aboard the 5+ star m/s Paul Gauguin
Paul Gauguin Cruises All-Inclusive Distinctions:
• All onboard meals—breakfast, lunch, dinner, and complimentary 24-hour room service
• Onboard gratuities for room stewards and dining/bar staff
• Complimentary non-alcoholic beverages and select wine, beer, and spirits
• Onboard entertainment, including our own troupe of Polynesian host/entertainers and presentations by local naturalists and a variety of special guests
• A state-of-the-art, retractable water-sports marina featuring complimentary kayaking and paddle boarding

Reduced rates and Exclusive up to $300 USD onboard credit per cabin!
April 1, 2025
Cruise Only
F Porthole
$5849  $5549
E Window
$6499  $6169
D Balcony
$7969  $7569
C Balcony
$8429  $7999
B Balcony (includes Butler service)
$10159 $9649
Taxes & Fees
$310

Rates in USD.

Per person based on double occupancy.
Single occupancy rates are available.
The offer is valid for residents of Canada only.
You May Also Like: More Paul Gauguin Voyages
Promotion is subject to change without notice.
Highlights
Visit 2 maiden calls including Parai Beach and Surabaya, Indonesia.
Enjoy the luxury of time to explore on overnight stays in Singapore, Bali, and Darwin.
Discover Singapore's vertical, man-made "Supertree" conservatories soaring more than 160 feet skyward—the Flower Dome is one of the world's largest glass greenhouses and the Cloud Forest features a stunning waterfall and incredible views.
See ancient Aboriginal rock art and jumping crocodiles at Kakadu National Park, and explore the waterfalls, wildlife, and the iconic termite mounds of Litchfield National Park—both accessed from Darwin.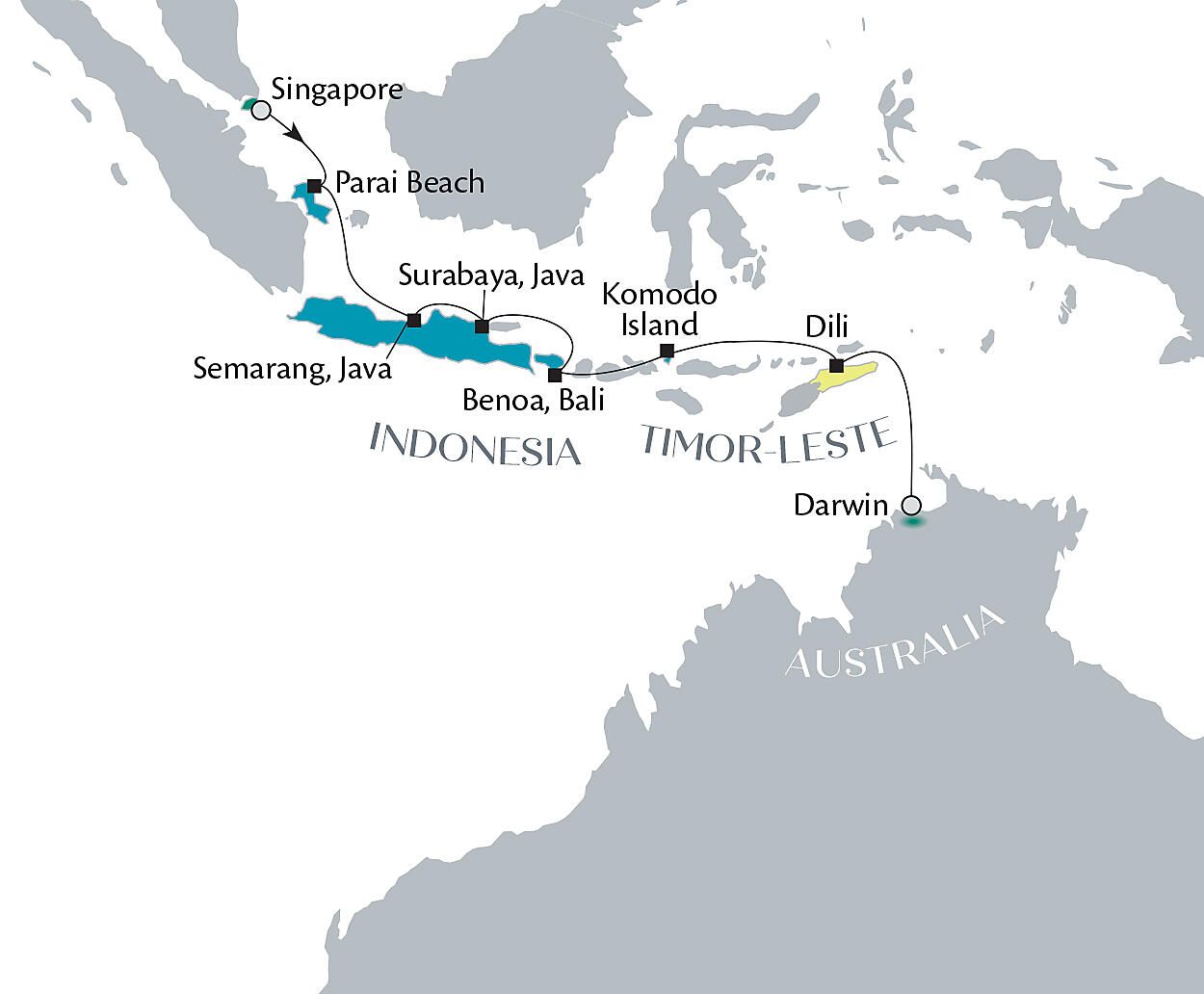 | | | | |
| --- | --- | --- | --- |
| Date | Ports | Arrive | Depart |
| April 1, 2025 | Singapore (Embarkation) | Embarkation from 4:00 PM to 5:00 PM | |
| April 2, 2025 | Singapore | | 2:00 PM |
| April 3, 2025 | Parai Beach, Bangka Island, Indonesia | 12:00 PM | 6:00 PM |
| April 4, 2025 | At Sea | | |
| April 5, 2025 | Semarang, Indonesia | 7:00 AM | 4:00 PM |
| April 6, 2025 | Surabaya, Java | 7:00 AM | 1.00 PM |
| April 7, 2025 | Benoa, Bali | 10:00 AM | |
| April 8, 2025 | Benoa, Bali | | 6:00 PM |
| April 9, 2025 | At Sea | | |
| April 10, 2025 | Komodo Island, Indonesia | 7:00 AM | 5:00 PM |
| April 11, 2025 | At Sea | | |
| April 12, 2025 | Dili | 8:00 AM | 4:00 PM |
| April 13, 2025 | At Sea | | |
| April 14, 2025 | Darwin, Australia | 11:59 AM | |
| April 15, 2025 | Darwin, Australia (Disembarkation) | | 8:00 AM |