See what life is like "Down Under" on this incredible journey through Australia and New Zealand. Discover the wonders of Aboriginal culture. Cruise Sydney Harbour and Milford Sound. Cruise Lake Wakatipu and enjoy a lakeside BBQ. Experience Queenstown, the "Adventure Capital of the World." From the tropical splendour of Australia's Great Barrier Reef to the ethereal beauty of New Zealand's glacial fjords, enjoy the best of the South Pacific.
Inclusions
14 night guided vacation
14 nights accommodation in hand picked hotels
22 Meals – 12 Breakfasts, 3 Lunches, 7 Dinners
Domestic airfare between cities
Sightseeing highlights 
Services of a qualified English Speaking Travel Director, Driver Guide
| | |
| --- | --- |
| Oct 4, 2023 | from $6739 tax included |
| Oct 31, 2023 | from $6939 tax included |
| Jan 10 – Apr 17, 2024 | from $6939 tax included |
| Single Supplement | Add $3000 |
| Add 3 nights in Fiji | from $780 more |
Not Included: International Airfare & Airport transfers but can be added. Plus add air & roundtrip airport transfers and sedan service to and from hometown airport is included (restrictions apply)    
Note:  Visas are required for travel to Australia and New Zealand.
Sightseeing Highlights
Go bird watching at the Kiwi Birdlife Park OR take a gondola to the top of Bob's Peak
Enjoy a BBQ on the Wetsern Shores of Wakatipu
Board a catamaran for an exciting excursion to the Great Barrier Reef
See where the original colonist first settled during a city tour of Sydney
Take in the sights during a dinner cruise of Sydney Harbour
Come to know Australia's traditions at the Rainforestation National Park
Take a guided tour of the fascinating  Sydney Opera House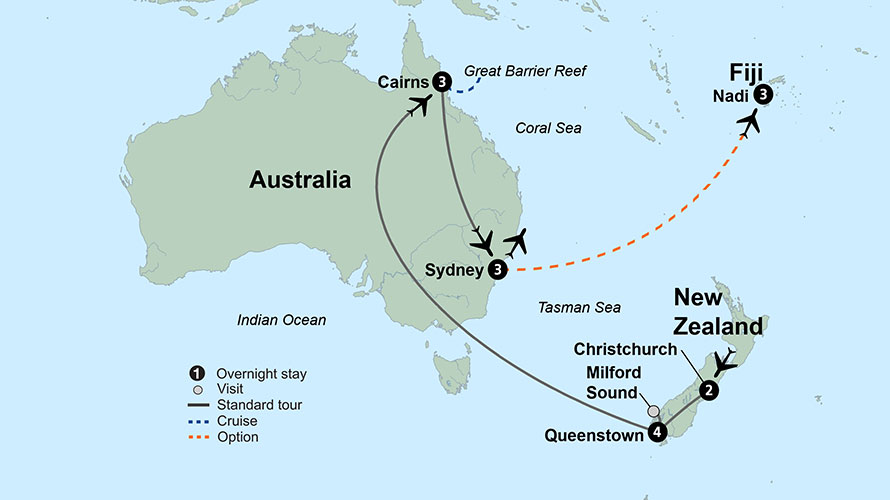 Days 1 – 2: Depart From Canada
Cross the International Dateline, skipping a day ahead. Travel on an adventure of a lifetime.
Day 3: Christchurch – Tour Begins (D)
Arrive in the historic city of Christchurch. Devastated by an earthquake in early 2011, see firsthand how the city known as "the Garden City" is recreating itself. Meet your fellow travelers during a welcome dinner and start your South Pacific journey off on the right foot.
Hotel: Distinction Hotel or similar (2 nights)
Day 4: Christchurch (B)
Start your morning with a city tour of Christchurch. Then, pay a visit to Willowbank Wildlife Reserve. A leader in the conservation of New Zealand species, Willowbank offers the chance to view New Zealand's "Big 5" – the Kiwi, the Kea, the Tuatara, the Kaka, and the Takahe – up close and personal.
Day 5: Christchurch – Queenstown (B/D)
Depart Christchurch and make your way south to Queenstown. Known as the "Adventure Capital of the World," Queenstown is nestled against a picturesque bay and snowcapped mountains. Arrive in Queenstown in the afternoon and have time to explore independently before dinner.
Hotel: Millennium Hotel Queenstown (4 nights)
Day 6: Queenstown  – Milford – Queenstown (B/L)
Enjoy the rugged grandeur of the Hollyford Valley as you travel through an ancient beech forest via the Homer Tunnel. Cruise the Milford Sound and see why this fjord is one of the most visited sights on the South Island. Following your cruise, you may choose to return to Queenstown via a short optional flight (weather permitting) for spectacular views of New Zealand's Southern Alps.
Day 7: Queenstown (B/D)
A free day offers a variety of optional activities to enhance your tour. Shop or people-watch in the village; partake in an optional jet boat ride on the Shotover River; or join an optional tour taking you through the majestic Queenstown countryside showcasing many of the locations where blockbuster movies have been filmed.
Day 8: Queenstown (B/L/D)
Cruise Lake Wakatipu surrounded by Queenstown's stunning landscape aboard an iconic coal-fired steamship. Then, enjoy a BBQ lunch lakeside followed by a sheepdog demonstration before sailing back. Later, it's your choice! Go bird watching at the Kiwi Birdlife Park -OR- take a gondola to the top of Bob's Peak for stunning panoramic views of the area. Gather for a "farewell to New Zealand" dinner.
Day 9: Queenstown – Cairns (B)
Fly to Cairns, the tropical gateway to one of the world's most spectacular natural attractions and a World Heritage site – the Great Barrier Reef. Established as a marine park in 1975, the reef is a haven for thousands of species of sea life, as well as turtles and birds.
Hotel: Bailey Hotel By Crystalbrook or similar (3 nights)
Day 10: Cairns (B/D)
Come to know the history of Australia's original inhabitants at the Rainforestation Nature Park where an Indigenous Pamagirri guide will show you through some of their oldest customs and traditions. Then, visit Hartley's Crocodile Adventures to see crocodiles on a nature cruise. Head through rainforests on boardwalks to see animals such as birds, reptiles, and wallabies. Visit with a koala and chat with a wildlife naturalist to learn more about these furry creatures. End your visit at Hartley's with a dinner of local favorites.
Day 11: Cairns – Great Barrier Reef – Cairns (B/L/D)
Board a high-speed catamaran for an exciting excursion to the Great Barrier Reef. Explore the reef from your base on Green Island. Enjoy a glass-bottom boat ride, stroll the island's walking trails, relax on the beach, snorkel or just watch the fish and sea turtles swim past from the pier. For a more adventurous encounter with the reef, an optional outer reef tour is also available.
Day 12: Cairns – Sydney (B)
The morning is yours. Enjoy your last few hours in Cairns by relaxing and taking in the tropical atmosphere and surrounding neighborhood. Then, fly to the bustling city of Sydney.
Hotel: Novotel Sydney Darling Square or similar (3 nights)
Day 13: Sydney (B)
See where English colonists first settled during a city tour of Sydney, featuring Kings Cross, the Harbour Bridge, Chinatown, the Rocks, Circular Quay, the Botanic Gardens, and the fashionable suburb of Darlinghurst. Take an expert-led tour of the Sydney Opera House, poised majestically on Sydney Harbour. Then, have the chance to join a special presentation at the National Opal Collection. In the evening, consider an optional dinner and engaging performance at the Sydney Opera House.
Day 14: Sydney (B/D)
Embrace the exciting city of Sydney during a day of independent exploration. Tonight, say farewell to Australia while on a delightful dinner cruise of Sydney Harbour. Marvel at the scenic vistas of the harbor, showcasing Sydney's magnificent skyline, the iconic Sydney Opera House, and the Harbour Bridge.
Day 15: Sydney – Tour Ends (B)
Your tour comes to a close today, leaving you with many pleasant memories of a wonderful adventure.
3-Night Fiji Extension from $780 pp (Apr 19 & May 10 departure FREE)
Experienced travelers will tell you, "don't pass up once-in-a-lifetime opportunities." You've come so far; now complete your South PacificWonders tour with an incredible 3 night Fiji Extension. Escape into a tropical paradise. Relax with a fresh fruit drink, read a book, go for a swim —you won't regret adding three nights on this stunning archipelago. OR would you like to extend your vacation with an additional night in Queenstown?
---
Outer Great Barrier Reef $220 pp
City: Cairns
Duration: 7 Hours
Your transportation is included
Jump in and explore the vibrant, colourful world teeming with life at the very edge of the Continental Shelf of the Great Barrier Reef. This massive reef system, the largest in the world, can actually be seen from space. Cruise across the water by catamaran to the Outer Reef pontoon where a diverse, bountiful ecosystem is yours to discover. See the kaleidoscopic underwater sea life up close as you snorkel along the reef. You're sure to have a once-in-a-lifetime experience exploring one of the seven natural wonders of the world.
This option is recommended for strong swimmers and those comfortable in an ocean environment.
---
Dinner And Performance At The Sydney Opera House $384 pp
City: Sydney
Duration: 4 Hours
Your transportation is included
Enjoy a world-class experience featuring a 3-course dinner at a waterfront restaurant with views of Sydney Harbour. Following dinner, take in a dazzling performance at the famous Sydney Opera House – a UNESCO World Heritage Site and one of the most distinctive buildings built in the 20th century.
Must be pre-booked at least 45 days prior to departure. This option is non-refundable at 30 days prior to service date. Performance will be a symphony, opera or ballet, but specific show will not be available until closer to departure date.
To get to the seating of the theatres in the Sydney Opera House, passengers may experience flights of stairs or narrow seats. If there are any passengers that have mobility issues or need special seating, they need to be brought up in advance. It is the client's responsibility to notify Collette prior to the purchase of this option. Collette will notify the Sydney Opera House and make proper arrangements and seating for the traveller.
---
Gold Seeker Metal And Movie Discovery Tour $280 pp
City: Queenstown
Duration: 4 Hours
Your transportation is included
Embark on a 4WD adventure through the primeval, mystical landscapes of the New Zealand high country. In the vastness of an unspoiled wilderness, become lost in the grandeur of New Zealand's South Island – a world immortalized on film in the Lord of the Rings trilogy. Trek to the place where the word "otherworldly" was tailor-made, the Remarkable Mountains, and the entrance to Skipper Canyon. Across roads created by pioneers 150 years ago, follow the miner's old wagon trail along the Arrow River, and stop to try your hand at panning gold. Discover something incredible around every dramatic turn, narrow and twist of this thrilling safari tour.
Australia 
Canadians must be in possession of an Australian visa (Electronic Travel Authority) prior to departure from Canada. Ensure that you travel with  the same passport used to apply for your visa. You can apply online https://www.eta.homeaffairs.gov.au/ETAS3/etas for $20 Australian dollars per person (subject to change). If you prefer Travel Best Bets will issue your Australia visas for $25 CAD per person (plus the Visa costs) after providing your agent with the required information.
New Zealand
Canadian passport holders entering New Zealand will need to get an electronic travel authority before their arrival, even if they are transiting to another country. You will not be allowed to travel to New Zealand if you do not have a visa or an NZeTA. You can apply online https://www.immigration.govt.nz/new-zealand-visas/apply-for-a-visa/about-visa/nzeta You may also have to pay an International Visitor Conservation and Tourism Levy (IVL). The IVL costs NZD $35 and is paid at the same time as the NZeTA. An NZeTA request costs NZD $9 on our free app, or NZD $12 if completed online. Your passport must be valid for at least 3 months beyond the date you expect to leave from New Zealand If you prefer Travel Best Bets will issue your New Zealand visas for $25 CAD per person (plus the Visa coss) after providing your agent with the required information.