See the world, differently
Your passion for travel hasn't waned – if anything, over the past couple of years, it's grown deeper. And your purpose of travelling has also become clearer: to make memories that last a lifetime.
This itinerary was created by experts and is meant to inspire you. It is ready to be customized to suit your interests, tastes and budget so you can connect with local cultures and experience authentic travel on your own terms and departing whenever you choose. Journeys that are fully customized to your dreams and expectations, with your own expert private guides, in exceptional handpicked accommodations that always reflect your preferred style.
Jordan has a tradition of hospitality that is evident from the moment you set foot on its soil. Amidst influences from the Romans and the Nabateans, Jordanian values, and tradition still prevail in a time of urbanization, giving you a quintessential Middle East experience. Roam through the pink sandstone tombs and temples of Petra and enjoy a ride through Wadi Rum while a local private guide shares with you the stories of this enchanting land.
Inclusions
10 night guided vacation
10 night luxury accommodation
Breakfast each morning at your hotel, plus any meals indicated in the itinerary
Private transfers from the airport
Personalized, tailor- made journeys and expert planning from our local guides
Private drivers and guides throughout the tour
One suitcase and one carry-on per person for trip transfers
24/7 in-destination support from our local office
Valid until May 1, 2024
from $5343 per person

Rate is in USD

– per person based on double occupancy
Tour is customizable. Please contact us for more details.
Not Included:
International airfare and domestic airfare not mentioned on the itinerary
Visa(s)
Travel Insurance
Visas (unless noted)
Tips/Gratuities for services and experiences
Lunches, dinners and drinks (alcoholic and non-alcoholic), unless specified in the itinerary
Excess baggage charges
Personal charges such as laundry, phone calls, SIM cards or room service
Passport fees, immunization costs, and local departure taxes (when applicable)
Highlights
Private guided hike in the Wadi Himara canyon.
Overnight stay in a traditional Bedouin tented camp.
Hike Wadi Mujib with a private guide.
Leisure time for optional scuba diving in renowned dive locale, Aqaba.
Full day private guided tour of Petra, UNESCO World Heritage Site.
Day 1: AMMAN
Get Settled
Upon arriving in Amman you will be assisted by a local representative before being transferred to your accommodation.
A Jordanian Tourism tax will be paid on your behalf to cover public liability insurance.
Where you'll be staying: Grand Hyatt Amman (Standard)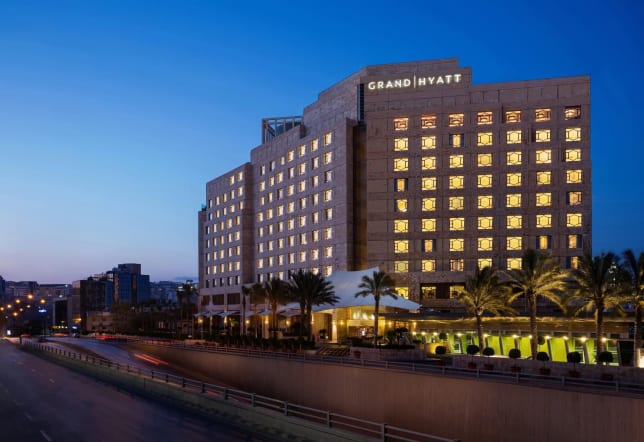 Day 2: AMMAN
Explore with an Expert
A fascinating city of contrasts, Jordan's capital city of Amman offers a unique blend of the old and the new. Today, explore this eclectic Middle Eastern hub with a private guide. Your experience includes stops at the fascinating Roman Theater and Nymphaeum that reflect the historic legacy of the city, and the enchanting Citadel which has stood since the ancient times of the Ammonites. Your introduction to Jordan's rich heritage and culture is further enhanced by visits to the Archaeological and Folklore museums. Your private city tour can also be tailored to your personal interests. If it's shopping you're after, then the pedestrian Wakalat shopping district offers a wide selection of international brand names to choose from. For a more traditional experience, you may want to visit the old-downtown, also known as the "Souq", and take in the traditional sights and smells of the spice market.
Where you'll be staying: Grand Hyatt Amman (Standard)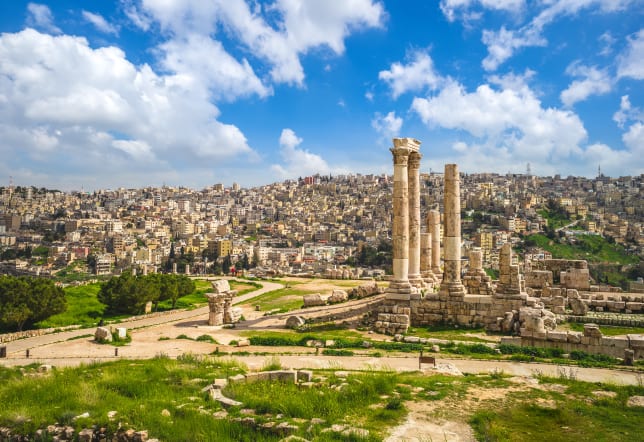 Day 3: AMMAN TO DEAD SEA
Sights and Insights
Nestled in a quiet valley among the picturesque mountains of Gilead, the ancient city of Jerash pays tribute to the history of Roman influence in this part of the Middle East. Being among the largest and best-preserved sites of Roman architecture in the World outside of Italy, it's as if it competes with the grandeur of Imperial Rome. Today, explore this spellbinding historical monument with your private guide. Stroll down its colonnaded streets and explore the soaring hilltop temples, handsome theatres, and spacious public squares. Marvel at the city walls pierced by imposing towers and learn about the Roman chapter of Jordan's history.
A private transfer from Amman to Dead Sea is provided. The approximate transfer duration is one hour.
One of the most unique experiences the Dead Sea has to offer is fun, free and available everywhere! Floating in the Dead Sea is a must do on your list! Just lay back, relax and enjoy this natural phenomenon.
Where you'll be staying: Holiday Inn Dead Sea Resort (Pool View Room)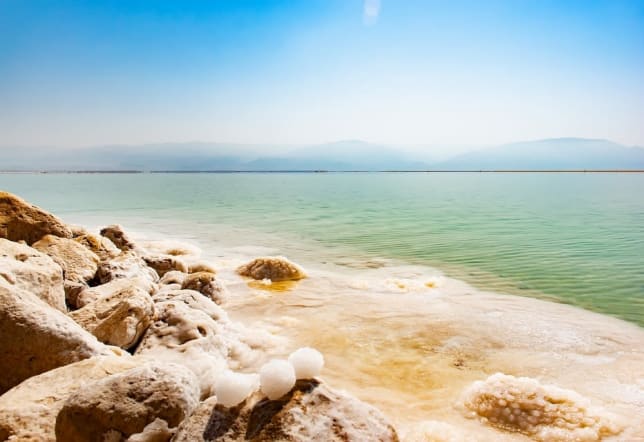 Day 4: DEAD SEA
Lace Up for Some Fresh Air
Wade and trek through the deep sandstone gorge of the Wadi Mujib, Jordan's most spectacular river canyon. This is an adventurous hike that takes you up through the beautiful sandstone ravine of the Wadi Mujib to one of the canyon's highest waterfalls. The trail starts at the Adventures Center near the Mujib Bridge, where you will take the cantilevered walkway over the dam to follow the course of the river between towering sandstone cliffs to the base of a large waterfall. Depending on seasonal rainfall levels, the gorge may contain pools deep enough for swimming. This is an ideal walk to take slowly and enjoy the cool water and shade, especially in the heat of summer.
Where you'll be staying: Holiday Inn Dead Sea Resort (Pool View Room)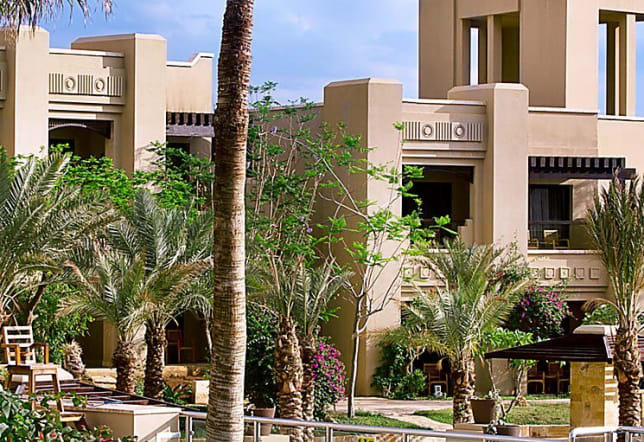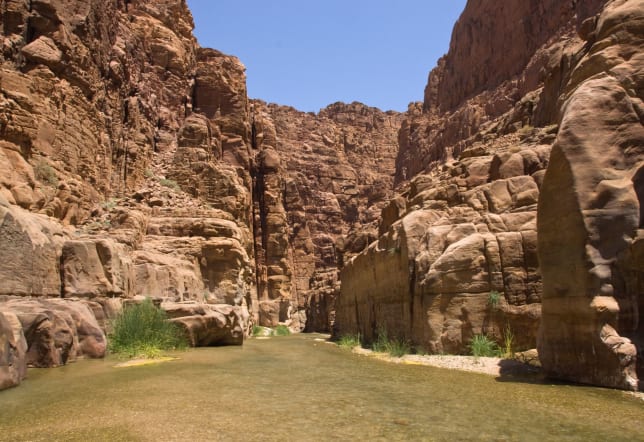 Day 5: DEAD SEA TO PETRA
The Journey Continues…
Believed by many to be the site where Moses got to see the Promised Land, Mount Nebo is a must-stop for anyone interested in Biblical history. Today, tour this special site with your private guide. According to Jewish and Christian tradition, Moses was buried on this mountain by God himself, and his final resting place is unknown. During your tour you will also visit Madaba, home to the famous Byzantine Mosaics. The most renowned mosaic is the captioned map of all major biblical sites spanning from Lebanon to Egypt housed in the 19th century Greek Orthodox St George's Church. Marvel at this intricate piece of art and learn about the history of this corner of Jordan from your guide.
A private transfer from the Dead Sea area to Petra is provided. The approximate transfer duration is three hours.
Enjoy some time at Siq Al-Barid (Little Petra), located to the north of Petra, only a 10 minute drive away. A classical temple stands guard outside the miniature siq which would appear to have been an important suburb of the city of Petra, situated at the point where several ancient caravan routes met, linking Wadi Araba with Gaza, Egypt and the Mediterranean coast. The narrow file, just over 1,100 feet long, is crammed with tombs, temples, triclinia, houses, water channels and cisterns. The surrounding area is picturesque and great for exploration.
Where you'll be staying: Petra Guesthouse (Standard)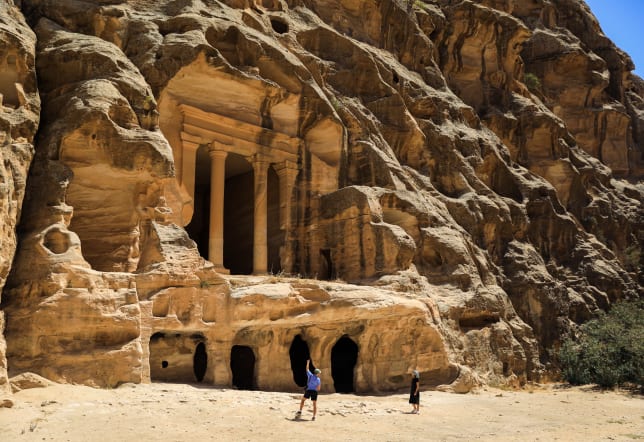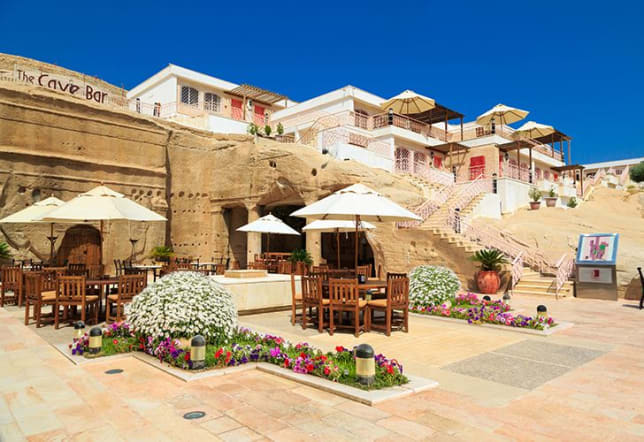 Day 6: PETRA
Cross an Item off the Bucket List
Cross an item off your bucket list on a private tour of the enchanting sandstone city of Petra. A treasure of the ancient world, the Rose City is full of mysterious charm that has attracted adventure seekers from all over the globe for many decades, and there is simply no better way to experience it than in the company of a private local guide. Today's full day tour takes you south to Wadi Musa, the home of Petra nestled in the arid heart of Jordan. Journey back in time as you marvel at the remains of this Nabatean city painstakingly chiseled into rocky environment. After lunch, you will also get an opportunity to do some self-guided exploration of the site before heading back to your accommodation.
Where you'll be staying: Petra Guesthouse (Standard)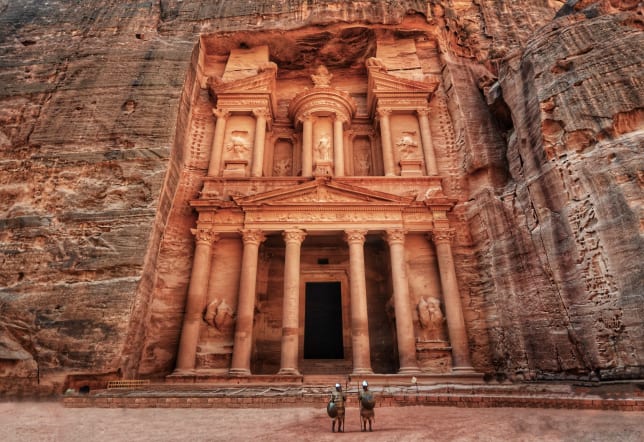 Day 7: PETRA TO WADI RUM
Nurtured by Nature
Get a breath of fresh air and explore the picturesque wadis of Dana Nature Reserve on a private tour. Situated north of Petra, Dana is home to wildlife, jaw-droppingly stunning landscapes, and thousands of years of history. Best explored on foot, there are a series of trails – some guided, some self-guided – which take in a variety of sights from canyon scenery to local villages and ancient copper mines.
A private transfer from Petra to Wadi Rum is provided. The approximate transfer duration is one hour and 30 minutes.
Spend the evening at leisure at your Bedouin tented desert camp. Enjoy the pool, sit around one of the central fires, and watch the sunset over the camp's small mountain backdrop of the Moon Valley.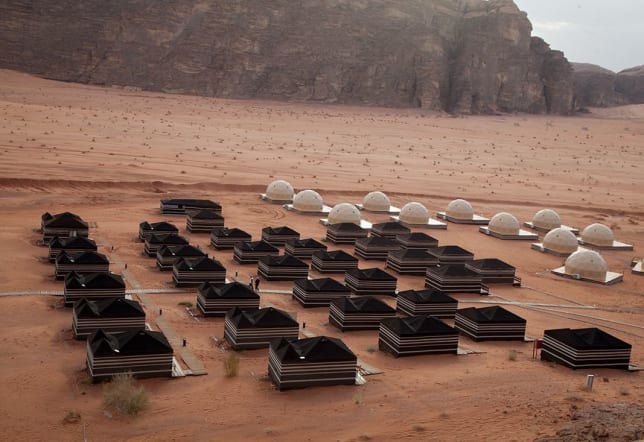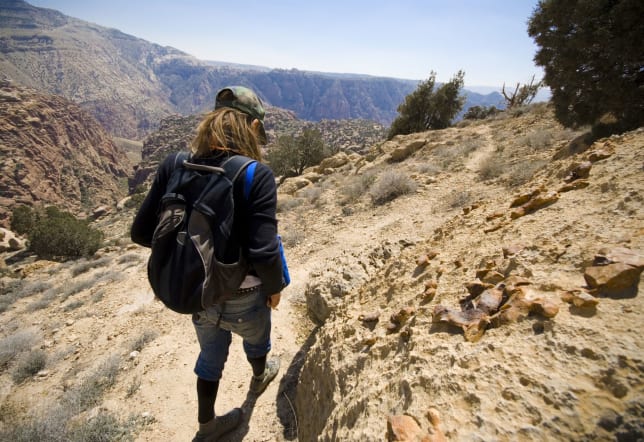 Day 8: WADI RUM TO AQABA
En Route
A private transfer from Wadi Rum to Aqaba is provided. The approximate transfer duration is one hour.
This afternoon, enjoy time at leisure to explore at your own pace, or relax at your hotel.
Where you'll be staying: Movenpick Resort & Spa Tala Bay Aqaba (Standard)
Day 9: AQABA
Beach Bliss
Experience a connection with nature; a feeling of freedom, and a transformation. Diving connects you with nature and there is no better place to do it in Aqaba. The Red Sea offers one of the most amazing and adventurous diving trips in the area. Enjoy your trip while exploring the aquatic life in the Red Sea.
Note: this is an optional activity at your own expense.
Where you'll be staying: Movenpick Resort & Spa Tala Bay Aqaba (Standard)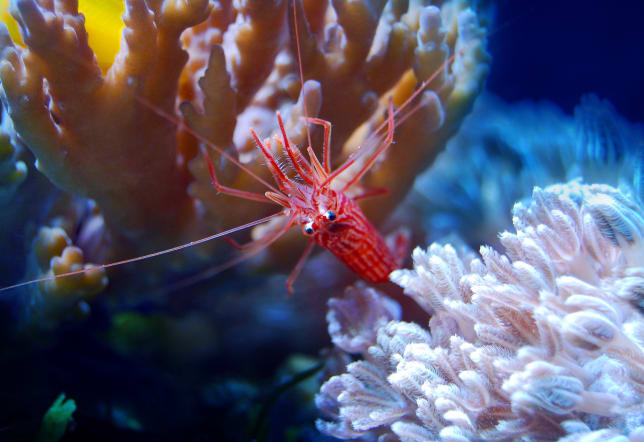 Day 10: AQABA
A Bit of Time on Your Own
Enjoy time at leisure to explore at your own pace, or relax at your hotel.
Where you'll be staying: Movenpick Resort & Spa Tala Bay Aqaba (Standard)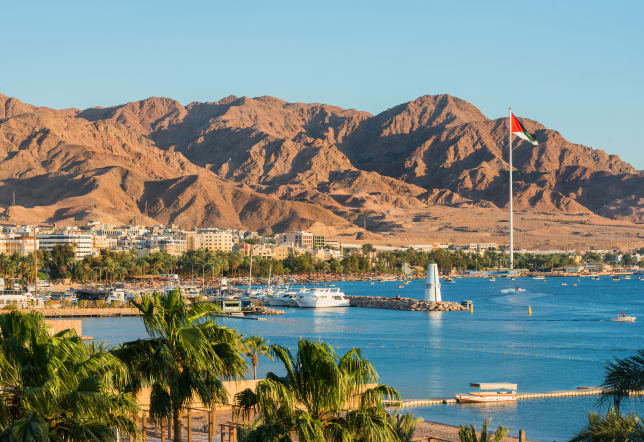 Day 11: AQABA TO AMMAN
Jet Off
A private airport transfer is provided.
Board a flight in Aqaba with service to Amman. Approximate flight duration is 30 minutes.
Grand Hyatt Amman
The Grand Hyatt in Amman offers central access to the city's hustle and bustle. The rooms are well-appointed, with many options on style, size, and luxury. Choose the club rooms for all the frills and extra touches. The standard room also promises lush bedding and linen, with arabesque decor. Friendly and professional service is promised to all guests. Dining is an occasion to be enjoyed, with delicious international and local specialties served in all fashions. Try the chefs' specialties using seafood, Mulwarra beef, or spices from across the globe. Walk through the mall for some window shopping or when picking up souvenirs. Later, cool down in the hotel swimming pools.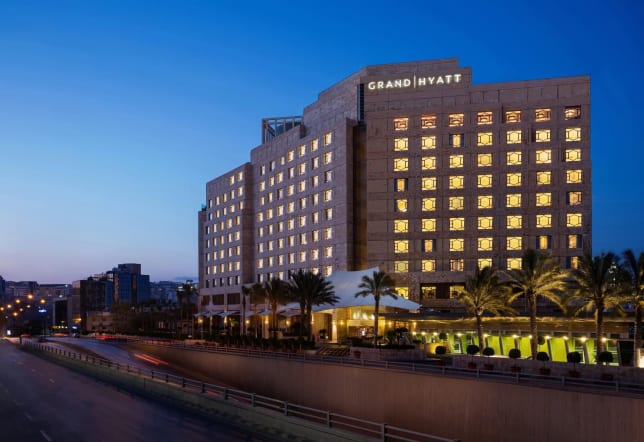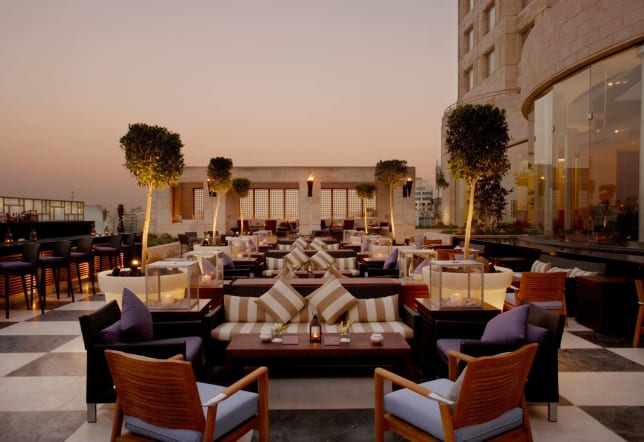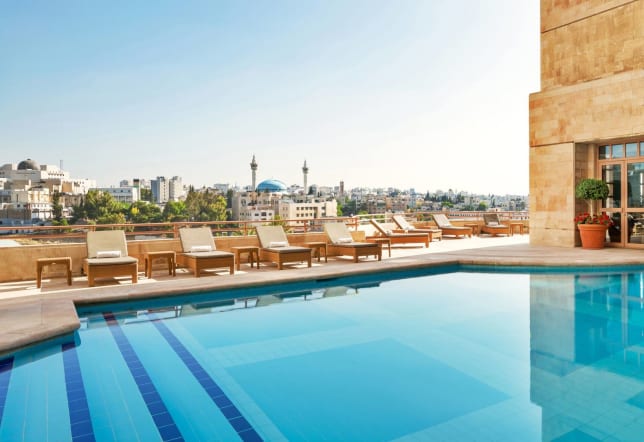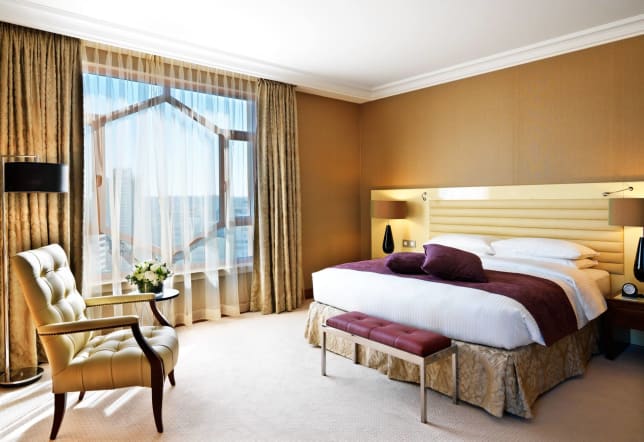 Holiday Inn Dead Sea Resort 
Soak up the ancient magic of Jordan's Dead Sea in contemporary comfort at the Holiday Inn® Resort Dead Sea hotel. A 45-minute drive from Queen Alia International Airport, the 5-star hotel has a sun-drenched private beach whose soft sands are lapped by the healing waters of the world's most famous salt lake. Three palm-fringed, heated pools link the Dead Sea with the sand-colored hotel, making this a water lover's paradise. Parents can watch the horizon from the infinity pool, or sip a cocktail at Dive Inn Bar while their children splash in the kids' area. Swim out to Jacuzzi island and forget the outside world – or stay in touch using complimentary, high-speed Wi-Fi. Luxurious massages and facial treatments in Shape Up spa use natural Dead Sea products. Drift effortlessly in the Dead Sea and pamper yourself at the luxurious Holiday Inn Resort Dead Sea.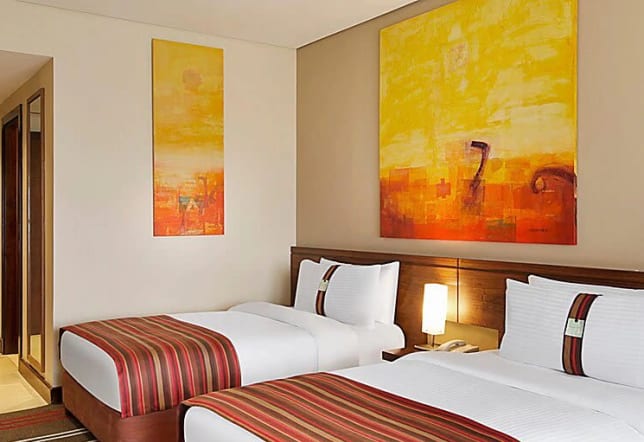 Petra Guesthouse
The Petra Guesthouse is ideally located in the majestic city of Petra, only a few steps away from the famous archaeological sites. Enjoy the spectacular views of the mountains from the well-appointed guestrooms and chalets tucked in stones. All of the welcoming guestrooms have mountain views and all are fully equipped with modern amenities. The guesthouse also offers a lobby lounge, main dining restaurant and an original Nabatean bar surrounded with a large Piazza.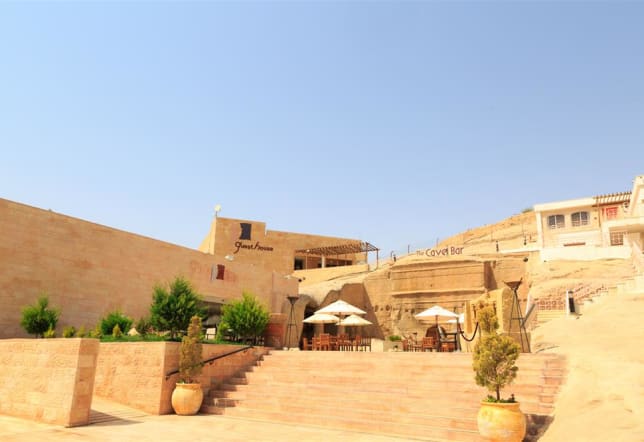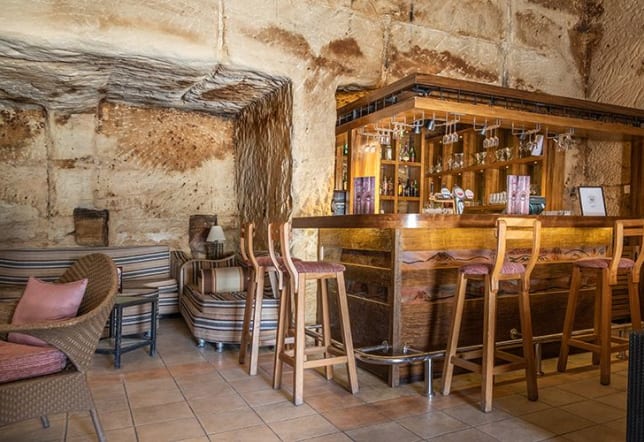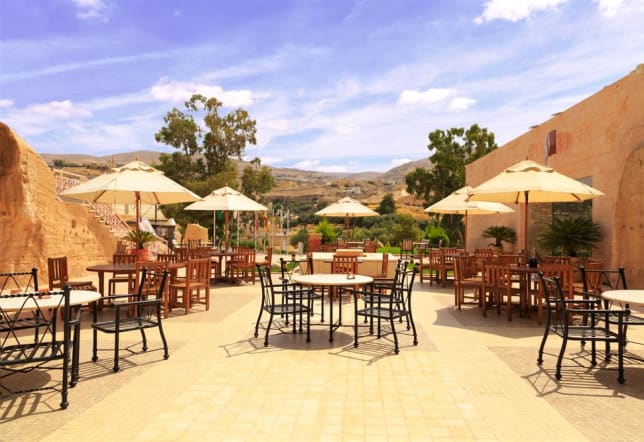 Sun City Camp – Wadi Rum
Experience the serene beauty of Wadi Rum's majestic desert at Sun City Camp, where guests are treated to the spiritual soothing experience of living in the desert and the simplicity of Bedouin life in the valley, with its unmatched authentic charm and beauty. The camp offers a high standard of service with panoramic mountain view tents, ranging from traditional Bedouin tents, royal tents, family suites or the unique signature Martian Domes, and offers a wide range of relaxing and adventurous recreational activities. The property is equipped with a large reception tent with Wi-Fi in the dining area, and guests are offered freshly cooked buffet style meals with a range of cuisines to choose from. Guests are welcomed to the camp with fresh juice and refreshing face towels. The Wadi Rum camp is located approximately 37 miles from Aqaba and 194 miles from Amman.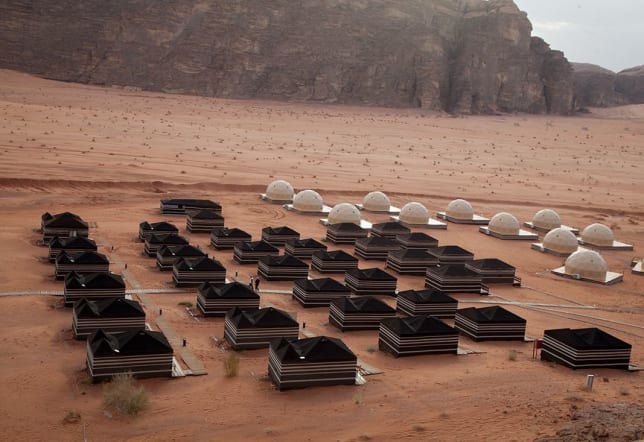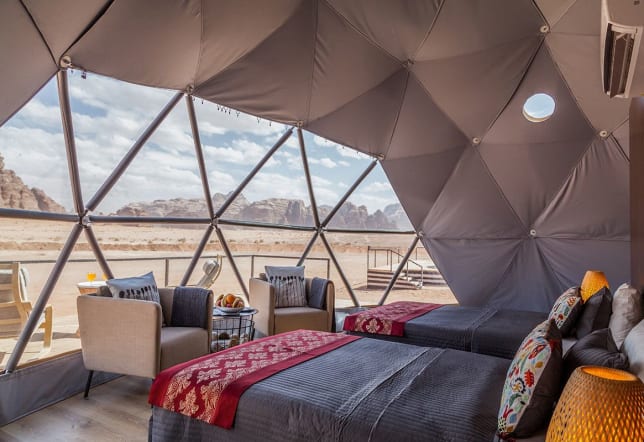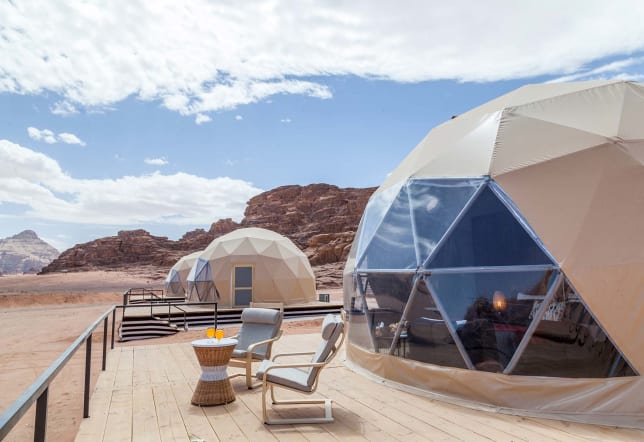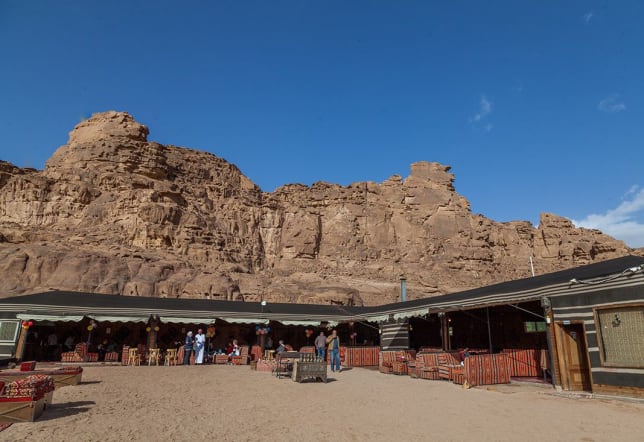 Movenpick Resort & Spa Tala Bay Aqaba
Relax on the private beach, dive in the Red Sea and unwind with a spa treatment – all while staying at the luxury Mövenpick Resort & Spa Tala Bay Aqaba. This award-winning resort combines contemporary decor and first-class facilities in a stunning beachfront location just 15 minutes from Aqaba's city centre and 25 minutes from King Hussein International Airport. Enjoy complimentary WiFi and views of the Red Sea, mountains, gardens or pools from the 306 rooms, family rooms and suites. All hotel rooms have private terraces or balconies, so you can unwind at leisure with a drink from the free minibar.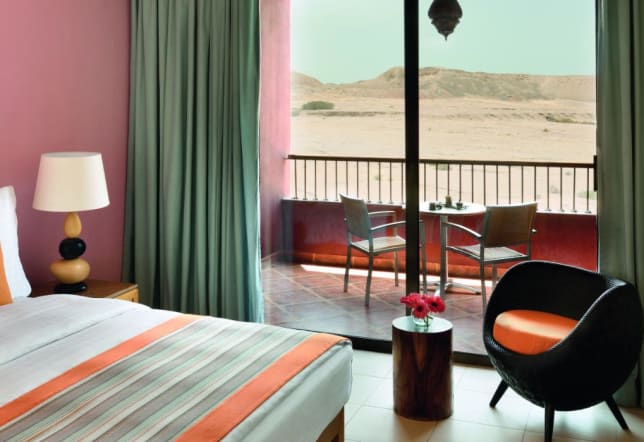 Every journey begins with a conversation
We think care and curation make all the difference in the world. Understanding your travel vision is the first priority.
No fixed dates or schedules.
Escape the tour bus crowds and explore on your own terms, departing and returning whenever you choose.
The freedom of flexibility
Travel whenever you want, for as long as you want with the option to change your plans on the fly – even in-destination.
Tailor-made for you
Mix relaxation, luxury and adventure as you wish with an itinerary designed to suit your preferred pace of travel.
Accommodating your every need
Custom-made for every type of traveler, accessible and inclusive options ensure a comfortable and fulfilling experience.
Itineraries designed by well-traveled experts
Our Destination Experts are people with deep, local knowledge of the areas they represent, having lived, worked or traveled extensively throughout the region.
The best of each destination
Our team travels regularly to source and individually vet each and every activity, accommodation and experience featured within our product offering. Your Destination Expert will help you discover these special restaurants, galleries and museums before they hit the guidebooks.
A single point of contact
The Destination Expert who designs your personalized itinerary will keep in touch throughout your journey from planning to unpacking.
Local secrets unlocked
Cultivate a deeper understanding of your destination with one of our local, English-speaking, private guides by your side. Become immersed in local traditions, cuisines and customs as your guide reveals hidden gems.
Only the best will do
Our exacting standards and vetting process in combination with a proprietary training program designed to reflect the expectations of North American travelers ensure access the finest local, private guides worldwide.
Specialist guides
From historians and archeologists to culinary experts and world-class athletes, enhance the private-guided experience by opting for an excursion with a local expert.
Your trip. Our responsibility
With our industry-leading, 24/7 support and operational expertise you'll travel with peace of mind. Should hiccups occur, you can rest assured that our round-the-clock assistance is only a phone call away.
The moment you touch down
Once you clear customs, we're there for you and will take care of the rest. A Kensington Tours representative will meet you at the airport to start your personalized trip.
Live updates
We stay in touch with you throughout your travels. If changes are necessary, you'll receive live updates via the Kensington Tours app.
We're invested in your trip
Anyone can book a vacation, but we're in the business of turning travel aspirations into reality. If you're not happy, just let us know and we'll make it right.