Come island-hop the Southern Hemisphere with Norwegian on a cruise through Australia and New Zealand. Melbourne offers an ideal blend of a vibrant city surrounded by extraordinary landscapes and abundant wildlife – where you can indulge in fine dining and local wineries or hang with irresistibly adorable koalas and kangaroos. Then travel along the Dunedin Peninsula to the Royal Albatross Centre for a rare opportunity to see this incredible birds that boasts 10-foot wide wingspans and visit the historic Larnach Castle and explore its lush grounds. From Tauranga, unwind at Rotorua's famous hot springs and learn about Maori culture at Te Puia's Maori Arts & Crafts Institute.
Inclusions
12 night cruise aboard Norwegian Spirit
Book a

Balcony

and receive an exclusive $50 USD per cabin on board credit! Plus 

Norwegian's Free at Sea Promotion! Choose up to 4 Offers:




1. Premium Beverage Package ($301.10 per person service charge*)




2. Specialty Dining Package ($22.56 per person service charge*)




3. 250-Minute Internet Package




4. $50 USD Per Port Shore Excursions


(Promotional offer may be withdrawn at anytime)
| | |
| --- | --- |
| January 15, 2023 | Cruise Only |
| Inside | $1479 |
| Oceanview | $2238 |
| Balcony | $3849 |
| Taxes & Fees | $534 |
Inside & Oceanview: Upgrade your rate to Norwegian's Free at Sea Promotion! Choose up to 4 Offers:
1. Premium Beverage Package*
2. Specialty Dining Package*
3. 250-Minute Internet Package
4. $50 USD Per Port Shore Excursions
(Promotional offer may be withdrawn at any time. *Service charges and/or gratuities are additional. Restriction applies. The offer is not applicable to categories IX, OX, BX, or MX (Sail Away Categories).
Do you have a Future Cruise Credit?
Call us today to make redemption a seamless process!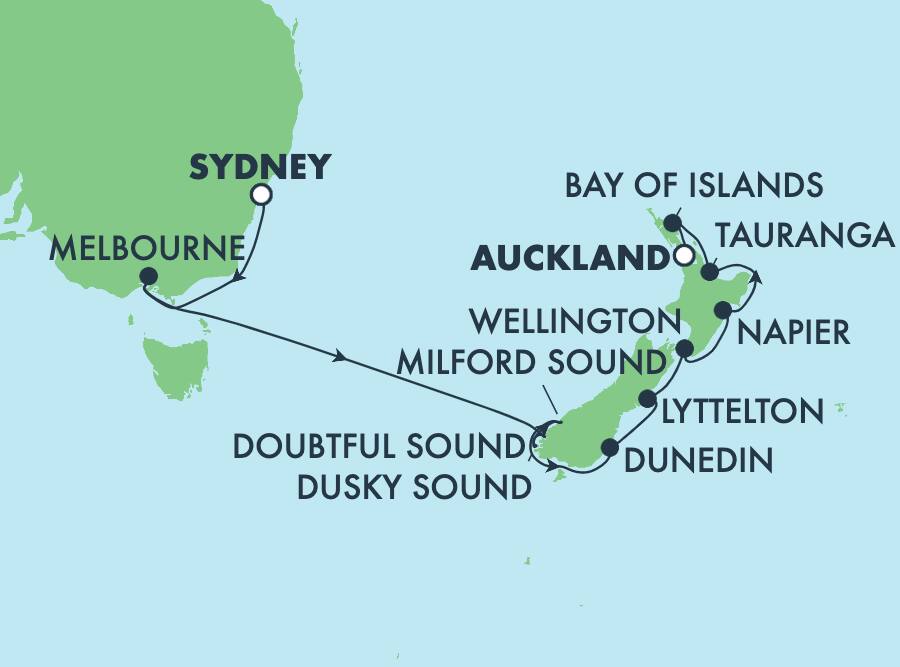 SUN., JAN. 15 – FRI., JAN. 27 2023
Day
Cruise Ports
Arrive
Depart
Sun
Sydney, Australia (EMBARK)
—
6:00 pm

Sydney's harbour is the hub from which there?s much to see and do. You?ll want to explore this area, home of the iconic Opera House. Admire the skyline, swim at a harbour beach or cross the Sydney Harbour Bridge. Want to see surfing? Grab your sunblock and towel and spend the day on world-famous Bondi Beach, or take a scenic walk on the coast from Bondi to Coogee Beach. The Rocks district is a shopper?s mecca offering a wide variety of goods, from woodcrafts and unique art to outback fashions.

Mon
At Sea
—
—
Tue
Melbourne, Australia
8:00 am
5:00 pm

Once the richest city in the world thanks to a gold rush, Melbourne is Australia?s cultural capital with striking architecture, chic galleries and boutiques. Wave at a wallaby or get close to a koala at a wildlife park. Feel closer to the land on a ride on the Puffing Billy steam locomotive through the mountains and countryside. Back in the city, explore a different culture and visit Chinatown ? the oldest one in the West.

Wed
At Sea
—
—
Thu
At Sea
—
—
Fri
Cruise Doubtful Sound
—
—

Although technically not a sound (it's a fjord), Doubtful Sound is the second longest in New Zealand and the country's second most famous tourist attraction. It does, however, capture the top spot for being the deepest, at over 1,300 feet. Doubtful Sound sits at the far southwest corner of the country and winds its way for 24 miles, past small islets and lush mountains covered in dense, native rainforest. With a staggering amount of precipitation, up to 240 inches, it?s no wonder that it?s so verdant, and also why most days are wet and misty with low-lying clouds. But where there is rain, there are rainbows, which makes for spectacular scenes, especially at the many waterfalls, some of which fall over 2,000 feet. Doubtful Sound is also home to fur seals, crested penguins, bottlenose dolphin and whales. Black coral even grows here at relatively shallow depths (35 feet) thanks to the sunlight?s inability to penetrate the top layer of freshwater, stained heavy with tannins from the forests.

Cruise Dusky Sound
—
—

At 25 miles in length, and five miles wide at its broadest, Dusky Sound is the largest and most spectacular fjord in Fjordland National Park. Captain Cook named Dusky Sound in 1770, as he sailed past its entrance at twilight. Three years later, he returned and stayed 47 days as his crew repaired and replenished his ship, Resolution, after sailing 11,000 nautical miles from Cape Town. You can still see evidence of his landfall at Astronomer?s Point, an overlook where the crew removed trees, so the ship?s astronomer could get a reading on the stars. Dusky Sound is only accessible by boat or plane making its remoteness a haven for birds and a breeding site for Fjordland crested penguins. These endangered creatures are easy to spot with their bright yellow eyebrows. Other wildlife to look for include sunbathing seals on Seal Rock and southern right whales at Preservation Inlet. Upon entering Dusky Sound, it?s customary to make a resolution as you sail past Resolution Island, named after Cook?s ship.

Milford Sound, New Zealand
—
Overnight

Carved by ancient glaciers, Milford Sound, which is really a fjord, is the crown jewel of Fiordland National Park and a UNESCO World Heritage site. It is only nine miles long from its head to the open sea, but what it lacks in size, it makes up for in grandeur. Its vertical cliffs covered in verdant rainforests provide a breathtaking backdrop to thundering waterfalls, misty rainbows and the tannin-stained waters of the fjord. Below the surface is the largest population of black coral in the world. Milford Sound receives an amazing 22 feet of precipitation annually, yet there are only two permanent waterfalls, Lady Bowen and Sterling Falls. Depending on the weather, waterfalls can appear around every corner, cascading down the mountain in spectacular fashion. Rising upwards of 5,555 feet, the iconic landmark of Milford Sound is Mitre Peak, named for its resemblance to a bishop?s hat, known as a mitre. Five individual peaks create its distinctive shape.

Sat
Dunedin (Port Chalmers), New Zealand
9:00 am
7:00 pm

This dramatic South Island coastal town offers a mix of unique natural beauty and fascinating history. Rare, yellow-eyed penguins, fur seals and the Royal Albatross all call Dunedin home. Equally impressive is the Victorian and Edwardian architecture that dates from its days as a gold rush town. New Zealand's only castle sits high above the city and offers sweeping views from its famous gardens. Shop for a locally made souvenir, with crafts, artwork, wool and leather items being popular.

Sun
Lyttelton, New Zealand
8:00 am
6:00 pm

Just 20 minutes from the centre of Christchurch city, Lyttelton is a charming port town with a long history. Back in 1850, the first European settlers landed in Christchurch before heading over the Port Hills to establish their new home. Today, Lyttelton is accessed by an impressive road tunnel. It's a vibrant town, home to a small community of 3,000 residents, filled with bohemian artists, cafés, restaurants and unique shops to discover.

Mon
Wellington, New Zealand
8:00 am
5:00 pm

Travel to a Victorian past as you stroll by the city?s Victorian Gothic buildings. Take the cable car up the mountain for a fantastic view, or grab some sunscreen and head to the beach. Great views abound in Wellington: Journey around the spectacular harbour and enjoy its amazing views. See some of the sites where the Lord of the Rings trilogy was filmed. Shopping opportunities are plentiful, with arts and crafts, jewelry, fine woolens and leather goods on offer.

Tue
Napier, New Zealand
7:00 am
5:00 pm

Napier calls itself the Art Deco capital of the world, but it?s also a leading wine-travel destination. Levelled by an earthquake in 1931, Napier was rebuilt in Art Deco style. Along with Miami Beach, Napier is one of the best examples of this style, with many of its structures well preserved. Take a walk down Marine Parade, a tree-lined ocean boulevard with fountains and gardens, or go out to the country to enjoy the lovely vistas, tour superb area vineyards and relax with a glass of wine.

Wed
Tauranga, New Zealand
11:00 am
8:00 pm

Go walk-about and explore Tauranga, set on the beautiful Bay of Plenty. And indeed there are plenty of things to do. Head to the beach or discover Tauranga?s lovely parks and rich history. Visit a village buried by a volcanic eruption and captured in a moment of time ? a fascinating yet moving experience. Take a selfie at Hell?s Gate, an aptly named geothermal park with boiling pools, fantastic geysers and mud baths, the largest of which is Poutamu, "the stairway to heaven."

Thu
Bay of Islands, New Zealand
9:00 am
6:00 pm

This subtropical region of around 150 undeveloped islands is known for its stunning beauty and history. From kayaking to fishing to wildlife watching, it?s a water enthusiast?s paradise. You?ll want to have your camera ready for an abundance of sea life, from dolphins that fly to penguins that dress in blue. The site of New Zealand?s first British settlement, it offers numerous historic sites as well. Meet local artists while shopping for paintings, pottery, textiles and woodcarvings.

Fri
Auckland, New Zealand (DISEMBARK)
8:00 am
—

Surrounded by tranquil golden beaches, lush forests and dramatic coastal trails, Auckland is a nature lover?s paradise. The 48 volcanic cones that dot the surrounding area provide stunning panoramic views of the city and harbour. New Zealand?s largest city is also a shopper?s paradise offering everything from top designers to local open-air markets. Learn about the indigenous Maori and take home some native art pieces or jewelry. The fine, locally produced woolens also make excellent gifts.
Please Note:
Disembarkation usually begins 2 hours after docking.
Due to security reasons, all guests must be on board 2 hours before sailing.
Itineraries are subject to change at any time without notice.
Check your specific sailing for exact departure and arrival times. All times are local to the port.
Please visit https://cibtvisas.ca
Australia 
Canadians must also be in possession of an electronic travel authority (ETA) to visit Australia. Ensure that you travel with the same passport used to apply for your ETA.
New Zealand
Canadians entering New Zealand without a visa need to get an electronic travel authority before their arrival, even if they are transiting to another country. New Zealand Electronic Travel Authority