The South Pacific puts on quite a show, and the region's incredible diversity of scenery is front and center on this 11-night journey through the Cook and Society Islands. From the rugged terrain of Rarotonga and coral reef-lined lagoon of Aitutaki to the jaw-dropping beauty of bucket-list mainstays Bora Bora and Moorea, you'll be hard pressed to pick your favorite port.
Inclusions
11 nights cruise aboard the 5+ star m/s Paul Gauguin
Paul Gauguin Cruises All-Inclusive Distinctions:
• All onboard meals—breakfast, lunch, dinner, and complimentary 24-hour room service
• Onboard gratuities for room stewards and dining/bar staff
• Complimentary non-alcoholic beverages and select wine, beer, and spirits
• Onboard entertainment, including our own troupe of Polynesian host/entertainers and presentations by local naturalists and a variety of special guests
• A state-of-the-art, retractable water-sports marina featuring complimentary kayaking and paddle boarding

Exclusive rates and up to $500 USD onboard credit per cabin!
Cruise Only
May 18, 2024
September 27, 2025
F Porthole
$4999
$5129
E Window
$5289
$5959
D Balcony
sold out
$7469
C Balcony
$7629
$7799
B Balcony (includes Butler service)
$9739
$9959
Taxes & Fees
$271
$250

Rates in USD.

Per person based on double occupancy.
Single occupancy rates are available.


The offer is valid for residents of Canada only.
You May Also Like: More Paul Gauguin Voyages
Highlights
Hidden beneath the emerald foliage on the "Garden Island" of Huahine, you'll find hidden temples surrounded by rare orchids, ancient archeological sites, and panoramic views that are sure to take your breath away. What more could you ask for?
Spend two long, luxurious days in storied Bora Bora. You've seen the photos and magazine covers, but the real deal is even more beautiful than you could have ever imagined. Take it all in with a dip in the lagoon or a sunset sail.
Live the life idyllic with a memorable day on Motu Mahana, our own private slice of paradise. On this exclusive islet, treat yourself to sand between your toes, the shade of swaying palm trees, a sumptuous barbecue lunch, and, of course, drinks sipped from coconuts.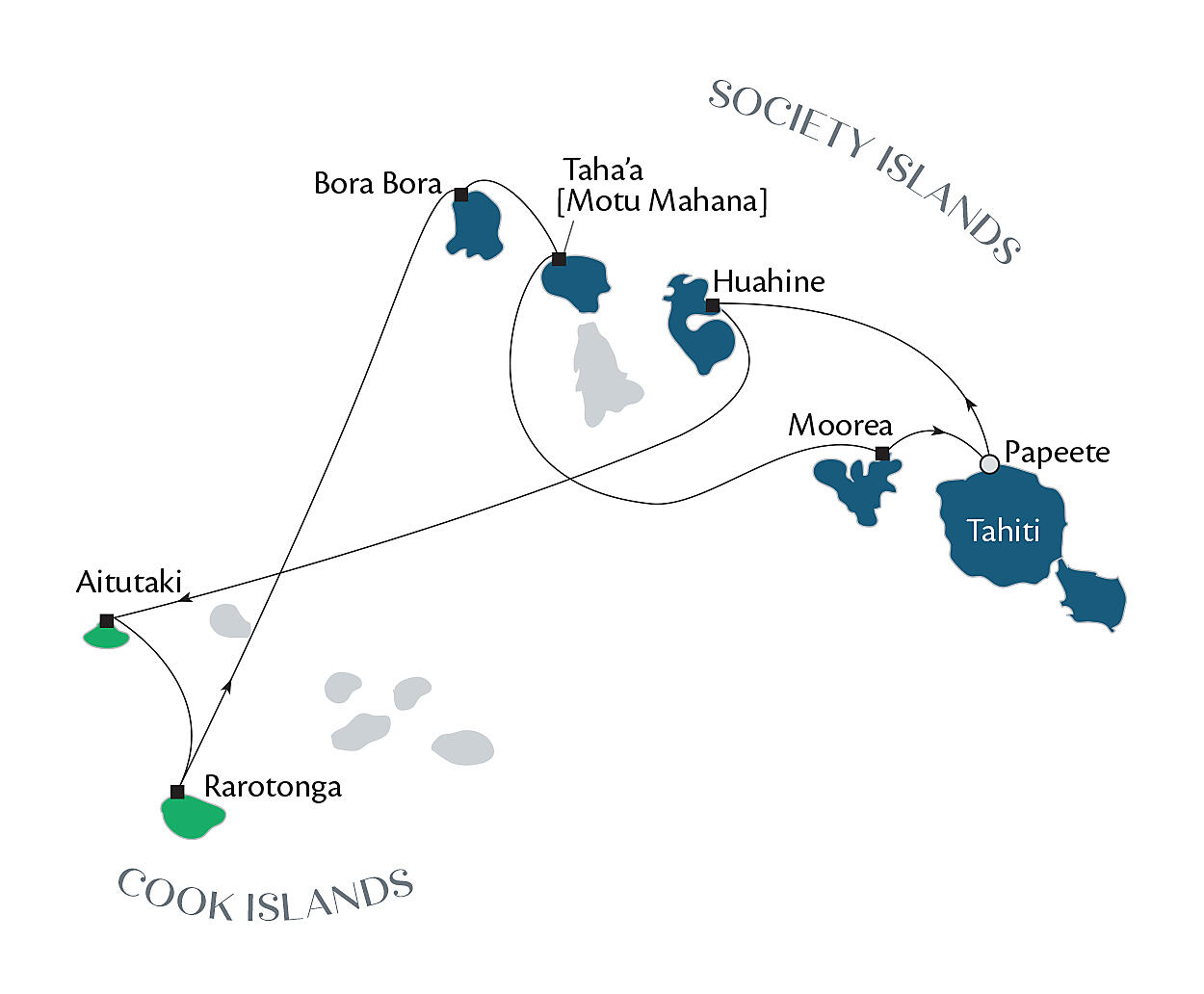 2023/2024/2025
Date
Port
Arrival Time
Departure
Saturday
Papeete, Tahiti, Society Islands
Embarkation begins at 4:00 pm,
all guests have to be on board
before 5:00 pm
6:00 pm
Sunday
Huahine, Society Islands
8:00 am
6:00 pm
Monday
Sea Day
Tuesday
Aitutaki, Cook Islands
8:00 am
6:00 pm
Wednesday
Rarotonga, Cook Islands
9:00 am
5:00 pm
Thursday
Sea Day
Friday
Bora Bora, Society Islands
8:00 am
Saturday
Bora Bora, Society Islands
11:00 pm
Sunday
Taha'a, Society Islands
9:00 am
5:00 pm
Monday
Moorea, Society Islands
8:00 am
Tuesday
Moorea, Society Islands
5:00 pm
Tuesday
Papeete, Tahiti, Society Islands
8:15 pm
Wednesday
Papeete, Tahiti, Society Islands
7:00 am
Day 1 – Embark the m/s Paul Gauguin in Papeete, Tahiti, Society Islands The largest of French Polynesia's 118 islands, Tahiti and its capital city of Papeete are the perfect place to begin your South Pacific sojourn. The Gauguin is already waiting in the harbor for your adventure to begin on the island that's called "the Queen of the Pacific."
Day 2 – Huahine, Society Islands Don't be fooled by the vibe of this laid-back, secluded island. Many treasures are hidden among the lush rainforest and dramatic terrain. With a bit of exploration, you'll uncover some of the best-preserved archeological sites in French Polynesia. Underwater treasures await as well, with a SCUBA excursion in the lagoon.
Day 3 – At Sea Your journey is all about discovery, and the exploration doesn't end when you board The Gauguin to make your way to your next destination. Indeed, your time at sea is packed with educational opportunities, from lectures given by renowned anthropologists to cooking lessons with the executive chef, and more. Of course, two days at sea mean there's also ample time to plan your next adventure.
Day 4 – Aitutaki, Cook Islands It is believed that this island was settled around 900 AD by legendary Polynesian explorer Ru. Today, the island is a wealth of cultural tradition, with inhabitants keeping their history alive through song, dance, legends and crafts. If outdoor pursuits are more your speed, consider taking the easy hike to the highest peak on the island, Maunga Pu, where you'll be rewarded with 360-degree views, or explore Aitutaki's beautiful lagoons.
Day 5 – Rarotonga, Cook Islands Rarotonga is the hub of the Cook Islands yet remains totally unspoiled. You won't find any building taller than the highest coconut tree! So the question is what to do first? Enjoy a guided tour with the famous Pa, visit the cultural village, or rent a scooter and take a drive around the whole island. Decisions… decisions.
Day 6 – At Sea Have you met Les Gauguins and Les Gauguines yet? Our onboard hosts are at the ready to share their Polynesian culture, with Tahitian dance lessons, hands-on traditional craft demonstrations, and an array of activities for all ages. You'll see them on stage in the evening, wandering through the restaurants, teaching crafts in La Palette, or strumming and singing poolside while you're basking in the sun.
Day 7 & 8 – Bora Bora, Society Islands Indulge in two full days in Bora Bora, exploring lush peaks, wandering white-sand beaches, and marveling at iconic views of Mount Otemanu. Take the plunge with a SCUBA excursion to see the island's colorful coral reefs, enjoy a sunset jetboat ride, or spend a lazy afternoon on our private beach.
Day 9 – Taha'a (Motu Mahana), Society Islands As the day unfolds in front of you in Taha'a, where will you go? Exciting shore excursions await, but so does Motu Mahana, Paul Gauguin Cruises' own private islet. Choose from swimming, snorkeling, kayaking, or simply lounging on the beach with a cold drink from our floating bar. Les Gauguines are also on hand to share musical entertainment and Polynesian crafts.
Day 10 & 11 – Moorea, Society Islands Said to be the inspiration for James A. Michener's novel "South Pacific" (and the Rogers & Hammerstein's musical tribute, too), Moorea is a favorite port of travelers, though it might be hard to put your finger on why. The "Magical Island" hypnotizes with multi-hued lagoons, mountain peaks, quaint villages, and pineapples—yes, pineapples. They're said to be the most delicious in all of French Polynesia.
Day 12 – Disembark in Papeete, Tahiti, Society Islands Tahiti's capital city of Papeete is where we'll part ways and say "until we meet again." But your journey doesn't have to end just yet—Tahiti's resorts, spas, restaurants, shopping, and nightlife await.