Explore wild beauty and important history on this immersive journey navigating the remote island countries of Melanesia, from the verdant landscapes of Australia's Northern Territory to the tribal culture of Papua New Guinea and the historical WWII significance of Guadalcanal. Two days in the Solomon Islands allow for incredible snorkeling and diving, with the pristine beaches and enchanting culture of Vanuatu ready to welcome you just beyond. Arrive in Fiji, ready to discover its vibrant markets and famed shores.
Inclusions
16 nights cruise from Darwin to Lautoka aboard the 5+ star m/s Paul Gauguin
Paul Gauguin Cruises All-Inclusive Distinctions:
• All onboard meals—breakfast, lunch, dinner, and complimentary 24-hour room service
• Onboard gratuities for room stewards and dining/bar staff
• Complimentary non-alcoholic beverages and select wine, beer, and spirits
• Onboard entertainment, including our own troupe of Polynesian host/entertainers and presentations by local naturalists and a variety of special guests
• A state-of-the-art, retractable water-sports marina featuring complimentary kayaking and paddle boarding
Canadian Resident rates, plus receive up to $300 USD onboard credit per cabin!

(price reflects discount)
April 15, 2025
Cruise Only
F Porthole
$7169   $6789
E Window
$7959   $7539
D Balcony
$9759   $9249
C Balcony
$10319  $9779
B Balcony (includes Butler service)
$12439  $11799
Taxes & Fees
$350

Rates in USD.

Per person based on double occupancy.
Single occupancy rates are available.
The offer is valid for residents of Canada only.
You May Also Like: More Paul Gauguin Voyages
Promotion is subject to change without notice.
Highlights
Experience the unique culture of Papua New Guinea's Milne Bay people on a call to Alotau, and explore the region's stunning coral reefs, tropical rainforests, and WWII historical sites.
Balance your overnight discovery of Honiara with immersive adventures among waterfalls, coral reefs, and rainforests, and visit the haunting remnants and battlefields of WWII history.
Play on Vanuatu's acclaimed beaches – including the iconic Champagne Beach, revered for its effervescent "bubbles" – and swim in crystal-clear waters; channel Michener's "Tales of the South Pacific" during a call to idyllic Espiritu Santo.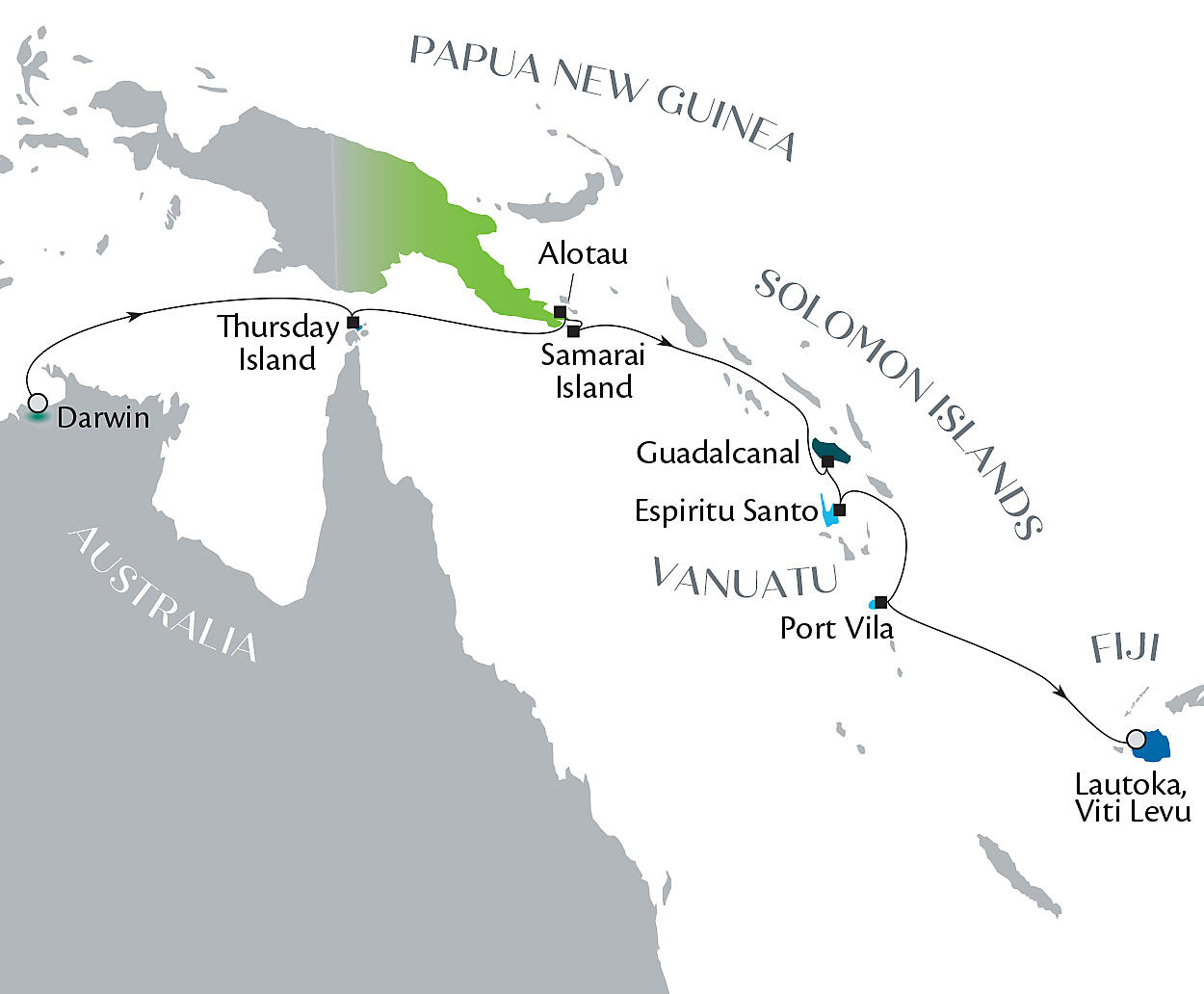 | | | | |
| --- | --- | --- | --- |
| Date | Ports | Arrive | Depart |
| April 15, 2025 | Darwin (Embarkation) | Embarkation from 4:00 PM to 5:00 PM | |
| April 16, 2025 | At Sea | | |
| April 17, 2025 | At Sea | | |
| April 18, 2025 | Thursday Island | 8:00 AM | 2:00 PM |
| April 19, 2025 | At Sea | | |
| April 20, 2025 | Alotau, Papua New Guinea | 12:00 PM | 6:00 PM |
| April 21, 2025 | Samarai Island | | 3:00 PM |
| April 22, 2025 | At Sea | | |
| April 23, 2025 | Guadalcanal, Solomon Islands | 1:00 PM | |
| April 24, 2025 | Guadalcanal, Solomon Islands | | 6:00 PM |
| April 25, 2025 | At Sea | | |
| April 26, 2025 | At Sea | | |
| April 27, 2025 | Espiritu Santo, Vanuatu | 7:00 AM | 4:00 PM |
| April 28, 2025 | Port Vila, Efate, Vanuatu | 7:00 AM | 10:00 PM |
| April 29, 2025 | At Sea | | |
| April 30, 2025 | At Sea | | |
| May 1, 2025 | Lautoka, Viti Levu Island (Disembarkation) | 8:00 AM | |