Leaving from Bali in Indonesia, PAUL GAUGUIN Cruises offers you a brand-new 17-day cruise to discover six beautiful countries of the South Seas. Set off aboard the ship Le Paul Gauguin for an unforgettable circuit in the heart of lush nature around the idyllic islands of Indonesia, East Timor, Papua New Guinea, Salomon and Vanuatu.
Inclusions
16 nights cruise aboard the 5+ star m/s Paul Gauguin
Paul Gauguin Cruises All-Inclusive Distinctions:
• All onboard meals—breakfast, lunch, dinner, and complimentary 24-hour room service
• Onboard gratuities for room stewards and dining/bar staff
• Complimentary non-alcoholic beverages and select wine, beer, and spirits
• Onboard entertainment, including our own troupe of Polynesian host/entertainers and presentations by local naturalists and a variety of special guests
• A state-of-the-art, retractable water-sports marina featuring complimentary kayaking and paddle boarding

Exclusive $500 USD onboard credit per cabin!
March 4, 2023
Los Angeles
Cruise Only
F Porthole
tba
$4880
E Window
tba
$5130
D Balcony
tba
$7160
C Balcony
tba
$7320
B Veranda
(includes Butler service)
tba
$9560
Taxes & Fees
$350

Rates in USD.

Per person based on double occupancy. Single occupancy rates are available.
You May Also Like: More Paul Gauguin Voyages
Add-on airfare from your departure city to Los Angeles is additional and is available to book 331 days prior to departure.
The offer is valid for residents of Canada only.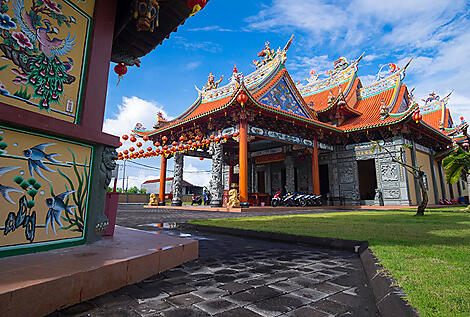 MARCH 4, 2023  MARCH 5, 2023 Benoa, Bali, Indonesia
Embarkation 3/4/2023 from 4:00 PM to 5:00 PM
Departure 3/5/2023 at 12:00 AM
Visit Ubud, renowned for its temples, shrines, artists' workshops and galleries, and the Sacred Monkey Forest. Or maybe you'll want to indulge in watersports activities like jetskiing, banana boating, parasailing, snorkeling diving and reef fishing. With its beautiful beaches, lush landscapes, exotic culture, beautiful handicrafts and fascinating dance traditions, Bali has drawn travelers from around the world for decades.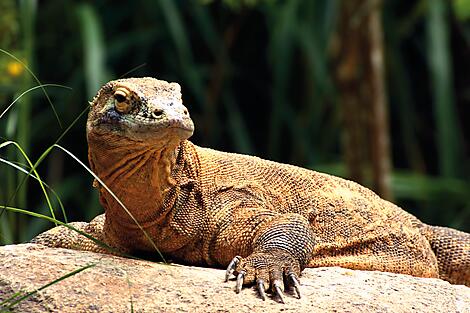 MARCH 6, 2023 Komodo National Park
Arrival 3/6/2023 at 2:00 PM
Departure 3/6/2023 at 6:00 PM
Between the islands of Sumbawa and Florès, Komodo National Park welcomes you to discover its natural wonders. At the very heart of the Indonesian archipelago, the three islands that form it – Komodo, Rinca and Padar – owe their renown to the famous eponymous dragons, enormous lizards over two metres long, which live in its grassy savannah. This jagged and hilly volcanic territory belonging to the Sunda Islands is a UNESCO World Heritage Site because of its incredible terrestrial and marine biodiversity. Admire its palette of colours, intermingling the sparkling whites of the beaches, the deep blues of the coral-filled water and the soft greens of its pastures.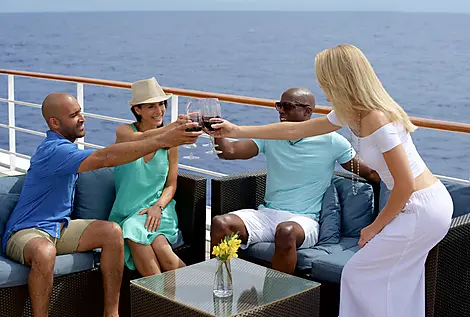 MARCH 7, 2023 Sea Day
Arrival 3/7/2023
Departure 3/7/2023
Have you met Les Gauguins and Les Gauguines yet? Our onboard hosts are at the ready to share their Polynesian culture, with Tahitian dance lessons, hands-on traditional craft demonstrations, and an array of activities for all ages. The day is yours to make what you will of it. Perhaps you'll take in a lecture by one of our special guests or take part in cooking lessons with the executive chef. Or maybe you'll unwind poolside or treat yourself to a visit to the Deep Nature Spa… or why not both? A day at sea offers ample time to relax and plan your next adventure.
MARCH 8, 2023 Dili, Timor-Leste
Arrival 3/8/2023 at 8:00 AM
Departure 3/8/2023 at 6:00 PM
The capital of Timor-Leste (formerly East Timor) — one of the youngest countries in the world — Dili is still a sleepy colonial town … but also one that is modernizing rapidly. If you're feeling energetic, you might climb the 580 steps to the Cristo Rei, the world second-largest statue Christ the King. Stroll the waterfront in the colonial heart of town. Find a wide assortment of goods at the Dili Tais Market. And enjoy the city's many fine white-sand beaches with excellent diving and snorkeling.
MARCH 9, 2023  MARCH 12, 2023 Sea Day
Arrival 3/9/2023
Departure 3/12/2023
MARCH 13, 2023 Port Moresby, Papua New Guinea
Arrival 3/13/2023 at 6:00 AM
Departure 3/13/2023 at 5:00 PM
Historically made up of tribal peoples making their living from the sea, Port Moresby became the capital of Papua New Guinea when the country gained its independence in 1975. While here, perhaps you'll admire the mosaic façade of the National Parliament House, inhale the fragrance of tropical blooms at the Port Moresby Nature Park, or marvel at the depth and diversity of the local culture at the National Museum and Art Gallery.
MARCH 14, 2023 Samarai Island, Papua New Guinea
Arrival 3/14/2023 at 1:00 PM
Departure 3/14/2023 at 5:00 PM
Once an important trading center, Samarai Island was evacuated, and its buildings were destroyed to prevent it from falling into Japanese control during World War II. It has since been rebuilt — though not to the same scale as its glory days. Take a stroll along the pleasant pathway that encircles its pretty town, view spectacular marine life on a SCUBA diving expedition, or simply relax on the beach.
MARCH 15, 2023 Sea Day
Arrival 3/15/2023
Departure 3/15/2023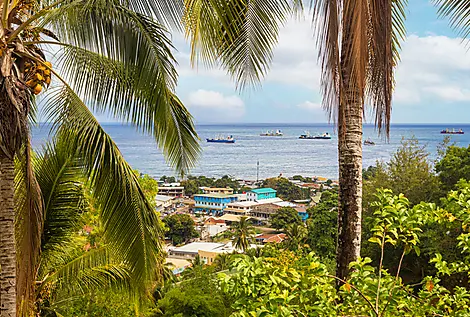 MARCH 16, 2023 Honiara, Guadalcanal, Solomon Islands
Arrival 3/16/2023 at 11:00 AM
Departure 3/16/2023 at 4:00 PM
The largest of the Solomon Islands, Guadalcanal is best known for the six-month battle between Allied and Japanese forces that marked a turning point in the Pacific theater during World War II. The island still brims with World War II relics, monuments, and memorials, as you may discover. Perhaps you'll explore its tropical interior, with its excellent birdwatching. Or see for yourself why the island is revered for its superior snorkeling and diving.
MARCH 17, 2023 Sea Day
Arrival 3/17/2023
Departure 3/17/2023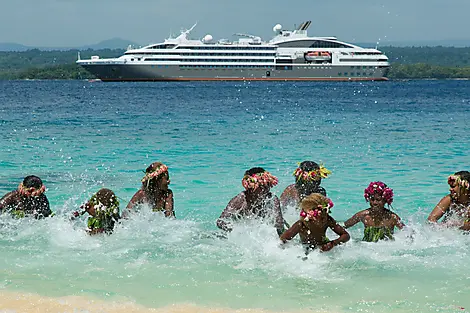 MARCH 18, 2023 Espiritu Santo Island
Arrival 3/18/2023 at 9:00 AM
Departure 3/18/2023 at 1:00 PM
A stunning island of palm-lined beaches, spring-fed swimming holes, lush rainforests, and lofty mountains, Espiritu Santo also played an important role in World War II. Perhaps you'll explore this heritage or experience the island's traditional village life. You can also enjoy exceptional swimming and snorkeling here. Or simply relax on the beach.
MARCH 19, 2023 Sea Day
Arrival 3/19/2023
Departure 3/19/2023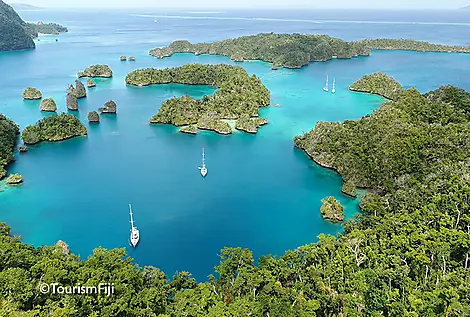 MARCH 20, 2023 Lautoka, Viti Levu, Fiji
Arrival 3/20/2023 at 8:00 AM
Disembarkation 3/20/2023 at 8:00 AM
Once you arrive in Lautoka (known as "Sugar City" for the green-gold sugarcane that surrounds the city), there's much to explore. Stroll its palm-lined streets, experience everyday life in a traditional village, or hike in Koroyanitu National Heritage Park.
You will explore the marvellous Komodo National Park where the famous dragons, from the prehistoric age, reign supreme over the island's herbaceous landscapes. During your port of call in the Timorese capital, Dili will reveal you the beauty of its intact landscapes, between tropical forest and immaculate sandy beaches, and also the riches of its historic and cultural heritage.
Your ship will set sail for Papua New Guinea, a fascinating land that is home to no fewer than 700 ethnic groups within a highly diverse yet mainly unexplored, ecosystem.
Setting sail for the Solomon Islands! You will stop over in Honiara on the large island of Guadalcanal, where exoticism and beauty go hand in hand, from paradisiacal waterfalls to lush green hills.
Le Paul Gauguin will allow you to disembark onto dream beaches. Espiritu Santo, the Vanuatu archipelago's main island, promises you an unforgettable bathing experience in an idyllic setting.
Your journey will end in Lautoka in Fiji, famous for its sugar cane crops.
Highlights
An all-new cruise into the heart of the South Pacific's most beautiful archipelagos, discovering six countries: Indonesia, East Timor, Papua New Guinea, the Salomon Islands, Vanuatu,
UNESCO site: Komodo National Park, home to the famous dragons.
From Espiritu Santo, don't miss the unique performance from the 'water music women'.
The Solomon Islands, secret destination in the South Pacific and a real tropical Eden
Overnight in Bali, the island of the gods.
Possibility of diving (PADI Open Water Diver or equivalent) with an experienced instructor on board.