Here is a voyage made for lovers of ocean cruising; perfect for those seeking to disconnect from the everyday with an indulgent balance of days at sea and seven intriguing South Pacific islands bookended by the tropical icons of Fiji and Bali. A robust program of guest speakers invites personal enrichment on board to renew mind, body and spirit, while a call at Alotau, Papua New Guinea highlights an itinerary also featuring Vanuatu, Guadalcanal and Komodo National Park.
Inclusions
20 nights cruise aboard the 5+ star m/s Paul Gauguin
Paul Gauguin Cruises All-Inclusive Distinctions:
• All onboard meals—breakfast, lunch, dinner, and complimentary 24-hour room service
• Onboard gratuities for room stewards and dining/bar staff
• Complimentary non-alcoholic beverages and select wine, beer, and spirits
• Onboard entertainment, including our own troupe of Polynesian host/entertainers and presentations by local naturalists and a variety of special guests
• A state-of-the-art, retractable water-sports marina featuring complimentary kayaking and paddle boarding
Canadian Resident rates, plus receive up to $300 USD onboard credit per cabin!

(price reflects discount)
January 19, 2025
Cruise Only
F Porthole
$8949   $8479
E Window
$9939   $9419
D Balcony
$12199  $11559
C Balcony
$12889  $12219
Taxes & Fees
$430

Rates in USD
The offer is valid for residents of Canada only.
You May Also Like: More Paul Gauguin Voyages
Highlights
Delve into the archipelago of Vanuatu with a call to Port Vila, Efate, revered for its beautiful harbor, bustling markets, cultural museums and attractions such as the Mele Cascades waterfall.
Discover Alotau in Papua New Guinea, a port known for its beautiful beaches, coral reefs, and lush rainforests; cultural traditions in dance, music, and art thrive, while WWII history is commemorated at museums and memorials.
Explore Komodo National Park, a UNESCO World Heritage site famous not only for its namesake "dragon" – the world's largest lizard – but also for its gorgeous landscape of rugged hills, pristine beaches, and crystal-clear waters rich with marine life.
Enjoy an overnight in Bali, home to extraordinary temples and often called "Island of the Gods" owing to its strong Hindu and Buddhist heritage; take time to explore its vibrant culture and stunning natural scenery.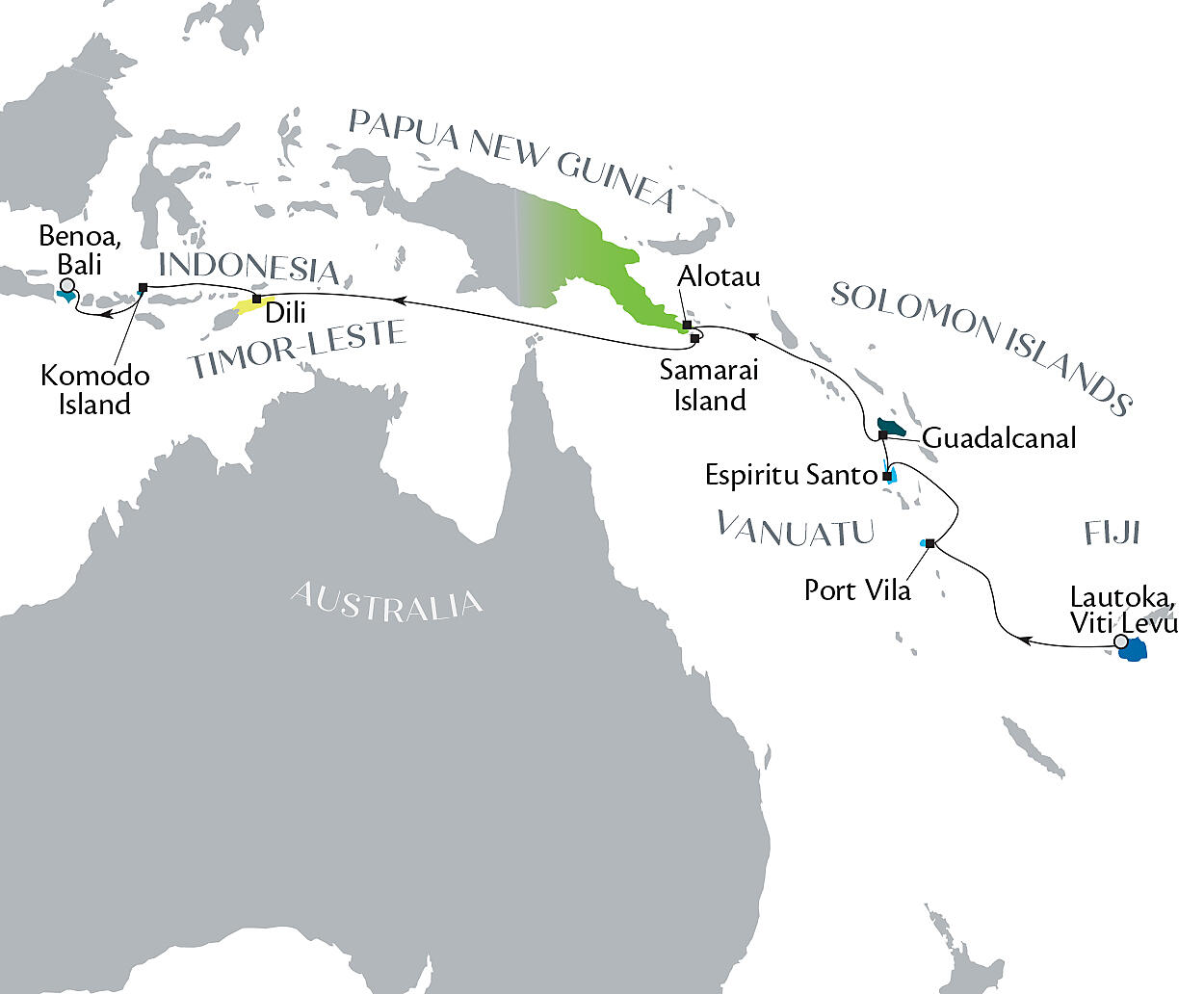 | | | | |
| --- | --- | --- | --- |
| Day | Ports | Arrive | Depart |
| Sun, Jan 19, 2025 | Lautoka, Viti Levu Island (Embarkation) | Embarkation from 4:00 PM to 5:00 PM | |
| Mon, Jan 20, 2025 | At Sea | | |
| Tue, Jan 21, 2025 | At Sea | | |
| Wed, Jan 22, 2025 | Port Vila, Efate, Vanuatu | 7:00 AM | 5:30 PM |
| Thu, Jan 23, 2025 | Espiritu Santo, Vanuatu | 7:30 AM | 4:00 PM |
| Fri, Jan 24, 2025 | At Sea | | |
| Sat, Jan 25, 2025 | At Sea | | |
| Sun, Jan 26, 2025 | Guadalcanal, Solomon Islands | 7:00 AM | 4:30 AM |
| Mon, Jan 27, 2025 | At Sea | | |
| Tue, Jan 28, 2025 | Alotau, Papua New Guinea | 12:00 PM | 11:00 PM |
| Wed, Jan 29, 2025 | Samarai Island | 7:00 AM | 3:00 PM |
| Thu, Jan 30, 2025 | At Sea | | |
| Fri, Jan 31, 2025 | At Sea | | |
| Sat, Feb 1, 2025 | At Sea | | |
| Sun, Feb 2, 2025 | At Sea | | |
| Mon, Feb 3, 2025 | Dili, Timor Leste | 9:30 AM | 8:00 PM |
| Tue, Feb 4, 2025 | At Sea | | |
| Wed, Feb 5, 2025 | Komodo Island, Indonesia | 6:00 AM | 6:00 PM |
| Thu, Feb 6, 2025 | At Sea | | |
| Fri, Feb 7, 2025 | Benoa, Bali | 6:00 AM | |
| Sat, Feb 8, 2025 | Benoa, Bali (Disembarkation) | | 1.15 PM |