From the underwater splendor of the Great Barrier Reef to the towering peak of Mt. Cook – this is the South Pacific. Board the Skyrail Rainforest Cableway for a ride over the rainforest canopy. Toast Uluru (Ayers Rock) at sunset with champagne. Visit Phillip Island, home to the world's largest colony of Little Penguins. Spend 3 nights on the island of Tasmania and see the Tasmanian Devil Conservation Center. Tour the famous Sydney Opera House. Marvel at Milford Sound. Overnight in Mt. Cook National Park under the shadow of New Zealand's tallest mountain. Spend 2 nights in Rotorua, a geothermal wonderland. Embrace age-old traditions as you discover the intrinsic beauty of Australia and New Zealand.
Inclusions:
26 night guided vacation
24 nights accommodation in hand picked hotels
36 Meals – 24 Breakfasts, 2 Lunches, 10 Dinners
Services of a qualified Travel Director, Driver Guide
Must See & Do Inclusions
Explore the Great Barrier Reef from a glass bottom catamaran and choose from a collection of included activities
Tour the sandstone domes known as Kata Tjuta at the base of Uluru (Ayers Rock)
At sunset, enjoy a champagne toast while gazing at Uluru
Witness the little penguins on the beach of Phillips Island
Taste world-class wines during a private tour of Seppeltsfield Winery
Join a local Kiwi family for a home hosted dinner
Learn about the endangered Tasmanian Devil
Visit a Koala Conservation center
November 5, 2022
from $11,479

 

tax included
January 7,28, 2023
from $11,749 tax included
Feb 11,25,Mar 11, Apr 15, 2023
from $12,189 tax included
Single Room Supplement
on request
Airfare additional, but can be added once available!
Plus add air & roundtrip airport transfers and sedan service to and from hometown airport is included (restrictions apply)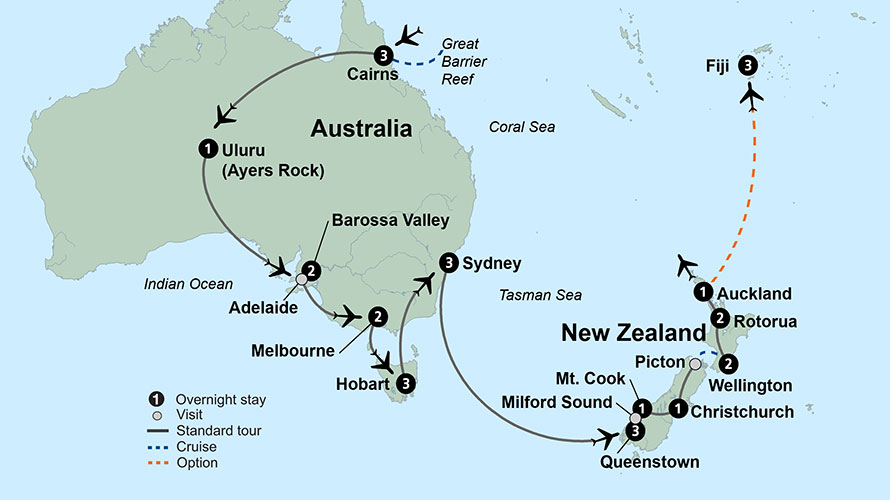 Pre Night: Optional to Add
Pullman International Cairns:
Would you like to begin your vacation with an additional Hotel in Cairns?
Standard double pricing – From $140 per night
Day 1-2: Overnight Flight
Cross the International Dateline as you begin a comprehensive adventure through Australia and New Zealand.
Day 3: Cairns, Australia – Tour Begins
Your tour opens in Cairns, the tropical gateway to one of the world's most spectacular natural attractions – the Great Barrier Reef (UNESCO). Established as a marine park in 1975, the reef is a haven for thousands of species of sea life, as well as turtles and birds.
Hotel: Pullman International Cairns or similar (3 nights)
Day 4: Cairns (B/D)
Rise high on the Skyrail Rainforest Cableway for an unforgettable ride over the rainforest canopy. Embrace the opportunity to explore the forest floor up close with access to specially designed boardwalks. This evening, gather with fellow travelers for a welcome dinner.
Day 5: Cairns – Great Barrier Reef – Cairns (B/L)
Board a glass-bottom catamaran and sail to the Low Isles to discover the aquatic realm of the Great Barrier Reef. Spend the day however you please, perhaps choosing from a selection of included activities. Maybe you'll soak up the sun on a tiny remote island*, located along the outer reef. Or consider snorkeling in the rolling waves, uncovering a pod of vibrant sea life. You can also meet with a marine biologist, or join an expert on a heritage trail walk along the island.
Day 6: Cairns – Uluru (Ayers Rock) (B)
Fly to Uluru (the Aboriginal name for Ayers Rock) in the heart of the Australian Outback. Tour the sandstone domes known as Kata Tjuta and the beautiful area surrounding the base of "The Rock." As the day draws to a close, sip a glass of champagne as Uluru's hues change dramatically with the setting sun.
Hotel: Desert Gardens or similar)
Day 7: Uluru – Adelaide – Barossa Valley (B)
Fly to Adelaide and make your way to Barossa Valley, Australia's beloved wine region. Renowned among connoisseurs, the valley's award-winning winemakers attract visitors from around the world.
Hotel: Novotel Barossa Valley Resort or similar (2 nights)
Day 8: Barossa Valley (B/D)
Today, enjoy a free morning before you travel to the Seppeltsfield Winery for a private tour and tasting of their world-class wines. Quench your palate with varietals ranging from fruit-forward Chardonnays to earthy Pinot Noirs. Tonight, enjoy a scenic dinner overlooking the vineyards.
Day 9: Barossa Valley – Melbourne (B)
Head to the Adelaide airport and fly to the beautiful Victorian city of Melbourne. Situated on the natural bay of Port Philip, this city is often referred to as Australia's cultural capital as it's a major center for the performing and visual arts. Enjoy time to get acquainted with the city on your own
Hotel: Citadines On Bourke Melbourne or similar (2 nights
Day 10: Melbourne (B)
Set out on a city tour and see Fitzroy Gardens and the bustling lanes. After, enjoy time to explore the lively city on your own before heading to Phillip Island, where you'll visit koalas in their natural setting at a conservation center. Continue to the nature reserve that houses the world's largest colony of Little Penguins. Protected and studied by rangers, hundreds of them waddle out of the sea and cross the beach to their burrows. Learn more about these inquisitive birds at the interpretation center.
Day 11: Melbourne – Hobart (B/D)
A flight to Hobart, Tasmania brings you to Australia's second oldest city. An island state of Australia, Tasmania is surrounded by more than 300 scattered isles. The rugged and pristine beauty of Tasmania provides the backdrop to your 3-night stay.
Hotel: Hadley's Orient Hotel or similar (3 nights)
Day 12: Hobart ( B)
Today, it's your choice! Embark on an early morning walking tour of the city -OR- take the morning to relax and enjoy a walking tour in the afternoon. No matter how you start your day, visit the Tasmanian Devil Conservation Center and learn about this unique marsupial, its fight for survival, and the plan to save it from extinction. Tour the Port Arthur Historic Site, the best-preserved example of Australia's original penal colonies. En route, witness the coastal rock formations of Tasman Arch, Devil's Kitchen, and the Blow Hole.
Day 13: Hobart (B)
Enjoy a free day to explore Tasmania's capital city on your own. Perhaps you'll indulge in the city's up-and-coming café culture, meander along the lively harbor, or just take some time to relax.
Day 14: Hobart – Sydney (B/D)
Return to mainland Australia today and arrive in the dynamic city of Sydney. Personalize your culinary experience with Diner's Choice – choosing from a variety of local restaurants for an included dinner along bustling Darling Harbour.
Hotel: The Tank Stream or similar (3 nights)
Day 15: Sydney (B)
See where English colonists first settled during a city tour of Sydney, featuring Kings Cross, the Harbour Bridge, Chinatown, the Rocks, Circular Quay, the Botanic Gardens, and the fashionable suburb of Darlinghurst. Take an expert-led tour of the Sydney Opera House, poised majestically on Sydney Harbour. You'll have the chance to join a special presentation at the National Opal Collection. In the evening, consider an optional dinner and engaging performance at the famous Sydney Opera House.**
Day 16: Sydney (B)
Enjoy a day at leisure. Marvel at the scenic vistas of the harbor showcasing Sydney's magnificent skyline, the iconic Sydney Opera House, and the Harbour Bridge. As the most populous city in Australia, Sydney is full of endless ways to spend your day.
Day 17: Sydney – Queenstown, New Zealand (B/D)
Fly to New Zealand and arrive in Queenstown, nicknamed the "Adventure Capital of the World." Nestled on Lake Wakatipu, Queenstown is surrounded by stunning natural beauty. This evening, gather for dinner and enjoy a local paddock-to-plate meal.
Hotel: Heritage Queenstown Hotel or similar (3 nights)
Day 18: Queenstown – Milford Sound – Queenstown (B/L)
Enjoy the rugged grandeur of the Hollyford Valley as you travel through a beech forest via the Homer Tunnel. Cruise the breathtaking Milford Sound and see why this fjord is one of the most visited sights on the South Island. Following your cruise, consider returning to Queenstown via a short optional flight (weather permitting) for spectacular views of New Zealand's Southern Alps.
Day 19: Queenstown (B)
A free day in Queenstown offers limitless activities set amidst breathtaking Alpine scenery. Today, you have the opportunity to choose from two exciting optional tours, an exhilarating jet boat ride on the Shotover River and a tour through the charming Queenstown countryside, showcasing the filming locations of many blockbuster movies.
Day 20: Queenstown – Arrowtown – Mt. Cook National Park (B/D)
Set out for the beautiful turn-of-the-century gold rush settlement of Arrowtown. Take time to explore independently and stroll its quaint, historic streets. Follow the Kawarau River and cross Lindis Pass before arriving in New Zealand's most famous national park, Mt. Cook. Revel in the Alpine paradise of Mt. Cook – a larger-than-life experience. You may choose to take a nature walk, enjoy an optional glacier flightseeing tour (weather permitting), or simply meditate on the beauty of the Southern Alps.
Hotel: The Hermitage or similar
Day 21: Mt. Cook National Park – Christchurch (B/D)
Travel to the historic city of Christchurch, the "Garden City". Enjoy some free time to explore. Perhaps you'll stroll through the city's gardens or learn about its more recent history at the Quake City exhibition. This evening, join a local Kiwi family for a home-hosted dinner.
Hotel: Novotel Christchurch Cathedral Square or similar
Day 22: Christchurch – Picton – Wellington (B/D)
As you make your way to Picton, admire the coastal views, scenic river valleys and vineyards. Experience what has been called "the most beautiful ferry ride in the world" as you sail across Cook Strait. Your destination is Wellington, New Zealand's capital city.
Day 23: Wellington (B)
Come to know Wellington on a tour that includes the Beehive, New Zealand's Parliament; historic St. Paul's Church; and the Old Government Building – the largest wooden building in the Southern Hemisphere. Explore the Museum of New Zealand Te Papa Tongawera, a fascinating center dedicated to art, history and the Maori culture.
Day 24: Wellington – Rotorua (B/D)
Head to Rotorua's dramatic geothermal landscape. Find culture behind every corner – over one-third of Rotura's population boasts Maori roots, making it known as the Maori capital of New Zealand.
Hotel: Millennium Hotel Rotorua or similar
Day 25: Rotorua (B)
Discover Te Puia – New Zealand's premier Maori cultural and geothermal experience. Witness how the Maori keep their culture alive by teaching traditional carving and weaving. See the Kiwi bird and learn about the preservation efforts to remove this creature from the endangered species list. At the Agrodome, see a sheep shearing demonstration and learn about the importance of agriculture to the nation. Meet the skilled carvers who work with pounamu – New Zealand greenstone – at a jade factory.
Day 26: Rotorua – Auckland (B/D)
Travel through the countryside of the North Island, arriving in New Zealand's largest city – Auckland, "The City of Sails." A city tour features the America's Cup Village, the War Memorial, vibrant Queen Street, the Auckland Harbour Bridge, and spectacular views from the harborside. Tonight, join your fellow travelers for a farewell dinner where you will toast the end of a fabulous trip.
Hotel: Stamford Plaza Auckland
Day 27: Auckland – Tour Ends (B)
Your tour comes to a close in Auckland.
Post Night: Optional to Add
Stamford Plaza Auckland
Experienced travelers will tell you, "don't pass up once-in-a-lifetime opportunities." You've come so far; now complete your tour with an incredible 3 night Fiji Extension. Escape into a tropical paradise. Relax with a fresh fruit drink, read a book, go for a swim —you won't regret adding three nights on this stunning archipelago. Or, would you like to end your vacation with an additional night in Auckland?
Standard double pricing – From $200 per night
Outer Reef Experience – $150 pp
Cairns
Duration: 9 Hours
Your transportation is included
Jump in and explore the vibrant, colorful world teeming with life at the Agincourt Reef at the very edge of the Continental Shelf of the Great Barrier Reef. This massive reef system, the largest in the world, can actually be seen from space. Cruise across the water by catamaran to the Quicksilver pontoon where a diverse, bountiful ecosystem is yours to discover. You may enjoy the fish feeding from the unique underwater platform. You're sure to have a once-in-a-lifetime experience exploring one of the seven natural wonders of the world.
---
A Camel Ride, the Rock and a Sunrise – $130 pp
Yulara
Duration: 2.5 Hours
Your transportation is included
Experience the majesty of sunrise on Ayers Rock from a unique vantage point – the back of a camel! A peaceful one-hour camel ride brings you across the red sand dunes in the cool, clear morning air. Watch the sunrise over Ayers Rock bring the warm hues of the monolith alive. Learn about the flora and fauna of this UNESCO World Heritage site from your friendly cameleer. After the ride, enjoy fresh-baked damper bread and hot, fresh tea and coffee.
During winter months this option may not be available due to timing of sunrise. Due to the nature of this option, we require advance notice for any guest weighing 100kg/220lbs or more. Please enquire at time of booking.
Vendor requires advance notice of any passenger over 100 kg/220 lbs.
---
Dinner and Performance at the Sydney Opera House – $280 pp
Sydney
Duration: 4 Hours
Your transportation is included
Enjoy a world-class experience featuring a 3-course dinner at a waterfront restaurant with views of Sydney Harbour. Following dinner, take in a dazzling performance at the famous Sydney Opera House – a UNESCO World Heritage Site and one of the most distinctive buildings built in the 20th century.
Must be pre-booked at least 45 days prior departure. This optional is non-refundable at 30 days prior to service date. Performance will be a Symphony, Opera or Ballet, but specific show will not be available until closer to departure date.
To get to the seating of the theaters in the Sydney Opera House, passengers may experience flights of stairs or narrow seats. If there are any passengers that have mobility issues or need special seating, they need to be brought up in advance. It is the client's responsibility to notify Collette prior to the purchase of this option. Collette will notify the Sydney Opera House and make proper arrangements and seating for the passenger.
---
Bruny Island Gourmet Adventure – $150 pp
Hobart
Duration: 10 Hours
Your transportation is included
Take a full-day tour of the spectacular landscapes and gourmet local produce of Bruny Island. On this journey, you'll enjoy "seven courses" around the island, going from delicious stop to delicious stop, all led by a local guide. Visit the Bruny Island Cheese Co. for handcrafted cheese and locally brewed ales, and meet the artisans who make it. Taste fresh oysters straight from the shell at Get Shucked Oysters. Stop at Bruny Island Cruises Café for tea at a beachfront café while you're regaled with tales of early island explorers and whalers. Taste wines from Australia's southern-most vineyard at Bruny Island Premium Wines, and satisfy your sweet tooth at the Bruny Island Chocolate Company and Bruny Island Honey. Sample a Tasmanian Single Malt Whisky and Gin at the Bruny Island House of Whisky. Along your tour, you'll be immersed in the scenery of the island, with deserted beaches and verdant rainforest home to the incredibly rare white wallaby.
This tour starts at 7:45 AM and ends at 5:30 PM.
---
Gold Seeker – Metal and Movie Discovery Tour – $145 pp
Queenstown
Duration: 4 Hours
Your transportation is included
Embark on a 4WD adventure through the primeval, mystical landscapes of the New Zealand high country. In the vastness of an unspoiled wilderness, become lost in the grandeur of New Zealand's South Island – a world immortalized on film in the Lord of the Rings trilogy. Trek to the place where the word "otherworldly" was tailor-made, the Remarkable Mountains, and the entrance to Skipper Canyon. Across roads created by pioneers 150 years ago, follow the miner's old wagon trail along the Arrow River, and stop to try your hand at panning gold. Discover something incredible around every dramatic turn, narrow and twist of this thrilling safari tour.
If you choose to cancel this option within 48 hours of the excursion date, payment is non-refundable.
---
A Blaze of Glory on the Shotover River! – $120 pp
Queenstown
Duration: 1.5 Hours
Your transportation is included
Zoom through the sheer canyons of the Shotover River on this thrilling ride. Shotover Jet boats race along in mere centimeters of the glacial water which flows down from the Southern Alps, providing an exhilarating, but safe and enjoyable ride for all ages. You may get a little wet, but it is a unique and fun way to enjoy the spectacular scenery of the South Island of New Zealand and absorb a little of the spirit that has made Queenstown a world center for adventure tourism. Many people think adventure is only for the young. Guests on these jet boats consistently illustrate otherwise – this adventure is perfect for the young at heart!
Weather may be cold (boat has heated handlebars) and you may get wet during this option. Actual high speed boating time is 25 minutes.
---
Dinner with the Maori – $90 pp
Rotorua
Duration: 4.5 Hours
Your transportation is included
Tonight, immerse yourself in the fascinating culture of the Maori as you travel to a traditional village nestled in the rainforest. Learn about the warm-hearted Maoris and their lives before European colonists arrived in Aotearoa (New Zealand) and since. Enjoy an in-depth experience featuring authentic Maori entertainment such as the poi dance and the famous "Haka" war challenge. Finish your evening with an authentic Hangi dinner, pulled from the cooking pits right before your eyes. Come away with an appreciation of a unique culture, thousands of years in the making.