See the world, differently
Your passion for travel hasn't waned – if anything, over the past couple of years, it's grown deeper. And your purpose of travelling has also become clearer: to make memories that last a lifetime.
This itinerary was created by experts and is meant to inspire you. It is ready to be customized to suit your interests, tastes and budget so you can connect with local cultures and experience authentic travel on your own terms and departing whenever you choose. Journeys that are fully customized to your dreams and expectations, with your own expert private guides, in exceptional handpicked accommodations that always reflect your preferred style.
A trip to Japan will delight your senses and awaken your mind. This is a land filled with wondrous contrasts, from the ultramodern culture of its dense cities to the zen gardens and temples from its past. On a private-guided Japan tour, you will find yourself immersed and connected to local cultures and traditions with the help of our hand-picked local guides.
Inclusions
14 night guided vacation
14 night luxury accommodation
Breakfast each morning at your hotel, plus any meals indicated in the itinerary
Private transfers from the airport
Personalized, tailor- made journeys and expert planning from our local guides
Private drivers and guides throughout the tour
One suitcase and one carry-on per person for trip transfers
24/7 in-destination support from our local office
Valid until May 1, 2024
from $9615 per person

Rate is in USD

– per person based on double occupancy
Tour is customizable. Please contact us for more details.
Not Included:
International airfare and domestic airfare not mentioned on the itinerary
Visa(s)
Travel Insurance
Visas (unless noted)
Tips/Gratuities for services and experiences
Lunches, dinners and drinks (alcoholic and non-alcoholic), unless specified in the itinerary
Excess baggage charges
Personal charges such as laundry, phone calls, SIM cards or room service
Passport fees, immunization costs, and local departure taxes (when applicable)
Highlights
Immerse yourself in Japanese culture from mega-cities to historic alpine villages.
Relax at a traditional ryokan inn complete with on-site hot springs.
Cross the Japanese Alps by bullet train and take in the views.
Explore Japan's samurai heritage in imperial Kanazawa.
Stay at a handpicked selection of premium accommodations.
Day 1: TOKYO
The Adventure Begins
Welcome to Tokyo! An English-speaking assistant will be waiting for you upon your arrival at the airport, holding a sign with your name on it. This representative will introduce you to your driver for a transfer back to your hotel.
Meet your driver for an enjoyable airport transfer with a private vehicle.
Where you'll be staying: Keio Plaza Tokyo – Plaza Luxe (South Building)
Day 2: TOKYO
A Journey Back in Time
Today's private-guided touring will give you a proper introduction to the imperial side of Tokyo. After meeting your guide at your hotel, and a quick ride on Tokyo's efficient public transportation, your tour begins with a visit to Meiji Shrine. Dedicated to the deified spirit of Emperor Meiji, it is widely considered one of the most famous shrines in Japan and a popular place for traditional Japanese weddings. Next, head to the Imperial Palace, located on the former site of Edo Castle. The park sits right in the middle of Tokyo and boasts a large area surrounded by moats and massive stone walls. Today, it is the official residence of Japan's Imperial Family. The adjacent Nihonbashi district was the center of trade and business during the Edo period (1600-1880 AD). It was the location of Japan's first department store, Mitsukoshi (1673), and the home of the fish market that was the predecessor of the now widely known Tsukiji Fish Market. In this area, enjoy traditional shopping in the original stores of some of Japan's most famous traditional food purveyors. Try delicious senbei (Japanese rice crackers), or sample green tea and high-grade nori at Yamamotoyama. At the end of this tour your guide will accompany back to your hotel.
After years of traveling to and from Japan, our Destination Experts all agree that when traveling to the other side of the globe, we all need some time at leisure to acclimate to the new time zone, a fast-paced city, and a different country, culture, and way of life. Take this day to explore the city at your own pace or rest at your accommodations and set off tomorrow fresh-faced and ready to take in the incredibly country that is Japan with your private guide along side.
Please note: If you're the type to 'hit the ground running' when you travel, simply let your Destination Expert know and they will help you choose the best tour for the first, full day of your time abroad.
Where you'll be staying: Keio Plaza Tokyo – Plaza Luxe (South Building)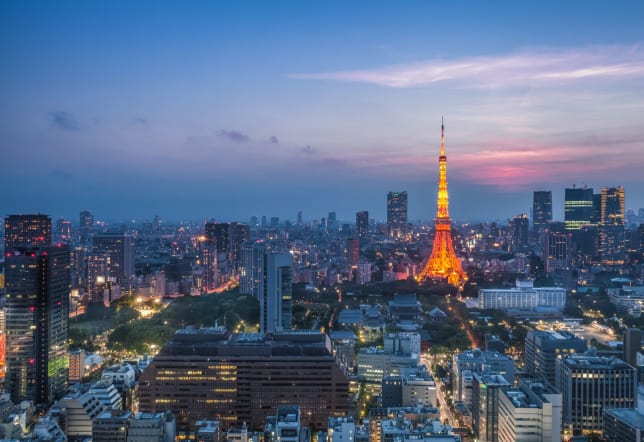 Day 3: TOKYO
Explore a City of Contrasts
Buzzing with energy and innovation, the neon-lit ward of Shinjuku must be experienced to be believed. This thrilling entertainment district is brimming with atmospheric eateries, lavish nightlife, opulent hotel bars, and some of the country's most famous karaoke rooms. Immerse yourself in this futuristic city that offers thrills around the clock. Enjoy exclusive insider suggestions, courtesy of a supplemental composition provided by your insightful Destination Expert.
Today, your guide will meet you in your hotel lobby for an afternoon of exploration in three of Tokyo's most vibrant, youthful centers for fashion and pop culture. Start by visiting Shibuya, a bustling shopping district famous for its cutting edge fashion and accessories. Considered the birthplace of many of Japan's fashion and entertainment trends, this district is also perhaps Tokyo's most photographed with its famous, 5-way 'scramble' crosswalk prominently featured. From here, head to Harajuku and the famous Takeshita dori (Cat Street) – another mecca of fashion for every kind of style. The fashion can become a little 'other-worldly' in Harajuku but the youth that congregates here has historically set trends for some major fashion houses abroad. Arrive next at Akihabara, otherwise known as 'Electric Town', which originally gained its fame from its many electronic shops that began popping up in 1970s Tokyo. Today, Akihabara is best known as the center of otaku (diehard fan) culture; You'll find plenty of anime and manga shops and themed cafes. You have the option to end your day in one of two very different ways: At a fast-paced, 'Game Centre,' the Japanese take on arcades that brings gaming to the next level; Often multi-floored, bright colored, and high-energy with everything from 'Street-Fighter' classic 'versus' arcades to crane-and-claw prize games to Japanese photo booths or 'purikura.' Or, choose to settle into a calming end to this whirlwind afternoon with some time at Kanda Myojin Shrine – often overlooked by visitors to Akihabara — the shrine was founded in 730 and has become famous for prosperity. The site's proximity to Akihabara means it is popular among technophiles; IT talismans are sold to protect electronic devices and it plays an important part in the zeitgeist of Japanese gaming, anime, and technology.
Please let your guide in-destination know of your preference for the end of your tour.
Where you'll be staying: Keio Plaza Tokyo – Plaza Luxe (South Building)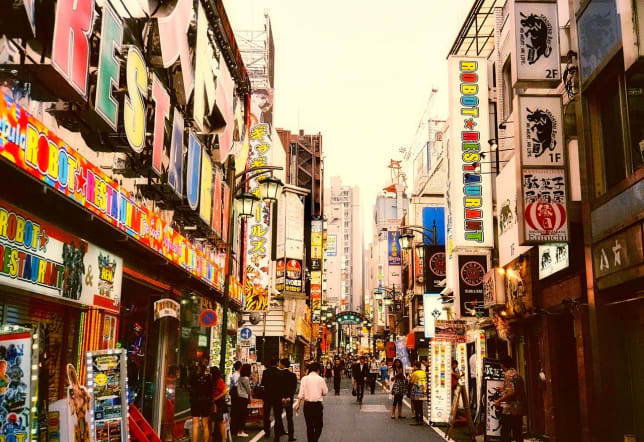 Day 4: TOKYO
Breathe the Mountain Air
This morning, you depart with your private guide to Hakone National Park for a day of fresh air and sightseeing at one of Japan's most iconic sites in the shadow of Mt. Fuji. Meet your guide at your hotel before transferring to Shinjuku Station where you'll hop on the 'Romance Car,' for a 90-minute journey into Hakone. Transfer to Gora Station, before riding in a cable-car to the Hakone Ropeway. From here you have entered iconic Japan; Soar above the active volcanic site, Owakudani, (Great Boiling Valley). Watch the steam rising from the mountain, as thermal water grazes just under the rocky façade at extraordinarily hot temperatures. Stop amongst the steamy rocks, and see if you can spot Mt. Fuji in the distance before trying kuro-tamago, or a 'black egg.' Boiled in the sulfuric hot springs, each egg turns black as its cooked (rumored that eating it will add several years to your life)! Descend the mountain via ropeway where you'll board (in true Japanese-kitsch fashion) a pirate ship and sail across Lake Ashi. These charming waters offer beautiful views of the surrounding mountains and even Mt. Fuji on a clear day. Finally, it's time to bid farewell to Hakone, as your guide accompanies you by bus to Odawara to catch the next bullet train back to Tokyo.
Where you'll be staying: Keio Plaza Tokyo – Plaza Luxe (South Building)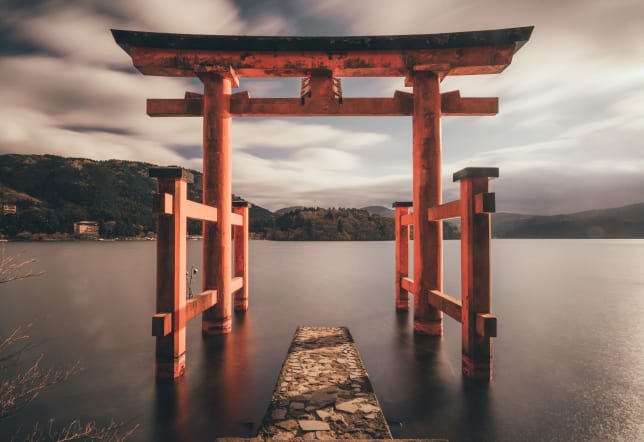 Day 5: TOKYO TO TAKAYAMA
A Soak at the Spa
Meet your guide for a train station transfer with a private vehicle.
You will make your way to Takayama Station from Tokyo today. First, take the bullet train from Tokyo to Nagoya, and then transfer to the Limited Express train from Nagoya to Takayama. The total journey will be approximately 4.5 hours.
Meet your driver for a train station transfer in a private vehicle.
Visit the public onsen at Takayama Green Hotel to unwind in soothing, mineral-rich waters. The hotel's natural onsen faces a scenic Japanese garden, inviting picturesque views as you relax. Feel the stress of daily life along with travel fatigue begin to melt away in this vast open-air bath. After, visit the rest area to further soak up some tranquil ambiance for additional relaxation.
Please note, swimwear is not permitted in public onsens in Japan. Men's and women's baths are separate.
Where you'll be staying: Takayama Green Hotel (Comfort Double)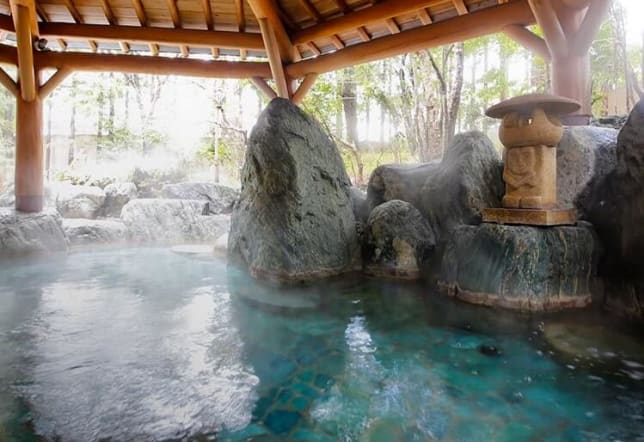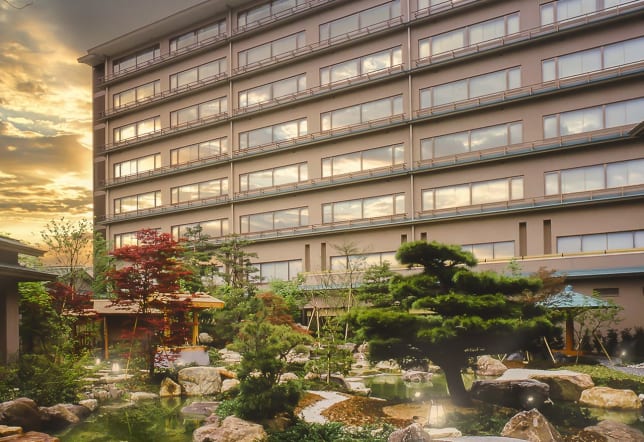 Day 6: TAKAYAMA
Tastes and Traditions
Delve into the unique atmosphere of Takayama and sample a variety of local delights. Set out with your private guide on a half-day adventure highlighting the town's rich food history and culture. Located in the mountainous Gifu prefecture, Takayama is famous for its many well-preserved houses dating back to the Edo period. The town is sometimes referred to as "Small Kyoto" due its narrow streets and historical architecture. Takayama is also famous for its two incredible annual festivals, Sanno Matsuri and Hachiman Matsuri, which are considered to be two of the most beautiful festivals in all of Japan. Visit the town's fascinating shops, where you can peruse and purchase a vast array of traditional goods. Gain insight into the many charms of this treasured and culturally rich Japanese locale.
Explore historic Takayama and discover an old merchant town brimming with tradition and culture. The city's old town has been beautifully preserved from the Edo Period when Takayama once thrived as a wealthy merchant hub, now known as Sanmachi-dori. Easily distinguished by traditional architecture and storefronts, this historic district showcases plenty of shops and stalls of all kinds. This is the ideal place to seek out old-fashioned Japanese sweets, traditional crafts, and local specialties including mitarashi dango rice balls and skewered Hida beef. The city's Sannomachi Street boasts plenty of old homes, shops, coffee houses and sake breweries – some of which have been in business for centuries. A site of interest is the beautiful Takayama Jinya, a historic building which once served as Takayama's government office in the Edo Period. During this time, the city stood under direct control of the shogun due to its valuable timber resources. Other must-see locales include several historic sake breweries, easily recognized by sugidama (balls made of cedar branches) hung over their entrances.
Where you'll be staying: Takayama Green Hotel (Comfort Double)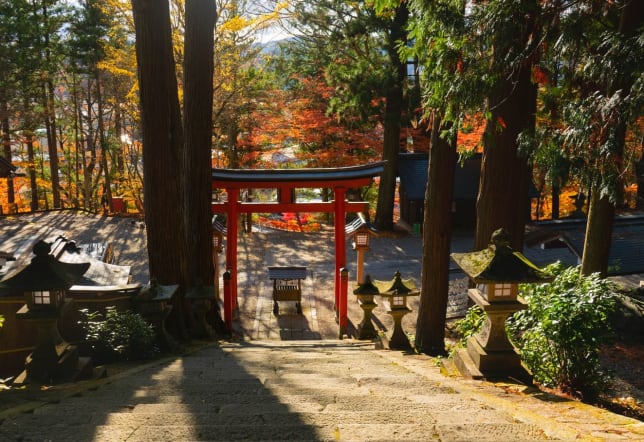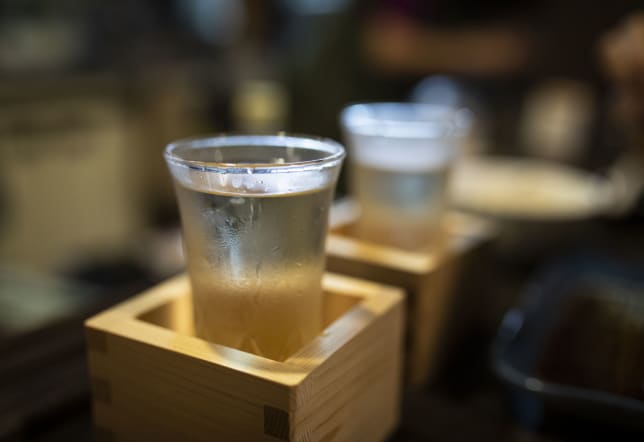 Day 7: TAKAYAMA
Quintessential Castles
Embark on a guided adventure through Takayama's sacred sites and celebratory spirit. Begin your day with a meditative stroll along the Higashiyama Walking Course, a relaxing walking route meandering through Takayama's temple area and Shiroyama Park. En-route, observe more than a dozen traditional temples and shrines, the ruins of Takayama's former castle, and scenes of daily life in this historic rural town. Next, make your way to the Matsuri no Mori, a museum dedicated to the annual Takayama Festival. Taking place each spring and autumn, the Takayama Festival is regarded as one of the most beautiful festivals in Japan. The museum showcases both miniature and life-size replicas of the floats that take center stage at the yearly celebration. Visit the museum's collection of large taiko drums, said to be the biggest drums in the world. Immerse yourself in the festive spirit and Takayama's rich cultural heritage.
Where you'll be staying: Takayama Green Hotel (Comfort Double)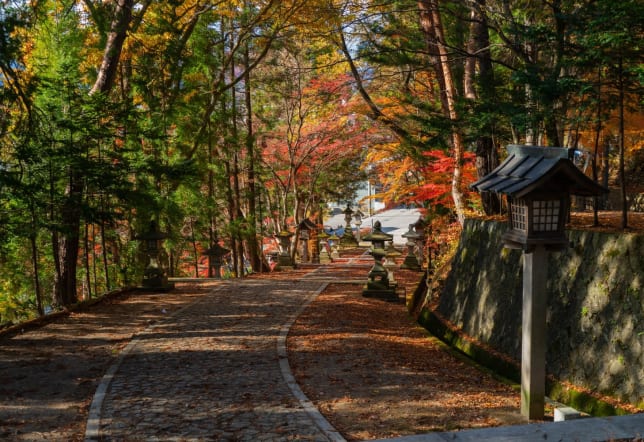 Day 8: TAKAYAMA TO KANAZAWA
A Town Frozen in Time
Meet your driver for a train station transfer in a private vehicle.
Board a train from Takayama Station to Kanazawa Station with a change of trains in central Toyama. The train ride is approximately 2.5 hours.
Meet your driver for a train station transfer with a private vehicle.
Enjoy a guided excursion through Kanazawa's impeccable lush oases and sample the art of mindfulness. Your first stop is Kenrokuen Garden, recognized as one of the top three celebrated gardens in all of Japan. The name Kenroku refers to the perfectly combined aesthetics of this beautiful Eden, including its elements of seclusion, spaciousness, and abundance of water. Travel from the expansive gardens along the picturesque back alleys of Kanazawa to reach the incredible D.T. Suzuki Museum. This minimalist-styled facility is dedicated to the life, writings, and ideas of the Kanazawa-born philosopher who introduced Zen Buddhism to the West. The museum's small garden embodies the concept of Zen philosophy, inviting you to practice mindfulness and meditate by the water mirror garden. This incredible tour through Kanazawa's tranquility concludes with a private transfer back to your hotel.
Where you'll be staying: Hotel Nikko (Luxe Twin/Queen)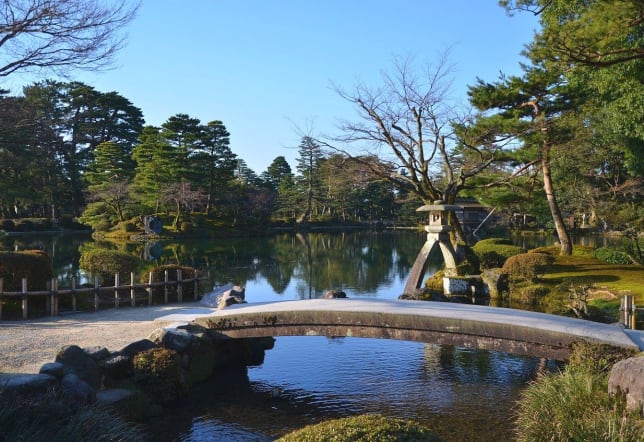 Day 9: KANAZAWA
Tools of the Trade
Delve into Kanazawa's longstanding connection to Japan's iconic warriors – the samurai. In the city of Kanazawa, the samurai once flourished under the ruling Tokugawa shogunate during the Edo Period. To explore more of this illuminating history, meet your guide at your hotel and and make your way to Kanazawa Castle Park. Marvel at the castle's remains, an architectural relic of the age of samurai. Walk along its ancient wall and learn about its importance as the seat of the powerful Maeda Clan. Your next stop is the Kanazawa Noh Museum, a modern facility featuring insightful exhibitions and stunning costumes. Noh was once a popular form of theatre connected to Japan's intangible cultural heritage. Lose yourself in the dazzling costumes, hypnotic music and striking masks while learning how this theater style was protected by the ruling samurai clan. Continue your guided exploration with a visit to the Nagamachi Samurai District, Kanazawa's former residential district that once housed the city's samurai. This charming locale is full of winding lanes and traditionally-styled roofs above former warrior abodes. Visit the Nomura Clan Samurai Home, a former samurai residence transformed into a modern showcase of elegant antiques and historic artifacts. Admire the abode's charming entrance and peaceful garden, enjoying a glimpse at the life of Kanazawa's highest class.
Please note: Kanazawa Noh Museum is closed on Mondays. On days when the Kanazawa Noh Museum is closed, the tour will visit the Maeda Tosanokami-ke Shiryokan instead.
Immerse yourself in the rich history of exquisite Kanazawa during a day at leisure. This ancient city is home to the legendary Kanazawa Castle, once the seat of the powerful Maeda Clan during the Edo Period. With its gardens, impressive walls, and carefully considered architectural features, Kanazawa Castle tells the story of the daimyo (regional lords) who lived in and ruled from its grounds. Opt to immerse yourself in Nagamachi's Samurai District, Kanazawa's former residential district that once housed the city's samurai. This charming locale is full of winding lanes and traditionally-styled roofs above former warrior abodes. Visit the Nomura Clan Samurai Home, a former samurai residence transformed into a modern showcase of elegant antiques and historic artifacts. Wander through the famous Higashichaya Old Town, one of Kanazawa's unique Geisha districts. Here you'll find the Kaikaro Teahouse, open to the public, and the Shima Teahouse, transformed into a showcase of instruments and items used by geisha. This enchanting district also boasts a number of cafes and picture-perfect alleyways, all adding to its unforgettable atmosphere.
Where you'll be staying: Hotel Nikko (Luxe Twin/Queen)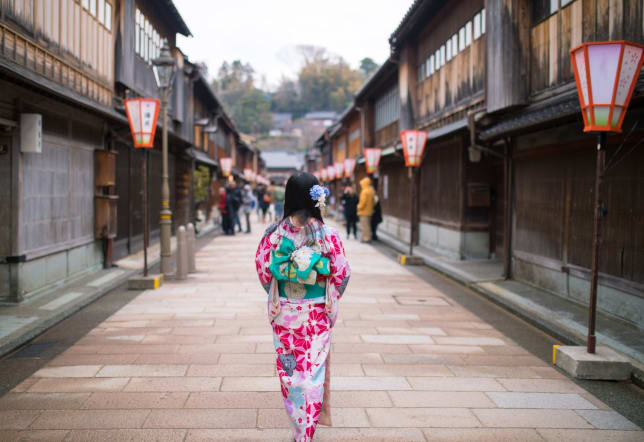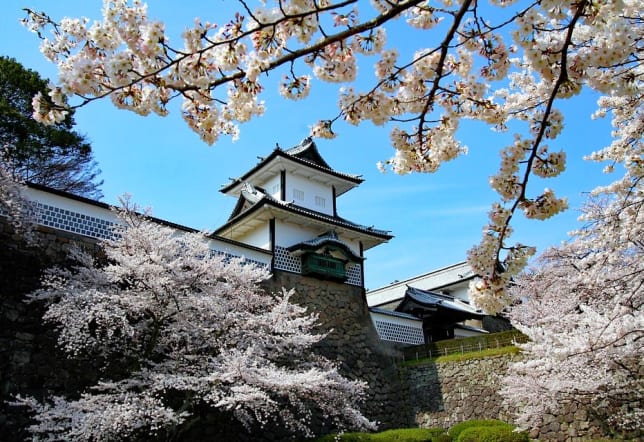 Day 10: KANAZAWA
Explore with an Expert
Savor a glimpse of Japan's traditional and rural history in a full-day adventure through the Toyama prefecture. Set out with your private guide and depart Kanazawa for the town of Inami. Having made a name for itself as Japan's wood carving capital, Inami is home to over 120 workshops and 300 craftsmen. Stroll along Yokamachi Street, admiring sculptors at work and observing the impressive handiwork of numerous workshops lining the stone-paved street. Visit Zuisenji Temple, a 14th-century sacred site. Established by the famous head monk, Saint Shakunyo, this Buddhist temple is widely regarded as the birthplace of Inami's celebrated wood working tradition. Take in the intricately-carved décor before rolling up your sleeves and participating in a wood carving workshop. Learn how to chisel and craft a beautiful wooden sake cup. More than a unique souvenir, this personal masterpiece comes in handy while you tour a local sake brewery and sample the beloved fermented rice beverage. After this unique insight into Japan's crafting tradition, travel to the historic village of Ainokura. Recognized as a UNESCO World Heritage Site, this quaint village is surrounded by spectacular mountain scenery and features nearly 20 thatched farmhouses built in the traditional Gassho-zukuri style. Stroll through the charming countryside village and stop by a folk museum to learn more about Gassho-zukuri. Your tour concludes with a private transfer back to your Kanazawa hotel.
Where you'll be staying: Hotel Nikko (Luxe Twin/Queen)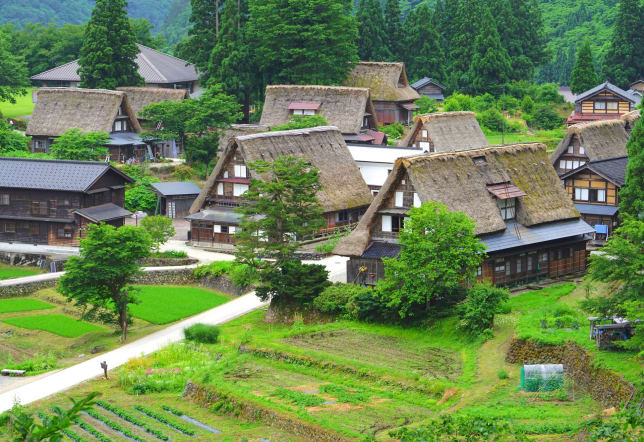 Day 11: KANAZAWA TO KYOTO
Strolling the Magical Streets
Meet your driver for a train station transfer with a private vehicle.
Travel aboard the Limited Express Thunderbird from Kanazawa to Kyoto. The train takes approximately 2 and a half hours today.
Feel at ease with the help of a local, English-speaking assistant who will help you transfer to/from Kyoto train station to your nearby hotel – a short 4-5 minute walk away.
After meeting your guide at your hotel lobby, start the day with a stroll through Miyagawa-cho, one of Kyoto's five active 'Hanamachi' (lit. flower town) — what are considered to be the city's 'geisha districts.' Continue to Hanamikoji Street, the main street of Gion, and enjoy the aroma from the many traditional restaurants and 'Ochayas' or, Japanese tea rooms. Although elusive, you may spot a Geisha or a Maiko (apprentice Geisha) whilst walking around this historical area – your local guide knows where to look! Reach Kennin-ji temple and visit the city's oldest Zen temple, founded in 1202. Explore its beautiful 'Karesansui', Japanese rock garden, and admire the famous artwork of 'Fujin-Raijin-zu'. End this tour of Gion at the venerated Yasaka Shrine. Established over 1350 years ago, the Shinto shrine connects the Geisha District of Gion and the beautiful, elevated Higashiyama District. At the end of this tour you can choose to stay at the shops and cafes of Higashiyama or return back to your hotel with the help of your guide.
Where you'll be staying: Granvia Kyoto (Superior Twin)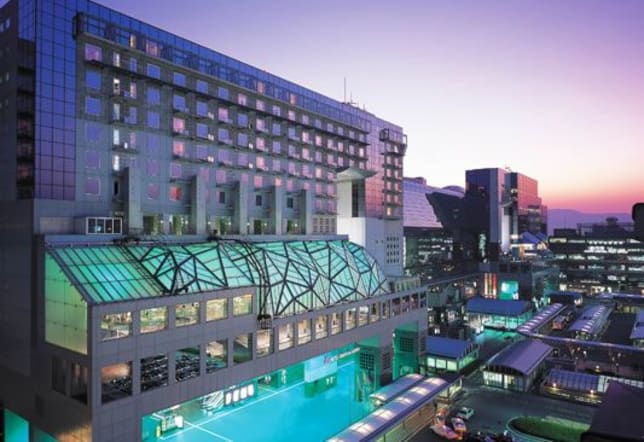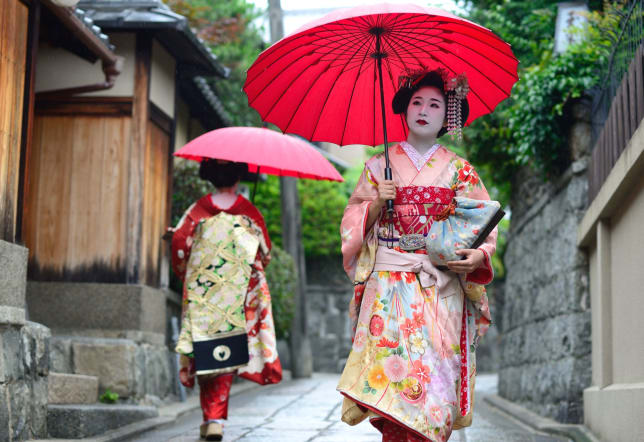 Day 12: KYOTO
A Sight To Behold
Today, you'll take to some of the most iconic sites Kyoto has to offer. After you meet your guide at your hotel, travel by Kyoto's efficient public transportation to Arashiyama. This district is located at the base of the Western mountains and is one of Kyoto's most popular spots to visit. Begin with Tenryu-ji Temple Garden, ranked first of the Five Great Zen Temples of Kyoto. Enjoy the garden's fine blend of aristocratic tradition and Zen culture, displaying the beauty of the four seasons in its design. Next, head to Daikaku-ji Temple, once the site of an imperial villa but converted into a temple in 876 AD. The temple is surrounded by one of the oldest artificial lakes in Japan and makes for a serene, picturesque setting. Then, move on to Kinkaku-ji and Ginkaku-ji, arguably the most popular temples in Kyoto. Kinkaku-ji, also known as the famed "Golden Pavilion," is an iconic symbol of Kyoto, rising above its reflecting pond like an apparition. Ginkaku-ji Temple has magnificent halls and gardens, with a tremendous viewpoint over the entire temple compound. After visiting some of Kyoto's most iconic structures, you will be accompanied back to your hotel at the end of the tour.
Where you'll be staying: Granvia Kyoto (Superior Twin)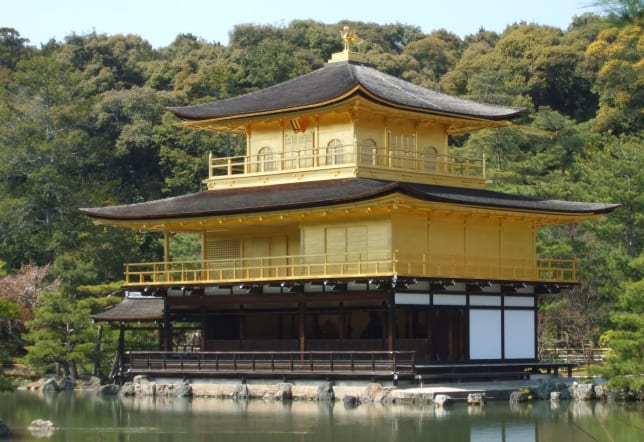 Day 13: KYOTO
Nurtured by Nature
After meeting your guide at your hotel this morning, hop on a short, 45-minute train ride to the UNESCO World Heritage Site of Nara — just outside of Kyoto. Nara was Japan's first capital, and became the center of power for 74 years in the 8th century. With great prosperity it became the face of Japanese culture and is now home to some of the most impressive and ancient historical landmarks in the country. Start off your adventure in this historic area at the jaw-dropping Todaiji Temple, the world's largest wooden building. Enter the enormous gateway, towering over 80 ft. and fashioned from 800-year-old trees and take in the stunningly complex grounds that surround this impressive building. Inside, enjoy the ornate details as well as the world's largest bronze Buddha statue enveloped in a golden halo. Next, head off to Nara's most celebrated shrine, the bright and beautiful Kasuga Taisha (768 AD). Be sure to walk through the hallways which house hundreds of bronze and stone lanterns donated by worshipers over the centuries. Before returning to Kyoto, take a wander through that national treasure that is Nara Park. One of the oldest parks in Japan, over a thousand tamed yet wild deer freely roam its grounds. Upon your return to Kyoto, your guide will accompany you back to your hotel.
Where you'll be staying: Granvia Kyoto (Superior Twin)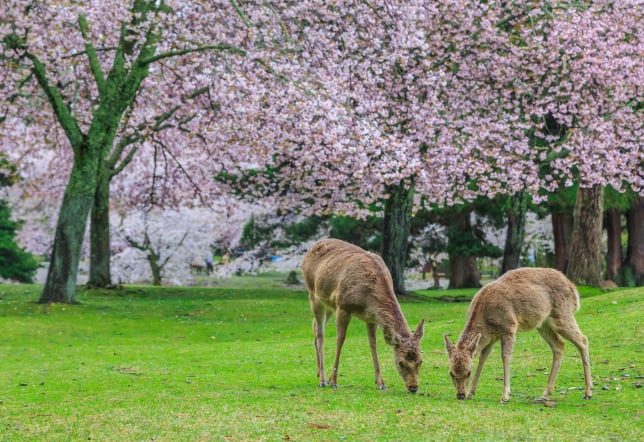 Day 14: KYOTO
Lace Up for Some Fresh Air
Today, enjoy a tasting of Japan's national beverage in the unforgettable setting of Fushimi's tranquil waterways lined with traditional sake museums and breweries. With your guide and a small group, walk around Fushimi Inari Shrine with its iconic red 'torii' shinto gates, which lead up to the main complex on Mt. Inari. After that, your guide will take you to the Fushimi Sake District. You can learn about the history of sake and how to brew it, as well as enjoy a sake tasting at a sake museum. After the tasting, take a walk with the group to the Fushimi shopping district, where you can sample up to80 different kinds of sake. Please note, this tour will disband at the last place visited — at the Fushimi Shopping District in the south end of the city.
Where you'll be staying: Granvia Kyoto (Superior Twin)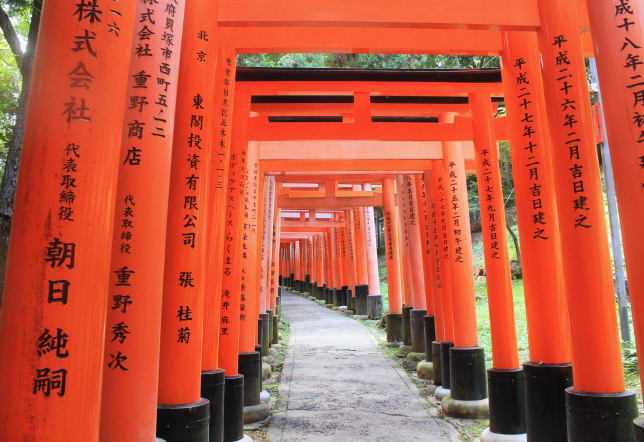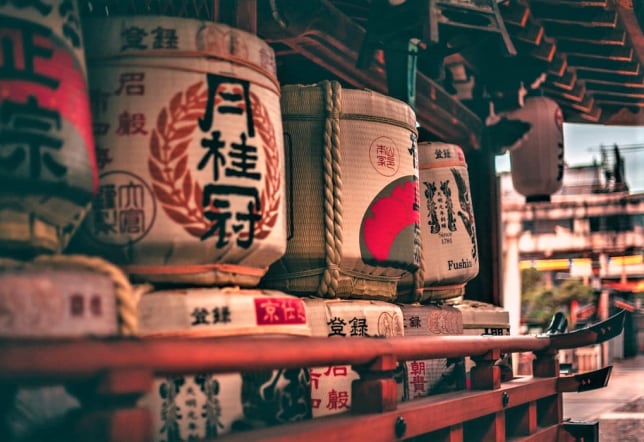 Day 15: KYOTO TO OSAKA
Safe Travels!
Enjoy a vehicle transfer with private driver from Kyoto to Osaka's Kansai Airport (KIX).
Keio Plaza Tokyo
The Keio Plaza Hotel is situated in the heart of Tokyo, located within walking distance of numerous restaurants, bakeries, and shops. Visitors revel in the amenities offered in each other 1440 rooms. Besides exceptional hospitality from the staff, enjoy special features such as Japanese bathrobes, wide picture windows, and a host of bathroom amenities. Whether looking for a quick eat or a fancy sit down experience, guests will have no problem finding a meal at the Keio. Choose from a huge variety of restaurants, each possessing its own specialty. Try international and local dishes as prepared by local chefs. Facilities at the hotel include a fitness room and business center, and complimentary shuttle service to Tokyo Disney and Tokyo Disney Sea.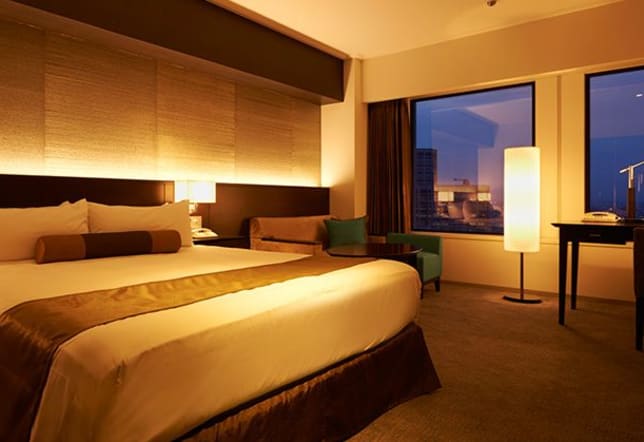 Takayama Green Hotel

The Takayama Green Hotel is a new type of resort hotel that combines the functionality of an urban hotel with the atmosphere of a traditional Japanese inn, surrounding guests with the unique ambience of the old city of Hida Takayama. In addition to its quiet, relaxing rooms and bright, clean interior, Takayama Green Hotel offers a wide variety of gourmet dining experiences and a luxurious natural hot spring bath. The hotel's ideal location in the heart of Takayama City makes it the perfect base for sightseeing in the Hida Area.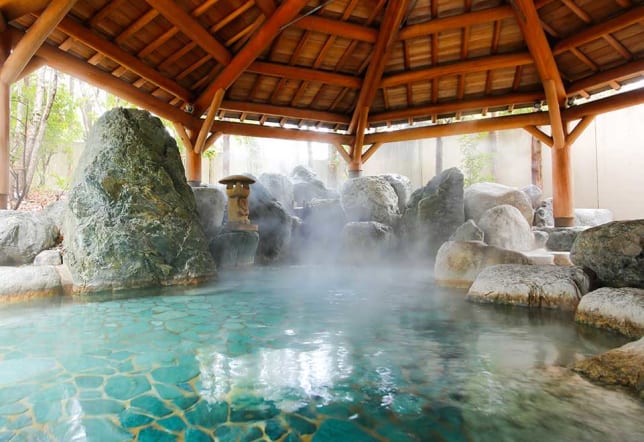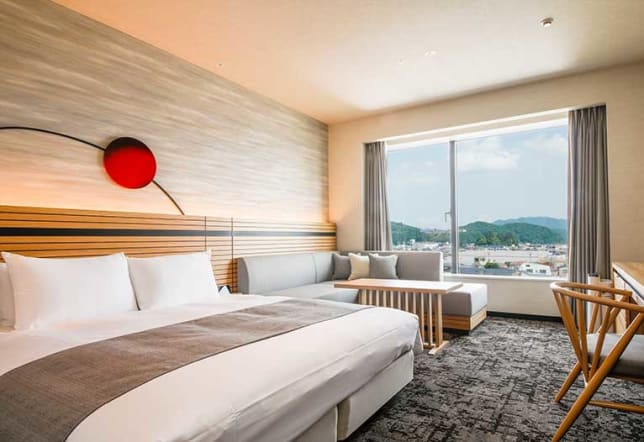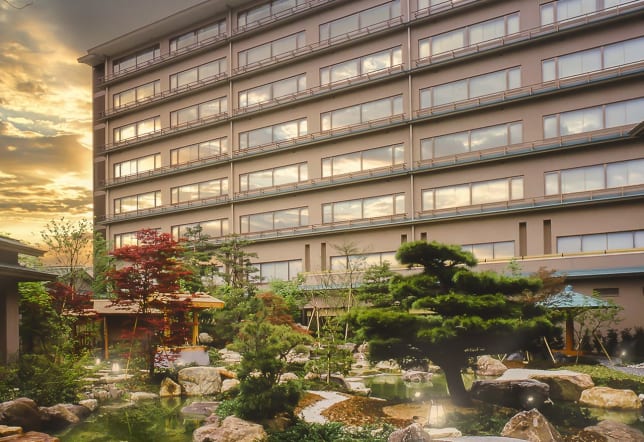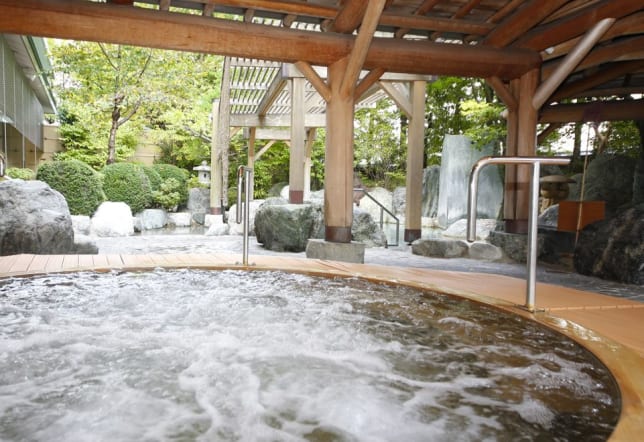 Hotel Nikko – Kanazawa
The Hotel Nikko is luxurious hotel located conveniently near the JR Kanazawa Station, within walking distance of some of the most famous tourist spots in the city. At 130 meters, it is the tallest hotel in the Hokuriku area, yet its superb service allows it to maintain an intimate 'boutique' feeling.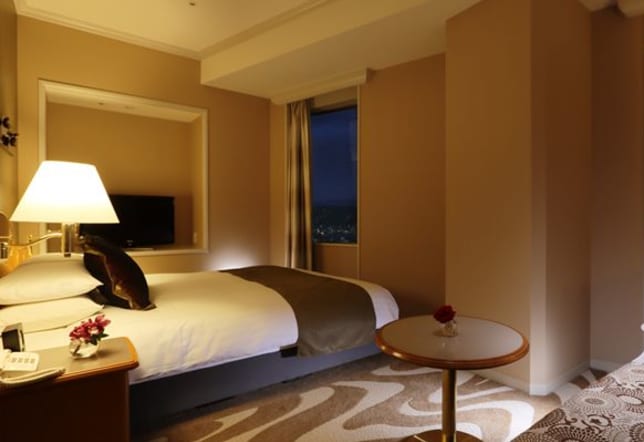 Granvia Kyoto
Hotel Granvia Kyoto is an integral part of the JR Kyoto Station Building, the visually striking architectural masterpiece which also includes a department store, museum, musical theater, and a vast underground shopping mall. From this convenient location, hotel guests have direct and easy access to and from Kansai International Airport and major metropolitan destinations across Japan. With its elegant accommodations, including beautifully appointed guestrooms, there is simply no better place to stay in Kyoto. The Hotel Granvia Kyoto features 12 restaurants and bars, and key fitness facilities that deem this hotel a premier destination for international travelers.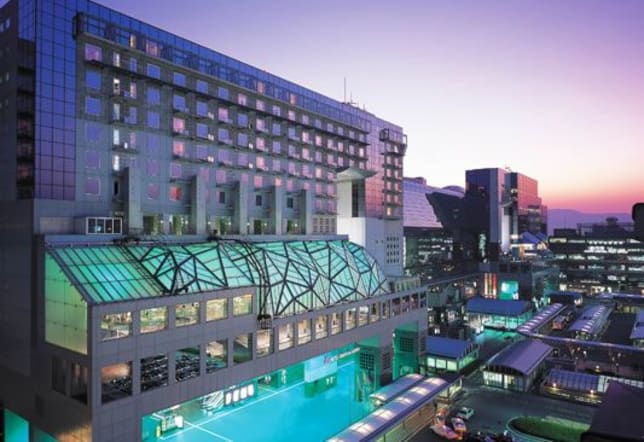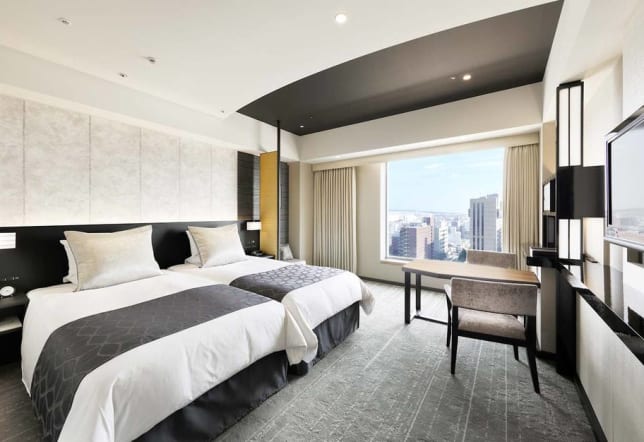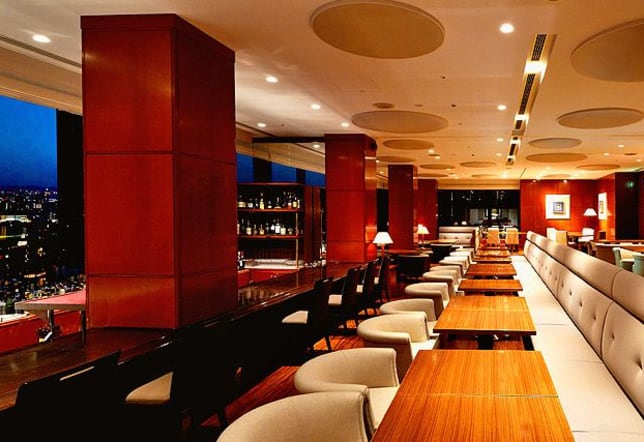 Every journey begins with a conversation
We think care and curation make all the difference in the world. Understanding your travel vision is the first priority.
No fixed dates or schedules.
Escape the tour bus crowds and explore on your own terms, departing and returning whenever you choose.
The freedom of flexibility
Travel whenever you want, for as long as you want with the option to change your plans on the fly – even in-destination.
Tailor-made for you
Mix relaxation, luxury and adventure as you wish with an itinerary designed to suit your preferred pace of travel.
Accommodating your every need
Custom-made for every type of traveler, accessible and inclusive options ensure a comfortable and fulfilling experience.
Itineraries designed by well-traveled experts
Our Destination Experts are people with deep, local knowledge of the areas they represent, having lived, worked or traveled extensively throughout the region.
The best of each destination
Our team travels regularly to source and individually vet each and every activity, accommodation and experience featured within our product offering. Your Destination Expert will help you discover these special restaurants, galleries and museums before they hit the guidebooks.
A single point of contact
The Destination Expert who designs your personalized itinerary will keep in touch throughout your journey from planning to unpacking.
Local secrets unlocked
Cultivate a deeper understanding of your destination with one of our local, English-speaking, private guides by your side. Become immersed in local traditions, cuisines and customs as your guide reveals hidden gems.
Only the best will do
Our exacting standards and vetting process in combination with a proprietary training program designed to reflect the expectations of North American travelers ensure access the finest local, private guides worldwide.
Specialist guides
From historians and archeologists to culinary experts and world-class athletes, enhance the private-guided experience by opting for an excursion with a local expert.
Your trip. Our responsibility
With our industry-leading, 24/7 support and operational expertise you'll travel with peace of mind. Should hiccups occur, you can rest assured that our round-the-clock assistance is only a phone call away.
The moment you touch down
Once you clear customs, we're there for you and will take care of the rest. A Kensington Tours representative will meet you at the airport to start your personalized trip.
Live updates
We stay in touch with you throughout your travels. If changes are necessary, you'll receive live updates via the Kensington Tours app.
We're invested in your trip
Anyone can book a vacation, but we're in the business of turning travel aspirations into reality. If you're not happy, just let us know and we'll make it right.